I have always loved Gel-based moisturizers when I had oily skin. But as I am aging, I've noticed that my skin is turning slightly dry. And just gel-based moisturizers don't provide enough moisture for me. So I've been on the lookout for something more nourishing yet in a lightweight formulation, as heavy creams tend to break me out. The description of The Formularx Barrier Relief Moisturizer exactly meets my needs. Initially, I was skeptical about trying out the brand as it's fairly new in the market, but then I decided to get this product seeing good reviews. Read on to know my experience with the product.
Product Description:
One of a kind gel-cream that feels like a hydrator but nourishes like a moisturizer. Formulated with hydrating, soothing, and barrier fortifying ingredients, it leaves skin feeling hydrated and comfortable all day long minus any heavy or greasy after-feel.
Ingredients: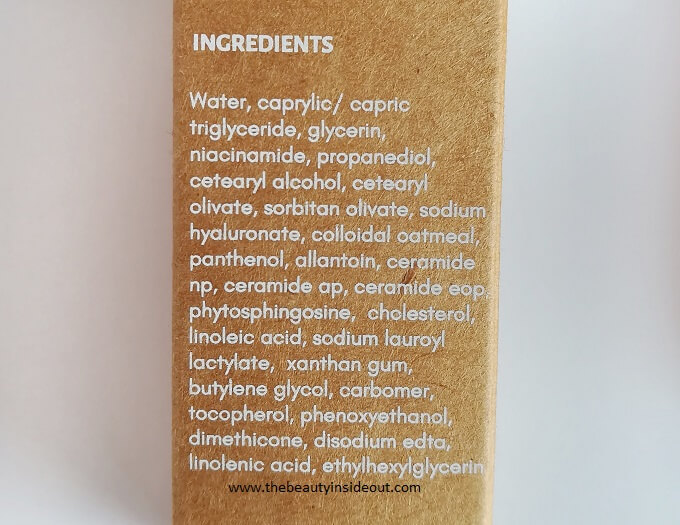 Key Ingredient Benefits:
Ceramides+Cholesterol+Fatty Acids: Boosts skin's protective barrier and keeps skin hydrated and supple.
Niacinamide: Makes skin more even-toned and boosts the skin barrier.
Glycerin, Hyaluronic Acid & Panthenol: provides ample hydration.
Colloidal Oatmeal & Allantoin: provides soothing benefits.
Price: Rs.699 for 50 gm.
The Formularx Barrier Relief Moisturizer Review
Packaging: The moisturizer is housed in a light orange, BPA Free Aluminium Tube. It looks aesthetically pleasing. I like it because it's a change from my usual plastic tubes. The tube itself comes in a Kraft paper carton box. The entire packaging is 100% recyclable.
The only con is its cap which can be a pain to close. You'll need a minute of patience to screw it back which I lack in my busy morning schedule. I store the tube in an upright position, so I haven't experienced the gushing out of the product which often happens with such aluminum tubes.
Color & Texture: The Barrier Relief has a white, watery, gel-cream texture. It has a medium consistency that spreads and blends easily. The texture is very nice and pleasant on the skin.
Fragrance: It is a fragrance-free product and doesn't smell anything in particular.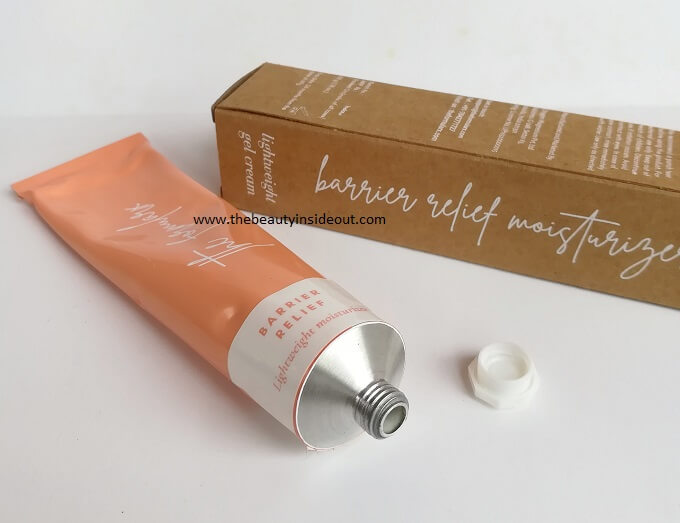 My Experience:
My experience has been amazing! I've been using it for about two months on my combination skin; dry cheeks, oily nose, normal forehead to be precise. My current routine is pretty simple. Water wash-> Nourishing sunscreen for AM and Cleanse Me Cleanser-> Moisturizer (this one) for PM. If my cheeks are extra dry, I'd add on a layer of my Klairs Toner. No actives or serums at the moment!
The Formularx Barrier Relief Moisturizer is exactly what it claims. It feels like a hydrator yet nourishes like a moisturizer while being lightweight on the skin. I need just a pea-sized amount for my entire face. The gel applies easily and gets absorbed quickly. It leaves the skin nourished with a non-sticky, soft matte finish. What I love the most is its morning afterglow. The moisturizer lets me wake up with soft glowing and plumped-up skin. Over time, it made my rough skin (due to skipping skincare) a lot smoother.
It also calmed and got rid of the itchiness that I had on my cheeks which was caused due to extreme dryness. Since this is rich in ceramides, I think this would be a great moisturizer to use with chemical exfoliators to tackle the irritation caused by them. In the time I have used it hasn't broken me out. So I think it's safe to say that it's Acne-Prone Skin Friendly. It also noticeably brightened and evened out my skin tone. Apparently, it has 4% Niacinamide, which brightens skin and strengthens barrier function.
The Barrier Relief Moisturizer suits best for oily, combination, normal skin types. Dry skin types may not find it very moisturizing but can use with hydrating toner or serum underneath.
Overall, I'm delighted with this product. It not only has great ingredients on paper, but it also works amazingly well on my skin. Although 700 for a moisturizer is a bit extra for my budget, the pricing is reasonable. Spending on a separate Niacinamide serum and ceramide moisturizer would cost more than this. As someone who is trying to minimize my skincare routine, I find the Barrier Relief Moisturizer to be a great product that provides multiple skin benefits.
Pros:
Lightweight gel-cream texture.
Excellent ingredient list.
Fragrance-Free & Essential Oil Free.
Calms & Soothes irritated skin.
Repairs Dull & Rough Skin.
Hydrates & Nourishes skin making it soft and supple.
Suitable for all skin types including sensitive & acne prone.
Cons:
None for me.
Rating: 4.8/5
Would I recommend it? Yes, I would recommend it. It's a great hydrating gel moisturizer that gives a bit of extra nourishment to the skin.
Have you tried this? Share your thoughts.