Recently I had become a makeup enthusiast from being a no-make-up person, I started collecting all drugstore beginner makeup products to try my hands on. So in my search for beginner-friendly products, I landed on buying this Garnier BB Cream. There are many BB creams available on the market, but this one attracted me for no reason. Garnier is a well-known brand and this is one of the popular budget-friendly BB creams available in the market. Read on to know my experience with it.
Product Description:
Garnier BB Cream is an all-in-one high-performance product with skincare benefits containing Vitamin C and mineral pigments for the tint to instantly beautify your skin to start the day. The moisturizing formula is good for dry skin and comes with sun protection factor of SPF 24 PA+++ to prevent tanning and sun burns.
Garnier BB Cream
Ingredients: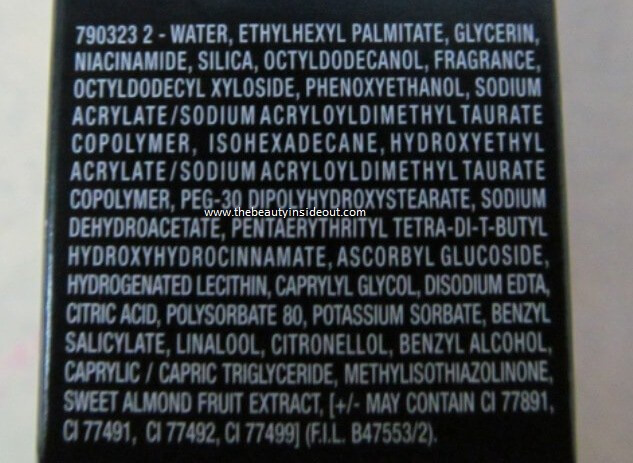 How to use/apply Garnier BB Cream?
Spread the BB cream like your regular moisturizer.
Apply with light circular strokes from the middle of your face outwards on perfectly cleansed skin.
Price: It comes in 3 sizes.
69 INR for 9 gms.
103 INR for 18 gms.
144 INR for 30 gms.
Shelf life: 36 months
Garnier BB Cream

For Light Medium Skin Review

Packaging: The Garnier BB Cream comes in beige-colored tube packaging with a screw cap. The packaging also has the details printed on the box. The smaller version of the tube is compact and very much travel friendly. The BB Cream comes in only one shade.

Texture: It is creamy but slightly runny in consistency.

Fragrance: It has a very mild fragrance that is very pleasant. I am not able to figure out a relative thing to describe what it smells like. The smell is not overpowering and just disappears after some time (I think I got used to it and didn't feel it).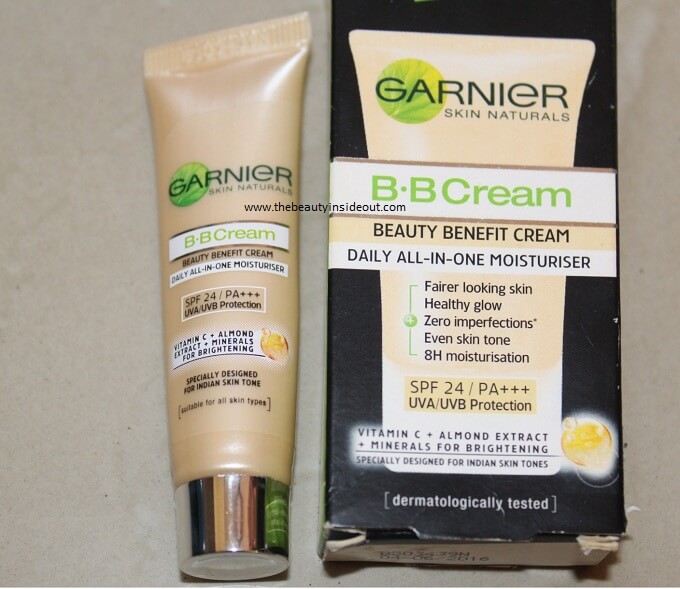 My Experience:
Garnier BB Cream combines the derivative of Vitamin C, which is known for its antioxidant and brightening properties, with mineral pigments. The cream helps to visibly unify your skin. This comes in only one shade and claims to be suitable for all Indian skin tones. Luckily, the only shade suits me well. The color would be suitable for warm skin tones and yes for the majority of Indian skin.
I have a combination skin type..so let me tell you how it worked on me.
I apply it all over my face and neck as I would do with my moisturizer on my bare cleansed skin. The BB Cream gets absorbed quickly and blends easily. It feels very light on the skin. I could see the glow it gives instantly. Also, my skin did feel very smooth. It did moisturize my skin but there was no need for me to apply a moisturizer underneath it as it is hydrating on its own.
The Garnier BB Cream doesn't give full coverage, it gives sheer coverage which is decent. I usually dab my skin with compact powder on top of it to avoid getting greasy throughout the day. It doesn't make my skin oily after that. With constant touch-ups with loose/compact you can retain the look without getting greasier for a much longer time. However for dry skin, it would be moisturizing, but very much non-greasy and very suitable.
It has SPF 24 PA +++ which gives a broad spectrum coverage. It's very good to have SPF in all your beauty products. Isn't it?
Even though it is moisturizing, and gives a glow and sun protection, it didn't help to cover the blemishes and pigmentation. The good thing is that it didn't cause any breakouts on my skin and is non patchy on dry spots.
So I would define this as a basic BB cream, more of a tinted moisturizer that's most suitable for a simple daily makeup look. This is a must product for beginner's make-up kit and also for those looking for budget-friendly light creams.
I am not a heavy makeup kind of person, so a light makeup look with this BB cream is much more suitable for me, along with dabbing of compact powder is absolutely perfect for me. In short, the product lived up to most of its claims except for covering blemishes, and spots I would say.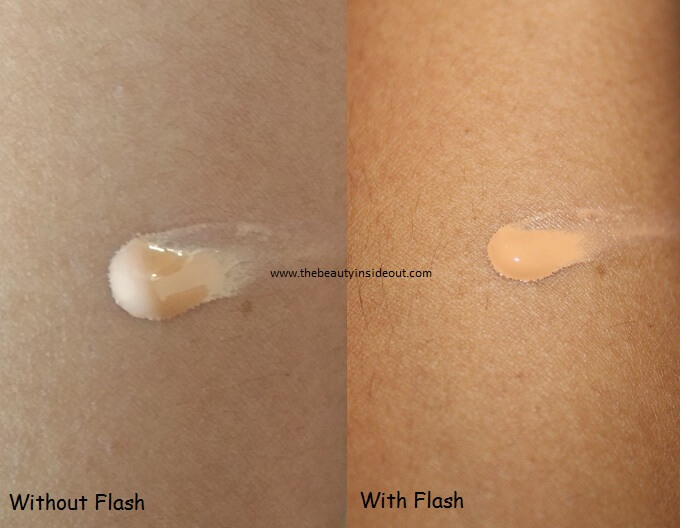 Pros:
Very light on the skin.
Contains SPF 24 PA+++
Moisturizing.
Gives a healthy glow.
Suitable for daily make-up.
Budget-friendly.
Suitable for dry and combination skin.
Dermatologically tested
Cons :
Very light coverage.
Doesn't conceal blemishes and spots.
Comes in only one shade.
Rating: 4/5
Would I Recommend it? Yes, for those looking for decent budget-friendly BB cream, suitable for Indian skin tones and for a subtle make-up look. But If you are looking for greater coverage, this isn't for you.
What do you think of this BB Cream? Have you tried it?