How to Build Your Own Bridal Makeup Kit. Hey would be brides! Winter wedding season is almost here. This year's bridal season is going to be different that we all have already guessed. There will be restrictions in number of invitees; we may have to cut short our shopping outings as well. Our wedding makeup look plays a key role in wedding preparations. Makeup and makeup artists come hand in hand in it. Majority of us start our wedding preparations by booking the best bridal artists. But, this year this is out of question for many a one. Are you thinking about doing your own bridal makeup? It's not that tough as everyone presumes. With correct products at hand and ample amount of practice, you too can come up with a professional standard bridal makeup on your big day. But first you need a basic bridal kit to start from. Here's our ultimate checklist for bridal makeup kit with suggestions for every budget.
How to Build Your Own Bridal Makeup Kit?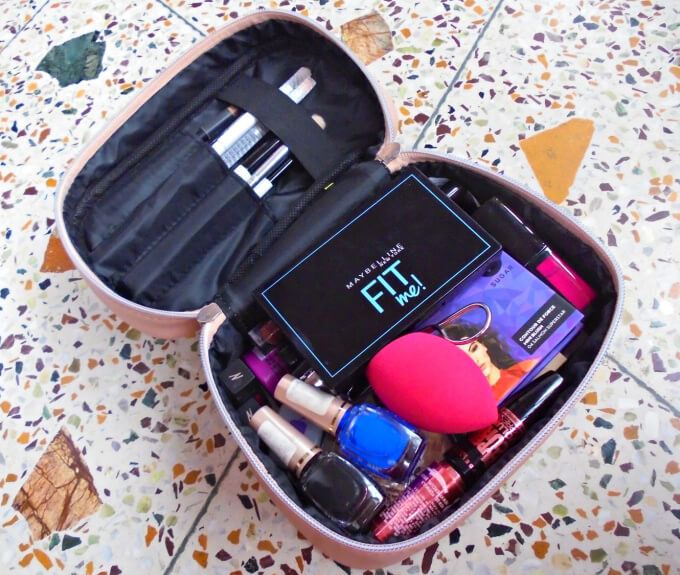 Face/Base Makeup
Your Face Makeup Products is the most crucial in your bridal makeup kit. Lets see what are the much needed products.
1. Primer
Our face makeup begins with a face primer. Face primer reduces the appearance of the facial pores and makes your makeup last longer. It also gives a smooth base where foundation and other products can stick to. There are two types of primer; silicone based and cream based. Silicone based primers look transparent. They work best for all types of skin. They mainly do pore blurring but also prevents oiliness. Cream based primer is for dry skin. It gives a dewy glow to your makeup.
Budget-friendly: Nykaa Prep Me Up! Face Primer, Lakme Absolute Blur Perfect Makeup Primer
Premium: Benefit Cosmetics The POREfessional Pore Primer, Smashbox Photo Finish Primer Water
2. Foundation
Foundation is one of the key items in base makeup. This liquid, cream or powder based product hides spots, blemishes, uneven skin. It gives a flawless canvas where other makeup items like blush highlighter can work easily. Choose a long lasting foundation with medium to high coverage and waterproof formula. Bridal makeup needs to survive all rituals without meltdown. So, invest in a good quality foundation that fits your budget.
Budget-friendly: Maybelline New York Fit Me Matte+Poreless Liquid Foundation, PAC HD Liquid Foundation.
Mid-range: Milani Conceal + Perfect 2-In-1 Foundation + Concealer, L'Oreal Paris Infallible 24H Fresh Wear Foundation.
Premium: Huda Beauty #FauxFilter Full Coverage Matte Foundation, Too Faced Born This Way Foundation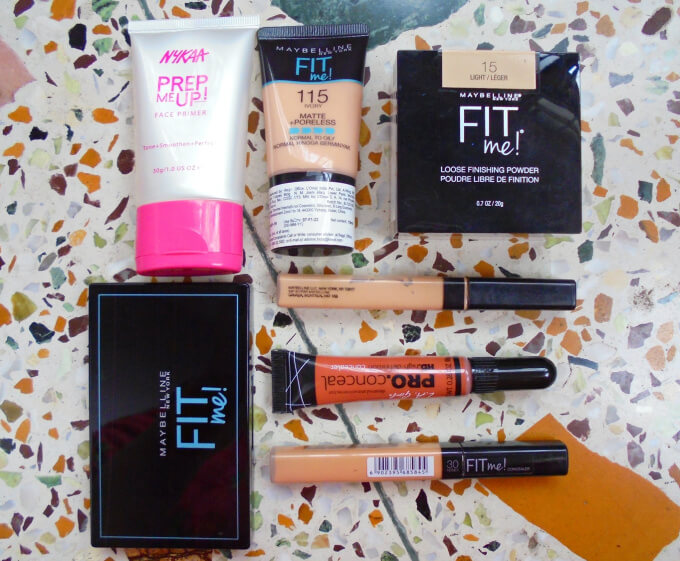 3. Concealer & Corrector
Nobody is blessed with perfect skin. Blemishes, acne scars, dark circle or a sudden bout of pimple… we have to take care of them all. So, pick your concealer and corrector with good coverage and crease free formula. Concealer hides blemishes, dark circle and gives us even toned skin. You need to have a skin tone concealer to hide imperfections and a slightly lighter tone concealer to highlight the high points of your face. If you have severe dark circle or pigmentation, you'll need a orange or peach colour corrector. Colour correctors are special type concealers that come in various tones.
Budget-friendly: L.A. Girl Pro Conceal HD, Maybelline New York Fit Me Concealer.
Premium: M.A.C Pro Longwear Concealer, Smashbox Studio Skin Flawless 24 Hour Concealer
4. Loose Setting Powder & Compact
Loose powders set your foundation in place and prevent the concealer from creasing. That's why loose finishing powder is a must in your bridal kit. Choose weightless loose powder that matches your skin tone. If you're not sure about the shade, go for tint less translucent powders. You'll also need a pressed powder or compact for touch up purposes. You can also invest in a powder foundation instead of compact. They offer better coverage than ordinary pressed powders. Don't use pressed powders for makeup setting. They can cake up you base makeup.
Budget-friendly: Maybelline New York Fit me Loose Finishing Powder, PAC HD Powder, Rimmel London Stay Matte Pressed Powder.
Premium: Huda Beauty Easy Bake Loose Powder, M.A.C Studio Fix Powder Plus Foundation
5. Blush, Contour & Highlight Products.
Foundation and concealer application evens out your complexion. But, they make your face look flat. Face sculpting products like blush, contour and highlighter gives your face lifted gradient look. Blush brings a healthy colour to your cheeks. Contouring creates shadows under the cheekbones and jaw line to give slim down your face. Highlighter lifts the high points of your face. Go for powder formula products if you are a beginner. They are easy to work with and easy to correct if you make mistakes. You can also buy their cream forms as well. We prefer individual products for each of these items. You can also get good quality face palettes.
Blush: Lakme 9 To 5 Pure Rouge Blusher, SUGAR Contour De Force Mini Blush
Highlighter: Maybelline New York Face Studio Master Chrome Metallic Highlighter, BECCA Shimmering Skin Perfector Pressed Highlighter
Contour Powder: Wet n Wild MegaGlo Contouring Palette, Benefit Cosmetics Hoola Matte Bronzer
6. Setting Spray
When you are done with base makeup, it's time for setting spray. Setting spray locks the makeup in their place, prevents cakey look and quick makeup meltdown. Setting sprays come in matte and dewy finish. Pick the spray as per your skin type. We'll advise matte fixing sprays because they survive even through extreme humidity.
Budget-friendly: Maybelline New York Lasting Fix Make Up Setting Spray, Flower Beauty Seal The Deal Long Lasting Setting Spray.
Premium: M.A.C Prep + Prime Fix+, Too Faced Hangover 3 in 1 Replenishing Primer & Setting Spray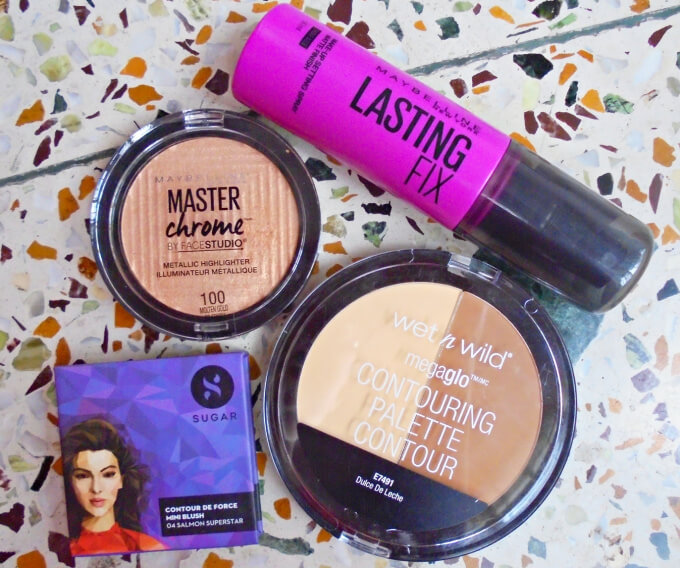 Eye Makeup
7. Eye Brow Filler
Properly filled eyebrows make a huge difference in your all over look. That's why a suitable eye brow enhancer is a must have for both beginners and advanced level makeup users. Eyebrow pencils with spooley are both easy to use. This is the best option for beginners. Eyebrow pomade, eyebrow mascara or cakes are for hardcore makeup lovers.
Budget-friendly: Maybelline New York Fashion Brow Cream Pencil, Nykaa Brow Chika WOW Eyebrow Pencil, L'Oreal Paris Brow Artist Genius Kit.
Premium: Benefit Cosmetics Goof Proof Eyebrow Pencil
8. Eye Shadow
Eye shadow application needs a little bit of skill. If you are already into advanced level instagram-friendly eye looks, we'll advice you to invest in a professional level palette with greater shade and formula variety. Smaller warm-neutral palettes with basic browns, mauves, peaches and pinks are best for newbies. Choose palettes with more matte shadows and at least one golden or champagne shimmer. This shade combination is easy to blend and you can create a number of looks with it.
Budget-friendly: Swiss Beauty Ulimate Shadow Palette, Makeup Revolution Re-Loaded Palette.
Premium: Huda Beauty Rose Gold Palette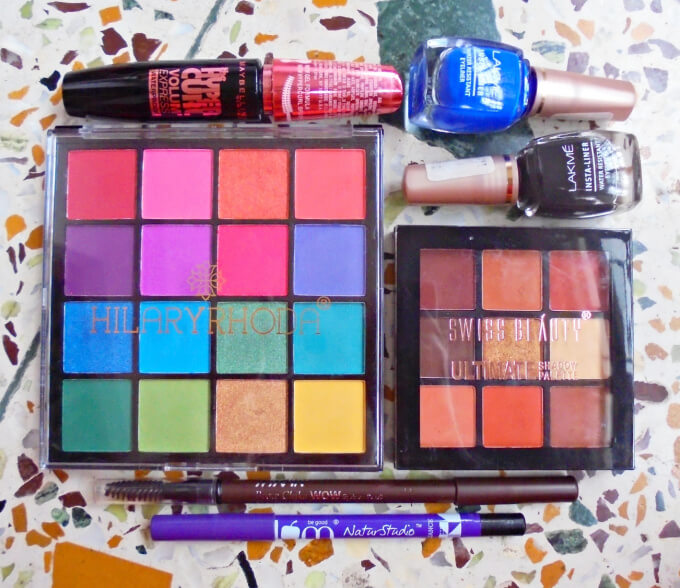 9. Kajal & Eyeliner
Kajal is everyone's product. We start our makeup journey with it. So, there's nothing much to talk about it in the first place. Kajals come in different forms these days. There's stick kajal, gel kajal; even pot eyeliners can double up as kajal. Pick any formula that does not smudge easily and stays put for at last 5-7 hours. The criteria for eyeliner are also similar. Go for waterproof eyeliners as they stay through the day. Felt tip pen eyeliners are best for beginners.
Kajal: Lakme Eyeconic Kajal, Plum Natur Studio All-Day-Wear Kohl Kajal, PAC Longlasting Kohl
Eyeliner: Lakme Absolute Kohl Ultimate The Gelato Collection, Kay Beauty Liquid Eyeliner, Maybelline New York Lasting Drama Gel Eyeliner, NYX Professional Makeup Epic Ink Liner
10. Mascara & False Lashes
Mascara is yet another essential eye makeup item that can't be left out. Waterproof mascara is best for bridal makeup. Mascaras come in curling, lengthening and volumizing formulas. Pick one according to your need and liking. You can also get all-in-one mascaras. False lashes take your eye makeup to the next level. This is an important step for eye makeup lovers; beginners can also flaunt falsies with ample amount of practice beforehand.
Budget-friendly: Maybelline New York Hyper Curl Mascara, L'Oreal Paris Volume Million Lashes Waterproof Mascara
Premium: Too Faced Better Than Sex Mascara, Benefit Cosmetics They're Real! Beyond Mascara
Lip Makeup
11. Lip Liner
If you want to make your lipstick last through the wedding functions with minimal ouch up, do invest in a long lasting matte lip liner. With a good lip liner at hand, you can create the illusion of fuller lips easily. Keep a red, a pink and a neutral tone lip liner in your kitty. These shades are enough to cover a wide range of lipsticks.
Budget-friendly: Nykaa Lips Don't Lie! Line & Fill Lip Liner, NYX Professional Makeup Suede Matte Lip Liner
Premium: M.A.C Lip Pencil
12. Lip Colours
We girls can never have enough lip colours. But, having tens of lip colours in your bridal kit is not a very practical. Pick 3-4 long lasting lipsticks in your preferred finish. A red or maroon is a must for bridal kit. You can choose a vibrant pink or orange to pair with your trousseau dresses. Keep 1-2 neutral shades (peaches, mauves, terracotta etc.) for daytime occasions or heavy eye makeup looks.
Budget-friendly: Wet n Wild MegaLast Liquid Catsuit Matte Lipstick, Nykaa Matte To Last! Liquid Lipstick, Maybelline New York Color Sensational Creamy Matte Lipstick
Premium: M.A.C Retro Matte Lipstick, Smashbox Always On Liquid Lipstick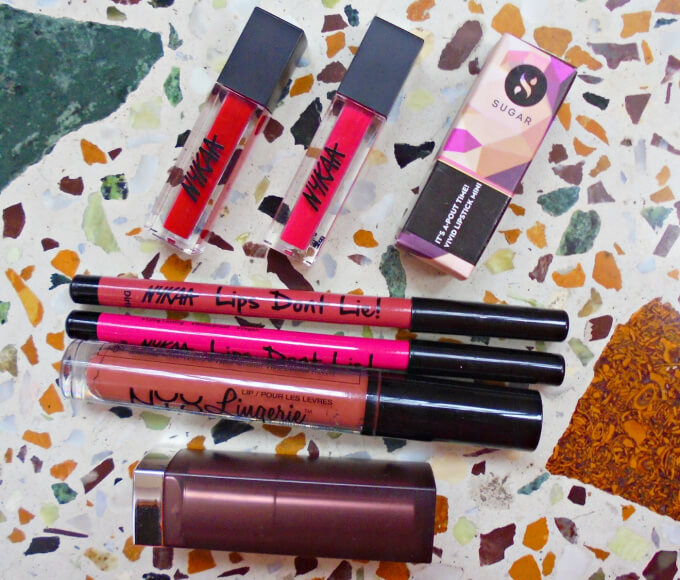 Miscellaneous Items
Apart from these necessary items, you'll also need Micellar water, some q-tips, cotton pads for correcting makeup mistakes. Also keep some oil blotting sheets & face tissues for touch up, your regular moisturizer, a lip balm and 1-2 sheet masks to prepare your skin for makeup. Don't forget to carry 1-2 nail paints to hide chips on manicure.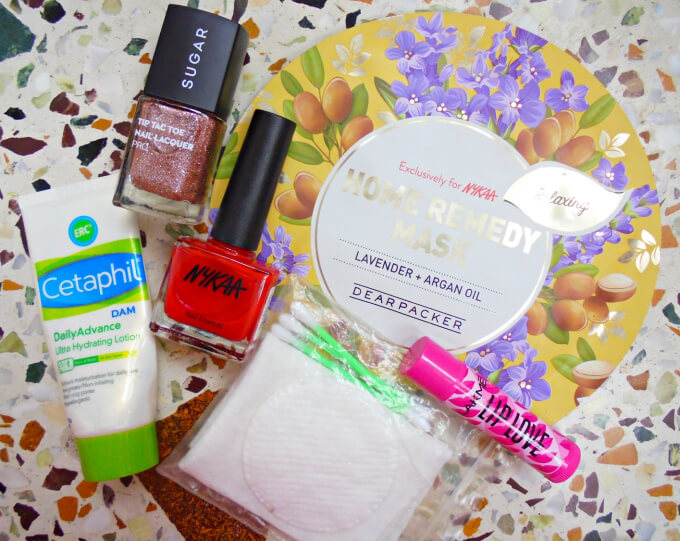 That was all that I believe are the most essential things that you will need to build your own bridal makeup kit. I hope you found this post helpful. Share your thoughts in the comments section below.