Today I have come up with the review of Lakme Blush & Glow Orange Walnut Gel Scrub. Lakme recently expanded their all time bestseller Blush & Glow range with two gel face scrubs. This Orange Walnut Gel Scrub is one of them. I love gel based face cleansers because they are often non-drying and less harsh on the skin. My oily-combination skin does not like stripping face washes and scrubs. Sometimes I like to try face washes with fresh fruity flavours. Lakme's Blush & Glow range has plenty of such products so I often drift back to Lakme face washes. I don't use face scrubs frequently because I have active acne. Salicylic acid based peeling faces washes are my go-to exfoliators. Recently my skin started looking dull. I had great result with homemade rice flour face scrubs. DIY scrubs are time consuming so I was looking for an instant fix. This Orange Walnut Gel Scrub caught my eye at that time. I didn't look further and ordered this. Here's what I have to say after 2 weeks of continuous use.
Product Description:
Lakme Blush & Glow Orange Walnut Gel Scrub is Lakme's first ever gel scrub which gives the power of scrub and softness of gel together. It gently cleanses skin without making it dry. Imagine a fruity splash of delight every time you wash your face, that's exactly how refreshing it feels. Enriched with the natural goodness of orange and walnut, this face gel scrub nourishes and rejuvenates skin. This gel-based face scrub is rich in fruit antioxidants (orange and walnut extracts) that keep your face feeling fresh, youthful and maintains the natural glow. Key ingredients like rich orange extracts, anti-oxidants and beads, Lakme Blush and Glow Scrub range is ideal for everyday use and keeps your skin clear of all dirt and impurities.
Ingredients:
Price: Rs.125 for 50gm
Where to Buy? This face scrub is available in leading online shopping websites like Amazon, Nykaa and Myntra. You can also buy it from local grocery stores, departmental stores, beauty stores and Lakme retail counters. Buy online to avail discount offers.
Lakme Blush & Glow Orange Walnut Gel Scrub Review
Packaging: This orange and walnut based gel scrub comes in a matte translucent tube. Both the tube and its flip-open lid are made up of good quality plastic. The packaging is not at all flimsy. This gel scrub is available only in 50gm size. The tube is tiny enough to fir in your travel skin care bag. The packaging is very similar to Lakme's Blush & Glow fruit face washes. The packaging looks simple but it is a sturdy one. The complete ingredient list along with usage directions have been mentioned in the backside.
Color & Texture: Lakme Blush & Glow Orange Walnut Gel Scrub is a pale orange coloured transparent gel. It has minuscule flakes of some maroon substance. I could not recognize what these flakes are made up of. It also has tiny colourless exfoliating granules. The defoliating action is performed by these scrub particles; the maroon flakes does not have any effect on the performance. The gel scrub looks really nice on the tube.
Fragrance: This is an orange based face scrub. I expected its fragrance to have hints of orange in it. Yes, the fragrance resembles of orange. This face scrub has very light orange peel fragrance. The fragrance is not natural or essential oil based but it is not bothersome. The faint fragrance does not linger. You can get away with this even if you don't like the fragrance.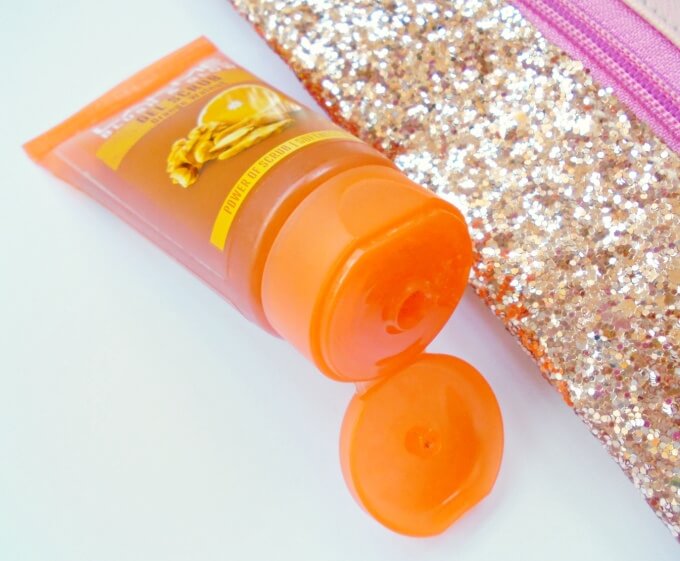 My Experience:
To tell you the truth, I didn't have much expectation from this orange based gel face scrub. I have tried gel face scrubs from various brands. Most of them had superfine plastic scrub granules with poor exfoliating power. They were somehow comparable to face cleansers; not exfoliators. Lakme Blush & Glow Orange Walnut Gel Scrub is completely different in terms of texture and exfoliating capability. This one too has plastic scrub particles but they are moderately sharp. You have to rub your face gently or the skin will get red and irritated.
This is not a face scrub I would use when I have active pimples. However, this is able to remove dead skin and gives a healthy glow to the face. I have stubborn blackheads. No face scrub has been able to uproot them completely so far. This one could not go all the way to remove those pesky blackheads but provided blackhead free appearance for 1-2 days. Presence of parabens is the biggest con of this face scrub. Lakme could have gone paraben free in this new launch series.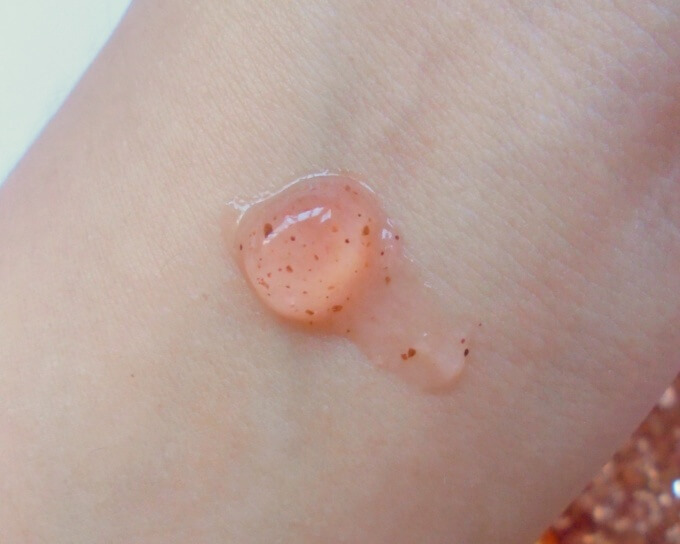 Pros:
1. Skin-friendly gel scrub with plastic scrub granules.
2. Provides moderate to deep exfoliation.
3. Reduces dead skin and dullness.
4. Performs well on stubborn blackheads.
5. Brings healthy glow to the skin.
6. Pocket friendly and easily available.
Cons:
1. Not paraben free.
2. Amount of orange and walnut extract is even lesser than the fragrance additives.
Rating: 3.75/5
Would I Recommend? Lakme's new Blush & Glow Orange Walnut Gel Scrub is a good face scrub to try if you are not bothered by parabens. Its granules are smaller but provides moderate to deep exfoliation. It is affordable and effective. I would recommend it to all skin types but sensitive skin people should avoid it.