Hi guys! I recently got my hands on Lakme 9 to 5 Primer + Matte Perfect Cover Foundation. Festive season has just started. I know, this year we will have to go by the social distancing norms. Still, the joy of festivities will be there in our hearts. For the longest time in my 'makeup lover' life, I have been a huge fan of Maybelline Fit Me Foundation. This is the only foundation you could find in my stash at any time. This is partly because no other foundation could give that seamless finish and coverage to my acne filled skin. I was a bit bored of buying the same old thing again and again. As I was almost over my foundation, I thought, let's try a new one this time. I didn't want to increase the budget from Rs.400. Who knows if I could even be able to wear this out or just stay at home with? Right at this time, Lakme decided to run a never before 33% off deal on Lakme 9 to 5 Primer + Matte Perfect Cover Foundation. I took the opportunity and here's what happened after that!
Product Description:
Lakme 9 to 5 Primer + Matte Perfect Cover Foundation is Lakmé's first-ever foundation with a built-in primer for a smooth and even finish. It blends effortlessly and gives a perfect, natural look. This foundation gives you medium to high coverage as it is buildable in nature for your convenience and as per the occasion. With SPF 20 and long-wear formula, this foundation will keep your skin looking natural and flawless through the day.
Ingredients:
Ingredient is not provided anywhere in the packaging.
The ingredients were not given on official website of Lakme as well. I found a short list of ingredients from Nykaa. These were the ingredients mentioned there;
"Water, Colorants – Iron oxides (CI 77891, CI 77491, CI 77492 and CI 77499), Dimethicone, Cyclopentasiloxane"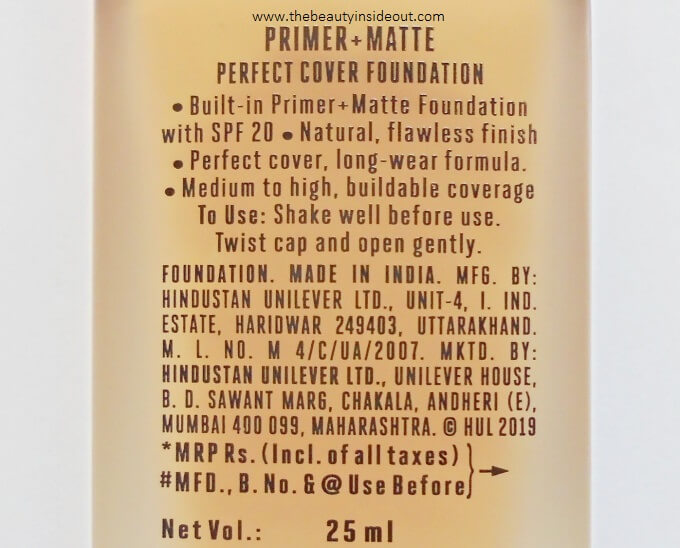 Price: Rs.475 for 25ml
Where to Buy? This foundation is available at local makeup stores, Lakme counters at various departmental stores, and beauty supply stores. You can also buy it online at Nykaa, Amazon, Flipkart etc. Majority of online shopping websites keep Lakme products. Lakme runs lucrative discounts on this foundation. If you know your shade, buying online is the best option. You can save a lot this way.
Lakme 9 to 5 Primer + Matte Perfect Cover Foundation N200 Neutral Nude Review
Packaging: Lakme 9 to 5 Primer + Matte Perfect Cover Foundation comes in a translucent matte glass bottle. It has a flexible silicone spatula attached to the rose-gold plastic lid. I don't like foundations with an opening at the mouth. I tilt my foundation bottle to store it in my makeup bag. Tilting brings the product to the opening of the bottle and the lid gets messy. Plus, applying the product directly from the spatula is not at all hygienic. The foundation bottle looks quite chic on your vanity but glass packaging needs special care while traveling.
Shade:  Lakme has always been accused of its steeper shade range in base makeup products. Moreover, those 4-5 shade wide range did not have enough shades for wheatish to dusky Indian skin. The lighter shades too had unnatural cool tones to them. This time Lakme has nailed it and launched 16 shades in this new Lakme 9 to 5 Primer + Matte Perfect Cover Foundation. This range is divided into three undertones; cool, warm, and neutral. You'll find shades from light to deep in each category.
I have bought shade N200 Neutral Nude. I have a warm neutral undertone and my skin tone is light. Though this is slightly darker than my skin, this is the best match I found in this range. Neutral Nude is the lightest shade in the neutral category. It will suit light to medium complexions. Considering undertones, there are lighter shades in the Warm and Cool category. But, for the Neutral section, Lakme hasn't launched anything lighter than this. I have to adjust the shade by mixing a drop of some cool-toned lighter foundation to this.
Texture & Coverage: This is a liquid foundation. Naturally, its texture is flowy. Unless you are careful with the spatula, foundation will drip everywhere. It is slightly more moisturizing than Maybelline Fit Me Foundation. Lakme 9 to 5 Primer + Matte Perfect Cover Foundation has added benefits of primer. Actually, this foundation has that smooth silicone like feel that we get from silicone based primers.
It is a medium coverage product for my skin. The coverage is comparable to Maybelline Fit Me. The formula is blendable and settles into comfortable matte finish. It does not crease much.
Fragrance: Lakme always adds fragrances to their foundations. I have acne prone skin so I try to stay away from fragrant makeup items. Fragrance producing chemicals often irritate the skin or clog pores. This one has moderately intense floral fragrance. On one hand I love the fragrance; on the other hand I stay cautious about getting acne.
My Experience:
Choosing the foundation shade online is a task in itself. Swatch images provided by brands are often not appropriate. So, I decided to watch some swatch videos on Youtube. I was confused between 120 Warm Creme and this 200 Neutral Nude. Finally, I settled on the later because my undertone is warm neutral. Most foundations do not have good shade selection in the neutrals category. I have to pick a close tone match with warm undertone. I was quite happy to find this neutral shade. While applying I found the shade to be slightly darker for me. Thankfully, it does not oxidize much to give me a dark looking face.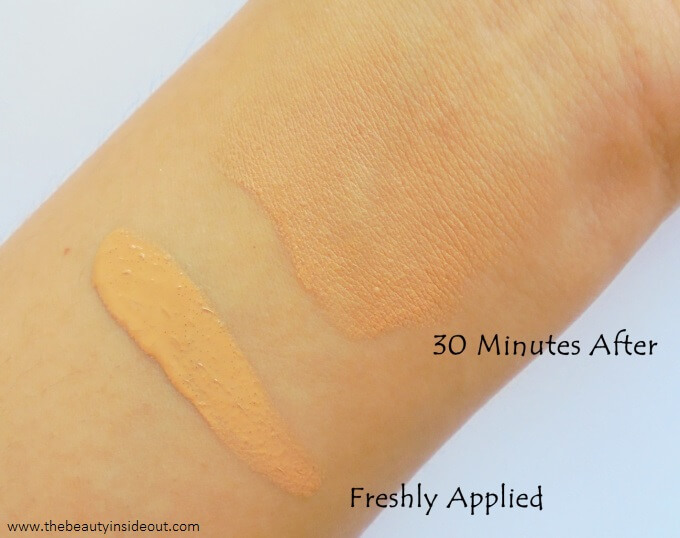 The foundation has primer like smoothness. You can skip primer if you don't have much texture on the skin. I have pore issues so I apply a primer underneath. The foundation feels creamy but starts getting matte as it dries. Dry skin people can easily skip powder settings but I set my t-zone with powder. I also apply hefty amount of moisturizer before this. Otherwise, it might highlight dry patches on the skin.
I have tried fingers, brush and sponge for applying this. Applying with finger does not blend it properly. The foundations started settling here and there. I was left with unblended patches of foundation all over. Brush gave good coverage but also looked a bit unnatural. Sponges are the best tools for this foundation. I dot foundation to parts of my face and blend with sponge. Applying dots all over the face is not a great idea. When you are busy blending somewhere, the other dots will dry up and settle down. I take my time to blend with the sponge and it gives desired coverage with flawless finish.
The staying power is great with this. It stays intact for 5-6 hours in super humid weather. The staying power increases with touch ups at regular interval.
Lakme 9 to 5 Primer + Matte Perfect Cover Foundation vs. Maybelline Fit Me Matte + Poreless Foundation: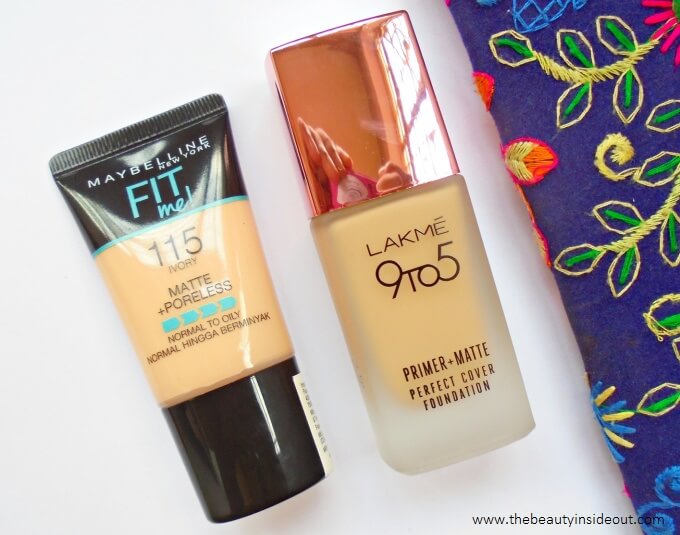 | | | |
| --- | --- | --- |
| Criteria | Lakme 9 to 5 Primer + Matte Perfect Cover Foundation | Maybelline Fit Me! Matte + Poreless Foundation |
| Texture | Slightly thick, smooth, silicone based primer like | Light liquid formula |
| Blendability | Dries fast; quick blending needed | Blends easily |
| Tools | Blending Sponge | Sponge, brush |
| Fragrance | Floral fragrance | Fragrance free |
| Finish | Lasting matte finish | Comfortable matte finish |
| Coverage | Medium | Medium |
| Oxidization | Gets ½ to 1 shade darker | Gets up to 2 shades darker |
| Layering | Looks cakey if layered | Up to 3 layers possible |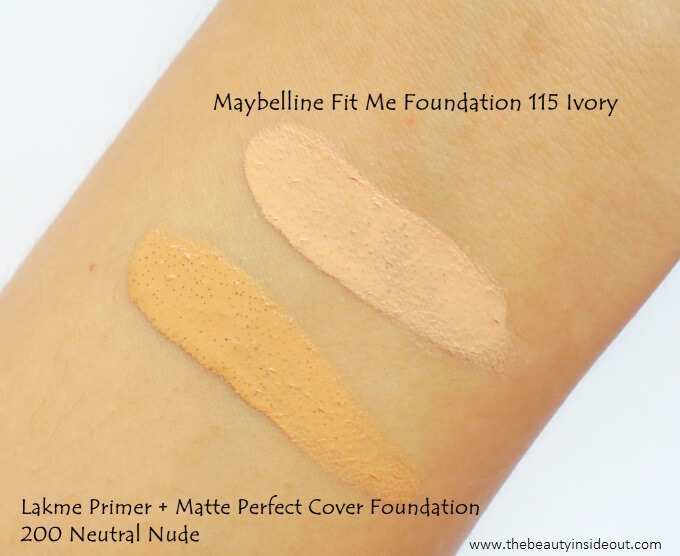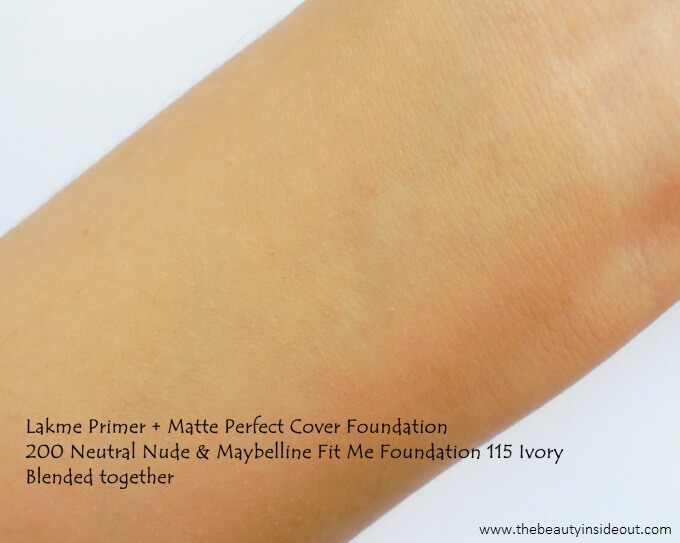 Overall Pros & Cons of

Lakme 9 to 5 Primer + Matte Perfect Cover Foundation
Pros:
Long stay matte formula.
Primer like a smooth feel.
Blends well; less creasing.
Very little flashback; looks great in pictures.
Medium coverage.
Cons:
Ingredient list absent.
Not enough shade for neutral undertones in the light complexion category.
Has added fragrance.
Open mouth packaging creates mess and spillage sometimes.
Rating: 3.75/5
Would I Recommend? Lakme 9 to 5 Primer + Matte Perfect Cover Foundation is basically a medium coverage matte finish foundation best suited on oily to combination skin. It has a primer like creamy texture that blurs pores to some extent. You have to work a little to create a skin-like flawless finish. Coverage and stay time is great for the price. It is not as light as Maybelline Fit me, but has better staying power. Buy this on discount time, you'll not be at a loss!