Vicco is a brand, we all have seen since our childhood days. Its one of the oldest Ayurvedic brands that has gained the trust of many Indian women over the past decade. With too many brands up in the market, Vicco has finally expanded their line and has introduced the Vicco Turmeric Face Wash. The name can be misleading because this is actually a face wash. May be they wanted to retain the name Vicco Turmeric Cream, that they have come up with this name. Anyways, let's move to the details of the product.
Product Description
Vicco Turmeric Face Wash is a one-step-solution to every girl's skin care problem. It's an effective Ayurvedic medicine with microbicidal properties of turmeric which helps to fight pimples, blackheads and oily skin with every wash. It also helps in fighting skin infections, rashes and allergies. It helps to stop the bleeding of minor wounds and heals them, treats minor cuts and small injuries as well. Vicco Turmeric Cream with Foam Base – Come closer to the power of turmeric and Ayurveda and ward off bacteria and microbes from your skin with every wash.
Vicco Turmeric Face Wash Ingredients:
Extract of Turmeric ( Curcuma LongaLinn – Rhizome Powder) 16 % w/w , exipients Q.S (in a foam base)
How to use Vicco Turmeric Face Wash
Apply Cream on Skin
Massage the foam for 15 seconds
Rinse it off with water
Get clear, glowing skin with every wash
Price: 40 INR for 30 gms. It is available in various department stores.
Vicco Turmeric Face Wash Review
Packaging: Vicco Turmeric Face Wash comes in a white plastic tube with blue detailing on it. It has a screw cap attached to the top. The tube came housed in a card box with details about the product printed on it. I like the packaging, it's small, travel friendly and fuss free to use.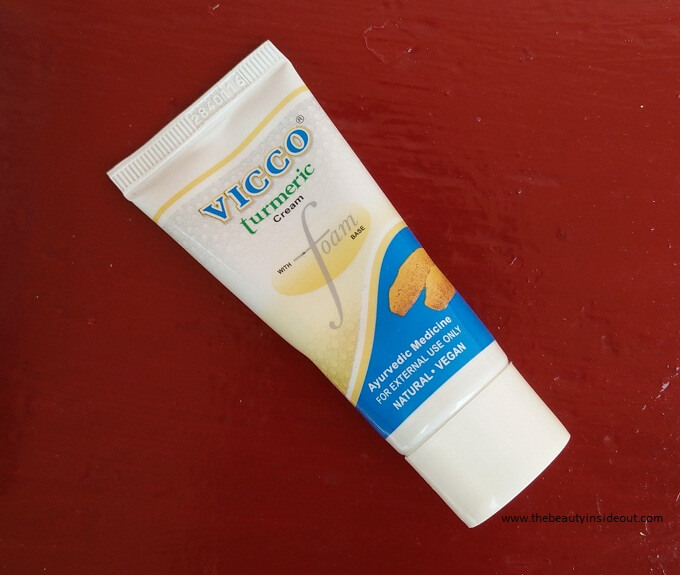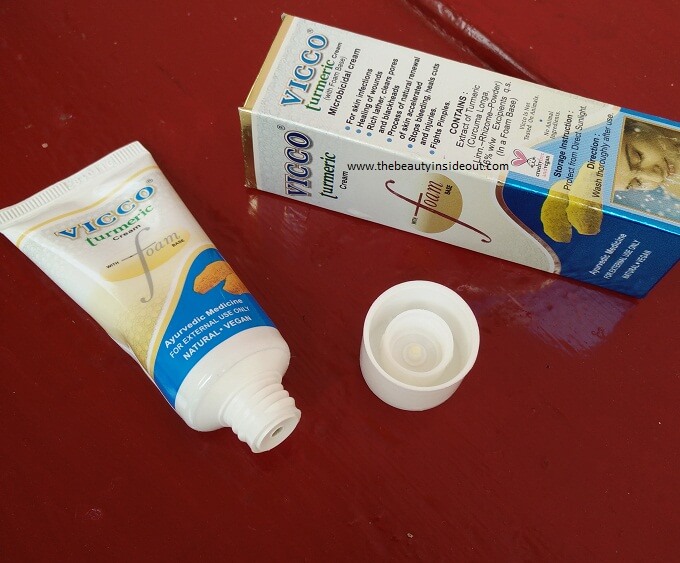 Fragrance: It has a strong herbal fragrance, relatable to turmeric. Sensitive noses might find it bothering.
Color: Deep golden yellow color.
Texture: It is gel based and has a smooth medium consistency.
My Experience:
I've been using Vicco Turmeric Face Wash for quite sometime now. I have to say that I have found a liking to this face wash. I require only a dollup to bring it to a mild lather. It cleanses the skin very effectively and gives a clean bright skin. While cleansing, it gives a refreshing cooling sensation which lingers for a few minutes after washing too. It must be because of the turmeric extract in it. I like that this face wash does not leave any slippery residue behind and is not overly drying. I do have the need to moisturize but it does not give a stretchy or itchy feel some face washes give me.
Dry skin types would find it to be drying though. This is a face wash oily skin types. Turmeric is supposed to be so good for acne. However, It did not eradicate acne or prevent the occurrence of new ones. But it calms down any redness caused due to acne to a great extent.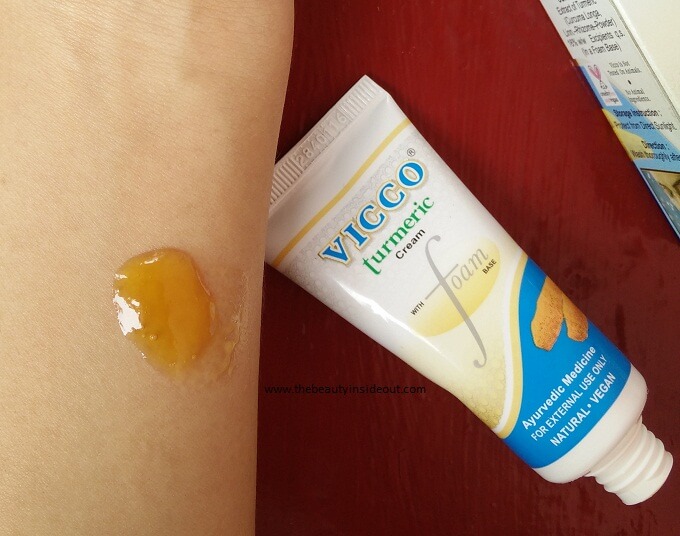 Finally coming to the part that is bothering me. The ingredient list. It has 16% of turmeric extract and the rest, I do not know. It says exipients q.s. which means it may or may not contain chemical cleansing agents. I'm leaving that up to you to decide. Also claims like it stops bleeding, heals cuts and injuries is a bit exaggerating. It cleans the pores well and clears out blackheads to some extent as claimed.
Overall, Vicco Turmeric Face Wash is a refreshing everyday face wash that gives a cleaner and brighter skin. However do not expect it to work on your acne, if that is what you are expecting from this face wash.
Pros:
Very economical.
Cute, travel friendly packaging.
Requires a little amount, so tiny tube lasts long.
Good consistency.
Washes off without any residue left behind.
Gives a refreshed cooling sensation.
Cleanses efficiently.
Suitable for oily skin types.
Not tested on animals.
Its vegan, i.e, does not contain any animal ingredients.
Cons:
Strong fragrance.
Incomplete ingredient list.
Exaggerated claims.
Confusing product name.
Rating: 3.9/5
Do I recommend? Yes, it is very economical and does its job of cleansing without irritating my skin. Particularly I like the refreshing feel this face wash gives. If you can overlook the incomplete ingredients and exaggerated claims, this is a great buy.
Looking for other face washes?