St Botanica is not a new name in the beauty world. It is quite popular among influencers and social media. I bet you would have seen them being recommended on Amazon. With the brand's name, I initially thought it's an international brand. Guess I was wrong. St.Botanica is a is Haryana Based Indian Cosmetics Brand that claims to give you everything that one would look for in a safe skincare product. Starting from being Natural, Paraben-free, Sulphate-free, Cruelty-free, Dermatologist Tested, etc, etc. Though it sounds too good to be true. Anyways, today's post is going to about one of their best-selling product – St Botanica Vitamin C Serum. Read on to know more.
Product Description:
Formulated With Powerful and Functional, Natural and Organic Bioactive Ingredients, St Botanica Vitamin C Serum,
Protects and repairs the skin.
Reduces dark spots and facial marks.
Prevents the signs of Aging.
Good free-radical scavenger.
No Harmful Chemicals
St Botanica Vitamin C Serum Ingredients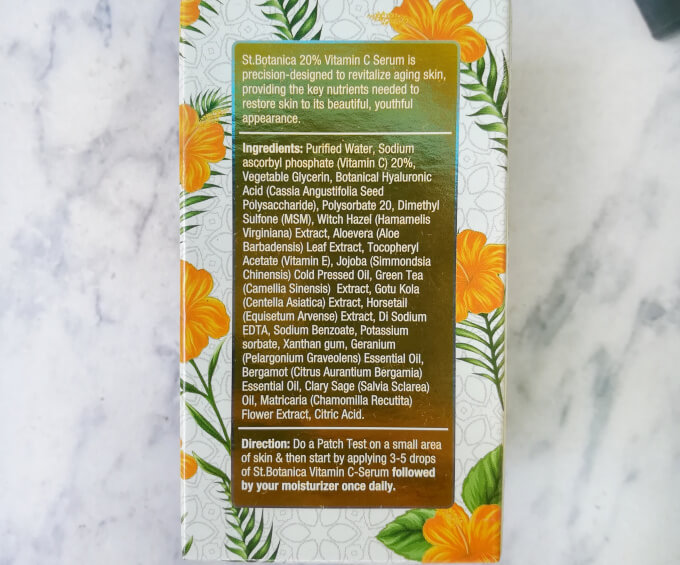 The St Botanica Vitamin C Serum has
20% Sodium Ascorbyl Phosphate (SAP), a water-soluble, stable form of Vitamin C. It's rich in antioxidants and is highly effective in brightening uneven skin tone.
1% Vitamin E, an antioxidant that supports cell function.
0.5% Hyaluronic Acid, retains moisture and keeps skin plump.
Aloe Vera Extract soothes inflamed and irritated skin.
Jojoba Oil similar to our skin's sebum, Jojoba Oil regulates excess sebum production and nourishes the skin.
Centella Asiatica, a skin-soothing ingredient that also boosts collagen production.
Green Tea Extract, an antioxidant that fights free radicals.
Vegetable Glycerin: a humectant that hydrates the skin.
Clary Sage, Bergamot & Geranium Essentials Oils: has therapeutic properties.
Precautions:
Since this is a highly concentrated vitamin C (20%), it is best if your skin is already used to smaller amounts of vitamin C before. Although Vitamin C has not been known to cause purging, in order to be safe and drastic reactions, I'd suggest that.
How to use St Botanica Vitamin C Serum?
Take the desired amount of Face Serum.
Apply the serum across the face, especially in the under-eye region, preferably on freshly cleansed & toned face.
Allow the serum to be absorbed for maximum benefits.
St Botanica Vitamin C Serum Price:
St Botanica Vitamin C Serum Review
Packaging: I have the old packaging which comes in a glass bottle with a dropper. The new version comes in a pump dispenser bottle which is much easier to use. The bottle is dark, amber-colored which is a good thing to preserve the potency of vitamin c serum. Vitamin C serums should be stored away from sunlight, best in the refrigerator in order to avoid oxidation. The bottle arrived in an outer carton box which has details about the products including the ingredient list.
Color & Texture: When I first received the product, it was very pale yellow in color. Over a period of two months, it turned into deep orange color (as in pictures) which means it has oxidized. In case, you received an oxidized serum, do report it to the brand and ask for a replacement.
Fragrance: It has got a citrus fragrance that is mild and pleasant. The smell fades away over time.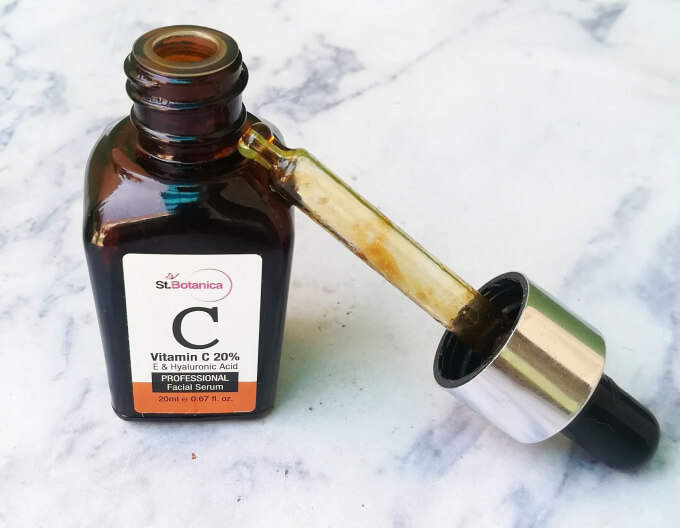 My Experience:
Initially, I started using the serum during the nighttime, after cleansing and toning. I needed two drops of the serum for my face. It's a lightweight oil-based serum, so it spreads easily and leaves the skin a bit dewy and sticky. The stickiness settles down and the serum completely absorbs into my skin within a few minutes. I follow it up with an oil-free gel moisturizer since I have oily skin. The serum definitely felt hydrating and nourishing. From the second week, I introduced it in my morning routine as well following the same routine except with an addition of sunscreen.
After using the product for about three weeks, I could gradually notice the color of the serum to be changing. That's when I stopped using it. Over the period of three weeks, I did not notice any brightening effects or reduction in fine lines as claimed. Thankfully the serum didn't break me out. It nicely hydrates and imparts a glow.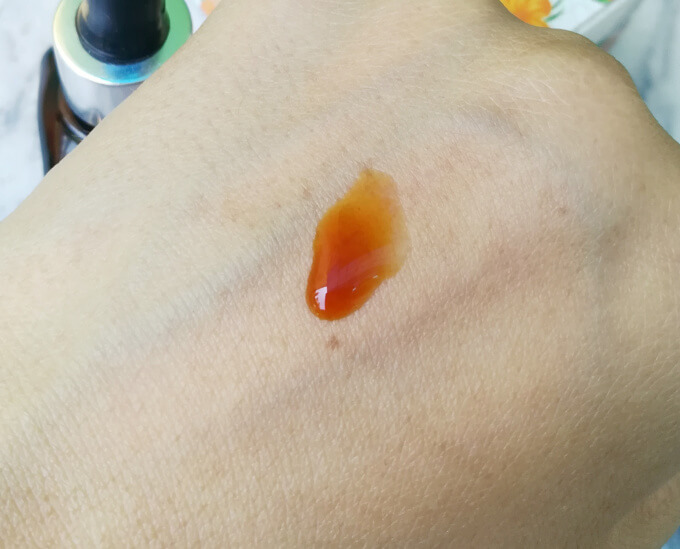 St Botanica Vitamin C Serum Side Effects
I didn't experience any side effects from the serum. There wasn't any uncomfortable or tingling sensation while using this. It's very gentle on the skin that I doubt if it's even potent and effective to be a 20% Vitamin C Serum.
The Serum has Clary Sage, Bergamot & Geranium essential oils, so if you are sensitive or allergic to those, you need to avoid using this. Nevertheless, doing a patch test on a small portion of your skin is recommended before starting to use on a full face.
Though it's an oil-based serum, it did not break me out. It has Jojoba Oil which is quite light and Non-Comedogenic. So it should be fine for acne-prone skin. It is said to be suitable for all skin types – dry, oily, normal, and combination as well.
Using sunscreen is mandatory with any actives including Vitamin C otherwise it can reverse the benefits of it causing skin darkening and sensitivities.
Summarising pros and cons,
Pros:
Impressive ingredients.
Mild fragrance.
Lightweight oil-based serum.
Absorbs without leaving the skin greasy.
Hydrates and moisturizes the skin
Free of parabens, SLS, silicones, and mineral oil.
Cruelty-Free.
Cons:
Expensive.
Product oxidizes fast.
Proper storage is needed.
Doesn't do everything that it claims.
Rating: 3/5
Would I recommend it? No, its cons outweigh its pros. Although it is a lightweight nourishing serum, it did not do anything much that I would expect of a vitamin c serum. It fails its brightening and anti-aging claims. For the price we pay, it's totally not worth it.