Have you been looking to shop from Foxy? Is the Foxy App safe for shopping? Is the site legit? Are these questions lingering in your mind? Here are the answers for you! I recently made a purchase from Foxy, so I thought I'd share my experience with anyone who might be a little hesitant about the app or online shopping in general. Along with sharing what I liked and didn't like about the Foxy app, I have offered some amateur suggestions in the hopes that at least one of them would spark the business's interest.
When I first visited the Foxy website, I believe it was in 2021 or thereabouts; it was brand-new or something and had a tonne of discounts but few brands. As of 2023, though, they have a store, a fantastic app, and an extensive collection. And it's honestly nice to see a good business grow.
About Foxy App
Let's talk a little bit about Foxy and how it differs from other skincare purchasing apps.
They claim to be India's first beauty social commerce app on their LinkedIn page, but I'm not sure if they are, to be honest, does it even matter? (Somehow everyone's the first something so it's annoying when people make that claim) But let's take a closer look at those words. I'm thinking that they primarily provide consumers with an assortment of products from a broad spectrum of brands to choose from. So bridging together consumers and the brands.
Then they're somewhat of a social app since they have those Instagram-like stories where influencers (or maybe random people, I dunno) share how certain products have worked for them. You could either check it out or ignore it (as I did).
They also have a selfie analysis thing, wherein you'd upload your picture and your concerns and they'll curate the best products for you.
They also have experts on the app who offer recommendations and suggestions for products, but it's difficult for someone like me to understand how that benefits me since my only goal is to shop and I've already done my product research, I'd like to think, of trustworthy sources. So why this? But on second thought, it could be helpful for a newbie to spot some new and cool recommendations.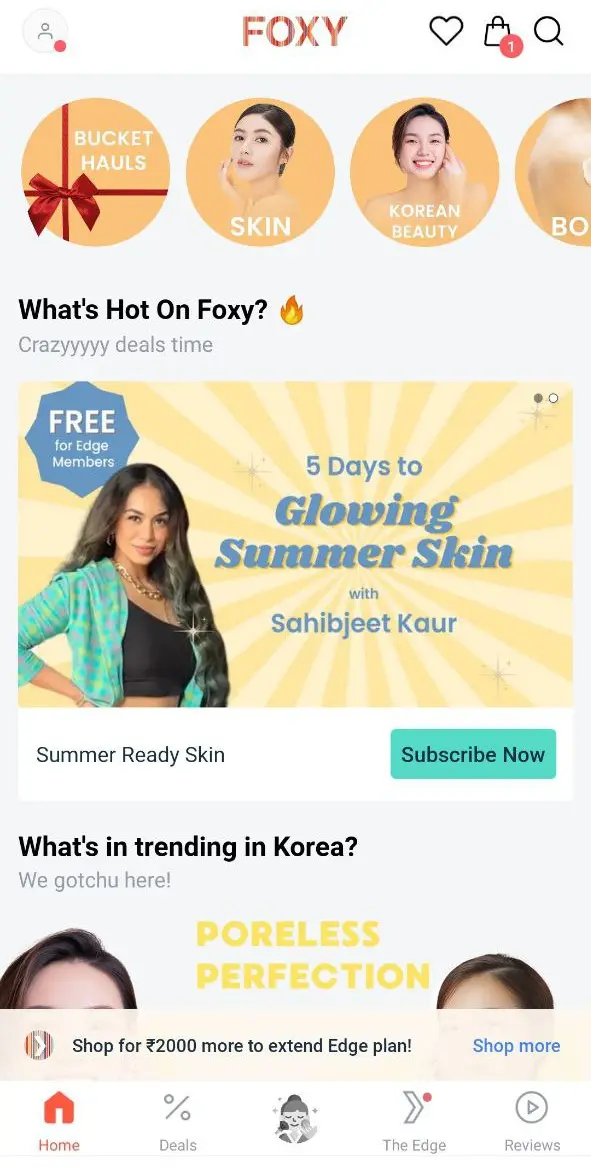 Is the User Interface of the app user-friendly?
Yes, it is. As a whole, I liked the App. I liked the site's color scheme and the arrangement of the many entries (Korean brands/serums/CMT- that sort of thing). I enjoyed the fun fonts, the tasteful use of color, and how well the fonts complemented the overall feel of the page. I enjoyed how user-friendly the app felt.
But so many things simply went unnoticed. Before writing this review, I looked at the app to double-check whether I had missed any of the "user experience", and I found that I had missed out on a lot of things.
Like they have a whole section dedicated to deals, if you visit your profile page, you'll find some deals that are exclusive to you as well as a tonne of other helpful bits like selfie analysis and then customized products. Also, there is a section called "under ₹99" (How did I overlook that?). They also have Trials and minis.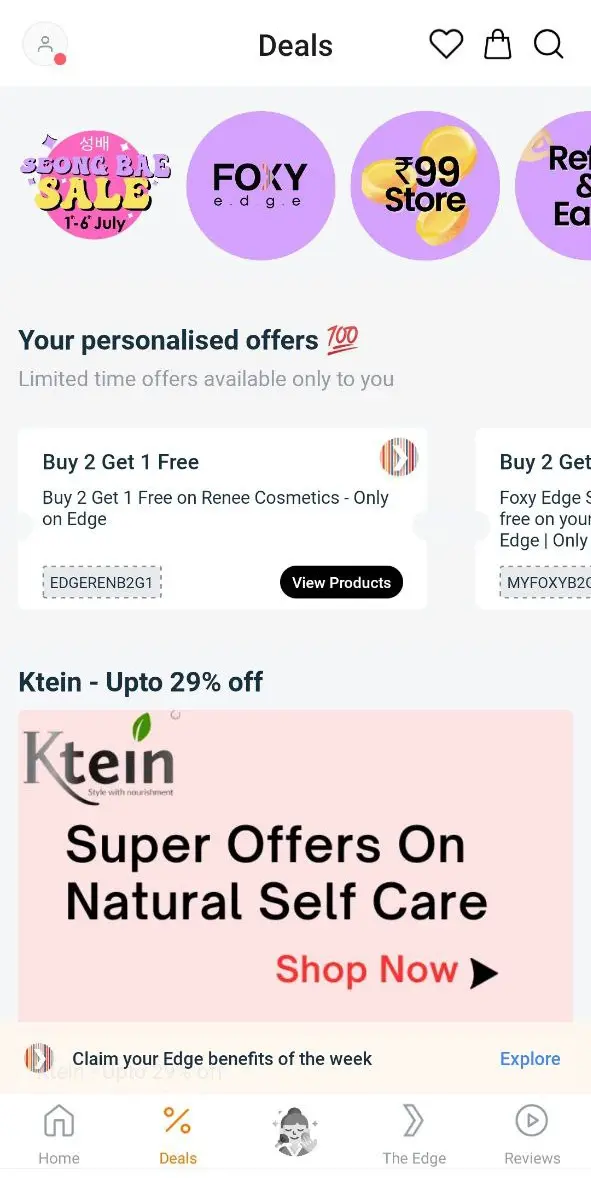 I initially had trouble figuring out the categories filter, but you can move it across and get plenty of useful filters. I'm just so used to seeing the filters as lists rather than horizontal bubbles so I'd like to suggest they tweak the font or colors of those for convenience's sake. Or have a handy new user app tour that shows its features and the "new offer" part.
They also have a reviews area that looks like Instagram reels. You could also find reviews / reco if you scroll down the main page. I didn't find that very useful though.
A cool experiment would be to have video reviews of products from real customers right under the product like we have written reviews.
My only actual dissatisfaction was the speed at which the page loaded because, believe me, in the time it took some pages to load, I could have watched two reels. And I say 'some' because while other pages did load promptly, some didn't, and that sort of stands out.
The layout of the page was appealing overall, and it was generally simple to navigate and explore the content.
Do we get Variety on Foxy?
Yes, we do. They're all sourced from legit brands, so you wouldn't need to worry about getting fake products. They have cosmetics, body care products, and skincare products too. They obviously have the Best Indian brands (such as Minimalist, Re'equil, Dr. Sheth, Suganda, etc.), some Korean brands (such as Cosrx, Klairs, etc.), as well as the typical international ones like Bioderma and Neutrogena.
How do we make payments on the app?
Options include UPI, credit/debit cards, Paytm wallets, and Cash on Delivery. And UPI is so convenient these days, so that's what I use to pay. And sure, it's secure (at least no one has robbed my account).
Plus, they only charge a meager ₹9 (why not make it 10) for packaging. However, if your order total is less than ₹400, they will charge an additional delivery price.
How was the delivery experience?
I received my package in 5 days, which I think is a typical shipping period. After I finalized my order, I received the confirmation that my items had been packed, they have been texting me about the status of my package ever since. Nice and convenient. On top of that, they allow you to track the entire procedure on a different website.
They might have sent email confirmation as well, but I didn't register mine. You know how some websites require you to enter your phone number plus your email address? I don't like that, it's actually so frustrating that I keep receiving the same stuff via text and email. So, I like that Foxy didn't pressure me into registering.
And my packages—two of them, since one was shipped through Foxy and the other through the brand—were pleasantly given to me by the delivery person. The packaging was minimal. We get the Foxy labeled outside cardboard box, and some wood shavings inside one package(I honestly don't understand their use, but I'll assume it's to reduce impact). For that package, there was no plastic except the tape that secured the box. And everything came neatly packed. And the second box that came via the brand was snuggly rolled in a bubble wrap sheet. And I enjoyed playing with that bubble wrap (like, pop, pop, pop).
About The Offers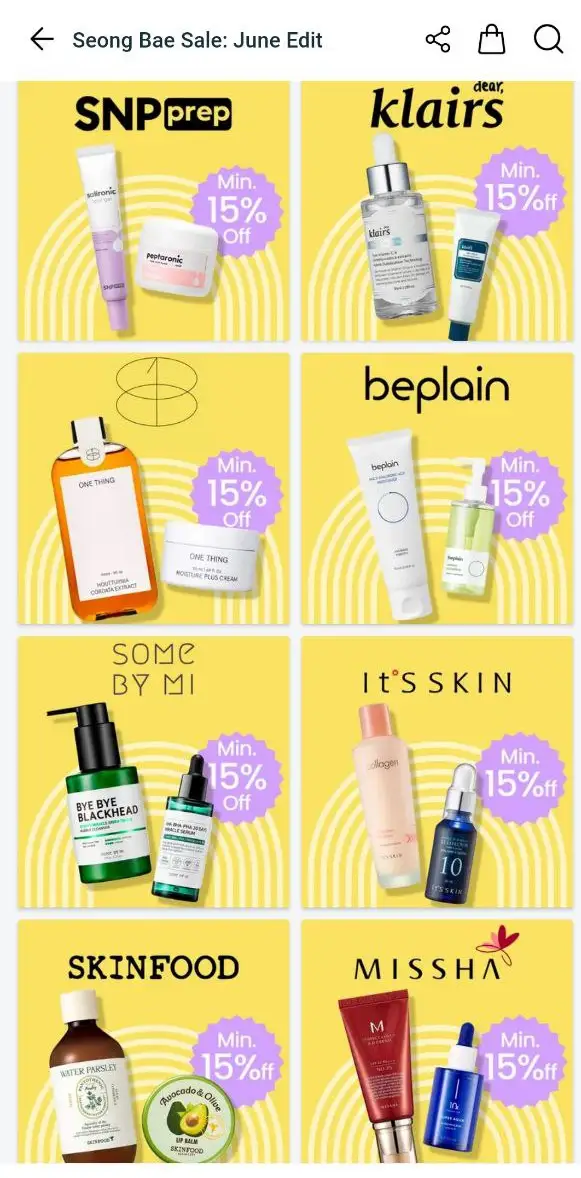 They have a "deals" area, which is nice, but I wouldn't say they're "oh my gosh, excellent deals"; more like "ooh this is nice". They run 24-hour flash discounts during which some of the products have like super discounted.
This time, I really wanted to purchase some Korean Beauty Products, but sadly, they didn't have what I was looking for, and the items they did have weren't significantly discounted. They're running 30% off for three Korean products so do check them out. They also have the same for some CTM products.
They offer something called the Edge subscription, which is comparable to the Prime membership on most other websites, and they give these edgY subscribers more discounts and freebies. You can also sort of try out the Edge Sub; sadly, I only realized it when I went back to look at the app, so I can't tell you how it actually works. However, do let me know if you try it out!
To Summarise!
Imma return to Foxy to shop (mostly to redeem vouchers)! Foxy is credible and quite cool. They give decent everyday savings, although I suppose the best deals would be found during the end-of-season sale or something. Also, don't forget to leave a review; doing so is always helpful for people who wanna know how a Product works.
This was unexpectedly long but I hope you stayed with me. I'll be back with another review!