Maybelline, recently launched the V-Face Contouring Range along with the New Maybelline Dream Velvet Soft Matte Hydrating Foundation. This foundation claims to be a matte and hydrating one which intrigued me to try out this foundation. So here I am with the review of it.
About Maybelline Dream Velvet Soft Matte Hydrating Foundation:
Ingredients:
Shades Available:
40 Nude
60 Sandy Beige
75 Natural Beige
92 Caramel
Priced at Rs.700 for 30 ml. You can get  it from any Maybelline Counters or buy from Amazon.com or Amazon India.

My take on Maybelline Dream Velvet Soft Matte Hydrating Foundation:
The foundation cream is packed inside a tube with a screw cap which is so convenient and handy to carry around. It is so compact that you can just toss into your bag and just forget about it. I love this kind of packaging instead of those bulky glass bottles. It is very easy to control the amount of product that comes out leading to no wastage. You squeeze and you get how much product you need. These foundations come in 4 shades and the tubes are color coded but I find the shades on the packaging to be darker than what it actually is. I ordered it online and as soon as I received the tube I thought I got a shade darker, but when the product comes out it is quite light. So be careful while choosing a shade. I got it in the shade Sandy beige which has yellow undertones and will suit fair-medium skin tones.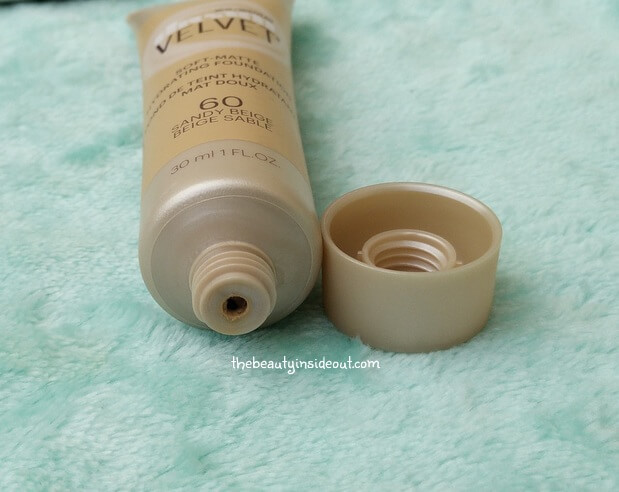 The product has a soft mousse kind of consistency that is thick and creamy. It spreads easily and blends seamlessly into the skin giving a second skin like feel. I used my real techniques miracle sponge and I feel it works great for this kind of mousse-y cream. It beautifully evens out my skin tone giving a smooth flawless finish. It cancels out redness around my nose area and conceals my minor acne marks and zits too. I would not say this is a complete full coverage foundation. It gives medium coverage that is buildable. But I like to do just one layer to avoid cake-yness. Even though this is a thick cream, it feels very light and comfortable on the skin. The finish is velvety matte that feels quite hydrating.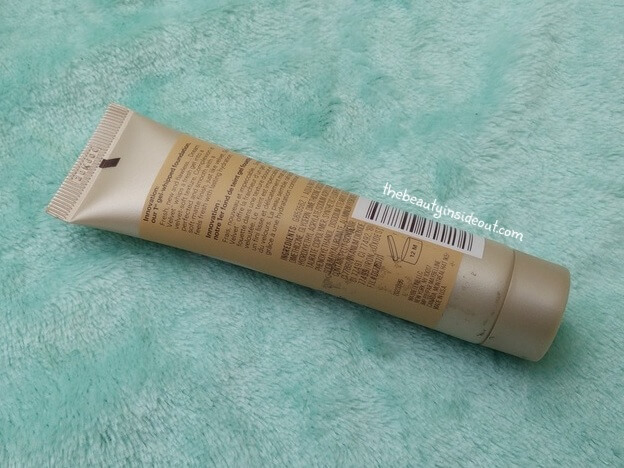 It claims to be hydrating for upto 12 hours, but honestly it doesn't stay that long on me.  So I can't comment on the hydrating claim. It stays put for 6 hours, after which shininess and oiliness starts peeking through my skin which is not bad considering I have oily skin. This would be great for normal skin types. It does smoothens out the skin as it claims. It contains dimethicone as one of the top ingredients, that must be the reason why it easily blurs out my pores and my skin feels so soft and velvety to touch once I've applied it. Ladies who are sensitive or allergic to silicones might not like this. One thing I noticed is that it gives a flashback when photographed. Its weird because it doesn't even contain any SPF. Otherwise it looks so natural and flawless in person and in natural lightening. Overall, I love this foundation, it is hydrating and gives a soft natural looking matte finish that is not too flat or made up. This would be a good one to try out this winter.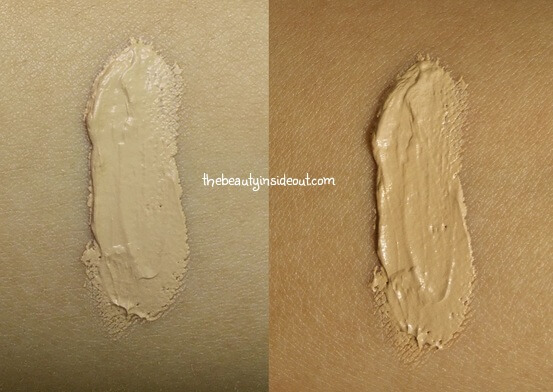 Pros:
Travel friendly tube packaging.
Soft mousse texture that spreads easily.
Gives a flawless velvety matte finish.
Evens out skin tone and conceals minor marks and zits.
Feels very lightweight on this skin, almost like second skin.
Provides medium coverage.
Suitable for normal to combination skin types.
Good staying power.
Cons:
Not good for flash photography.
Contains silicones so not for sensitive skin types.
It does not stay for 12 hours.
Being a drugstore foundation, the price could have been lower.
Rating: 4.5/5
So that's all about it. I hope you find this review. Have you tried Maybelline Dream Velvet Soft Matte Hydrating Foundation? Share your thoughts in the comments section below.
Also check out
Until Next Time,
Stay Beautiful♥