The budget friendly brand Elle 18 recently launched its first matte lipsticks and it took me a lot of time to get hold of these lipsticks due to its availability. So finally here I'm with one of the Elle 18 Color Pops Matte Lipstick Review.
About Elle 18 Color Pops Matte Lipstick:
High Color Pay Off
Single Color Lipstick (without the moisturizing core)
Matte Texture.
Price : Rs.100 for 4.3 gm.
Availability : You find them in Elle 18 Outlets or you can buy them online HERE
Shades Available: 20
Reds : Code Red, Selfie Red, Rockstar Red
Pinks : Pink Kiss, Prom Pink, Rose Day, Pink Show, Deep Pink.
Oranges : Rust Rage, Let's Tango, Coral Dose
Browns : Cocoa Bite, Belgian Brown, Chocolate Day
Berries : Berry Bestie, Mauve Date, First Love, Berry Dance, Grape Riot, Cherry Wine.
My take on Elle 18 Color Pops Matte Lipstick:
The Elle 18 Matte Lipsticks come in a glossy, black, cylindrical case that looks appealing with a girl's face printed on it. The cap shuts tightly but I doubt it to be travel friendly. These lipsticks do not have the central moisturizing core as compared to the other Elle 18 lipsticks. By means they are indicating us that these are 'Matte' lipsticks. Don't worry these are not at all drying. The lipstick has a sweet chocolate-y vanilla scent. You are not going to notice it unless you sniff the bullet. So it is not at all bothering.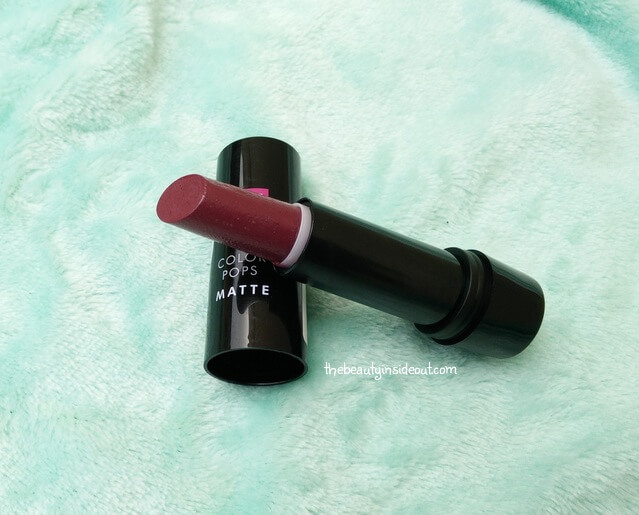 The formula of these lipsticks are creamy so they glide so effortlessly with no tugging or pulling. The finish is velvety matte and if you're disappointed that it is not an outright true matte, you can just blot it down and powder it. I like the creamy finish as they feel very comfortable on the lips. They do not crease, settle into fine lines or accentuate dry patches. Being creamy, it does transfer a bit but not crazily.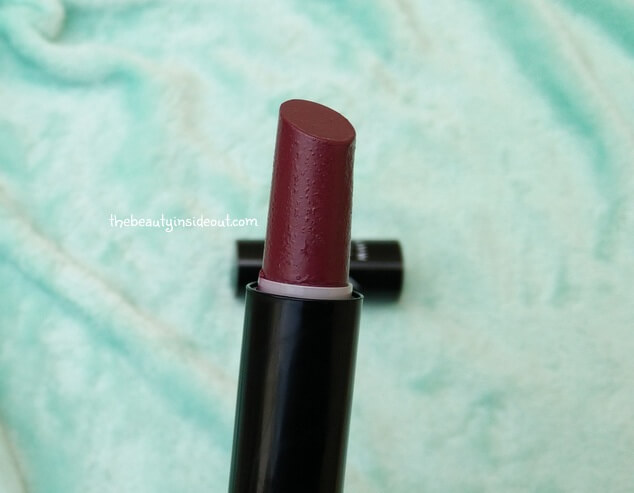 The shade I have Grape Riot is a beautiful mauve pink with no shimmers. This is a very wintery shade and would compliment all skin tones. Being a dark shade, two swipes were enough to cover my pigmented lips. It stayed put for 4-5 hours and can survive light snacking but not heavy Indian meals. It eventually fades away evenly leaving a subtle pink tint behind that can be easily removed with water. Overall these are pretty amazing lipsticks and one can't really complain for the super cheap price tag it comes.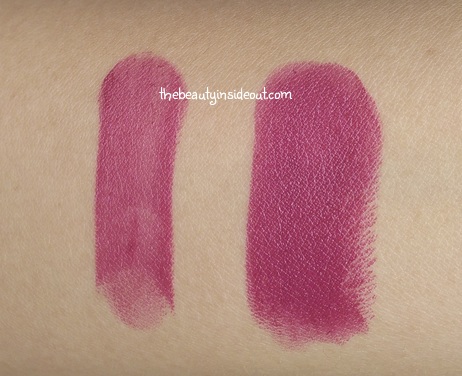 Pros:
Comes in 20 shades.
Creamy texture that applies evenly.
Non drying semi-matte finish.
Good pigmentation and staying power.
Cons:
Rating: 5/5
In short, Elle 18 Color Pops Matte Lipsticks are super affordable creamy matte lipsticks that has good color pay off, longevity and does not dry out your lips. I would highly recommend everyone to try these.
So that's all about it guys. I hope you find this review helpful. So have you tried these lipsticks? Share your thoughts in the comments section below. See you in my next post, until then, take care and,
Stay Beautiful♥