Apart from trying out conventional oils for review purposes, I'm someone who loves using carrier oils. I always have a stock of coconut, castor and olive oils to make my own version of oil according to my needs. As my Aloe Veda Olive Oil got over, I got this Soulflower Coldpressed Olive Carrier Oil after having good experiences from the brands Bhringraj Oil. This one is a cold pressed one. If you don't know what it is. In coldpressing, the olives are pressed and grinded in low temperatures in order to retain its aroma, flavor and nutritional value. So let's get straight into the details.
About Soulflower Coldpressed Olive Carrier Oil: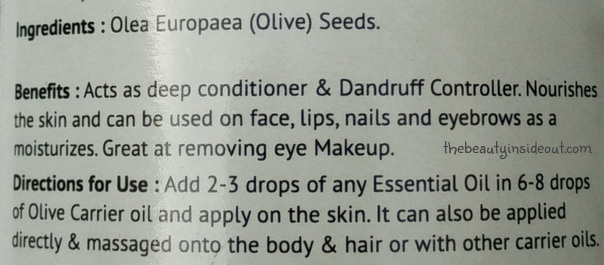 It retails for Rs.300 for 200 ml .
Buy it HERE
Shelf life is 2 years.
Packaging: All of Soulflowers carrier oils have pretty much the same packaging. This carrier oil too comes in a transparent plastic bottle with a flip top cap. The cap shuts tightly but the hole on the flip top cap is kind of big so you need to be careful while pouring the oil on your palm.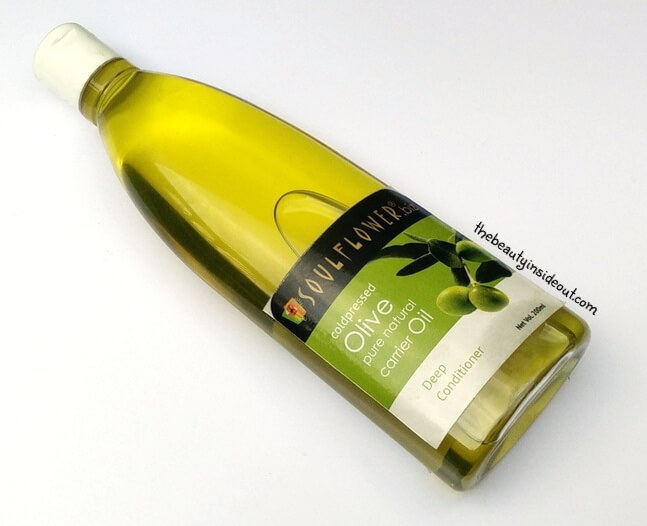 Fragrance/Consistency : Soulflower Coldpressed Olive Carrier Oil is golden yellow in color and it smells like olive oil. I neither like it nor hate it. It's not too strong. So I'm ok with that. The consistency is medium to thick. I felt it to be slightly thinner than the Figaro one. Still the oil is a bit heavy for everyday use. I'm not complaining as olive oil is just that. You cannot ask to forsake its natural composition and the heaviness is what makes it apt for deep conditioning.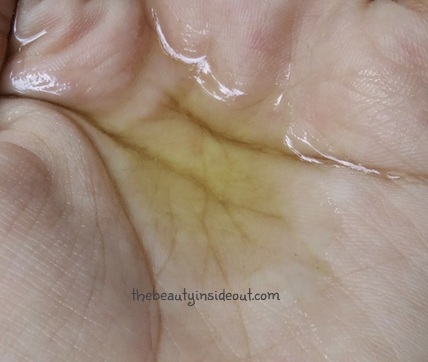 Usage:
Since this is a multipurpose oil, I'll tell you how I use it and its effectiveness.
As a makeup remover : I use this oil to remove my eye makeup and it removes even the hardest maybelline mascaras. If you have dry skin, you may use it to remove your face makeup too.
As a pre-shampoo conditioner : On days when I need to deep condition my hair, I slightly warm up the oil and apply it on my scalp for 2 hours before washing and it leaves my hair so soft and nourished post washing. You can leave it overnight too, but remember to cover your hair or else your pillow cover is going to be stained.
As a body moisturizer : I have dry body skin and it tends to flake even in hot summers. This oil works wonders in keeping my skin moisturized throughout the day. It can a little sticky, but once its absorbed its good to go.
Makeup brush cleanser : I always clean my makeup brushes and sponges in this way. A few drops of olive oil and two tablespoon of a mild hand wash. This removes every bits of dirt on my brushes.
In Body Scrubs : I love making my own body scrubs and this is one oil which I always add in them. Again this leaves the skin soft and supple without any sticky feeling.
As a serum : When I'm lazy to oil my hair pre-shampooing , I just take a dime size of the oil on palm, rub it in between my hands and run it through the length of my hair. This keeps my frizz prone hair under control.
As A lip scrub : I tend to have chapped and dry lips if I do not scrub them. So I use a mixture of granulated sugar and olive oil to gently exfoliate my lips. That way liquid lipsticks don't settle into my fine lines and dry out my lips.
For cracked heels : I just massage a few drops of olive oil after scrubbing my heels with a pumice stone. This prevents dead skin accumulation on my slightly cracked heels.
As cuticle oil : To strengthen your nails, you can just massage few drops of this oil on your cutile.
For anti aging : For dry skin ladies, this would be the best natural anti aging oil that reduces fine lines, crow feet and wrinkles.
Shaving cream : Applying olive oil before shaving can give you that smooth and clean shave. Note that shaving on dry skin is totally not recommended
As an under eye oil : To keep your under eye area nourished, dab a tiny drop of olive oil under your eyes. It prevents dark circles and wrinkles too.
In short, Soulflower Coldpressed Olive Carrier Oil is a really good and authentic olive oil that serves it purpose very well. Ladies who are looking out for a coldpressed olive oil should definitely try this one.
So that's all about it guys. I hope you find this review helpful. See you all in my next post soon, take care and,
Stay Beautiful♥