South Korea's renowned beauty brand The Face Shop recently launched their beauty products in India through India's largest online portal Amazon.in . After hearing that I couldn't wait to try out some of them. Honestly since most of their products are out of my budget and after having good experience with the skin18 sheet mask, I decided to get their sheet masks first and ordered for the The Face Shop The Solution Face Mask. They have another range too called Real Nature whose price is slightly lower than this. Since I am trying to treat my dull skin, I went in for the brightening variant. The Face Shop The Solution Face Mask range have a lot more variants catering for radiance, smoothing, moisturizing, nourishing, firming, wrinkle care and pore care.
About The Face Shop The Solution Face Mask:

Ingredients: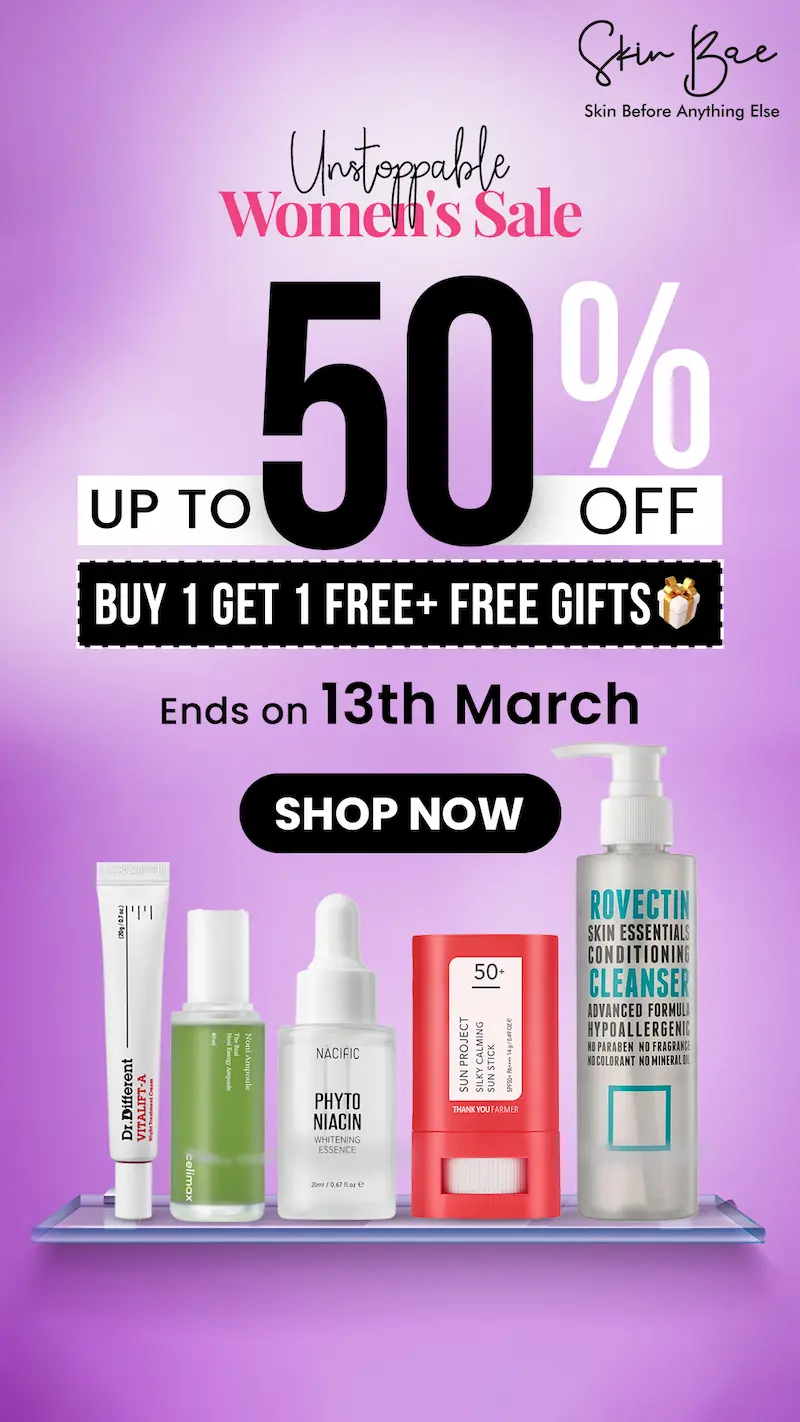 Price Details:
These are priced at Rs.150. I got it at a discounted rate for Rs.120 . You can buy them exclusively HERE. They go out of stock pretty soon but they stock it up in a few days time. Each sachet weighs 20 g.
My take on The Face Shop The Solution Face Mask: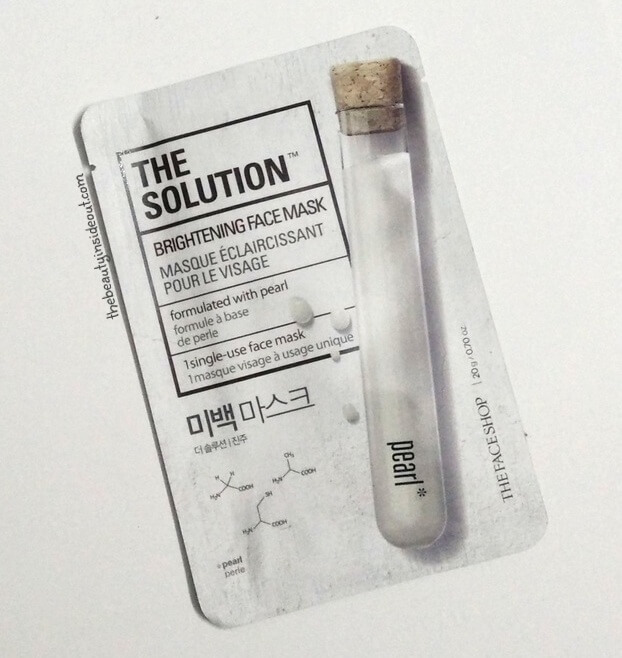 The Face Shop The Solution Face Mask is a one time use sheet mask that comes in a white pouch with test tube design on it. The pouch has a papery texture which makes it easy to tear open the pouch unlike some plastic pouches which must be opened with a little effort. These sheet masks are hygienic and so travel friendly. The Face Shop describes these masks as light as air sheet. And yes as they say these are super ultra thin measuring 0.21 mm and feels very light and weightless on the skin. The sheet mask itself is made of a good quality fabric cotton that feels soft and airy on the skin. Unlike many other sheet masks, this one has a thin glossy film that has to be removed from the actual sheet mask. That's why it adheres well to the face and you know what I was able to walk around everywhere the entire time I had this mask on. No falling or sliding off. It stays in place until we remove it.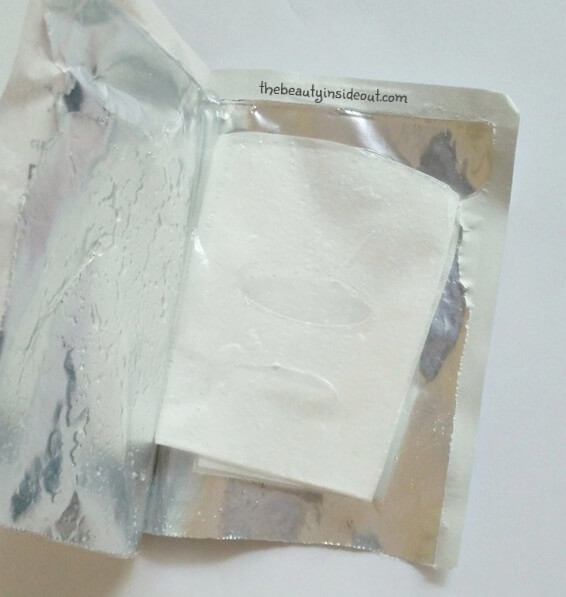 The brightening face mask was not dripping wet but had enough essence on the sheet that would be needed to cover the entire face. There was not much extra viscous liquid left over on the pouch. On looking at the sheet mask I thought it would be big for my oval shaped face but the fitting was pretty good. The sheet has a pleasant floral fragrance that is not obtrusive. This particular variant has Pearl powder and Niacinamide which provides the brightening effect.
I used this last Saturday after a tiring day out with my friends. As the packaging says I cleansed my face, applied toner (I used Kama Ayurveda Rose Water), removed the glossy film (in the picture above) and placed the sheet mask on my face. I could instantly feel the coolness and it was so soothing on my skin. Note that I did not refrigerate it as the weather is quite cold here. The entire session was so tranquilizing. I kept it on for exactly 20 minutes and massaged the remaining essence and kept it on for 5 more minutes. During that 5 minutes I accidently tasted the serum and I tell you it tastes bitter. So don't ever lick it. Normally we don't taste our skin care products other than lip balm. But I just wanted to give you all a heads up. I then washed it off with normal tap water. I could see my skin instantly brightened with a subtle glow and my skin felt very soft and velvety to touch. The mask is neither moisturizing nor drying and would be great for oily skin types. Dry skin ladies might find it to be drying and need to moisturize thereafter. The brightness lasts for minimum 2 days after which its completely gone. All sheet masks give temporary results, so I didn't expect the brightness to last long. These masks are formulated without parabens, but they do contain alcohol and other chemicals. So I would suggest to use these masks once a week and not more than that.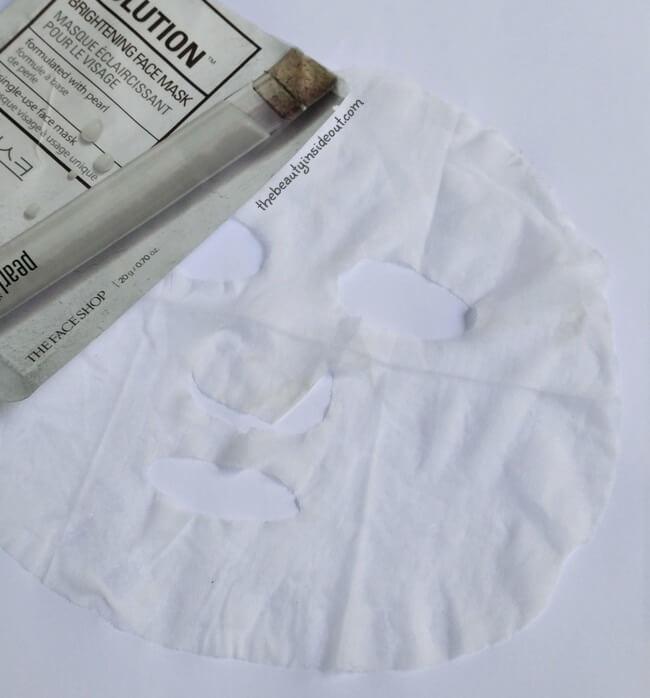 All in all, I am more in love with the pacifying and pleasurable experience these masks give without minding whether they actually fulfill their claim or not. These sheet masks are so perfect for weekend pamperings. If you are into korean sheet masks like me, definitely give these a try. You would love it too.
Pros:
Airy thin sheet mask that feels so light on the skin.
Fitting is good.
Sheet mask adheres well to the face and does not slide off easily.
Fragrance is minimal and pleasant.
Instantly brightens the face that lasts for 2 days.
Suitable for oily skin types.
Formulated without parabens.
Cons:
Contains alcohol and other chemicals.
Not for dry skin types.
Rating: 4.5/5
So that's all about it ladies. Thanks for reading and I hope you find this review helpful. If you like this post, please share and follow me on my social media.
Also check out
Until Next Time,
Stay Beautiful♥