One of the best online shopping site for beauty products 'Nykaa' recently launched their own in-house products through their nail paints and lipsticks. They were known for their good quality, affordable price range and have been raved among many bloggers. Few days back they introduced a new eyeliner which is called the Nykaa Black Magic Liquid Eyeliner and after hearing about that on their instagram page, I couldn't resist so immediately ordered one. So now after using it for a couple of days, here I am with a review of it.
About Nykaa Black Magic Liquid Eyeliner:

Ingredients:

It retails at Rs.299 for 5 ml . You can buy them from Nykaa.com
Shelf life: 3 years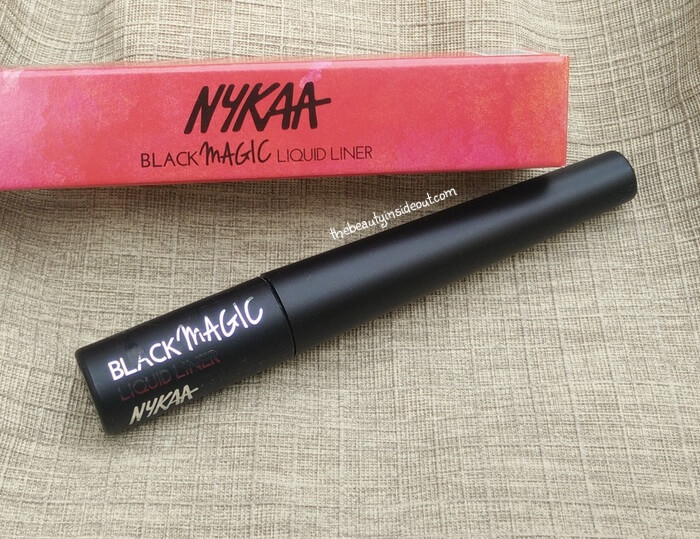 My take on Nykaa Black Magic Liquid Eyeliner:
The eyeliner comes in an outer cardboard carton with every single detail of the eyeliner clearly mentioned on it. The eyeliner itself is in a long black conical shaped tube with the bottom part containing the liner liquid and the top part has the applicator attached. The eyeliner comes in only one shade 01 Super Black and is written at the bottom of the tube. The tube is slightly bulky for a liquid liner but the cap seals in properly and is spill proof making it travel friendly. The outer casing of the tube has a soft matte finish which gives good grip but feels kinda plastic-ky to hold. I felt the packaging to be an ok one, nothing to complain about.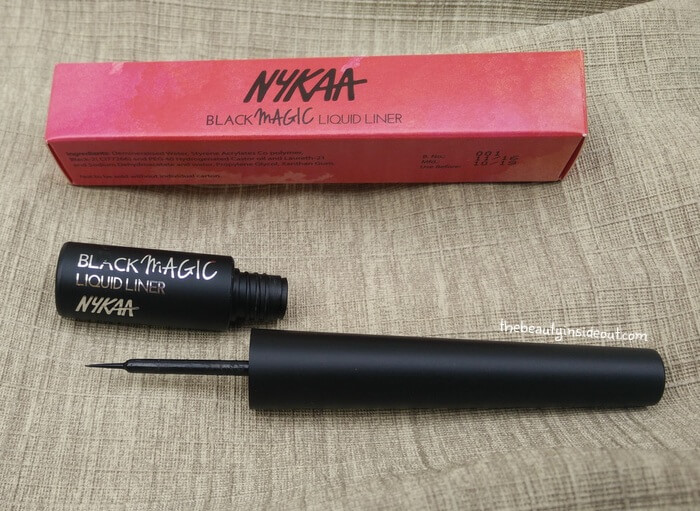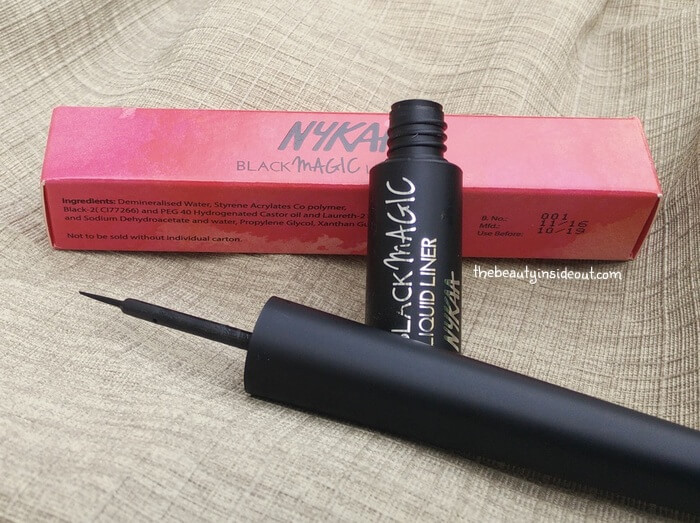 The applicator is a fine tip brush that is very flexible to draw winged lines. With this liner, I was able to achieve bold as well as precise lines. One can easily experiment with any variety of style one desire. Since the applicator is long, it gives good control to cover your inner eye area unlike shorter wands where you need to move your hand closer to your eyes.
The texture is perfect for an eyeliner. It is not too thick or too runny. They go on smoothly and evenly on my oily lids. The finish is glossy, but not outright sparkling glossy type, I would say it has a beautiful sheen to it that can be used on a day to day basis to give you that perky look. This liner did not sting my eyes and I did not experience any sorts of irritation or other noticeable bad effects.
The color pay off is pretty good. One swipe is all you need to get that black color. It takes a couple of seconds to dry, about 10 seconds which is not a bad thing. Once set, it does not move an inch. When touched or rubbed it does not budge at all. I'm totally floored with its smudgeproof formula.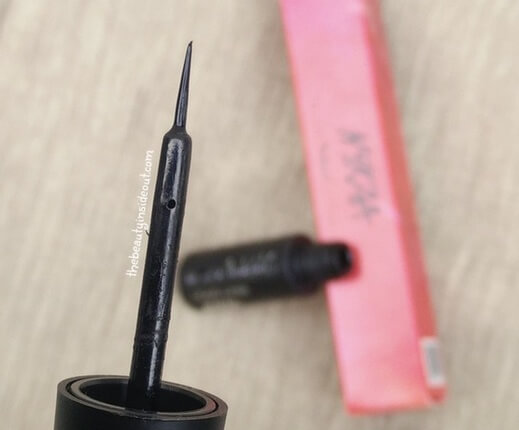 The eyeliner claims to be water resistant and not waterproof and yeah it is water resistant and survives splashes of water. When rubbed with water on, it does not dissolve instead it peels off. I like peeling kind of formulas as they don't bleed or cause you panda eyes. ( if you know what I mean). But there is the danger of cracking with peeling types, this one does not crack or flake and stays intact. Removing it, is so easy as you can just remove it with lukewarm water.
The eyeliner is long lasting and stays for a good amount of time, it stayed on me until I removed it. On seeing the ingredient list, I could see this does not contain parabens so a plus to paraben-free lovers.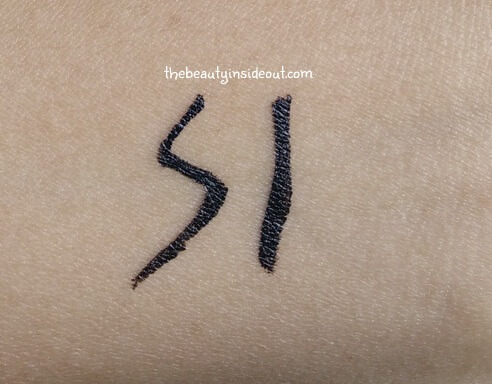 Pros:
Very affordable.
Fine Tip Brush Applicator.
Smudgeproof formula.
Water-resistant and Long lasting.
Removal is easy with lukewarm water.
No parabens.
Cons:
Rating: 4.5/5
Overall, Nykaa Black Magic Liquid Eyeliner is a very affordable eyeliner that is true to its claim of being smudgeproof, water resistant and long lasting. I would recommend to try this out if you like subtle glossy eyeliners. It is not a repurchase for me as I am not into glossy eyeliners.
So that's it guys. I hope you find this review helpful. Have you tried the Nykaa Black Magic Liquid Eyeliner? Share your thoughts in the comments section below. And thank you so much for reading. See you all again in my next post, take care and,
Stay Beautiful♥