If you have read my previous posts, by now you would have known how much I love Kajals and Liners. Today I'm back with a product review from one my recent favorite brands, Sugar Cosmetics. After having good experiences with their Eyeliner, Kajal and Lipsticks, I was so excited to try out the Sugar Stroke Of Genius Heavy Duty Kohl which came in one of my Fab Bag. It is available in only one shade, 01 Back to Black. So here are the other details
Ingredients:

Price & Quantity: Rs.499 for 1.2 gm.
My take on Sugar Stroke Of Genius Heavy Duty Kohl:
The Kohl comes in a cardboard box which has their signature logo and design. The Kohl is in a pencil form with a matte black body and satin cap. The pencil cap shuts tightly so it is 'just throw in the bag and forget about it' type of product. The best part, it comes with a free sharpener. Yay! Who doesn't like freebies. It saves us from the hassle of getting a separate sharpener or use a relatively unknown sharpener which doesn't match this pencil.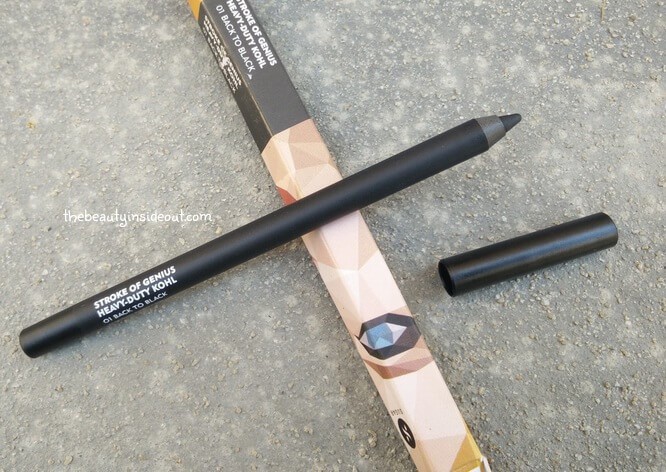 The Back to Black Heavy Duty Kohl is a jet deep black color that gives a satiny matte finish. The pigmentation is so amazing. You'll absolutely fall in love with the color pay off. One swipe gives you intense pigmentation. It looks absolutely stunning on the eyes. I was surprised to see that in a single stroke, the color showed up pretty good on my waterline too which most of them fails to do. The formula is so smooth & creamy and glides like butter with no tugging or pulling. I would say it has the right amount of creaminess so it does not break or gets used up pretty fast like the L'oreal Eyeliner which breaks even at the slightest pressure. It does not cause any irritation or burning sensation on my sensitive eyes. I had to sharpen it only after 3-4 uses which is good considering it to be a wax based formula. Also the sharpener does not peel off in thick layers leading to less wastage.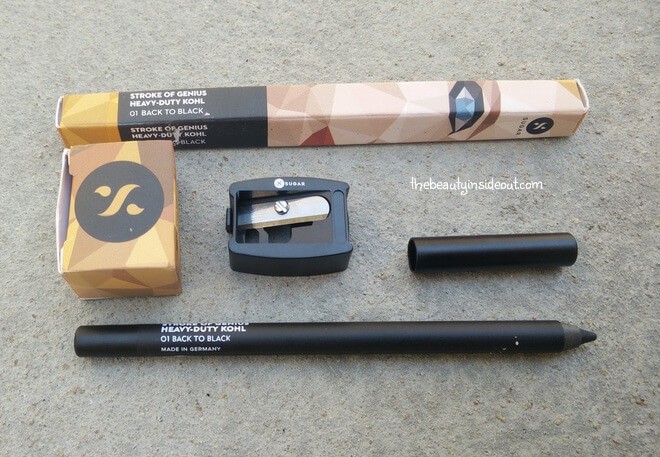 Coming to the biggest disappointment, it is not smudgeproof. Yes it smudges badly on my oily lids which was a total letdown. I think I expected a lot from this kohl. A slight touch to your eye area is going to cause you raccoon eyes. If you are someone who won't touch your eyes, then this is good for you. And if you like doing smokey eyes, this would be good too. It stays put for 7-8 hours on my lash line and 3-4 hours on my waterline with smudging. On the waterproof claim, it is indeed waterproof and you need a good oil based remover to completely get rid of it. Or else you will be left with some pigments. Overall I love the kohl for its insane pigmentation and buttery texture, but the non smudge-proof formula makes me want to give this a miss next time.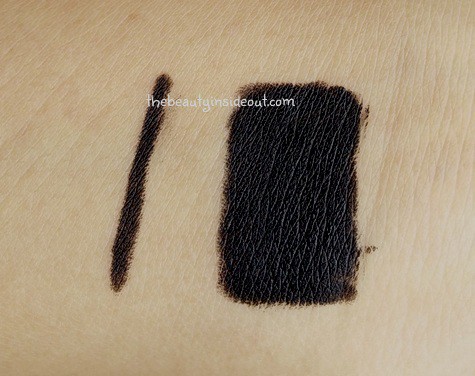 Pro's:
Wax based formula gives smooth and easy application.
Gives a satin matte finish.
Comes with a free sharpener.
Intense jet black pigmentation.
Stays put for long hours.
Waterproof.
Being creamy, the tip does not breask easily.
Good for doing smokey eye makeups.
Free of parabens and mineral oil.
Con's:
Not smudge-proof. Smudges badly on my oily lids.
Pencil form, so need to carry a sharpener along.
Rating: 3.7/5
In short, Sugar Stroke Of Genius Heavy Duty Kohl 01 Back to Black is a deep black sharpenable kohl pencil that has a buttery smooth wax-based formula and intense pigmentation. The formula is waterproof but not smudge-proof. So I would not repurchasing it again, as I prefer my kajals and kohls to be totally smudge-proof.
I hope you find this review helpful. Have you tried the Sugar Stroke Of Genius Heavy Duty Kohl? Share your thoughts in the comments section below. See you all in my next post, until then take care,
Stay Beautiful ♥