Even though I love matte lipsticks, when it comes to a wedding or special occasion I like to flaunt those glossy lips more than the flat matte dry lips. I love using lip glosses for that plumped up glossy look. Recently I got my hands on the Smashbox Be Legendary Lip Gloss in the shade Disco Rose and here are my two cents about it.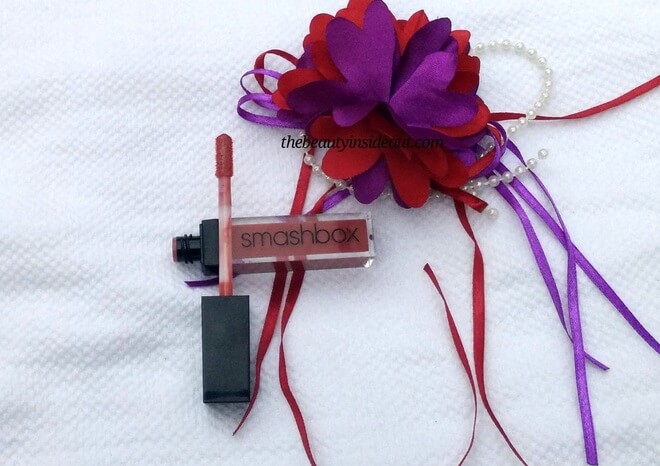 The lip gloss comes in a sleek rectangular tube with the brand name embedded on it. The shade name is written at the bottom and the shade is clearly visible from the transparent tube which makes it easy to find it in my stash. No other details such as ingredient list, expiry date is mentioned on the tube. The gloss has a fruity vanilla scent which smells nice. It is not at all bothering as it does not linger once applied on to the lips. I'm so glad that it does not have any particular taste, I hate it when they taste weird or bad. The lip gloss has a doe foot applicator that is quite sturdy and picks up a good amount of product.
Coming to the shade, I don't know why they have named it Disco Rose as there is not even a hint of rose in it. In actual, it is a pretty subtle red which gives a nice wash of color to my lips. The shade is so pretty and flattering but I love the color more on the tube. Yeah, It does not appear on my lips as intense as it is on the tube. This is a shade that would look best when layered over red lipsticks.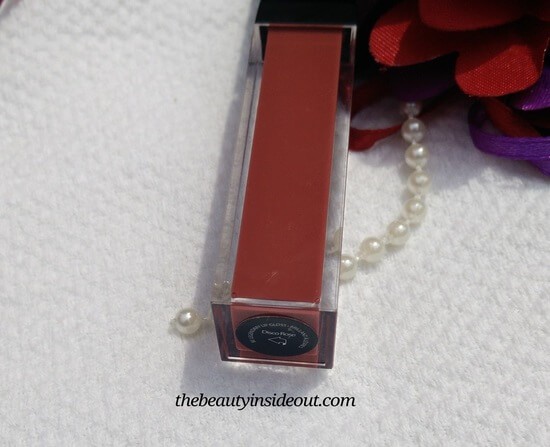 Being a gloss, it glides on to my lips smoothly but the color does not get deposited evenly. It sometimes look patchy if not applied properly. The color is decently pigmented and gives sheer coverage. My lip pigmentation was seen through the lip gloss. So this is not for pigmented lips. The gloss has an initial chip chip sticky feeling which settles down and feels quite comfortable say after 20-30 minutes. When I tried building up the color, it didn't feel heavy at all. The gloss does not settle into fine lines or bleeds heavily. At the end of the wear, it is not drying too. Depending on how much you eat it is going to fade away soon. It stayed on me for about 2.5-3 hours max without any snacking. The gloss retails for $21 which is quite expensive for a gloss and is not easily available in India.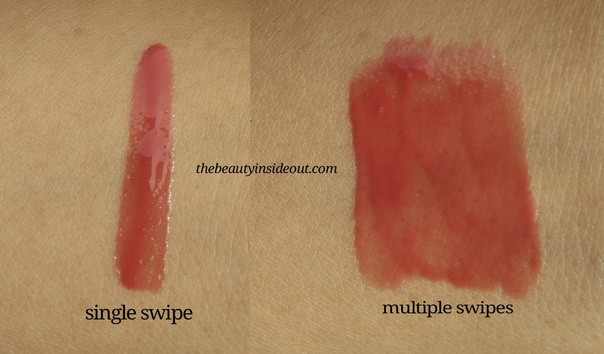 Pros:
Sturdy doe foot applicator.
Travel friendly packaging.
Beautiful red shade.
Being a gloss, it does not bleed heavily.
Does not settle into fine lines or dry out lips.
Cons:
Expensive.
No ingredient list and details of the lip gloss mentioned on it.
Does not cover lip pigmentation.
Uneven application.
Availability in India.
Rating: 3 / 5
Overall, Smashbox Be Legendary Lip Gloss in the shade Disco Rose is a subtle red lip gloss that gives a nice wash of color to my lips. It would look more good on non pigmented lips as it gives pretty sheer coverage. It is heavily priced and I feel it is not worth it. I have another lip gloss from L'Oréal that I love whose price is way lower than this one. I would be reviewing that soon. So watch out.
So that's it for today guys. See you in my next post. Until then Take Care,
Stay Beautiful♥