Hello ladies. Today I'm going to share my experience with O3+ White Day Cream which I received in one of my Fab Bag. Even though I'm not a great fan of whitening products, I thought why waste it and tried using it. And I regret it now. So here are the details of this day cream.
About O3+ White Day Cream:
O3+ White Day Cream is enriched with nutrients that reduce skin pigmentation and enhance skin tone. Moreover this cream has UVA and UVB protection that helps in preventing sun tan.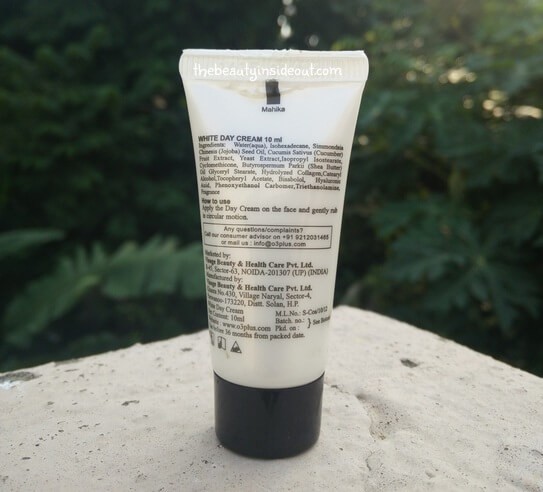 Ingredients: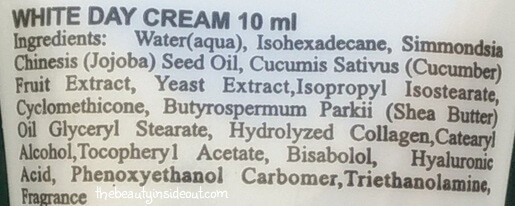 Price: Rs.830
My experience with O3+ White Day Cream:
The day cream comes in a squeezable tube packing with a screw type lid. The cream is pure white in color and has a mild pleasant scent to it which does not linger post application. The consistency is that of a whipped cream and spreads easily on the skin without much effort. But you know what as soon as I applied it on my face, I looked like a disco ball. Yes my face was so oily and greasy with loads of shine. I applied it after washing my face with a SLS face wash so my face was so dry and stretchy. I thought this would moisturize my skin. But the cream did not get absorbed into the skin very well. I felt like something was sitting on top of my skin. Absolutely hate that feeling 🙁 The greasiness increased by the hour and it even broke me out which was a nightmare 😐 So oily skin ladies never ever ever try this. I shouldn't have tried it, but applying makeup on top of this was a total disaster too. The shine was seen through the makeup and made my face look like an oil factory. I can't comment on its claim to enhance skin tone as I didn't use it for long fearing greasiness and breakouts. The day cream has  an SPF of 15 which I feel is negligible for our Indian climate. I do not know how this would work for dry skin types as I have oily-combination skin. You may try it at your own risk.
Pros:
Mild scent.
Decent Packaging.
Might suit dry skin types.
Cons:
Availability.
Expensive.
Does not get absorbed and sits on top of the skin.
Makes skin greasy and oily.
Broke me out.
Rating: 1 / 5
In short, O3+ White Day Cream is an average cream with SPF 15 that makes skin oily and greasy. Oily skin types should definitely stay away from this. This might suit dry skin types, but personally I did not like it and would not recommend it to others too.
I hope you find this post useful. Have you used O3+ White Day Cream? If so share your experience with us. See you in my next post
Stay Beautiful♥