Just Herbs is a brand that I adore not only for their unique formulations but also for the fact that they make chemical free products. I have tried many of their products and the Silksplash Face Wash & Sun Protection Gel are my frequent repurchases. Last year they launched a part skincare part makeup product which made every beauty enthusiasts turn their heads. Yes, it's the Just Herbs Skin Tint. It is India's first crowd sourced beauty product. It is one of a kind product that is created on consumers suggestions and it is appreciable that they still try to improve the product on our requests. I'm talking about the new shades that are going to be launched soon. For your information, earlier there was only one shade. Keep reading to have a sneak peek on the new shades and know more about the product.
Product Description: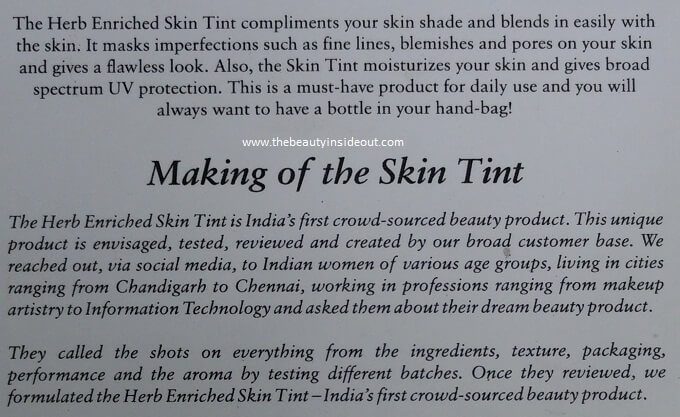 Ingredients:

Buy at Amazon
My take on Just Herbs Skin Tint:
Packaging: The full sized 40 ml product comes in bottle packaging with a pump dispenser, which looks quite sturdy and travel friendly. The one I have is a sample sized product which I received in one of my Fab Bag. I'm really thankful that they keep sending out new makeup stuffs each month. The sample comes in a small tub with a screw lid, further protected with an inner lid. Even the sample packaging holds various details about the product. You should keep in mind that unlike other base makeup, the Skin Tint has a shelf life of only 6 months.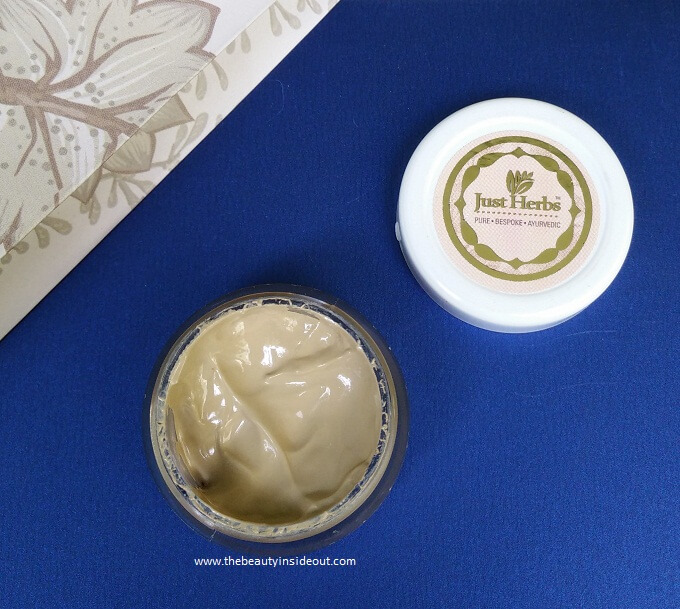 Fragrance: The Herb Enriched Skin Tint has a clay kind of herbal fragrance. It sort of earthy and muddy. However, I do not like this scent. I find it a bit strong on my nose.
Texture: It looks like it has a thick creamy consistency whilst on the tub. But in actual, it has a nice gel cream consistency that spreads and blends effortlessly. The texture is really smooth and feels very light and comfortable on the skin.
Shade: The original shade is medium brown with dominant pink undertones. This shade didn't suit me and looks a little ashy on my skin.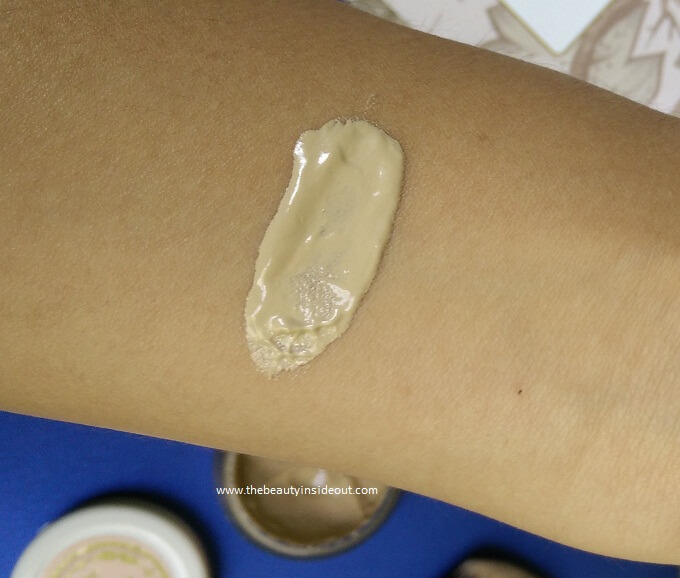 The other new shades that I received as a part of the second crowd sourcing survey were more or less close to each other. I did not see much difference in most shades (look at the swatches) and I can easily wear at least 3 them. Shade 1, 4, 5 has dominant yellow undertones while Shade 2 & 3 shade has subtle yellow undertones. The new shade range still looks light for deeper skin tones. As for me, I am happy that I got a yellow toned shade that matches my skin tone. I wasn't really happy with the original shade that was first launched. But people looking for pink or neutral undertones might be disappointed.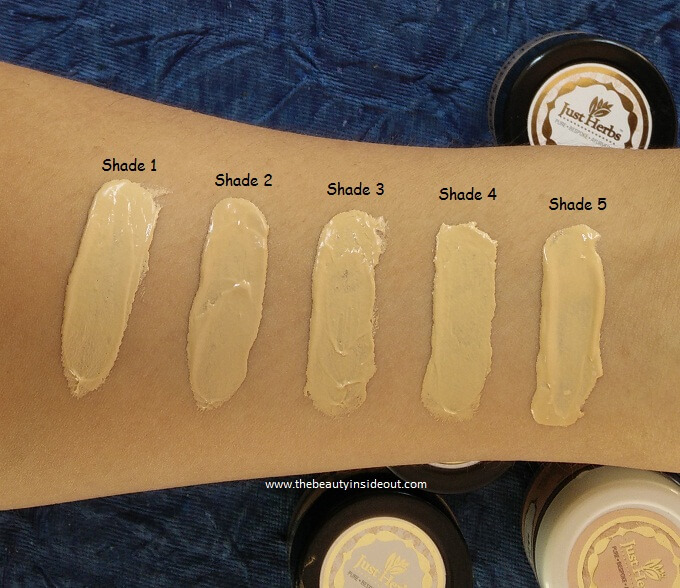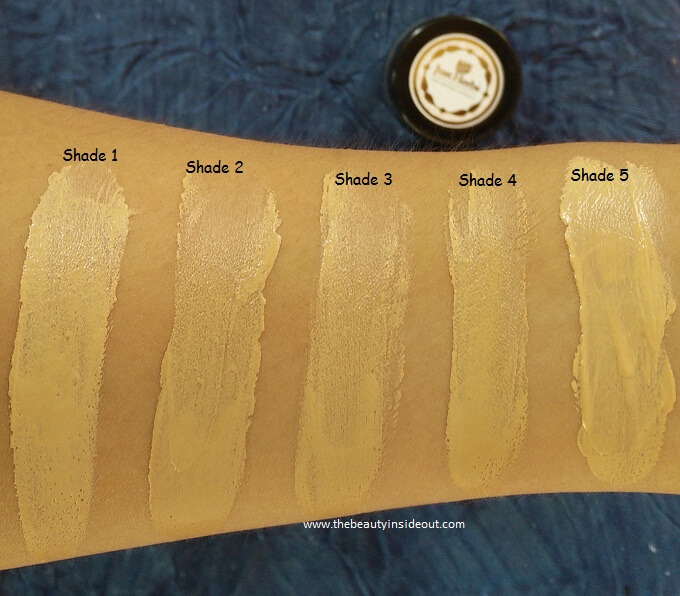 [Updated on 29-05-2018] Looks like the new shades that were launched were a bit different than what was sent as samples. Attaching the swatches of the newly launched Just Herbs Skin Tint Shades [Image Courtesy: Just Herbs Instagram Page]. It can be clearly seen that the shades I have swatched and the shades below are a little different. You can use the below picture as a reference to choose your shade.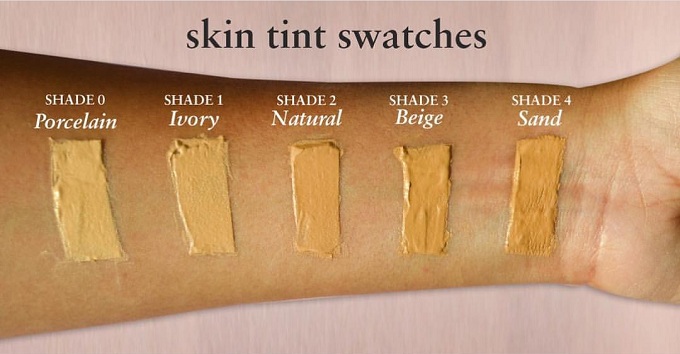 Coverage: It is not close to BB creams. It gives sheer coverage and does not hide blemishes, acne marks or dark circles. It just conceals minor flaws and gives a polished radiant look. True to its claims, you will get a no makeup look. The tint evens out the skin tone and blurs my pores to a certain extent. Sometimes I like to go for a second layer to build the coverage. Still, I would not say it's medium coverage.
Staying power: It lasts for about 4+ hours on my oily skin and eventually fades away. The staying power increases in cooler environments.
How to apply : It is super easy to apply and you don't need any specific tools to apply this. After cleansing and toning, (I skip moisturizer since this is supposed to be a skincare product too) I take a little of the product and dot it all over my face and blend it using my fingers. I top it off with a compact if the weather is hot and humid. Other days, I skip using a compact.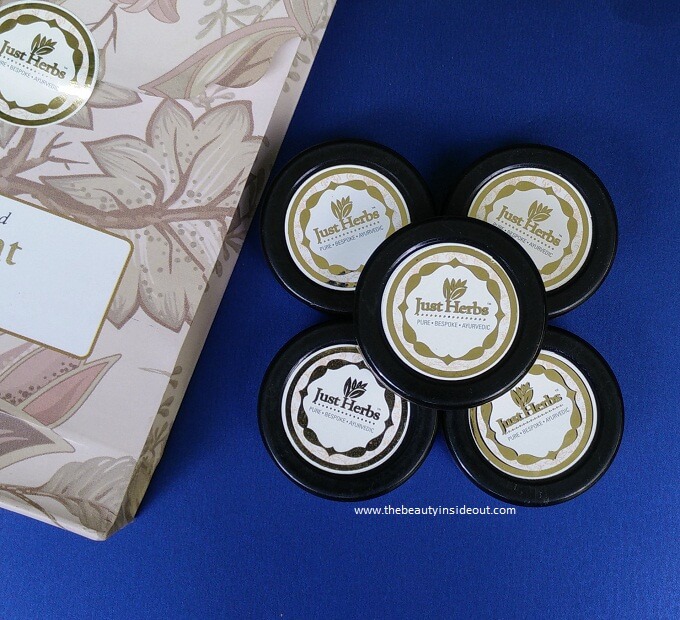 Effectiveness : The Skin Tint indeed works like tinted moisturizers. It moisturizes while evening out the skin tone. It gives a satin matte finish and provides good oil control for few hours. It did not cling on to dry areas or settle into fine lines. I did not experience any new breakouts once I started using this. Also I noticed that it helped with drying out my existing zits.
The product claims to provide sun protection but there is no SPF mentioned anywhere. Since this is a natural product, there are chances that the SPF would be low, so I suggest using a mattifying sunscreen prior. Don't go for a moisturizing one as the skin tint by itself is moisturizing and would be too heavy on the skin if you use two moisturizing products, unless you have a super dry skin.
Coming to the price factor, this is definitely on the higher side. But considering that the product is made with different organic/Ecocert certified herbs and without the use of parabens, mineral oil and other bad chemicals, the pricing is justified. Also other natural/organic BB creams that I know are priced in a similar range.
Pros:
Pump Dispenser Packaging.
Nice gel cream consistency.
Application is hassle free.
Gives a natural no makeup look.
Moisturizes the skin without making it oily.
Provides sun protection.
Lightweight and comfortable on the skin.
Perfect for the winters.
Suitable for all skin types.
Free of parabens, mineral oil.
Not tested on animals.
Cons:
Expensive.
Shade range.
Sheer Coverage.
Does not cover blemishes or dark circles.
Strong Fragrance.
No SPF mentioned.
Rating: 4/5
Do I recommend ? Yes. Just Herbs Skin Tint is an all in one product acting as a moisturizer, sunscreen and BB cream giving a nice even toned radiant skin. Also the formula is made with natural ingredients, so why not. Do give it a try.
Also Read: