After a really long time, I hauled few Biotique products to try out. My first stint with them was the Biotique Tan Removal Scrub. It's a wonderful product that anyone who is looking to remove tan must try. Coming to today's topic, I'll be sharing my experience with the Biotique Bio Kelp Protein Shampoo For Falling Hair. This shampoo is specifically formulated to stop hair fall and promote hair growth. The claims sounds too promotional for me. Anyways here is my take on it.
Product Description:
Biotique Bio Kelp Protein Shampoo is a blend of pure kelp, natural proteins, Neem Bark and Bhringraj Plant Extracts to gently cleanse hair and invigorate the scalp for fresh hair growth and healthier shine.
Ingredients:
Neem Bark 1.0%, Tesu Flower 2.0%, Bhringraj Plant 2.0%, Daruhaldi Root 0.25%, Ritha Fruit 1.0%, Sajjikshar 1.2%, Purified Water Q.S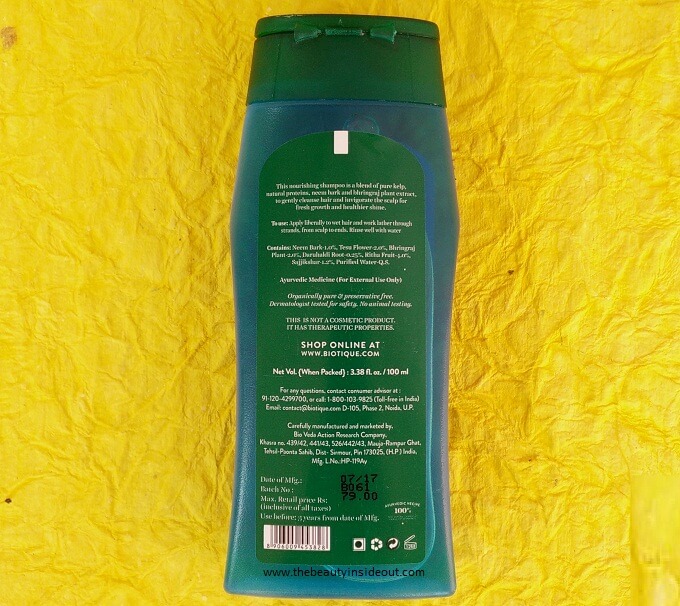 The packaging does not mention anything about it being sulphate or parabens free. Also, since the ingredient list is incomplete, we do not know if it is completely chemical free. The ingredient list states the composition of ingredients used in percentages of 1 or 2, totally to 10% leaving us to wonder what the rest 90% contains.
Price: 99 INR for 120 ml, 159 INR for 190 ml
My take on Biotique Bio Kelp Protein Shampoo:
Packaging: Biotique Bio Kelp Protein Shampoo comes in a basic, rectangular shaped plastic bottle. It has a flip type top cover which ensures no spillage or leakage. The bottle is translucent hence the product inside can be seen from outside. I have no complaints about the packaging. It has everything one would look for – sturdy, leak-proof and travel friendly.
Fragrance: The shampoo has a menthol scent to it. It is not very overpowering and fades away post rinsing.
Color: It is bright blue in color. Though the colored shampoo has an appealing look, I wonder which ingredients gives such a color.
Consistency: It is a smooth gel shampoo with medium consistency.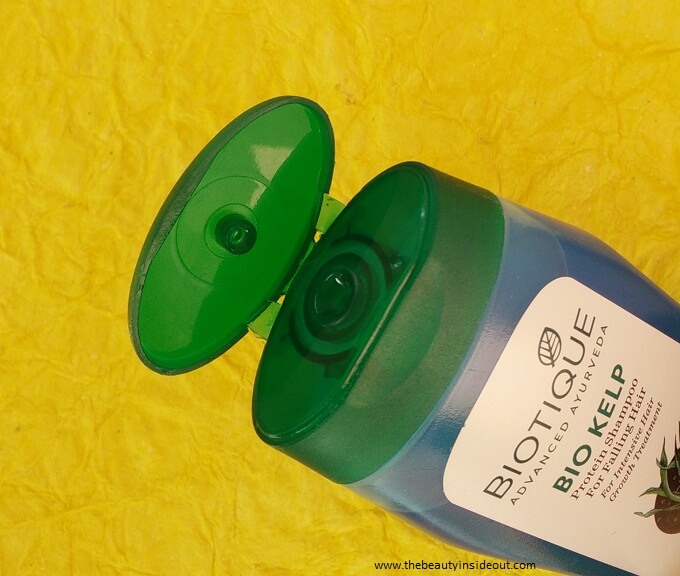 Experience: To begin with, I do not suffer from severe hair fall. My hairfall rate is moderate. I see few strands of hair here and there while combing which is quite normal. Other than that I have an oily scalp and dry lengths. Since this product made huge claims, I thought this would work decently to maintain my hair. But I was wrong.
The shampoo is mildly lathering and gives a cooling effect upon cleansing, just like Head & Shoulders Shampoo. I usually take more than a coin sized amount and dilute it in a small cup of water. And then use the diluted shampoo to wash my hair. This saves us from using more shampoo and leading to over shampooing. While some natural shampoos does not give any smoothing effect while rinsing, the biotique shampoo was otherwise. This gives a slippery feel as if I am rinsing a silicone based conditioner. However once my hair dries, there is no slippery or silicone feel.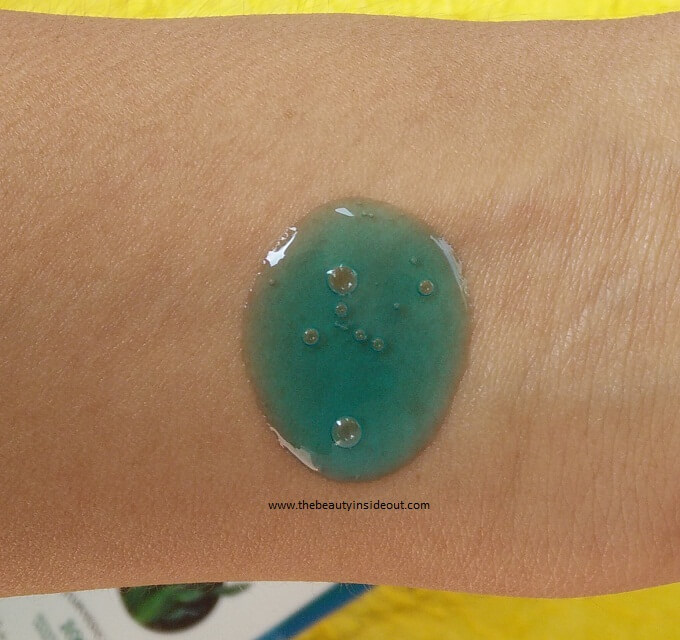 The shampoo works amazingly well in clearing out even the heaviest oils in one go. It gives a squeaky clean feel and removes all sorts of dirt from the scalp. However, the shampoo dries out my hair heavily and causes more frizz when used on non-oiled hair. One can never use this shampoo without a conditioner. Even when I had oiled my hair, this shampoo makes my ends dry and tangled. It does not impart any healthy shine as claimed. Above all, this shampoo induces more hairfall. It made me lose loads of hair strands day by day. This shampoo was a total failure for me. I didn't expect this to promote hair growth, but at least I wished it didn't cause me more hairfall. The only thing I liked about the shampoo is the little bounce it gives on my shaft area on the day of shampooing.
Pros:
Nice travel friendly packaging.
Cleanses and removes impurities effectively.
Adds a bounce to my hair.
Not tested on animals.
Affordable.
Cons:
Causes more hair fall.
Does not promote hair growth.
Dries out hair severely.
Do not give any shine as claimed.
Incomplete ingredient list.
Preservative Free – 3 years shelf life?
Rating: 1/5 (for the cleansing ability and little bounce it gives)
Do I recommend? No, please don't buy this.
I hope this review was helpful. If you have tried this shampoo, do let us know your experience with it in the comments section below.
Looking for other shampoos