Ecoberry is a handcrafted natural skincare brand that makes harmless chemical free products. Having a nice range of skincare and cosmetics products, they prepare their products based on Sidha Facts. They assure us that only highest quality ingredients goes into their products and hence can be used without any concerns for side effects. Months ago, I got to try few products from this beautiful brand and here I am with my experience with them.
1.Ecoberry Handcrafted Charcoal Clay Bar Soap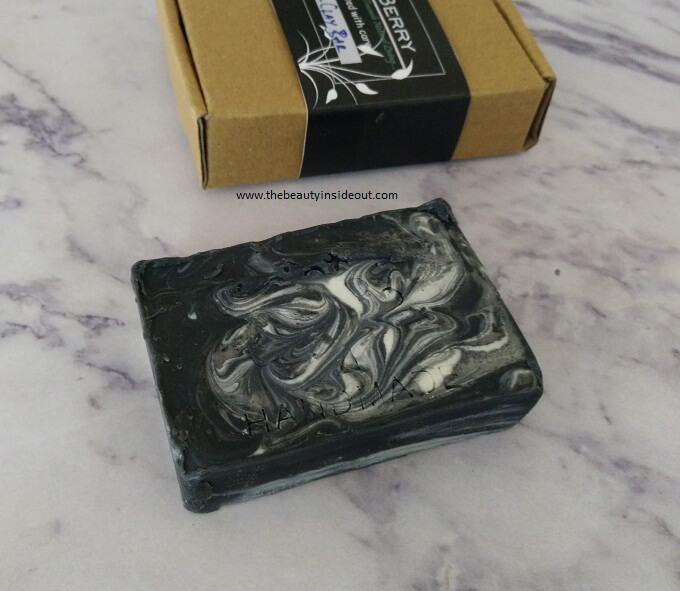 Product Description: Handmade Chemical Free Soaps moisturize and cleanse your skin without stripping the skin's natural oil. The natural glycerin present in handmade soaps acts as a humectant and locks the moisture.
Ingredients: Water, Cold Pressed Coconut Oil, Cold Pressed Sesame Oil, Cold Pressed Groundnut Oil, Castor Oil, Palm Oil, Soybean Oil, Lye, Essential/Fragrance Oil, Activated Charcoal, Kaolin Clay, Cocoa Butter
Price: 200 INR
My Experience: This is one of the best handmade soaps I've ever used. It is a buttery smooth soap that comes packed in a cardboard box with details about the soap mentioned on it. As you can see, the charcoal soap is dark grey in color with beautiful white swirl patterns on it. It has a mild, soothing fragrance that I wished to linger. The soap feels so gentle on the skin. It lathers mildly and cleanses dirt & impurities from the skin thoroughly without stripping off skin's natural oil. It nourishes my dry body skin leaving it smooth and soft to touch with no dryness at all. The only thing you need to be careful is its storage. Since the soap is made of butters and oils, it tends to melt away faster. Hence after usage, storing it in a dry cool place is a must. In all, I completely loved this handmade soap and would recommend everyone to try this.
Rating: 5/5
2.Ecoberry Moringalicious Moringa-Rose Face Mask
Product Description: Moringa is loaded with nutrients like Calcium, Vitamin A,B,C,D and minerals like Copper, Zinc, Iron, Magnesium, Silica and Manganese. Moringa has moisturizing and nourishing properties and an excellent cleansing ability which aids in detoxifying the skin cells of free radicals d restoring the vitality and youthful complexion of the skin. French Pink Clay s used to cleanse the skin, slough off dead skin cells and create an overall refreshed appearance.
Ingredients: Moringa Leaves Powder, French Pink Clay, Cold Processed Coconut Oil, Moringa Oil, Grapeseed Oil, Vegetable Glycerin, Licorice Extract, Essential Oil Blend, Paraben Free Preservative.
Price: 275 INR
My Experience: This was my first Moringa infused product. But sadly I used it only once. When I first received it I was pretty excited that the mask is made of Moringa and French Pink Clay, ingredients that I've never used before, but when I read that it contains Coconut Oil, I had to back off. Coconut Oil has a comedogenic factor of 4, hence it can clog pores and cause breakouts. So I gave this to my mom who has dry, mature skin. And she loved using this. Every time she used it, the mask left her skin moisturized, supple and radiant.
The Moringa Face Mask is a reddish brown clay mask with tiny particles in it. The particles are not at all abrasive on the skin yet gives a mild exfoliating effect while cleansing. The fragrance is relatable to Moringa, very natural smelling. The face mask is not a drying one, so applying a thin layer will suffice requiring only a little amount of the product each time. Usually clay masks tend to dry faster, but since this is enriched with oils, it does not dry even after 20 minutes. It is best to remove the mask while it is still damp with a sponge to avoid making a mess. And finally the results this face mask gives is impressive. It gives a cleaner, brighter and moisturized healthy looking skin.
Although this did not cause me new acne on my oily skin, I would recommend this only for dry skin types that is not prone to breakouts due to the presence of coconut oil.
Rating: 4/5
3.Ecoberry Tangy Lemon Bath Salts/Foot Soak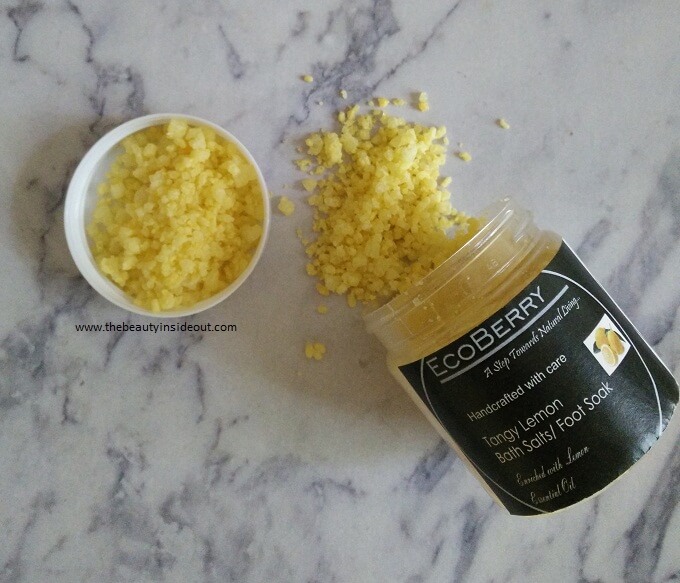 Product Description: It's easy to get caught up in the bustle of holidays, so we are here to reminds you that in the midst of your busy hectic days, you definitely needs to pen in some "me" time. And we can't think of a more relaxing way to spend it than soaking in a warm, scented bath. The natural array of Bath Salts could also be used as a FOOT SOAK to pamper your feet. Foot soaks are a great way to relax and invigorate those tired feet and soothe away all aches and inflammations.
Ingredients: Epsom Salts, Coarse Sea Salts, Sodium Bicarbonate, Almond Oil, Food Grade Colors, Lemon Essential Oil.
Price: 150 INR
My Experience: I rarely use bath salts but foot soaks, I love them. I have crack prone heels and if I miss taking care of them, I end up with severe cracks. So I majorly used this product as a Foot Soak rather than a Bath Salt.
This is their Tangy Lemon variant which smells heavenly. It smells like the sour orange candy that I used to have when I was a kid. The Bath Salt/Foot Soak has the texture of coarse sea salts and hence it takes a while to get completely dissolved in water. As seen, it is yellow colored therefore gives a nice yellow hue to the soak. I take two tablespoon of the salt in half a bucket of warm water and relax my feet on it. I don't even have to say this, but this feels so tranquilizing. It relieves pain from tired feet and make my heels soft. I then gently scrape the dirt on my heels using a pumice stone. Wash my feet again in normal water, pat dry and apply a foot cream.
I still have a little left which I am planning to use as a bath soak and I'm certain that it'll be soothing and relaxing.
Rating: 4.5/5
Overall, I am happy with Ecoberry products. I did not find any flaws and liked all the three products that I tried. I would totally recommend trying out their products. Their price range is also reasonable unlike certain natural brands that charge a lot. You can buy their products from www.ecoberry.in
Also read:
Disclaimer: Products won in a giveaway.