Recently I had a bout of new breakouts. All due to me, binging on too much junk. I think all the new acne products in my vanity were calling me out to put them into use. Anyways, I had used the Cosrx One Step Pimple Clear Kit a few days ago. And, here is my experience with it.
This is basically a 3 step kit consisting of
Cosrx Low pH Good Morning Gel Cleanser
Cosrx One Step Pimple Clear Pad
Holy Moly Advanced Snail Mucin Power Mask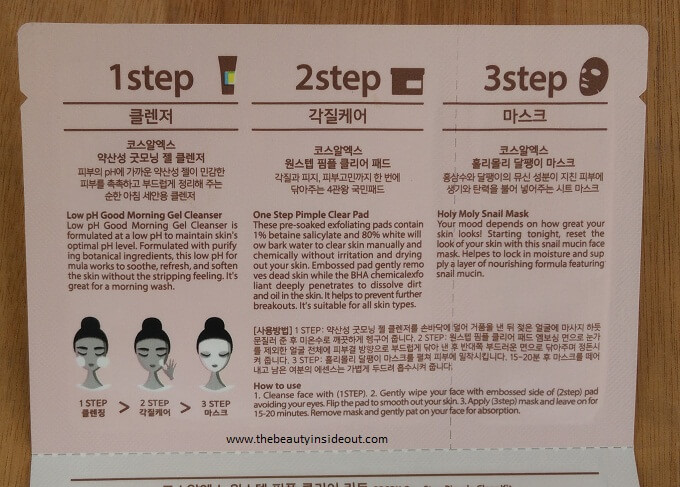 How to use?
Gently massage a small amount of this gel cleanser on wet skin in the morning. And Rinse with water.
Swipe the embossed side across the face avoiding eye area after cleansing. Next, swipe the softer side of the pad across the face to pick up the remaining debris.
Apply this face mask and leave it on for 15 to 20 minutes. Afterwards, remove the mask and pat the remaining essence for better absorption.
Ingredients:

The kit costs 295 INR and I got it from Daisy Skin Fix website.
My experience with the Cosrx One Step Pimple Clear Kit:
1. Cosrx Low pH Good Morning Gel Cleanser
Claims: is formulated at a low pH to maintain skin's optimal pH level. Formulated with purifying botanical ingredients, this low pH for mula works to soothe, refresh, and soften the skin without the stripping feeling. It is great as a morning wash.
My take: The last pH balanced cleanser that I used was the Sebamed Clear Face Cleansing Foam which is 5.5 pH balanced and it is the best cleanser if you are looking to treat acne. This Cosrx Low pH Good Morning Cleanser is a much raved cleanser among Korean Beauty Gurus and I was glad to get to try it out through this kit. This is often used as a second cleanser in the Korean Double Cleansing Method. I rarely do double cleansing so I used this as a standalone cleanser. The cleanser is a thick gel that lathers decently, not too much. It is to be noted that the formula is free of sulphates hence the minimum lather. Still it manages to pull out every bits of grime from the skin leaving it squeaky clean. It does not leave my skin very drying, instead makes it soft and supple ready to be toned. The cleanser stays true to its claim, being gentle & doing its job of cleansing. I do not see a reason why this shouldn't be used in the evenings as it claims to be a morning cleanser.
The sachet contained enough product that lasted me 3 uses. After cleansing my skin with this cleanser, I proceeded to the second step.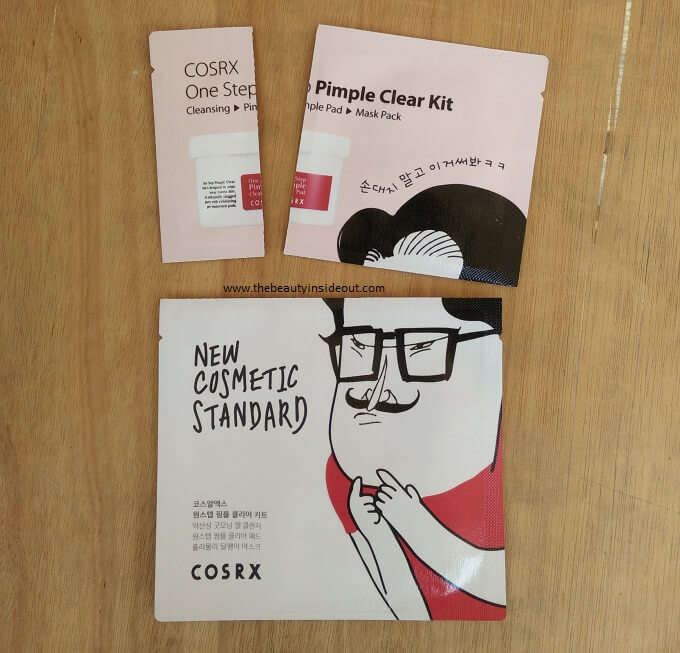 2. Cosrx One Step Pimple Clear Pad
Claim: These pre-soaked exfoliating pads contain 1% betaine salicylate and 80% white will ow bark water to clear skin manually and chemically without irritation and drying out your skin.
My take: The second step involves using the One Step Pimple Clear Pad. This is basically an chemical exfoliating pad that is soaked in a toning essence. One side of it is embossed which is to be used first and then the other softer side has to be used next. I followed the instructions and swiped the embossed side on my facial skin. I could literally feel how gently it removes my dead skin cells. I then flipped over and swiped the softer side on my face. The whole process leaves the skin damp, just as I have applied a toner while removing debris from the pores. The essence takes time to completely dry down. I just went on with the third step when my skin was still damp.
The sachet contained two pads and half a pad is enough for one time use. So this came to 4 usages. I used them on the next day as well in place of toner, followed by a moisturizer. After using this, my instincts says that continuous usage of this will surely help eradicate acne and keep them under control. This works as a good acne treatment. The One Step Pimple Clear Pad is also a very popular product that has worked for many and this deserves to be bought in full size.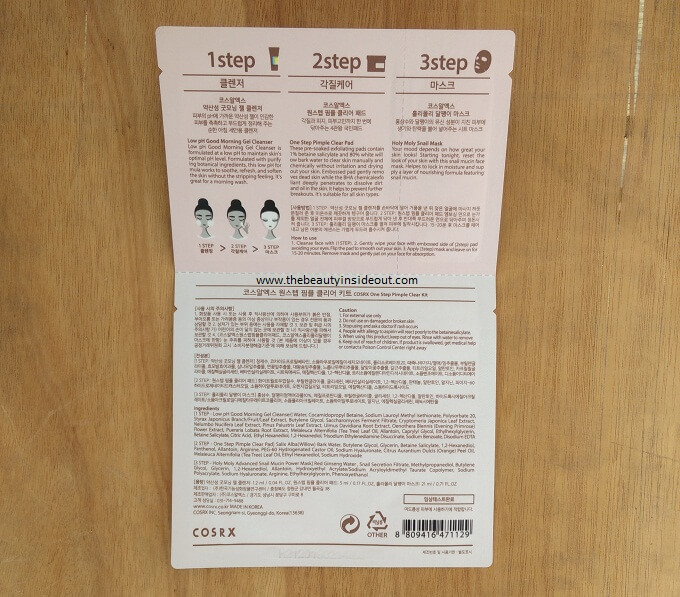 3. Holy Moly Advanced Snail Mucin Power Mask
Claims: Your mood depends on how great your skin looks. Starting tonight, rest the look of your face with this Snail Mucin Face Mask. Helps to lock in moisture and supply a layer of nourishing formula featuring snail mucin.
My take: The third step involves using the sheet mask. This is the Cosrx Holy Moly Sheet Mask which is enriched with Red Ginseng Water, Snail Secretion Filtrate, Glycerin and other skin beneficial ingredients. After the second step, I unfolded the sheet mask and placed it on my face. The sheet mask is fairly thick & rayon cut with a peachy pale pink color to it. The serum is semi-thick and when I took the mask out of the sachet, it was dripping wet with left over serum on the sachet. The fitting was ok on my face. I was able to place it with little adjustment. This sheet mask had cuts to make adjustments though. I left the sheet on for 20 minutes and removed it while it was still damp. I massaged the remaining essence which felt a little sticky and later got absorbed into the skin. I finished up with a layer of gel moisturizer.
The next day, I woke up with a well hydrated, moisturized and supple skin. The tiny zits were gone and the big ones had subsided to a certain extent. The mask doesn't give any miraculous results of making my acne go in one day, but it did calm and soothe my irritated acne.
As said earlier, I used the cleanser and exfoliating pads the next day as well which helped with clearing out my skin drastically. All the three products have a chemical fragrance which is mild and non-bothering.
Overall, Cosrx One Step Pimple Clear Kit is a good kit to have if you are acne prone. It does help with acne. Though I found the mask to be a decent one, the cleanser and clear pads are the clear winners. I would highly recommend getting them in full sizes.
Rating: 4.7/5
Looking for other acne products