Finding pure and organic rose water has not been an easy task for me. No matter what, I have always sticked to Kama Ayurveda Rose Water. Emptying 3 bottles so far I never had the thought to buy any other brands rose waters until I stumbled upon Zofla Natural Rose Water on Amazon. Seeing so many positive reviews of the product intrigued me to try this and so I decided to buy it. Do you want to know whether this replaced my most loved Kama Rose Water? Then keep reading.
Product Description: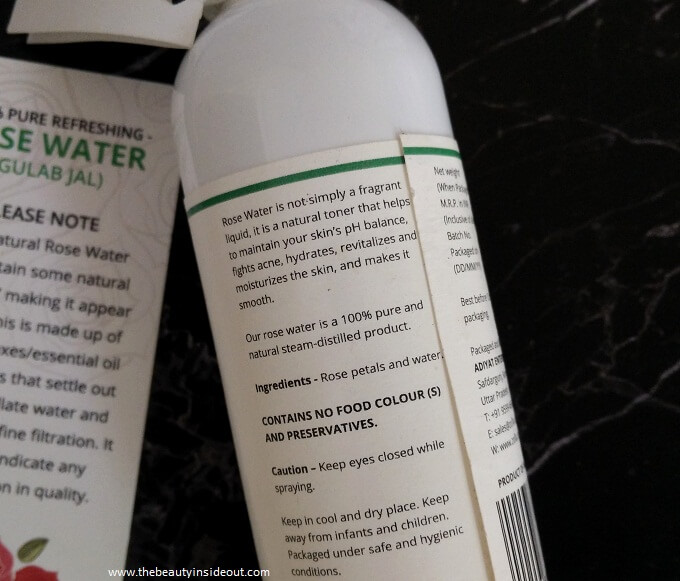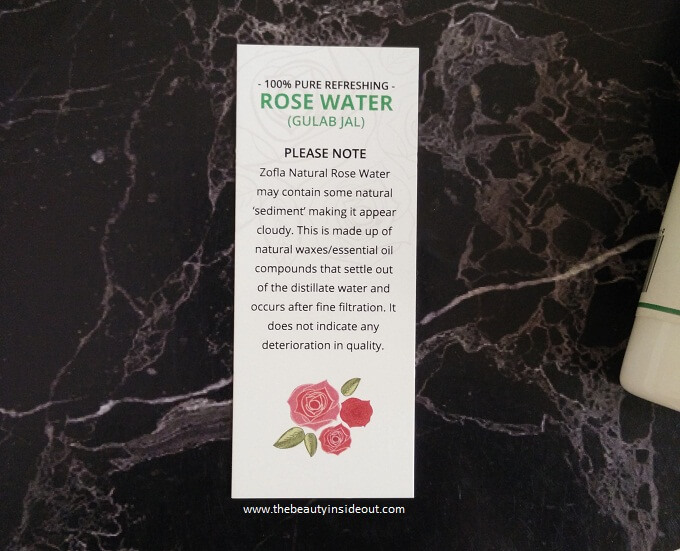 Price: 160 INR for 100 ml. Buy HERE.
Shelf Life: 12 months
My take on Zofla Natural Rose Water:
Packaging: Zofla Natural Rose Water comes in an opaque white plastic bottle with a spray nozzle. It also has a transparent cap covering the nozzle. The packaging is very basic yet sturdy and serves its purpose appropriately. I've taken it to long journeys with zero issues.
Color, Fragrance and Texture: Certainly it's a colorless liquid which is water-like. The fragrance is that of fresh roses, very soothing and refreshing. The smell is subtle and isn't very strong on the nose like some rose waters.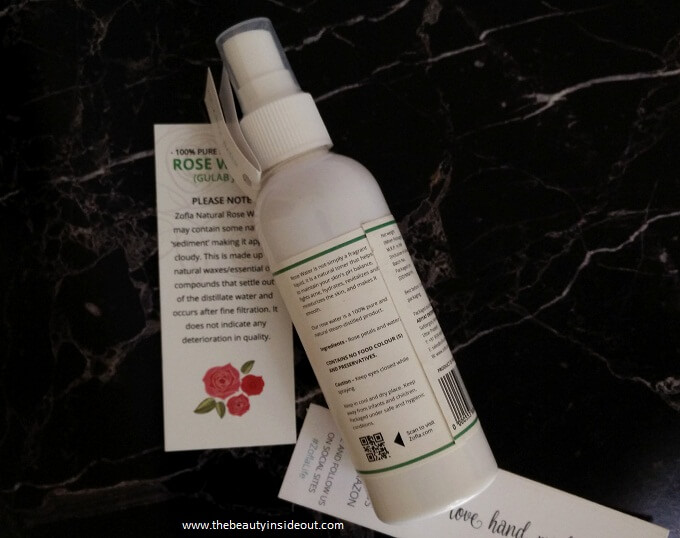 Performance: Everyday after cleansing my face, the first thing that I apply on my skin is this Rose Water. I don't particularly have any other toning products in my stash and this is the only toner that I have. I can have 5-6 face washes at the same time, but when it comes to toner, I buy one only if my previous one gets over.
Coming back, I just spritz Zofla Natural Rose Water on my skin and let it air dry. But there are days when I spritz it on my skin and wipe off with a cotton ball. The later method gives a more toning effect closing my pores. Either ways, I love the instant boost of hydration this rose water gives.
I've even used this rose water as my morning cleanser for a few days. And I'll tell you what you should try it as well. I've felt many times why would I need harsh cleansers in the mornings when my skin is almost free of impurities. I wanted to try this method of cleansing, even when I had the Kama Ayurveda Rose Water with me. But then that was an expensive rose water and my heart didn't let me do it. This one is much less priced, and so my wish came true.
After splashing water on my face, for a few times, as a last rinse, I take a spoonful of rose water and use it to wash my face. The smell of the roses, the calming and cooling effect, the non-oily feel, everything is a bliss. If such high quality rose waters were available at very low cost, I would happily use a generous amount of it to cleanse my skin on a daily basis.
Apart from that, like many of you, I do use it as a mixing medium for many of my face packs. My recent favourite DIY being the Rose Petal Powder + Zofla Natural Rose Water + Grapeseed Oil. This combination works absolutely great to make my skin radiant and brighter.
You can also use it as a refreshner from time to time; I don't know why but I rarely use plain rose waters as refreshners. I have the Kronokare Flower Power Toner reserved for this purpose to keep me going throughout the day. 
I also use this rose water to dampen my stippling brush for smooth blendability of my BB Cream/Foundation. That's because this rose water is usually at my reach and the spray nozzle makes the work easier to spritz some of it on the brush rather than me going to the washroom to dampen my brush. Call it being lazy!!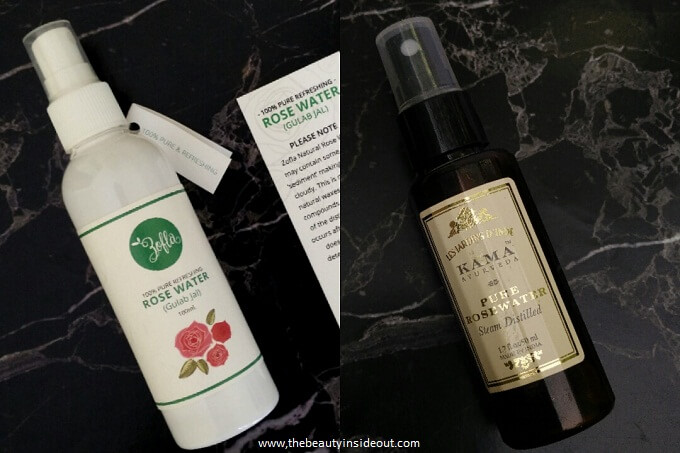 Finally, does Zofla Natural Rose Water replace my Kama Ayurveda Rose Water?
Yes it has. Both the rose waters are obtained by steam distillation, uses roses from Kannuj, are of superior quality and smells like fresh roses. Note that they do not smell the same but they definitely smell natural and pure. Performance wise, both are equally good, But fragrance wise, I like the Kama Ayurveda one a bit more; That's my personal preference, you might like the scent of Zofla more!! And lastly the Price, here is where Zofla prevails. Zofla retails at 160 INR for 100 ml whereas Kama Ayurveda retails at 250 INR for 50 ml, making Zofla the cheaper alternative to Kama Ayurveda Rose Water. There are times when I miss Kama Ayurveda Rose Water's beautiful rose scent, but Zofla Rose Water has certainly occupied a staple place in my beauty stash.
In short, I highly recommend buying the Zofla Natural Rose Water. It's a 100 % Pure Rose Water available in India at an affordable price. Do give it a shot! You won't regret!
That's it for today guys. I hope this post was really helpful. Share your experience with rose waters with us and let us know your favourite one.
Also don't forget to check out these popular posts on the blog.
Until Next Time
Stay Beautiful♥