Although it is uncommon to see Rice based Beauty products in India, such products are pretty common in the Korean Beauty Scenario. They swear by this ingredient that you could see every Korean brand having a special line of Rice based products. If you don't know, Rice is known to be a natural skin brightener that removes dullness and enhances your natural skin tone. Today I'm going to review one such rice product which is the The Face Shop Rice Water Bright Cleansing Foam. Read on to know if this product really worked to keep my skin brightened.
Product Description:

Ingredients:

Price: 590 INR for 150 ml.
My take on The Face Shop Rice Water Bright Cleansing Foam :
Packaging: The packaging is pretty basic, The Face Shop Rice Water Bright Cleansing Foam comes in tube form with a flip type cap. The pale pink color tube makes it look feminine and more attractive. The product comes as a 150 ml pack so the tube is certainly big, but not very huge to occupy a lot of space in your travel bag. Also, the plastic tube is of good quality and the cap shuts very tightly, so it can be carried along anywhere without any worry of leakage.
Since the product is of a Korean brand, all details about the product is mentioned both in Korean and in English. The complete ingredient list is printed which is a nice thing as I detest products with half or no ingredient list. But sadly I could see a whole lot of chemicals in it 🙁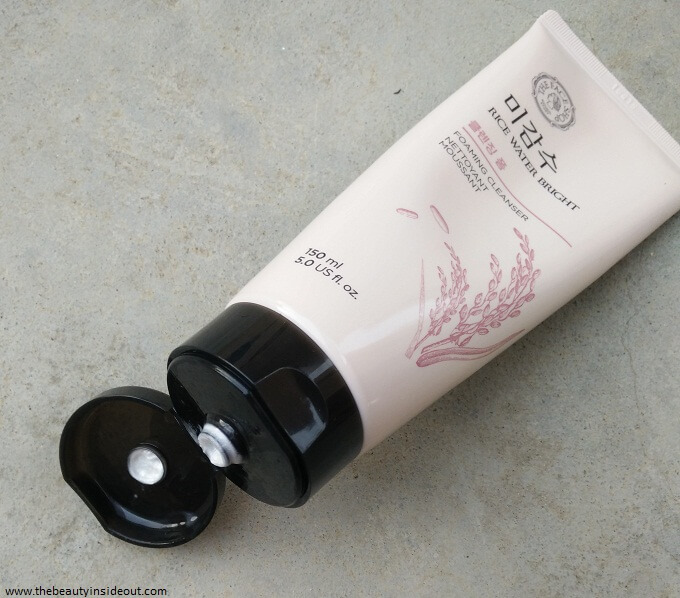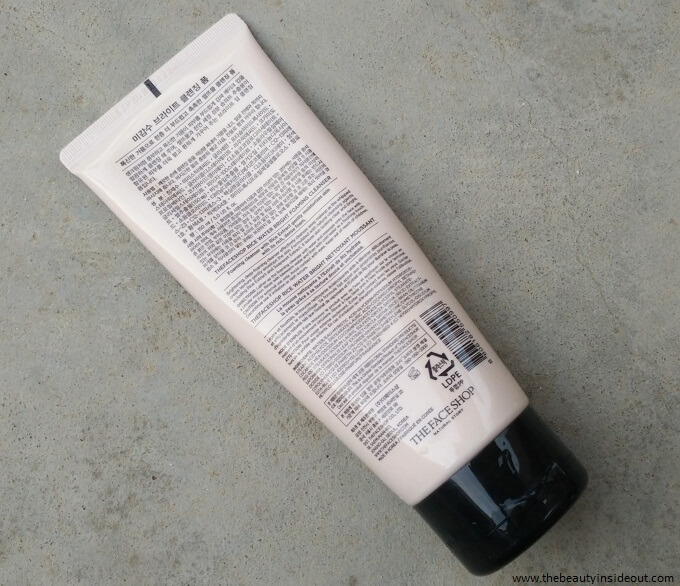 Fragrance: The fragrance is quite similar to The Face Shop White Seed Balanclouding White Moisture Cream. It is floral and sweet yet very mild. It is surely non-bothering and completely vanishes post cleansing.
Color: The Face Shop Rice Water Bright Cleansing Foam is white in color and has a pearly appearance emitting a shine.
Texture: The Cleanser has a smooth creamy texture. The consistency is almost thick which makes it easier to control the amount of product dispensed from the tube.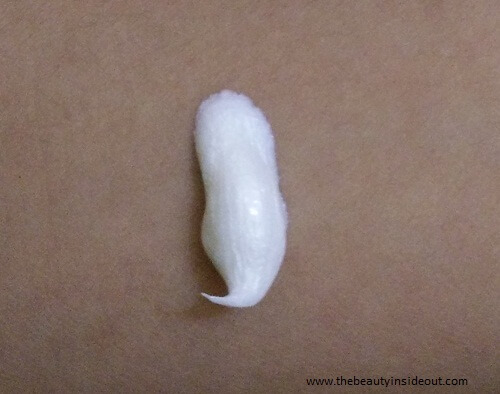 Efficacy: I usually take an almond sized amount of the product and bring it to lather by mixing it with a little bit of water; At times I directly use it on my dampened face. As clearly mentioned, this is a foaming cleanser and so it produces a good amount of lather which is rich and creamy.
I clean up my face like I do with any other face wash; Nothing special about how I cleanse using this cleanser. I just foam it up, massage it on my skin and then rinse off. This face wash cleans my skin very efficiently removing dirt, oil and impurities. It gives a super cleaned skin but makes my skin dry and stretchy post rinsing. Very oily skin types might like this dryness as it gives an illusion of oil control, but in actual it is not. I highly recommend moisturizing your skin immediately after cleansing to avoid excess sebum production in the next few hours.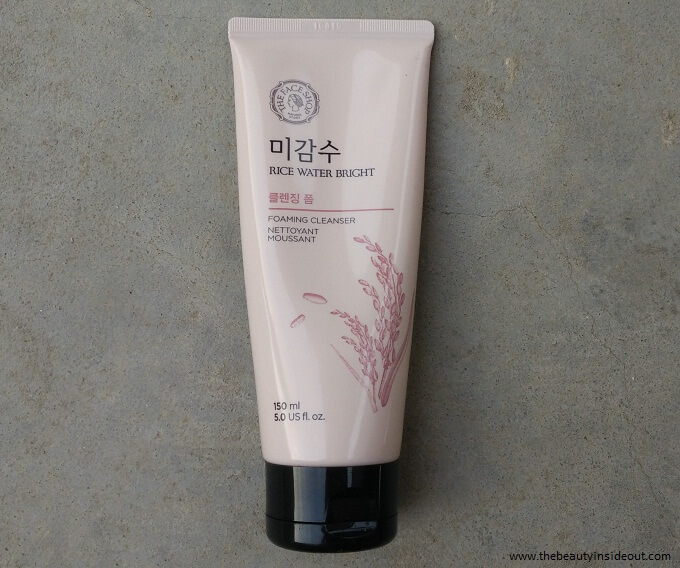 The presence of Rice Water and its claims to be make skin brighter is what made me get this. But I feel it's just a hype!! It does brighten up the skin post cleansing, but the brightening lasts no more than 15 minutes. Continuous usage for a month twice a day does not seem to do any magic on my skin as well. A normal budget friendly face wash would give the same effects on my skin.
In a nutshell , The Face Shop Rice Water Bright Cleansing Foam is an average cleanser that cleans up the skin thoroughly while feeling harsh on the skin. It is best to be used as a part of double cleaning, as a second cleanser post oil cleansing.
Pros:
Attractive packaging.
A little product goes a long way.
Cleans the skin thoroughly.
Removes face makeup to a great extent.
Gives instant brightening effect.
Suitable for oily & very oily skin types.
Cons:
The cleanser is harsh on the skin.
Not for dry skin types.
Price could have been lower.
Rating: 3/5
Recommendation: Probably not.
I hope you find this review helpful. Have you tried The Face Shop Rice Water Bright Cleansing Foam ? Share your experience with us.
Also check out