I am probably the biggest fan of Westside as a brand. I have been buying clothes from them since so many years now and I believe, this is the only brand that offers selected merchandise with quality and is worth every penny. It has such affordable clothing that I was surprised when I browsed their space for the first time and since then I am a regular here. Also, like how I am a makeup junkie…I am a footwear junkie the same way or even crazier and why not should I be. It's Westside after all. They have amazing footwear collection. And when, such a brand starts their cosmetics line.. what do you do really? No points for guessing here…of course I did the same. I grabbed my hands on their foundation which is called the Flawless Finish Makeup Foundation. Big claims already hun! Let's find out below how it fared for me.
Product description:
It claims itself as a flawless finish makeup under their pure passion category of makeup line. It's basically a foundation claiming to give a flawless finish.
Ingredients: Not mentioned on the tube packaging, so not sure about it.
Shelf life: 2years. Mine got expired and emptied just in time and I will now try their new range which is slightly highly priced at INR 695 and claims to have better coverage. Let me know in comments below if you want me to review that for you.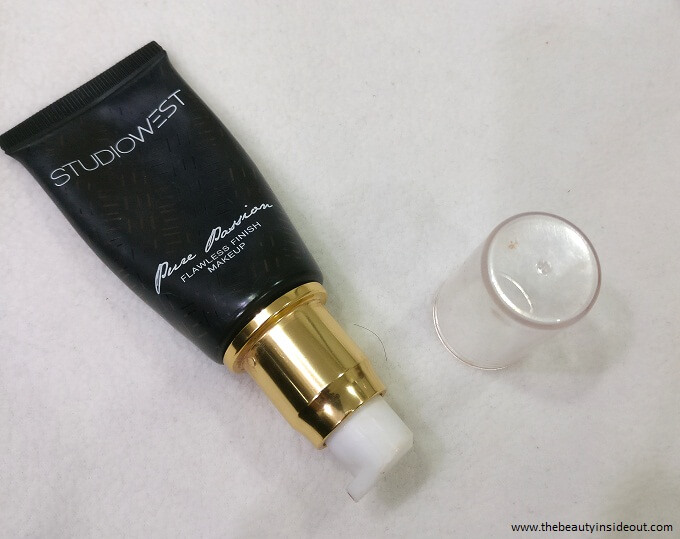 Shades Available : 4
01 Light Beige
02 Honey
03 Golden
04 Amber
Price: 550 INR for 30ml of product. Just aptly priced considering their reach towards masses and the quality offered.
Availability: Only available at Westside stores.
My take on Studiowest Pure Passion Foundation:
Packaging: Classy, chic and travel friendly. The tube has a black matt finish look with a pump on top and the best part is that the pump can also be removed by its screwable top, so no wastage happening there. Its packaging reminds me a lot of the Ponds BB Cream big size tube which comes with a similar pump but without the screwable top.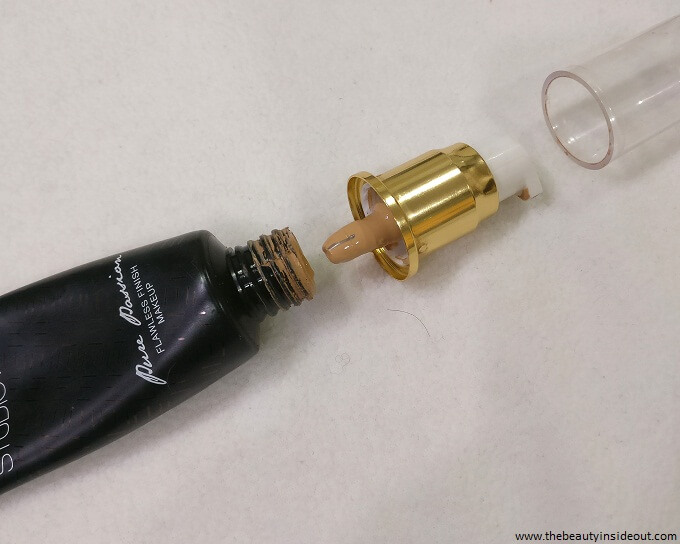 Fragrance: It smells like chemicals to me and strangely I still find it very pleasing. It has a very weird smell which I really can't explain.
Texture: Not too runny but still liquidy consistency when squeezed out from the pump. Extremely soft and light to touch.
Shade: I have the lightest shade 01 Light Beige which has yellow undertones. I really have to appreciate this brand for choosing their color range, which has been set considering Indian skin tones only and hence all their shades are more suitable for wheatish to duskier beauties. This time, the fairer ones get a miss.
Application: This is an easily blend-able foundation. It works really well even with fingers and it tends to leave strokes when applied using brush because of it's slightly runny texture. It just melts into your skin and sits there nicely. It does feel a little tacky to touch after application and so I do tend to set it up with a compact. But, good part is that if you let it sit on your face without touching the base, it settles into your skin and end up giving just a dewy finish without anymore tackiness. Having said that, it doesn't settle into a matte finish; it's a proper dewy finish foundation, so oily skin types, stay away if you don't like that extra shine on your face.
Coverage: Low to medium coverage with not so high buildability. So, for me it's an everyday wear foundation which I use more like a BB cream. In fact, my Ponds BB cream gives a better coverage. So, no points there.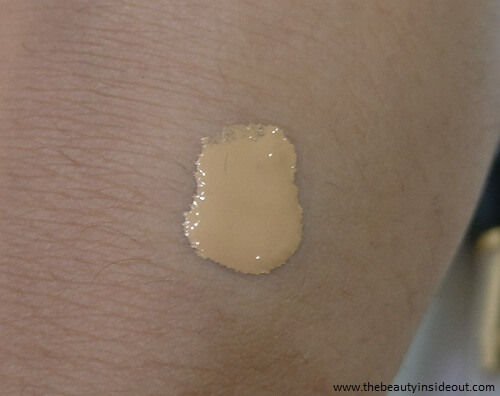 Staying power: It doesn't stay the way foundations are supposed to stay; It will move; It will transfer; It will budge. Only a heavy shower under a very promising makeup spray can keep it in place for 6-7 hours of wear. Without that, it only stays properly for 2-3 hours. I hate this about it!!
How I use it? I usually take 2 pumps of it and apply all over my face blending it using my fingers. Then I use a stick concealer in a lighter shade to neutralize the excessive yellow tone on my face, since even the lightest shade of this foundation is a tad bit dark/yellow for me. The stick concealer helps me to conceal the flaws and make sure the base sets in place.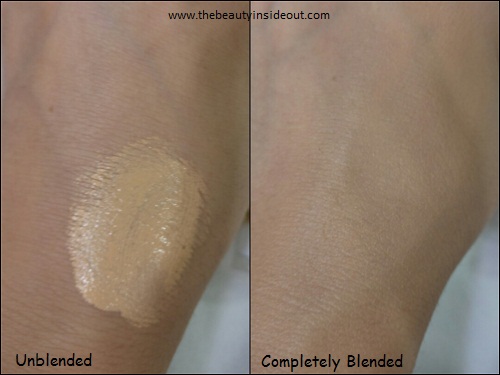 Pros:
Good Blendability.
Color range for deeper skin tones.
Affordable Price.
Travel friendly Packaging.
Everyday wear light weight foundation with an amazing formulation.
Cons:
Available only in stores.
Lightest color is too dark even for my kind of skin tone.
Staying power is not up to the mark.
No coverage whatsoever.
Rating: 3.5/5
Will I recommend or repurchase? I will repurchase just for the formulation because it's amazing and very light weight. So, I still prefer using it for an everyday no makeup look.
That's it guys. I hope you found this review helpful. Do let us know if you have tried this Studiowest Pure Passion Foundation in the comments section below.
Also check out
Until Next Time,
Stay Beautiful♥
Guest Author: Gunika