Of late, when I open my Instagram app, I see so many subscription boxes flocking on my feed. Every month new boxes are being launched and I was eyeing on getting one since my yearly Fab Bag subscription got over and I didn't want to renew the same unless they offer something exciting (read:Sugar lipsticks). GlamEgo, PixieDust Box , Zo Bag, Thedazzlebox, BlingBox, JasBox, ReverieFeelBox, Happyhamper, ThePrincessBox , ThePinkMintBox phew! there are too many new boxes. We sure go crazy for these boxes, but I feel the uniqueness is totally gone. I hardly find few of them worth trying, others are just a miss.
After thinking a lot, I went in for VanityCask Box, a subscription that has been in the scene since the beginning of the year. I did see the contents before ordering the box as I didn't want to get some dud products. So obviously I liked the box. Before unboxing it, let me give a brief about this subscription.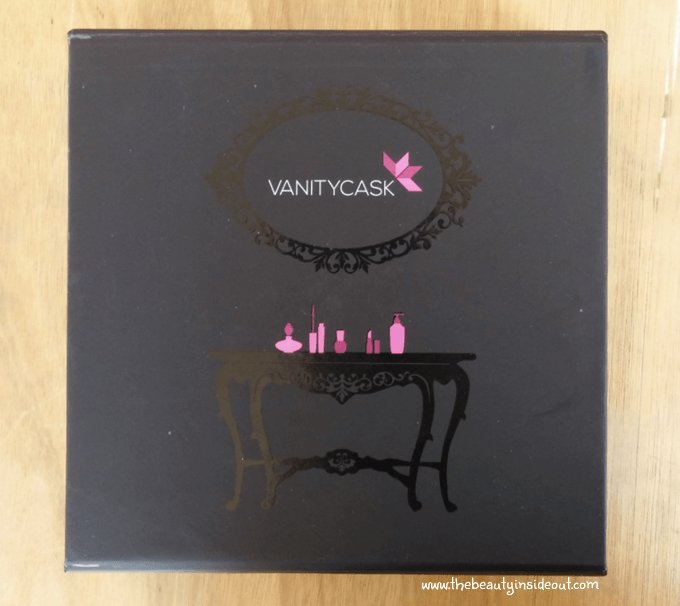 VanityCask is a monthly subscription box that helps you to stay in touch with the latest global development in the world of beauty. VanityCask contains samples of luxury beauty brands, hand picked by experts to suit our Indian Women.
Subscription Plans:
1 month – 999 INR
3 months – 2399 INR (800 INR per month)
6 months – 4199 INR (700 INR per month)
You can buy the box from their official website Vanitycask.com
I subscribed for one month but I got the box for only 830 INR which is why I didn't think twice before buying this box. If you would like to get it at a discounted rate, use my referral code 'UCIIGZW' to avail 10% OFF on the box, the coupon is valid on all upcoming boxes too, so feel free to use whenever you want. The best part of this subscription is that along with 10% OFF, they offer 75 INR OFF for all online paid orders, who gives such an offer! I would say this is such a great deal and Don't miss it!
The customer service is very prompt too. I had requested for an early delivery as I was scheduled to travel and they were supportive enough to send it to me the very next day. Normally, they deliver the boxes in 5-7 days and even reach earlier if you live in metro cities.
Packaging : All the contents come in a pink Potli bag.  It looks so cute and adorable. All products come housed in a black cardboard box. The box itself looks luxurious and has a magnetic lock. The whole packaging was very neat and the products were intact leaving no space for any complaints. It also comes with a booklet with details of all the products in the box.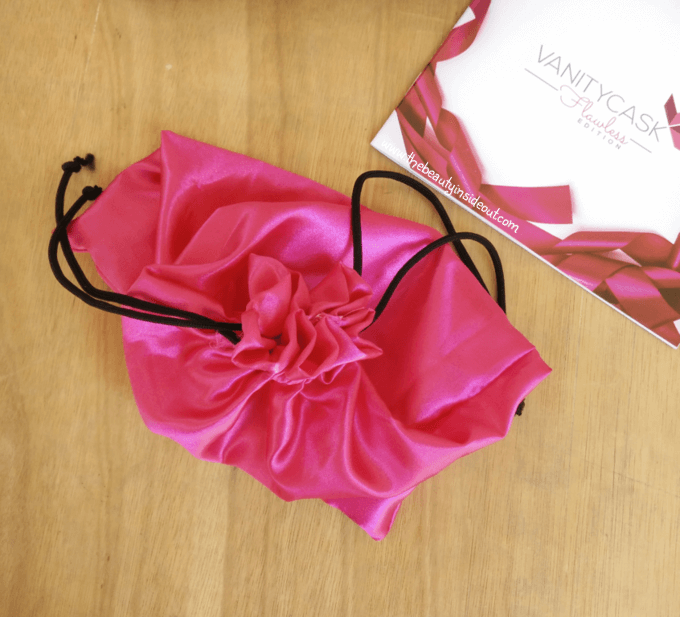 The June Flawless Edition is all about putting your best face forward and it contains everything that you need to make your skin flawless.
Contents of the Flawless Edition VanityCask Box includes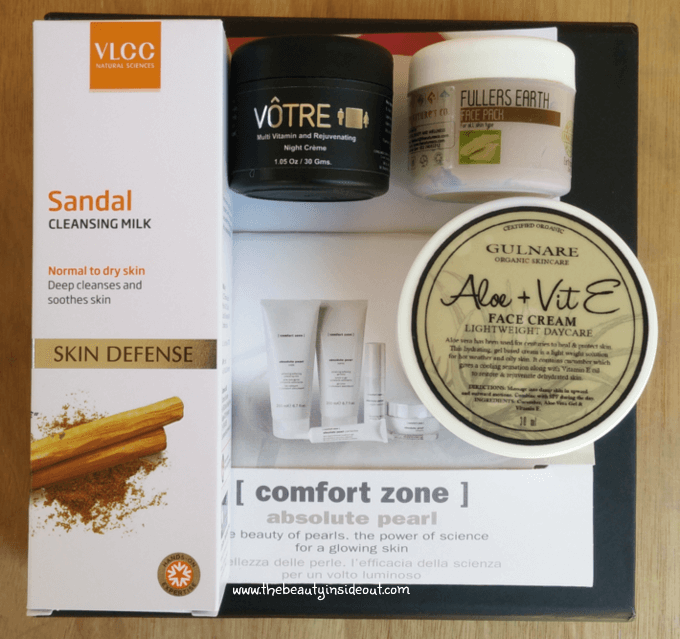 VLCC Sandal Cleansing Milk
I haven't explored many cleansing milks so far as I was always on the notion that they were meant for dry skin types. But this nourishing cleansing milk makes some impressive claims, to be enriched with the goodness of Almond, Indian Gooseberry extracts and Sandalwood Oil that cleans, nourishes and heals skin in one sweep. This is a full sized product retailing for 160 INR for 100 ml. Let me try this and I will come with my thoughts on it very soon.
Gulnare Aloe & Vit E Face Cream
Honestly the main reason for choosing this box was this cream. I was planning on getting the full size product and I thought this was a great deal as you get 30 ml sample of it in the box. The full size product retails for 550 INR for 50 ml, so you get more than half the full size product. The face cream is basically is lightweight gel that gets absorbed in no time. It is best suited for hot weather and oily skin types which is why I wanted to try it. The cream has a very mild cucumber fragrance and has a soothing effect on the skin.
The Nature's Co. Fuller's Earth Face Pack
I've always had good results with The Nature's Co. products and I feel this one is expensive for a Fuller's Earth Face Pack. This retails for 2195 INR for 270 gm and I received a deluxe sample of 35 gm. It is fortified with some skin-friendly ingredients such as Fuller's Earth, Pro-Vitamin B5, Vitamin E, Kaolin and Vegetable Glycerin. I'm yet to use this face pack, but I just opened and sniffed it and indeed it smells like Multhani Mitti . This pack would be highly beneficial for oily and acne skin types.
Votre Multi Vitamin and Rejuvenating Night Crème
This is a deluxe sized sample of 30 gm, but then again this contains more than half the quantity of the full-sized product which costs 2450 INR for 50 gm. This one cream itself covers the price of the subscription. The luxurious night cream is clinically proven to help increase cell renewal and assist the skin's natural regeneration process and delay premature aging. It claims to make your skin beautiful, radiant and flawless. Interesting!
Comfort Zone Skin Treatment
This is a skin treatment kit from Comfort Zone. Comfort Zone is an Italy based Beauty & Spa Brand which specializes in skincare products formulated with finest natural origin active ingredients. Each one of us will get one range out of 6 range which includes – Hydramemory Range, Absolute Pearl Range, Renight Range, Active Pureness Range, Skin Regime Range and Sublime Skin Range. I got the Absolute Pearl Range which is meant to make your skin glow. It has 5 sachets in it, each containing 2 ml of product. This sample kit costs 250 INR.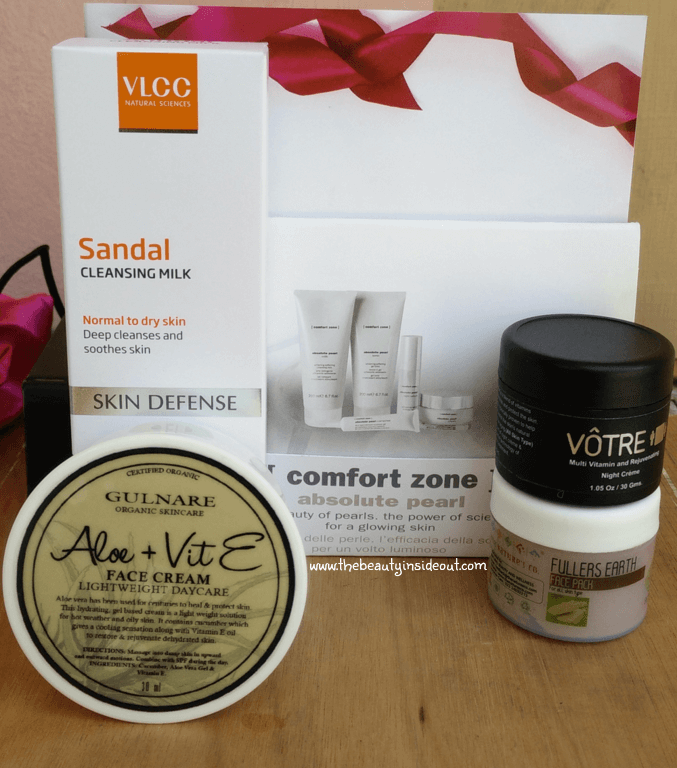 Along with the above products,  I received four gift vouchers that can be redeemed at various outlets.
Raw Pressery Vouchers
VLCC Wellness Services Buy 1 Get 1 Free
Sublime Factory Gift Voucher
SkinAlive Dermatology & Aesthetics Gift Voucher.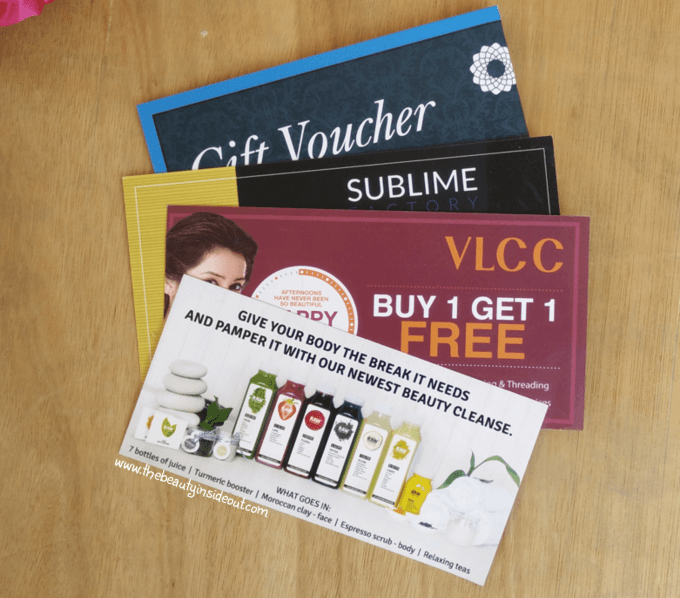 Overall, I am super happy with the Flawless Edition VanityCask Subscription Box. This box is totally worth getting.
Also check out
Until Next Time,
Stay Beautiful♥