I'm not happy to say this, but India is alarmingly one of the top most country in the world having the highest number of diabetic patients. Though it may not seem like a life threatening condition, it paves way for a lot of health risks and issues. Hence maintaining low sugar levels is highly crucial for diabetes patients. Most of them resort to daily intake of medicines that may have side effects in the long run. But worry not! Zenith Nutrition offers a natural alternative through Alpha lipoic Acid Supplements.
What is Alpha Lipoic Acid?
Alpha Lipoic Acid is a vitamin like anti-oxidant that is naturally made in our body. Our body produces them in very little amounts and it is also difficult to get sufficient quantities through diet. Some food sources of Alpha Lipoic acid includes Broccoli, Yeast, Spinach, Potatoes, Tomato, Carrots, Beets, Rice Bran, Organ Meats like Liver and Kidney.
For an healthy adult, it is not mandatory to supplement Alpha Lipolic Acid, but according to WebMD, evidences show that they help with lowering sugar level in people with Type 2 Diabetes. Alpha Lipolic Acid enhances the body's ability to use its own insulin to lower blood sugar levels in Diabetic patients. It also reduces symptoms of nerve damage, pain and prickling in legs and feet, retina damage that are caused as a result of diabetes. So it is vital for people with diabetes or prediabetes to include Alpha Lipoic Acid.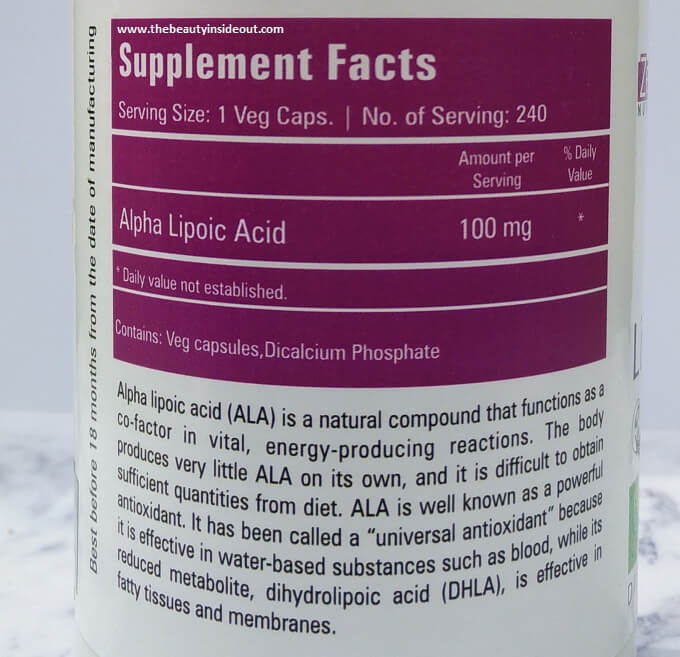 Other benefits of Alpha Lipoic Acid includes
Alpha Lipoic Acid has been called as a universal antioxidant as its effective in protecting from oxidative processes that promote premature aging & degenerative diseases. It protects certain kinds of cell damage by restoring Vitamin Levels in our body.
Alpha Lipoic Acid works at the cellular level and helps with energy production. It aids in breaking down carbohydrates and supply energy for various organs in the body.
ALA Supplements are used to treat skin discoloration caused due to Vitiligo. Taking this super anti-oxidative alpha Lipoic acid supplement along with Vitamin C, E and polyunsaturated fatty acids have shown effective results for Vitiligo according to WebMD.
ALA reduces the degree of bone loss caused by osteoporosis in women post menopause.
ALA helps to increase weight loss as it improves fat and sugar metabolism. It inhibits chemerin production, a protein that is responsible for obesity.
These Supplements may help with Arthritis, Migraines, Alzheimer's Diseases, Vision Problems, Parkinson's Disease, Brain Functions, Dementia and Liver Problems.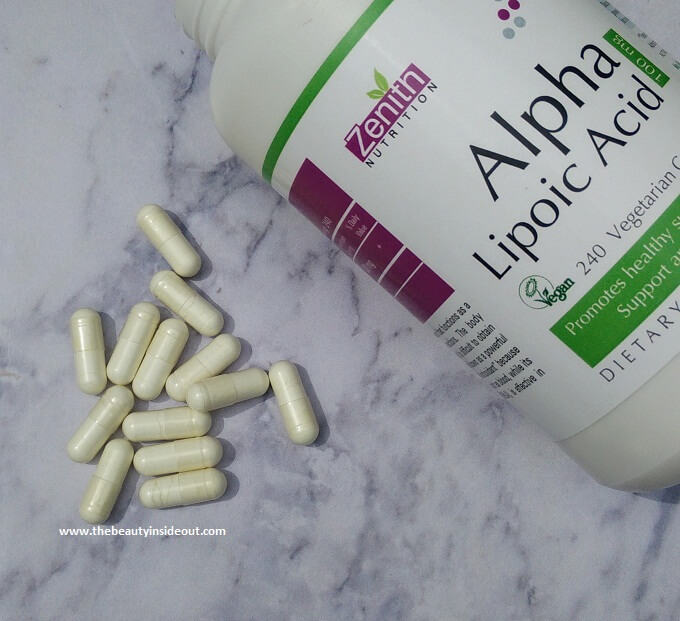 Zenith Nutrition Alpha Lipoic Acid Review
Zenith Nutrition Alpha Lipoic Acid Supplements have been effective for a number of people. These come stored in an opaque plastic bottle with a sealed screw lid. Each bottle holds 240 capsules containing 100 mg of Alpha Lipoic Acid. These capsules are translucent, water soluble, free of fish, lactose, salt, sugar, color and fragrance. As a dietary supplement, the recommended dosage is one capsule daily with meals. However, Precautions must be taken if you are under pregnant or lactating of under medication.
Zenith Nutrition Alpha Lipoic Acid retails for 1020 INR , but you can buy them at a highly discounted rate HERE. All these capsules have a shelf life of 18 months from the date of manufacture.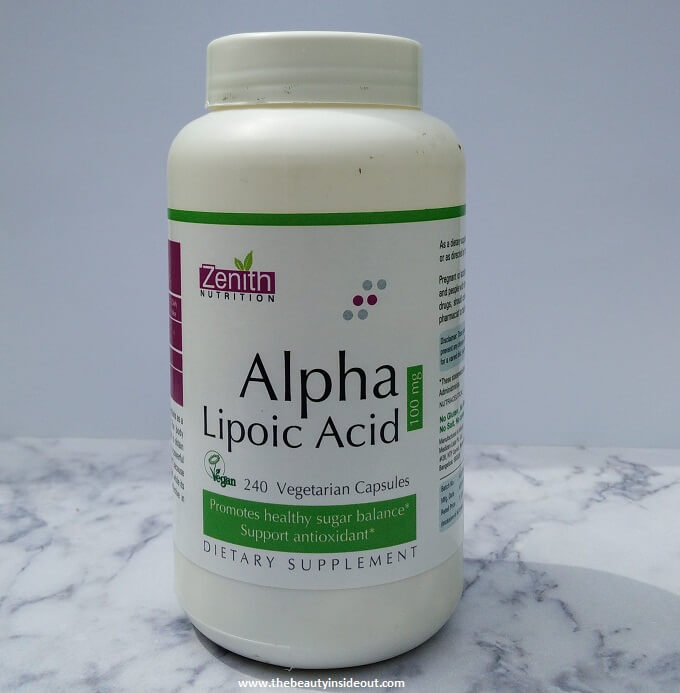 Summing up, Regular intake of Zenith Nutrition Alpha Lipoic Acid Supplements not only regulates your sugar levels but also reduces other diabetes related problems. These supplements have also been effective for people with Vitiligo.
Disclaimer: These statements have not been evaluated by the FDA. The product is not intended to cure, diagnose, treat or prevent any disease. The product should not be substituted for a varied diet. Please consult your doctor before taking these dietary supplements.