I'm back with a review of another Mamaearth product. Previously I reviewed their C3 Face Mask and today I'll be sharing my experience with Mamaearth Argan Hair Mask which I've been using for the past couple of weeks. Let's begin with the product details.
About Mamaearth Argan Hair Mask: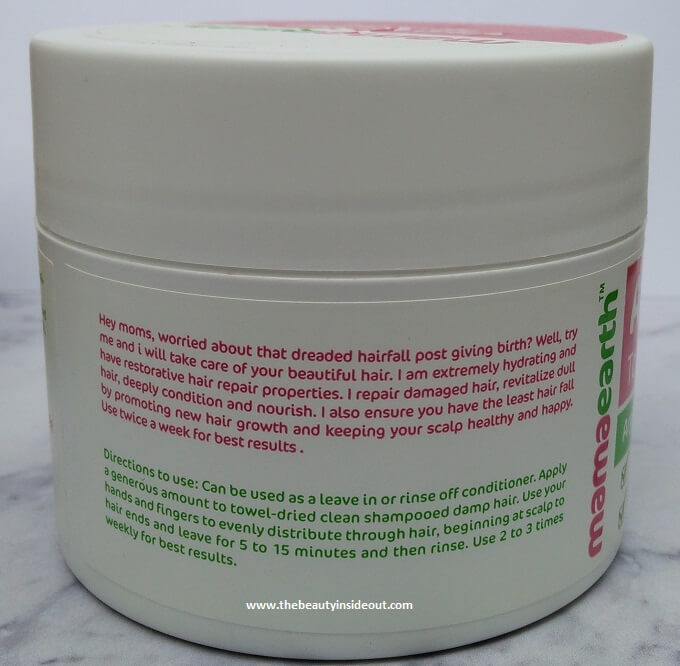 Ingredients: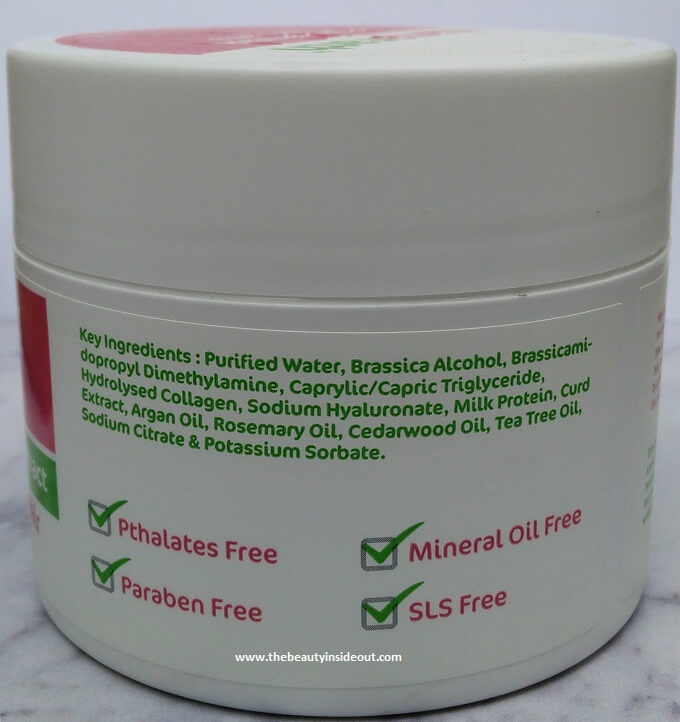 Price: 599 INR for 200 ml. You can buy it from HERE.
My experience with Mamaearth Argan Hair Mask:
Mamaearth Argan Hair Mask comes in a bulky white plastic tub. The packaging is very much similar to the C3 Face Mask. Its just that the inner lid that prevents product spillage is slightly different. This one has an inner handle which makes it a little bit easier to open. The tub is color coded in line with all other mama range of products with a mix of pink and white color. All the necessary details printed on it. The whole tub itself came in a brown cardboard box with an awesome MOM quote. In all, though attractive, I find the tub to be heavy and bulky to take it for travel.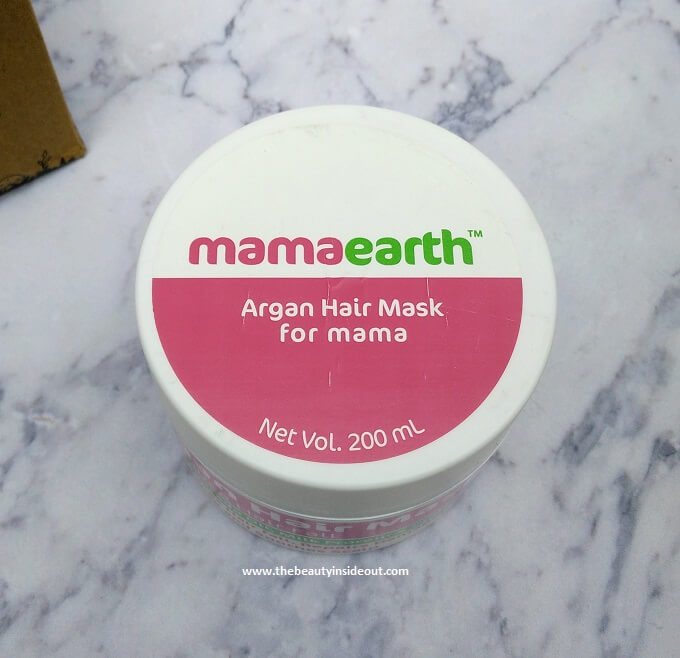 I have always wanted to try an Argan hair mask and this came to me just in time. The hair mask is enriched with amazing ingredients that are good for your hair. Argan Oil, Avocado Oil, Milk Protein, Tree Tea Oil and Curd Extracts are some among them.
Coming to the fragrance, it is kind of strong that it might not be liked by those who are sensitive to strong fragrances. It did not bother me much as it does not linger for hours post washing. The hair mask is off white in color and the texture is on the thicker side but spreads easily on damp hair.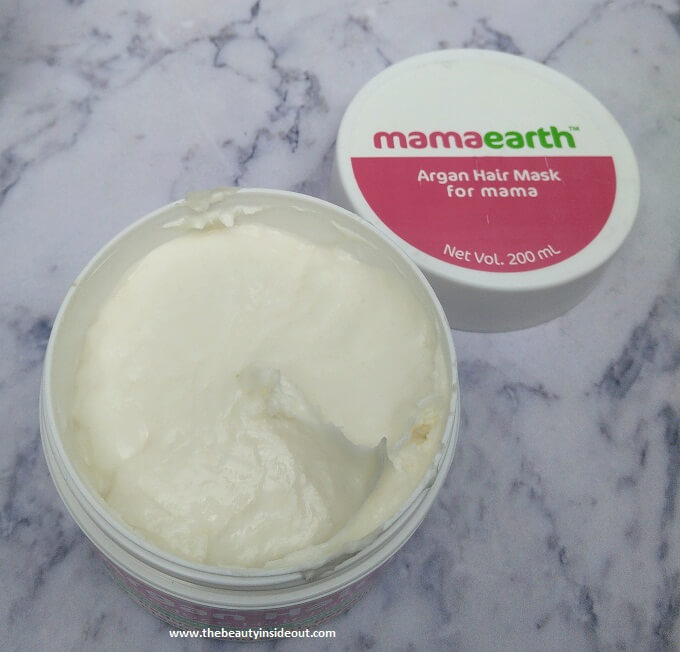 The Argan hair mask can be applied in two ways – As a rinse off conditioner and as a leave on conditioner. I prefer using it as a rinse off as I feel it weighs down my thin hair and attracts dirt if used as a leave on.
Onto the apllication part, the hair mask is supposed to be applied on towel dried, clean shampooed, damp hair. So every time I used this hair mask, I applied it on my hair and tips as per the instructions and left it on for 10-15 minutes for it to work and then rinsed it off with generous amounts of water. The results are immediately visible. I let my hair air dry and this hair mask makes my hair so soft, silky and smooth. My hair band literally glides through my hair. The silky effect lasts until my next wash, i.e. 3-4 days. The hair mask is highly moisturizing and hydrating giving amazing results even with the most drying shampoos. With continuous usage, it noticeably prevents hair fall due to breakage too.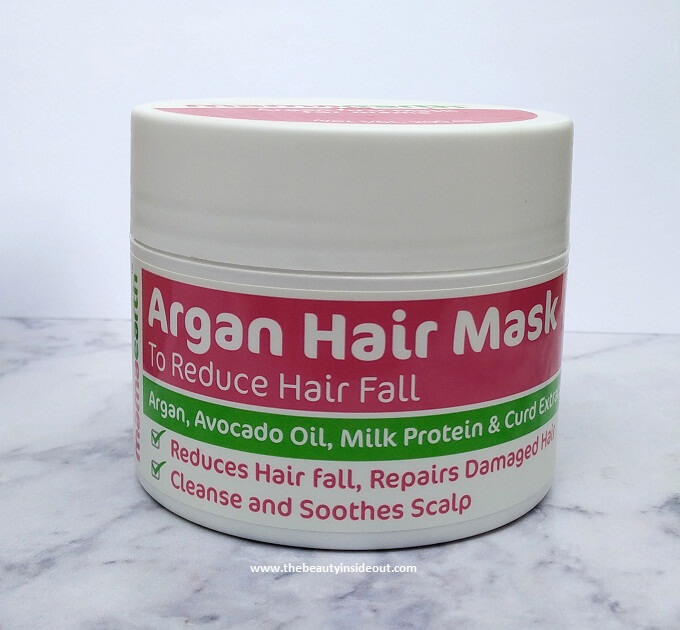 Overall, Mamaearth Argan Hair Mask is a nourishing hair mask that makes your hair silky soft, healthy and manageable.
Pros:
Made Safe Certified.
Enriched with scalp friendly ingredients.
Nice texture that spreads and rinses off easily.
Free of Phthalates, Mineral Oil, Parabens and SLS.
Makes hair softer and smoother.
Deeply conditions hair and repairs damaged dull hair.
With continuous usage, reduces hairfall due to breakage.
Can be used both on scalp and hair as well.
Cons:
Bulky Tub packaging.
Strong Fragrance.
Price is on the higher side.
Rating: 4/5
So that was all about Mamaearth Argan Hair Mask. Have you tried this? Share your thoughts in the comments section below.
Also check out
Until Next Time,
Stay Beautiful♥
*PR Sample, Unbiased Review.