Your liver is one of the largest organ in your body that is responsible for performing some critical functions. Hence maintaining a healthy liver function is crucial for everyone. Today I would like to introduce you all about a health supplement that promotes healthy liver function. It's from the brand Zenith Nutrition which offers high quality supplements, made with genuine formulations, free from toxins and heavy metals. The supplement I'll be talking about is Zenith Nutrition Silymarin Milk Thistle.
Let's get started with what is Milk Thistle
Milk Thistle is a natural flowering herb that is native to Mediterranean countries. Basically it grows in warmer climates. Milk Thistle Seeds contains an anti-inflammatory and anti-oxidative flavonoid complex called Silymarin which helps to protect our liver from toxins.
Our liver is prone to toxicity due to our lifestyle and eating habits. Exposure of toxins through environment such as smoke, gasoline, consumption of toxic foods such as processed foods, foods high in sugar, fish containing heavy metals, food produced with the intervention of pesticides, fertilizers, preservatives, consumption of alcohol, contaminated water, high carbohydrate diet, etc. are major reasons among them. You should not forget that all skincare products we use do get absorbed into our body, so you should check for toxic ingredients in them as well.
All these hinder the functioning of your liver, whose main job is to naturally detoxify your body and to clean and filter out the blood that goes to the heart. It also hampers digestive functions as the liver is responsible for producing bile, a digestive juice that helps your body to absorb fat into the bloodstream.
If I have to say shortly, you need your liver to be alive and you cannot live without one.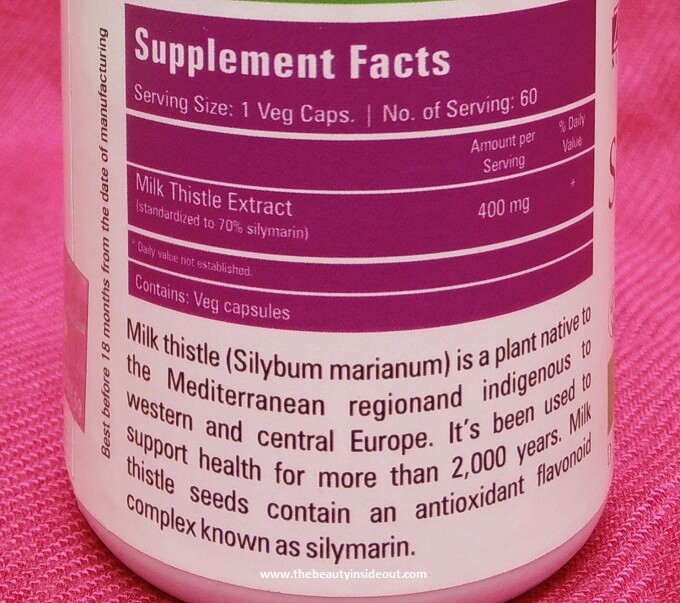 Zenith Nutrition Silymarin Milk Thistle Review
Zenith Nutrition Silymarin Milk Thistle is a superior antioxidant that promotes healthy liver function. These capsules come in a travel-friendly sturdy plastic bottle covered with a screw type lid. The bottle contains 120 capsules, each providing 400 mg of Milk Thistle Extract standardized to 70% Silymarin. Standardization ensures consistent level of the active ingredient in each dose. The transparent capsules enables us to see the yellow colored, powdered Milk Thistle. This supplement is suitable for vegetarians as well, as it contains no fish or animal derivatives. Since this is a health supplement, it is adviced to consume after consulting your physician.
Zenith Nutrition Silymarin Milk Thistle retails for 1700 INR for 120 capsules. You can buy them at a highly discounted rate from Amazon.in. All these supplememts have a shelf life of 18 months from the date of manufacture.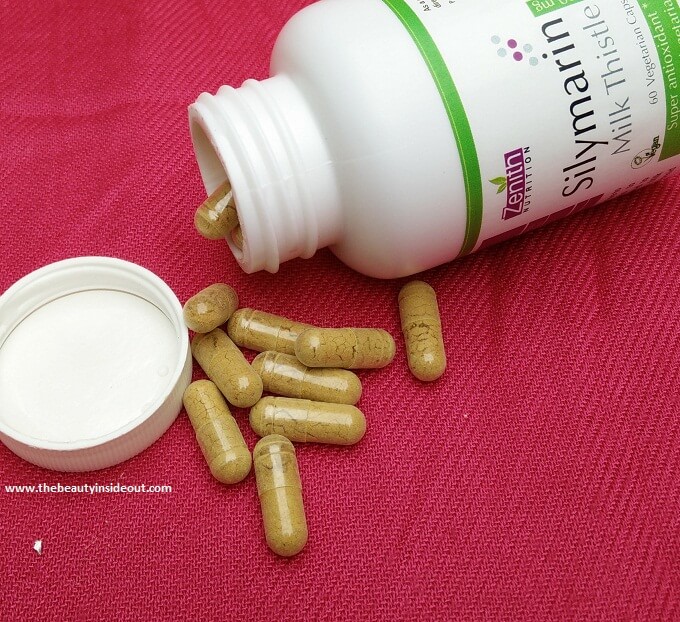 Pointing down the Benefits of Silymarin Milk Thistle
Milk Thistle is found to be effective for people with cirrhosis, a condition where the liver is damaged due to consumption of alcohol, Hepatitis B, Hepatitis C and nonalcoholic fatty liver disease.
Milk Thistle is a superior detoxifier that helps to rebuild liver cells and remove toxins from the body.
Milk Thistle helps with heart diseases as it reduces inflammation and lowers cholesterol levels that are responsible for such diseases.
Milk Thistle is a powerful antioxidant that prevents free radical damage caused by oxidation.
Milk Thistle has an effect on anti-aging and boosts skin health.
Consumption of Milk Thistle may help people prevent diabetes, gallstones, kidney stones and cancer.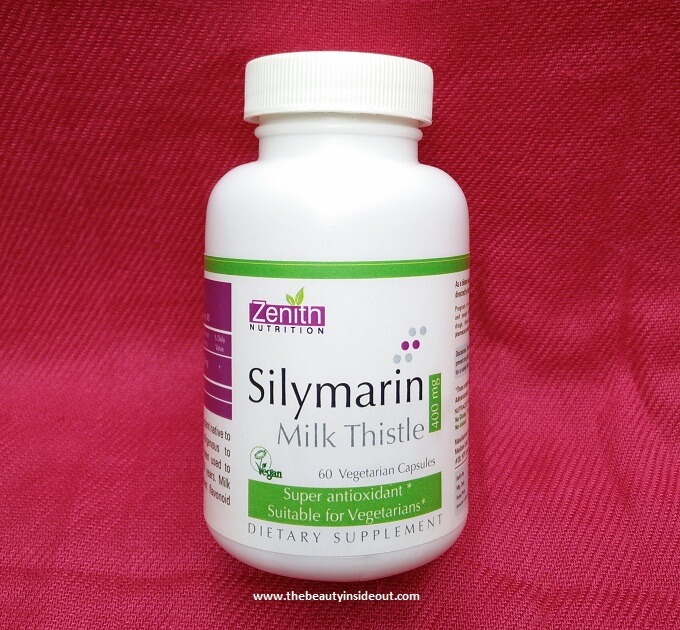 In short, If you are looking for a health supplement that takes care of all your liver problems, then Zenith Nutrition Silymarin Milk Thistle is for you. It not helps to promote healthy liver function but also flushes out all nasty toxins from your body.
Disclaimer: These statements have not been evaluated by the FDA. The product is not intended to cure, diagnose, treat or prevent any disease. The product should not be substituted for a varied diet. Please consult your doctor before taking these dietary supplements.