Who doesn't love red lipsticks that too a matte one!! Wearing just a red lipstick with minimal makeup can change your entire look as they give an instant vibe of confidence and brightness to the face. Recently when I received Sugar Cosmetics It's A Pout Time Vivid Lipstick That '70s Red in my Hello Gorgeous! July Fabbag, I was so excited and happy to try it out. That '70s Red is one of the latest addition to their Vivid Lipstick Range along with the shade Peachy Little Liars. Let's get straight into the details of the product.
Ingredients: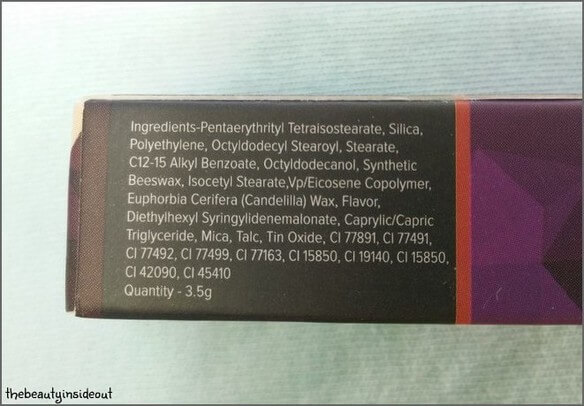 Price : Rs.599 for 3.5 g
Availability: Available online here
My take on Sugar Cosmetics It's A Pout Time Vivid Lipstick That '70s Red:
Packaging : The lipstick comes in their signature outer cardboard box with all the details of the lipstick like shade name, ingredients, date of manufacture, etc. clearly written on it. The actual lipstick is housed in an edgy rectangular tube. This range of lipsticks are not color coded, so if you have more than one lipstick from this range it might be a hassle to search for the shade you want. The bullet goes in and out smoothly and locks in with a click sound which ensures safety. The cap is tight so you need not worry that the cap might fall and break the bullet when thrown in your bag. Overall I love the packaging a lot, it is very sturdy, classy and has a sophisticated look.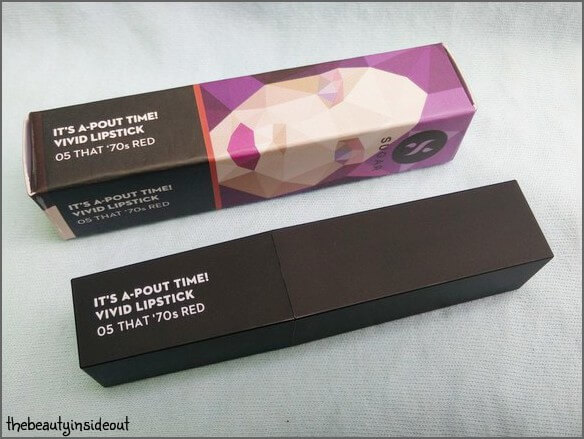 Texture/Application: The best part of this lipstick is that it has a creamy gel like formula and sets into a matte finish. It's not like those rich creamy lipsticks where the lipstick bleeds heavily or the bullet breaks off. I would say it has the right amount of creaminess to apply it smoothly and evenly without any tugging or pulling. The lipstick does not dry out my lips but it not moisturizing either. It feels so comfortable to wear and is very lightweight. It does not accentuate fine lines or clings on to dry patches. Being creamy it transfers slightly which is forgivable. Since it has a flat top bullet I found it difficult to apply on the outer corner of my lips. Applying it with a lip brush would solve the problem though. The lipstick has a mild vanilla fragrance which is not bothering. Unless you sniff it you will not notice any smell at all.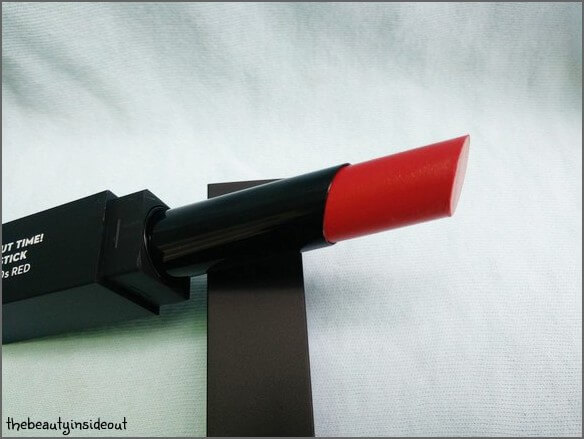 Shade: The shade That '70s Red is a bright red lipstick with cool and pink undertones. It has got absolutely no shimmer. The pinkness is not at all noticeable on your lips when you apply two swipes. This shade would instantly brighten your face. It would look ravishing with any outfit, apt for parties or special occasions.
Pigmentation: That '70s Red has got really good pigmentation. Single swipe gives opaque coverage but I apply two swipes as I like it that way. It is easily buildable and does not look heavy at all. This particular red shade would look flattering on all skin tones.
Staying Power: It has pretty good staying power and lasted for 6 hours with light snacking. It does not survive heavy meals though. Re-application is hassle free as it does not make it look blotchy or drier. It fades away evenly leaving behind a mild pink tint which can be easily removed with water .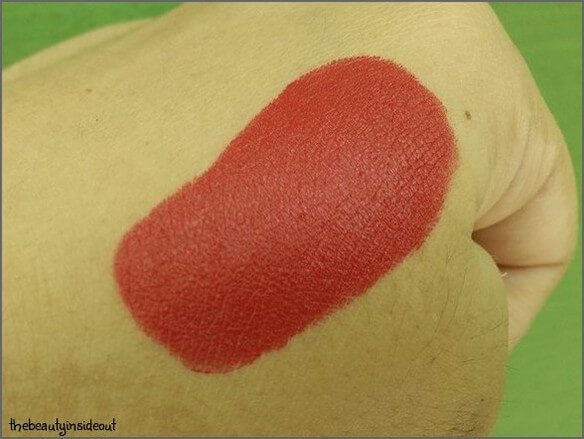 Pros:
Classy matte packaging.
Gorgeous shade that would flatter all skin tones.
Creamy Smooth texture gives effortless application.
Lightweight and feels so comfortable.
Gives a matte finish without drying your lips.
Good pigmentation and long lasting.
It is free from mineral oil and parabens.
Comes in 6 shades.
Decent pricing.
Cons:
These lipsticks are not color coded.
Flat top bullet makes precise application on the outer corner of the lips quite difficult.
Transfers slightly.
Final Word:
Sugar Cosmetics It's A Pout Time Vivid Lipstick That '70s Red is classic bright red lipstick with amazing pigmentation, good staying power and gives a matte finish without drying out your lips. It 's affordable too. I am absolutely in love with this lipstick. If you are a red lipstick lover, I would highly recommend getting this. I am eyeing on the shade breaking bare from this range and will surely repurchase it.
Rating: 4.5/5
I hope this review was helpful. Have you tried these lipsticks? Share your thoughts in the comments section below.
See you in my next post,
Love Safi 🙂