Foundations are something I don't use on a daily basis but always have a few of them in my vanity for those frequent special occasions. Today's review will be about Revlon Colorstay Makeup Foundation which has been in the scene for a very very long time. Still I wanted to share my thoughts on it as it was my very first drugstore foundation that I got for myself.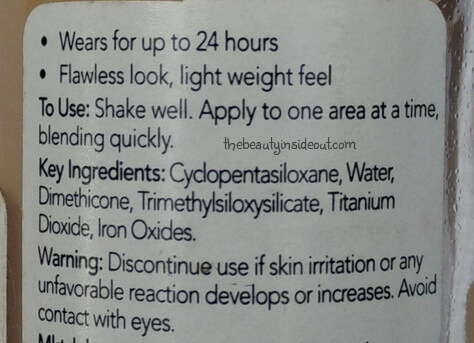 Priced at Rs.995 or approx. $9 for 30 ml. It has a shelf life of 3 years. You can buy it from Amazon India  or Amazon US
The foundation comes in a thick, translucent glass bottle which makes it easy to know the left over quantity. The older versions didn't have a pump which can be a mess to use. Luckily I got the one with a pump dispenser. The bottle is quite sturdy; when I tossed down accidentally it did not break or crack. Nevertheless you have to be careful while travelling with it, after all it is made of glass.
Revlon Colorstay Makeup Foundation comes in two variants. One for oily combination skin types that provides a semi-matte finish and the other one, for dry to normal skin types that gives a dewy finish. I got the former one as I have oily skin.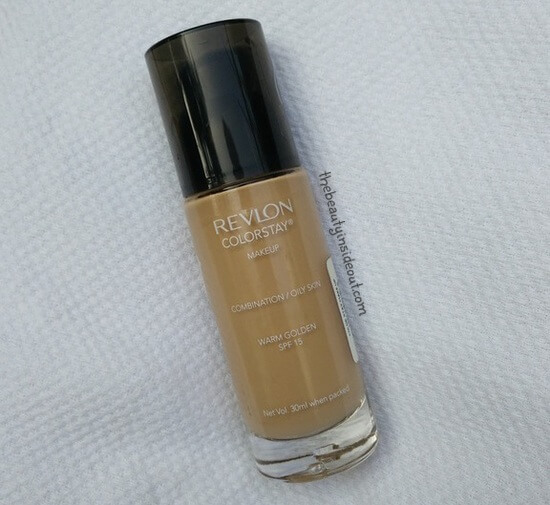 Only three shades were launched in India in Sand Beige, Warm Golden and Natural Tan, whereas you can get them in 35 shades in US. I picked it up online in the shade Warm Golden for my wheatish skin tone, thinking that it would have yellow undertones. But this has a pink tinge to it which looks very obvious on my strong yellow undertone. That's the con of online purchases. Lesson I learnt ; never to purchase a foundation online unless it's a repurchase or I'm damn sure of the shade.
Coming to the texture, the consistency is quite thick and just a dollup is enough for the entire face. The foundation has the tendency to dry quickly so I prefer to apply in smaller sections instead of dotting or applying it on the entire face at one go. Even though this is made for oily skin, I had the need to moisturize my skin really well otherwise it tends to stick to dry patches as the day proceeds.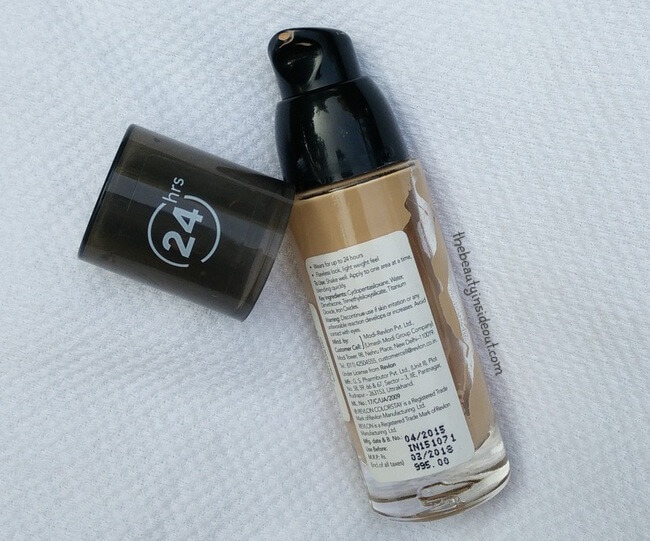 The foundation results in a flawless semi-matte finish when applied using a damp makeup sponge rather than a brush. If you are using a brush, I suggest spritzing some rose water or makeup setting spray on top of the brush for easy blendability. I highly recommend using sponge for this foundation as its not one of those lighter foundations and the moisture in the sponge would help in spreading the foundation easily.
The foundation provides medium coverage that is easily buildable to give full coverage. This is one of those foundations that would be suitable for bridal makeup as it's very long staying and photographs really well despite the presence of SPF 15.
The foundation claims to stay for 24 hours. I haven't worn that long. But I can say it stays for 8+ hours on my oily combination skin and during the entire time I used this, I didn't face any breakouts. So it should be suitable for acne prone skin too. The Revlon Colorstay Makeup Foundation is somewhat waterproof, so one would need a good quality makeup remover as the foundation stays quite intact even when water is splashed on the face.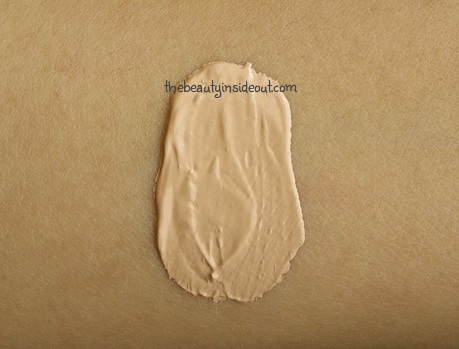 The only thing I don't like about this foundation is its fragrance. The foundation smells like paint and it's outright bothering for my senses. I prefer mild fragrances or certainly nothing at all. Some might find it not to be disturbing but I totally hate that scent. Other than that this foundation really scores well in all other aspects. A must try product!
Pros:
Pump dispenser packaging.
Gives a semi-matte finish.
Medium to Full Coverage.
Long staying waterproof formula.
Didn't break me out.
Suitable for bridal makeup.
Cons:
Paint like scent that is not-so pleasing.
Limited shade selection in India
Dries quickly so you need to work fast.
Rating: 4.5/5
In short, Revlon Colorstay Makeup Foundation is a long-staying waterproof foundation that gives a flawless semi-matte natural looking finish with its buildable medium to high coverage. I would repurchase this, but in a different shade. Do give this try.
So that's all about the Revlon Colorstay Makeup Foundation. Have you tried this? Comment below.
Stay Beautiful♥