After resorting to natural products for my skincare, the quality and texture of my skin has greatly improved and it definitely looks more healthier now. Like everyone, my skin do become dull after tireless work and travelling. Still I try to look for a solution through natural skincare brands. But when it comes to hair care I end up losing my mind and indulge with a lot of chemicals. This year I am making a promise to myself to go all natural for my haircare too. So I decided to begin with this cheap hair mask that gives a lustrous silky hair. If you are a lazy bum like me, you'll find this to be a great time saver. The product I'll be talking about is Banjara's Methi Powder. The only ingredient of the super cheap hair mask is FENUGREEK. Often called as Methi, the benefits of this special seed is innumerable. It can be used for various purposes, for your skin, hair and it can even be ingested for various health benefits. Since we are focusing about haircare now, let me briefly tell you what are the benefits of fenugreek on hair.
The lecithin in fenugreek produces a slippery substance that adds shine and gives a glazing effect to your hair which no one can resist.
Fenugreek has emulsifying properties that hydrates and nourishes the hair. With continuous usage it strengthens the root of your hair strands.
Fenugreek cures scalp infections, provides relief from dry itchy scalp and treats dandruff.
It also aids in hair growth and prevents further hair loss.
Fenugreek helps to retain pigments thereby delays premature greying of hair.
So coming back, I used to always make fenugreek hair packs at home, but lately due to my laziness I stopped making it myself. If you don't know how to make it, I'll tell you, it's just very simple, soak the seeds overnight in water and in the morning just grind them in a mixer. Your hair mask is ready. Sounds simple right. You ask what is there to be lazy about this? The thing is I always forget to soak them the previous night and the next morning I'm like where is my hair pack? If it at all I remember to soak them, grinding them finely needs a lot of effort. Otherwise the unruly seeds are going to be locked with your hair and create a hard time while washing.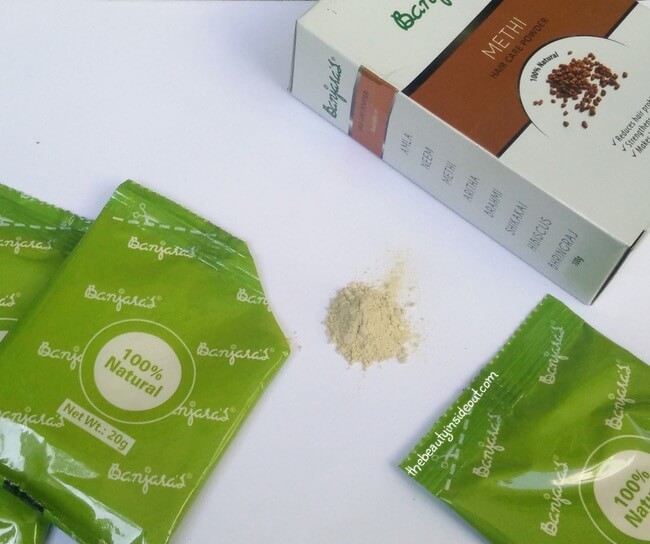 Recently I stumbled upon Banjara's Methi Powder when I was in the departmental store and I just picked it up in a whim. It retails at Rs.60 for 100 gm. And I love how they come in sachets instead of a single packet so they are easier and hygienic to use. There are 5 sachets in total each holding 20 gm of the powder. For my waist length hair one sachet lasted for 2 uses, so I could use this for more than a month, I use it only once a week whereas it's recommended thrice a week. It's super easy to use, just pour the dry powder in a bowl and add water and mix it very well until it becomes a semi-liquid. Sometimes I like to add curd or rose water or aloe vera depending on the mood. You can also add Rosemary Essential Oil for faster hair growth or Lavender Oil to soothe your senses. When I apply this, I keep it on my hair for 20 minutes and wash it off with normal water. I try not to shampoo on days when I use this and my hair feels so soft and silky smooth that is similar to the result of using a silicone based conditioner. Even when shampooed the silkiness is there, still the shampoo would slightly alter the end result. Just like original Methi pack, you need to wash it off properly with lots of water to completely remove the pack.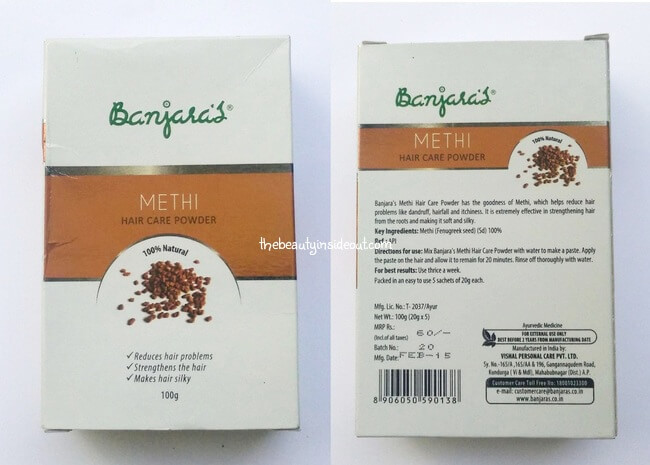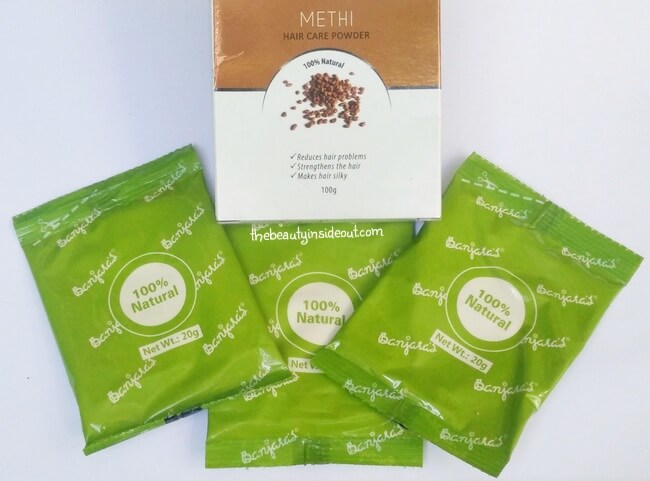 The hair mask has a strong fenugreek fragrance that lasts for at least two days. It takes time for any product to show significant results and it applies for this mask as well. Nonetheless I felt this to be exactly like a homemade fenugreek hair mask, be it the slippery feeling, the fragrance, the amount of water required to wash it off and the effectiveness. Overall Banjara's Methi powder is a great alternative for homemade fenugreek hair mask that can be made on the go. If you are lazy like me and love methi hair masks, do try this its dirt cheap and effective too.
Rating: 5/5
I hope you find this review helpful. Have you used this? Share your thoughts in the comments section below. If you liked this post, please subscribe and follow me on all my social media (by clicking the icons found at the top right sidebar), that would mean a lot to me 🙂 And thanks for taking your time and reading 🙂
Also check out my other posts on
Until Next Time,
Stay Beautiful♥