Sometime back when I hauled from Nykaa, I added this product called Moha Moisturizing Lotion just to avail free shipping. Why can't online stores have free shipping on any amount?? Before stumbling about it on Nykaa, I never knew such a brand even existed. This is supposed to be a natural brand or call it herbal brand. Usually herbal products are those formulated with herbal ingredients yet containing added artificial preservatives. Since I have extremely dry body skin, I picked this up as it is specifically meant for extra dry skin. Let's see how this product fared for me.
Product Claims: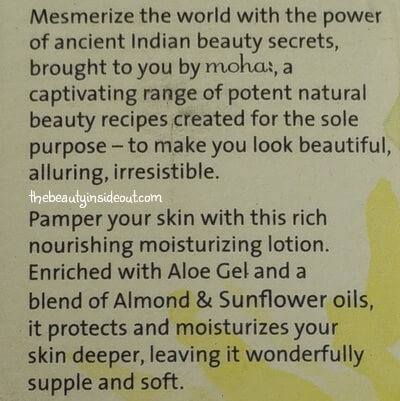 Price: Rs.135 for 100 ml. I got it from Nykaa.com for Rs.90 that's why added to my cart. It has a shelf life of 3 years.
My take on Moha Moisturizing Lotion for Extra Dry Skin:
The lotion is housed in a very sturdy long plastic bottle with a pump dispenser. The cap shuts tightly and the pump works well with no problem at all. What I loved most about the packaging is the attractive yellow colored sunflower design that is so fascinating. You can even say the look of it made me buy this.
The lotion is enriched with Aloe Vera Gel and a blend of Almond Oil, Coconut Oil and Sunflower Oil. May be the absence of any butters or heavy carrier oils is what makes it light and not so moisturizing enough for my dry skin. It also contains some toxic chemical preservatives added such as parabens and toluene which made me so worried. I didn't get to check the ingredient list before buying 🙁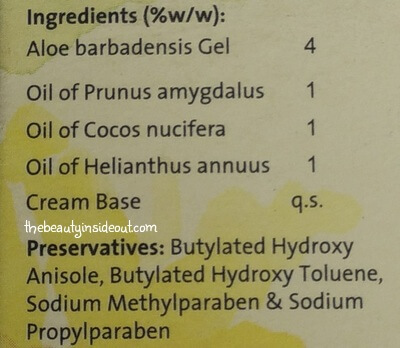 The lotion is white in color and has a mild botanical scent. Catered for extra dry skin, I expected the consistency to be rich and creamy but it was slightly runny. And so it gets absorbed in a moment and I didn't need to massage for a long time. The lotion instantly hydrates the skin and makes it baby soft and supple. It does not leave any residue or greasiness behind. The moisturizing effect stays for just 5-6 hours on my very dry skin thereafter my skin asks for more hydration. So I could say this lotion would work for oily and normal skin types but not extra dry skin types or even dry skin.
Keeping in mind that I experimented with this lotion in the colder December month, if it hadn't contained harmful preservatives I would have had repurchased and tried it during the summers to see how this fares then. Also I didn't find anything special with this lotion that makes me want to get this. If at all I am using a chemical based lotion again, I would always prefer sticking to my favorite Palmer's Body Lotion.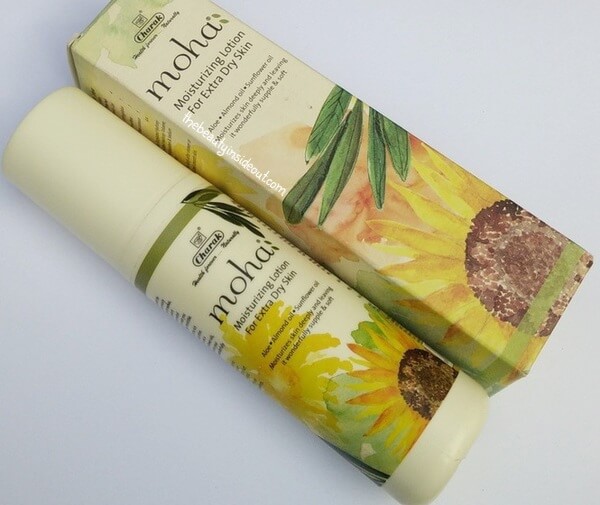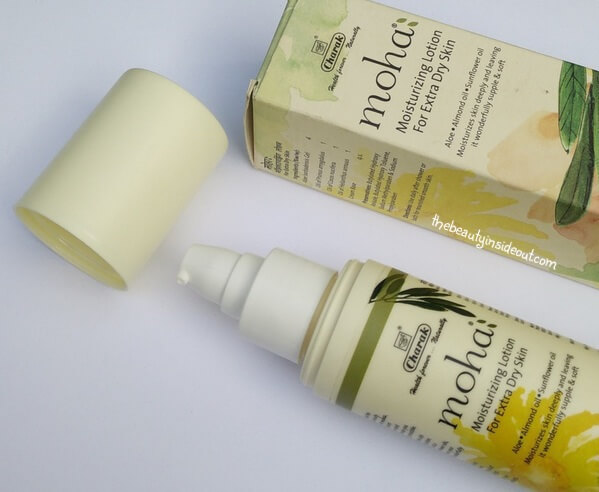 Pros:
Attractive and sturdy packaging.
The lotion seeps into the skin within few seconds.
Provides hydration for 5-6 hours.
Leaves skin soft, smooth and supple.
Suitable for Oily skin types.
Cons:
Harmful Preservatives.
Not moisturizing enough for dry skin.
Rating : 3/5
In short, Moha Moisturizing Lotion for Extra Dry Skin is a lightweight lotion that is formulated with herbal ingredients yet containing toxic preservatives. It instantly sinks into the skin, provides hydration and leaves the skin baby-soft. However one would need to re-apply after few hours if your skin is more on the drier side. For me, this is not a must have product!
So that's all about Moha Moisturizing Lotion. Have you tried this? Share your thoughts in the comments section below. See you, take care and
Stay Beautiful♥