Ever since I started using products for treating my acne, I got this habit of applying sunblocks everyday regardless of whether I'm indoor or outdoor. It is a known fact that using acne mark lightening products without using a sunscreen is totally useless as it can reverse the process and cause skin darkening. So I never skip applying sunscreen and recommend everyone the same. Today I'll be reviewing a physical sunblock – Aroma Essentials Carrot Sunblock which has an SPF of 30. It is widely known that physical sunscreens are far better than chemical sunscreens as they reflect sunrays whereas the latter gets absorbed into the skin and can cause skin damage in the long run. You can read more about other chemical-free sunscreen options in India in one of my posts here. Coming back to today's review, let's see how this product fared for me.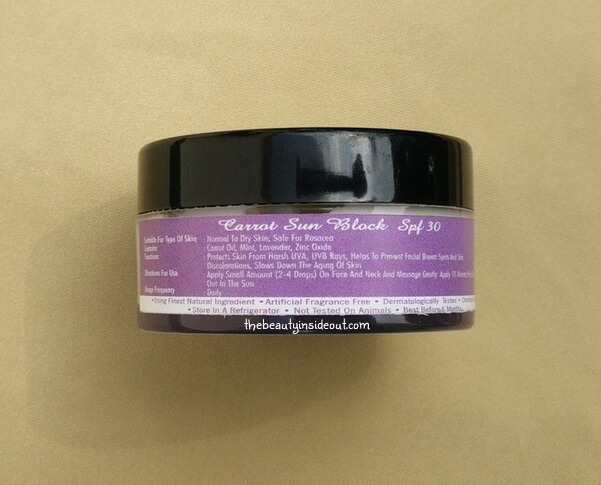 Ingredients: Carrot Oil, Mint, Lavender and Zinc Oxide.
Functions: Protects skin from harsh UVA/UVB rays, Helps to prevent facial brown spots and skin discolorations, slows down the aging of skin.
Skin type: Normal to Dry, Safe for Rosacea
Directions for Use: Apply a small amount (2 – 4 drops) on face and neck and massage gently.
Price: Rs.175
Shelf Life: 6 months from date of manufacture
My take on Aroma Essentials Carrot Sunblock :
Packaging: Aroma Essentials Carrot Sunblock comes in a reusable plastic tub with a screw type lid. It has an inner lid that secures the product even further. All the details of the product are neatly mentioned on the packaging along with the manufacturing date. The packaging is decent and travel friendly. However as I always say, I prefer tubes over tubs as its more hygienic and convenient to use. And moreover since this is made with natural preservatives, one needs to be careful if using fingers as it might get contaminated soon.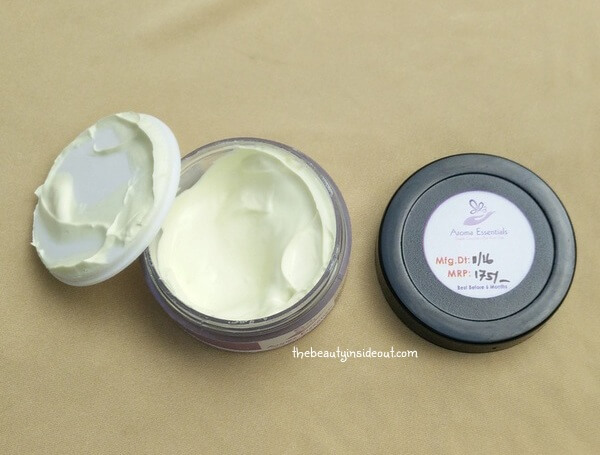 Color & Fragrance: The sunblock is pale yellow in color and smells strongly herbal. I couldn't relate it to anything but I think it is some essential oil. Again fragrances is all about preferences, for me the scent was quite tolerable and not too bothering. It stays for few minutes post application.
Texture & Application: Aroma Essentials Carrot Sunblock has a rich whipped cream consistency that spreads effortlessly on damp skin. But at the same time it does not spread easily on dry skin so I apply it after spritzing some Rose Water. I usually dot it all over the face and then blend in to give an even finish. Since this is a physical sunblock formulated with Zinc Oxide, immediately upon application I could see a slight white cast on my medium skin tone which settles down after a few minutes and I am left with a well moisturized healthy looking skin sans the white cast.
Very dry skin ladies might need to moisturizer well as the moisture content might not be enough. The sunscreen does not cause any tingling or burning sensation rather I felt it to be cooling on my skin. I have been using this sunblock for a month now and I can say it is suitable for acne skin too as it didn't cause me any breakouts.
Efficacy: I tried this product during the colder December month when the sun rays are not harsh and SPF 30 was enough to protect my skin from UVA/UVB rays. I didn't face any major tanning while I was using this sunblock. For any sunscreen it is ideal to re-apply every 2 hours and this applies for this sunscreen too. I can't comment on its claim to slow down aging as it requires long term use. As for preventing facial brown spot and skin discolorations, it is true as I didn't face any such problem and my skin was totally normal and healthy looking throughout the time I was using this product.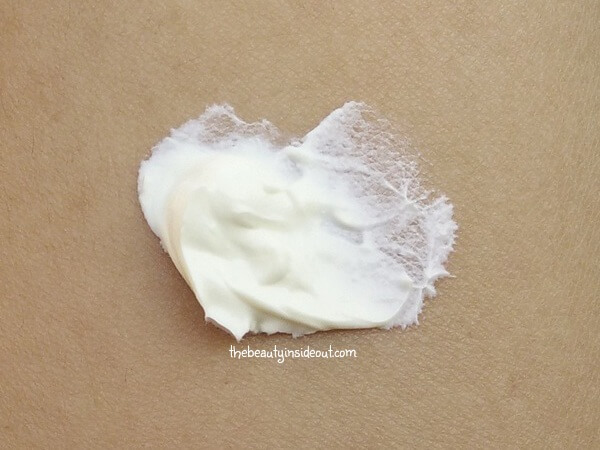 Pros:
Made with natural ingredients.
Rich creamy consistency that provides enough moisturization.
Protects the skin from harsh UVA/UVB rays.
Suitable for all skin types except very dry skin.
Chemical-free, artificial fragrance-free
Not tested on animals.
Cons:
Should be stored in a refrigerator.
Tub packaging.
Rating: 4.5/5
In short, Aroma Essentials Carrot Sunblock SPF 30 is an all natural physical sunblock that is moisturizing and protects the skin from harmful sunrays and prevents severe tanning. With not many physical sunblocks available in India, this is one of the safest organic sunscreen you need to try. I would recommend this as a winter sunscreen.
So that's all about Aroma Essentials Carrot Sunblock. Have you tried this? Share your thoughts in the comments section below. See you, take care and,
Stay Beautiful♥