Recently I won an exciting skincare hamper in a giveaway hosted by Sonali Patil from Skincarevilla. I even posted a picture of the prize on my instagram, if you haven't seen, you can check it out here or if you are lazy, just scroll down to the end of this post. Today I'll be reviewing a product from that hamper. A face cleanser from an organic skincare brand which I've been wanting to try for so long but due to my inability to empty the other face washes in my stash, this went into my wishlist. I was so glad that I received the Organic Mill Green Tea Cleanser in the giveaway and I wholeheartedly thank Sonali for that. Read on to more about the product.
About Organic Mill Green Tea Cleanser:
Green Tea Cleanser – This works as a soapless face wash. Natural organic products not only deep clean the skin from dirt and oil, but also help to fight and help prevent breakout for a clean and clear skin. This cleanser helps to fight acne leaving your skin feel completely clear, oil-free and fresh.
Ingredients: Green Tea, Flour, Rice Flour, Basil Leaves, Neem Oil and Essential Oils.
How to Use? Take a teaspoon of the cleanser with a wooden spoon and add some water to make it into a fine paste. Massage on your skin for a couple of seconds and then wash off.
Pro Tip: Use atleast once a day and follow this by using Organic Mill's Apple Cidar Toner.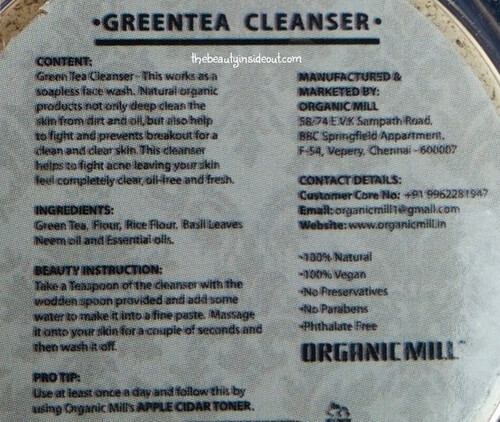 Price: Rs.270 for 200 ml . The one I'm reviewing is a deluxe sample of 30 gm
Shelf Life: 6 months
My take on Organic Mill Green Tea Cleanser:
Organic Mill Green Tea Cleanser is housed in a small plastic tub with an inner cover and screw top lid. The size and quality of the tub is exactly similar to Aroma Essentials Sunblock packaging ! I find the tub to be compact and very travel friendly. All the details of the cleanser are mentioned at the bottom of the tub but the font is so blurry that I had to put strenuous effort to read the text.
The cleanser has a powdery texture so you need to scoop out the product with a spoon or spatula. Anyway, you'll be given a free wooden spoon if you buy the full size product; the one I have is a sample so I didn't get one. I just eyeball and directly pour out the powder from the tub onto my palm, I do not use my fingers fearing contamination. Yes I'm very careful with all my natural skincare products as they are precious to me and I don't want them to get wasted before completely putting them to use.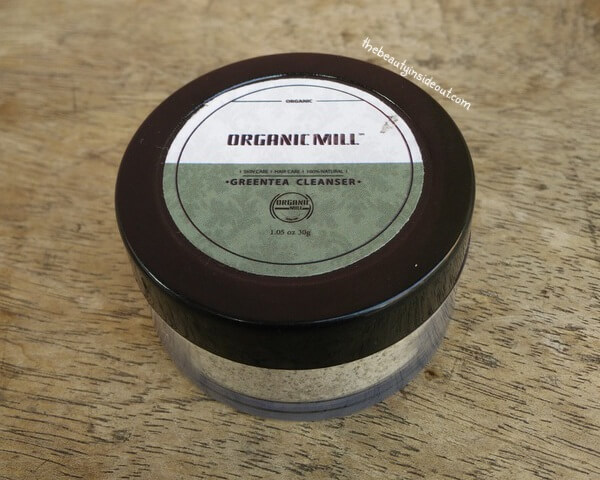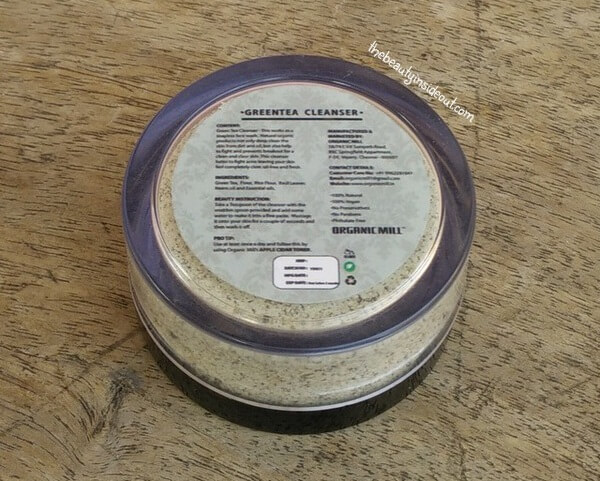 The fragrance is predominately of Oatmeal. Nowhere on the packaging it is mentioned that it contains oats, but I can firmly say that it has oatmeal. It smells only of oats and when I mixed with water, I can confirm it, as it gives that gelatinous white substance which is something that is unique for Oatmeal. If you have used oatmeal face packs, you can easily relate to what I'm saying!
Organic Mill Green Tea Cleanser is in a dry powder form and has a pale green hue to it. The cleanser is not finely milled; it appears coarse but does not feel rough on the skin. I add in a little water to make a fine paste and start massaging it on my moist skin. It gently purifies the skin and removes impurities, dirt and excess oil leaving the skin clear, soft and glowing.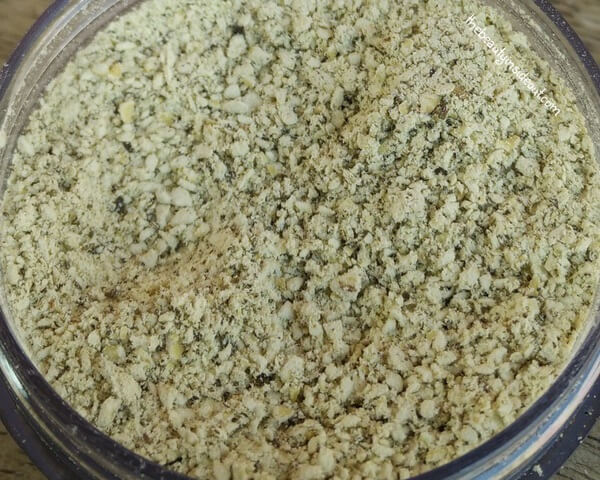 The oats in the cleanser forms a thin protective film which provides a brightening effect that doesn't last long. This film is totally different from those slippery residues we face with certain face washes. It does not cause any uneasiness rather it makes your skin more brighter and fresher. The cleanser neither moisturizes nor dries out the skin. It makes the skin supple and I was glad that I didn't have any stretchiness post washing.
What I love most about this dry powder cleanser is that I can easily customize according to my choice and add a little curd or rose water to alter it into a face pack and reap its benefits.
The cleanser has a phenomenal ingredient list that works wonders for acne skin. It has the anti-oxidant Green Tea that fights free radicals, the anti-bacterial Basil Leaves that kills acne causing germs and Rice Flour that provides adequate exfoliation for clearer skin.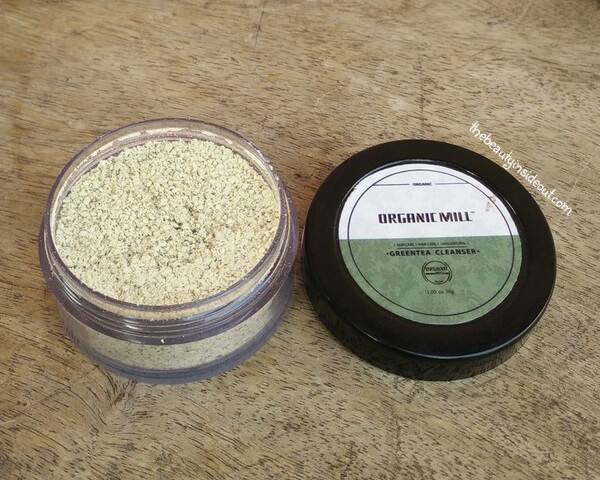 The cleanser would be suitable for all skin types, even sensitive skin types. But as it acts as a mild scrub by itself, I would not recommend to use it daily. (on the packaging it says to use at least once a day). You can use it every two days. I had no problem using it daily as I'm used to chemical based exfoliating face washes such as AHA Glow and Ducray Keracnyl Gel. However, Excess exfoliation is totally not recommended on a daily basis. After washing I always follow up with a good sunscreen or day cream. Overall I loved using this face cleanser for its effective cleansing ability and mild formula that is loaded with the goodness of natural ingredients.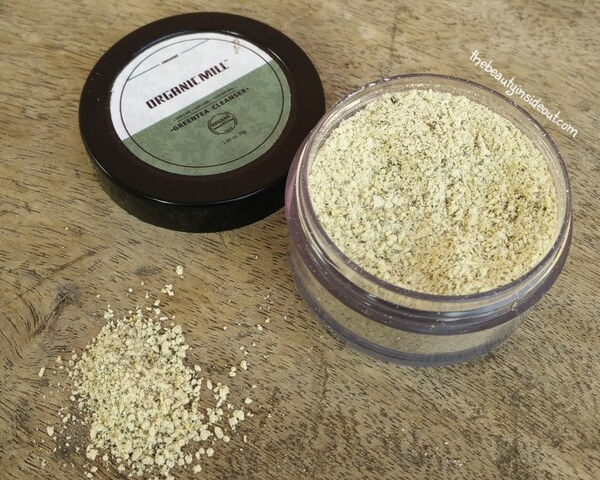 Pros:
Soap-free and preservative-free formula.
Made with 100% natural ingredients and without nasty chemicals.
Cleanses the skin thoroughly and makes skin free from impurities, dirt and grime.
Temporarily brightens & instantly wakes up the face making it fresh.
Skin becomes soft and healthy looking post washing.
Can be used as a face scrub and face pack as well.
Vegan and Cruelty-free Brand.
Cons:
Rating: 4.8/ 5
In short, Organic Mill Green Tea Cleanser is a soap-free powder cleanser that is loaded with the goodness of organic ingredients and cleanses the skin gently without making it overly dry. It leaves the skin healthy, fresh and brightens up temporarily. If you are into natural cleansers, definitely give this a try. Including this in your CTM is nothing but a delight to your skin.
So that's all about Organic Mill Green Tea Cleanser. Have you tried this? Share your thoughts below.
And finally here is a sneak peek of my giveaway prize, let me know if you like to see a review of any of these.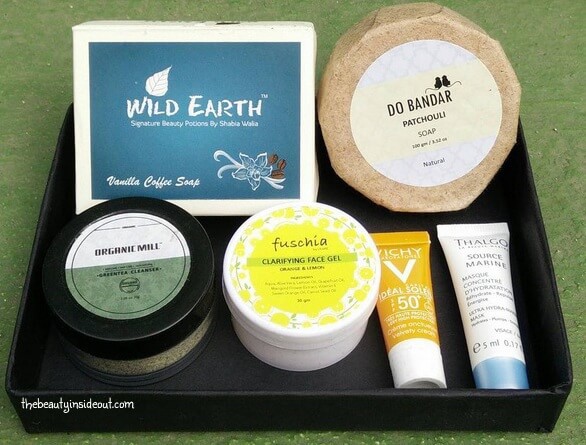 Until next time,
Stay Beautiful♥