I received the Reverie Feel Box, a mini version of the original Reverie Box, sometime back in the end of July. But then I've delayed this post as I took sometime to try out the products before putting out my thoughts on it. If you are an active social media user, by now you must have known what are the contents of the Feel Box. Everybody gets the same products, so yeah I received the same as well. Before officially unboxing the Reverie Feel Box, let me tell you a little about this subscription.
About Reverie Feel Box:
For all those who wanted to try our Reverie Luxury Box but were scared because there are so many Brands and box's in the Market, here we are to let you feel the Luxury we have and to let you feel why is Reverie Different from Other Box's in the Market. We are introducing Reverie Feel Box with 4 Deluxe Products from Our Luxury Bran.
Retailing at 449 INR including shipping, this is a pre-booking box and is currently out of stock. We do not know if these boxes are going to be on a monthly basis or if it's just a one time box. We'll just have to wait and see!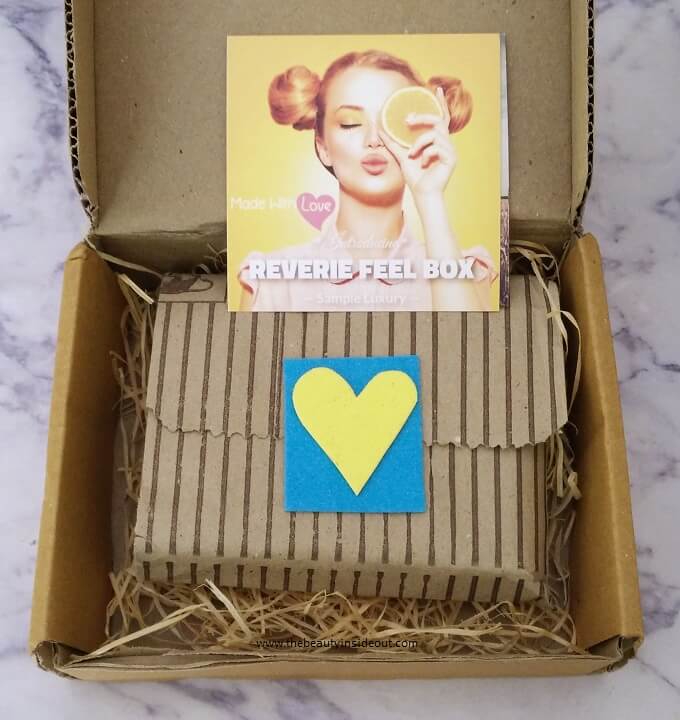 Do I need to talk about the packaging!! They come in a cardboard box with REVERIE printed on it and everyone I saw had a satin bow tied to their box except mine. Not a big deal! But then why is it only me 🙁 The actual products come in a cute little paper bag with a heart-in sticker which looks so adorable. Is there anyone who didn't like the packaging?
Moving on to the contents of the Reverie Feel Box.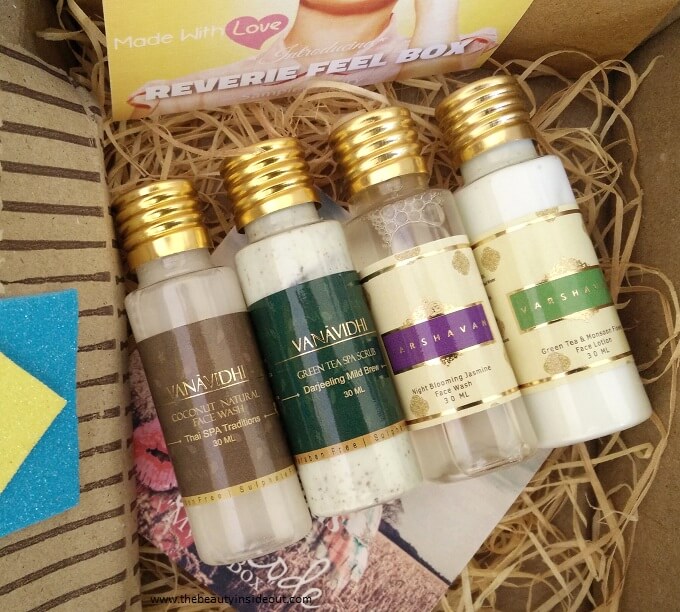 Products received in Reverie Feel Box:
Vana Vidhi Natural Coconut Face Wash – Thai SPA Traditions
Vana Vidhi Green Tea Spa Scrub – Darjeeling Mild Drew
Varshavan Night Blooming Jasmine Face Wash
Varshavan Green Tea and Monsoon Flower Face Lotion
All these are deluxed sized 30 ml samples and the prices aren't mentioned anywhere.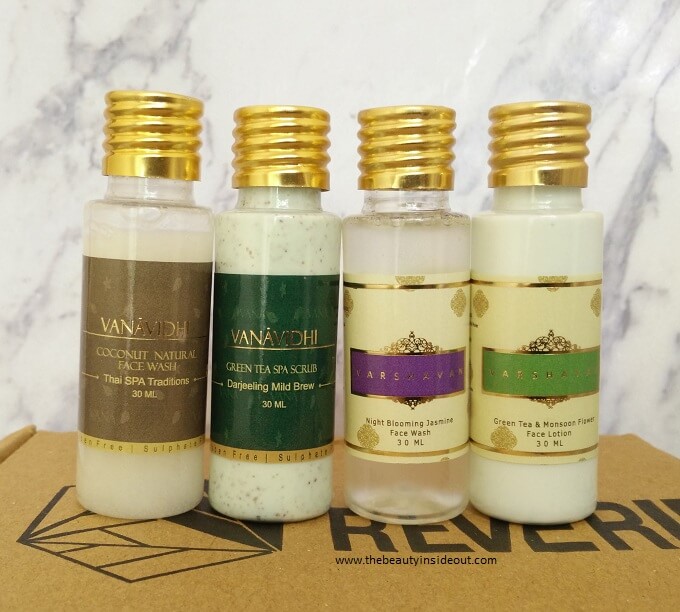 Let's get to know more about the products:
Vana Vidhi Products Review: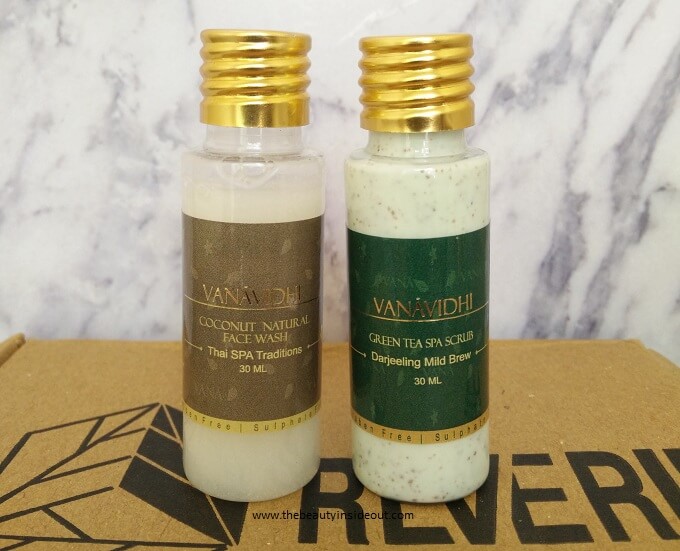 Vana Vidhi Natural Coconut Face Wash:
Ingredients: Coconut Water, Soapnut Extract, Shikakai Extract, Aloe Vera Extract, Coconut Oil, Citric Acid, Natural Preservative (coconut derived), Purified Water.
My take: If you ask me to pick one product from the box, then it has to be this. This is a coconut based gel face wash that has an absolutely irresistible aroma of fresh coconuts. The smell is so divine and delicious. Yes DELICIOUS ! I'm liking it too much. The face wash has a pearly white color with minuscule sand like particles which could be felt while massaging the face. These particles gives a mild exfoliation and cleanses the skin thoroughly. The face wash foams up to a mild creamy lather which can be rinsed off easily without leaving any slippery feel.
Being a coconut face wash, it does not give any oily feel on the skin and completely pulls out oils and impurities leaving the skin clean and clear. It gives an instant brightening effect which I love. It tends to give a stretchy feel if used in more quantities, so I restrict to using only a pea sized amount. That is more than enough to cleanse my skin.
Overall, I find this to be a beautifully fragranced face wash that is not loaded with harsh chemicals and serves its purpose of cleansing perfectly. This is best suited for oily skin types.
Vana Vidhi Green Tea Scrub:
Ingredients: Salt, Green Tea Powder, Sweet Almond Oil, Green Tea Extract.
My take: This is supposed to be a face scrub but can be used as a body scrub and foot scrub as well. The Vana Vidhi Green Tea Scrub is pale green in color and has a non-bothering non-lingering pleasing fragrance. The consistency is that of a whipped lotion, runny yet creamy. It has densely packed scrubbing granules which is a bit harsh on my skin. I can relate them to something like nutty granules. Like Apricot? A very light hand on scrubbing gives too much exfoliation, so one would have to use very carefully. I could sense the oils while scrubbing and the oiliness persists even after washing. But once I pat dry my face with a towel, my skin feels smoother, brighter and softer. I liked using this more as a body scrub since the oiliness and grittiness from this scrub is something that my dry body skin would crave for.
Overall, Vana Vidhi Green Tea Scrub is a really good body scrub but for the face, the granules are a bit harsh. Dry skin beauties would be benefited with this scrub due to its moisturizing properties.
Varshavan Products Review: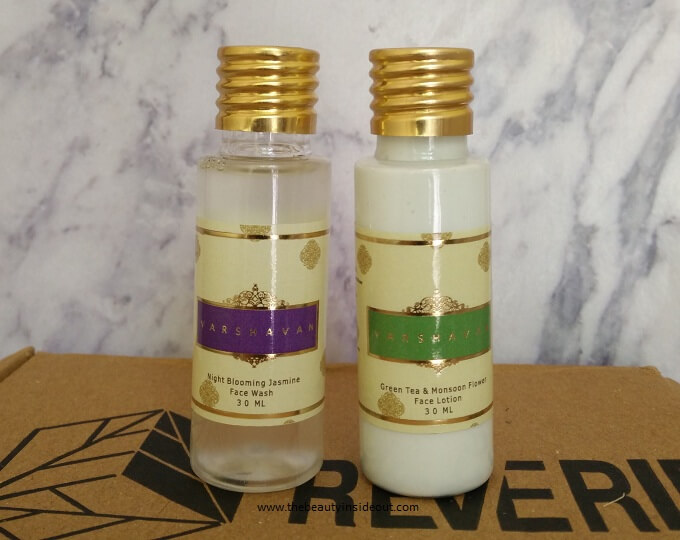 Varshavan Night Blooming Jasmine Blooming Face Wash:
Ingredients: Vitamin E, Night Blooming Jasmine Essential Oil, Coconut Oil, Aloe Vera Aqueous Extract, Purified Water, Shikakai Extract, Citric Acid.
My take: This is a basic face wash that has an overwhelming jasmine fragrance. I have an opinion that many people would not like its scent. Its too over the top and the scent lingers for sometime post cleansing. The face wash is a clear gel, foams up really well and cleanses the skin very efficiently and effectively leaving the skin squeaky clean. It makes my skin super dry and stretchy every time I use this, so following it up with a really good moisturizer was necessary.
Overall, this was an average face wash for me, even the oiliest skin type would find this to be drying on their skin.
Varshvan Green Tea & Monsoon Flower Face Lotion:
Ingredients: Vitamin E, Green Tea Extracts, Floral Blend Essential Oils, Coconut Oil, Almond Oil, Aloe Vera Extracts, Purified Water.
My take: I don't normally use lotion type moisturizers. But then I had to give this a try to know how this fares. The face lotion is milky white in color and has a lotion consistency that is on the thinner side but is thicker than the Vana Vidhi Scrub. The lotion has a soft floral scent to it which vanishes once applied. The lotion completely blends into the skin within minutes of application and leaves no sticky feel provided the weather is normal/cool. It works well in combination with the Varshavan Face Wash which was drying. The lotion adequately moisturizes my skin and makes it soft to touch & healthy looking. However on humid days, it makes my skin perspire faster and feels a bit tacky.
Overall, though the face lotion somewhat worked on my oily facial skin, I ended up finishing it up as a body lotion. It works absolutely great as a body lotion.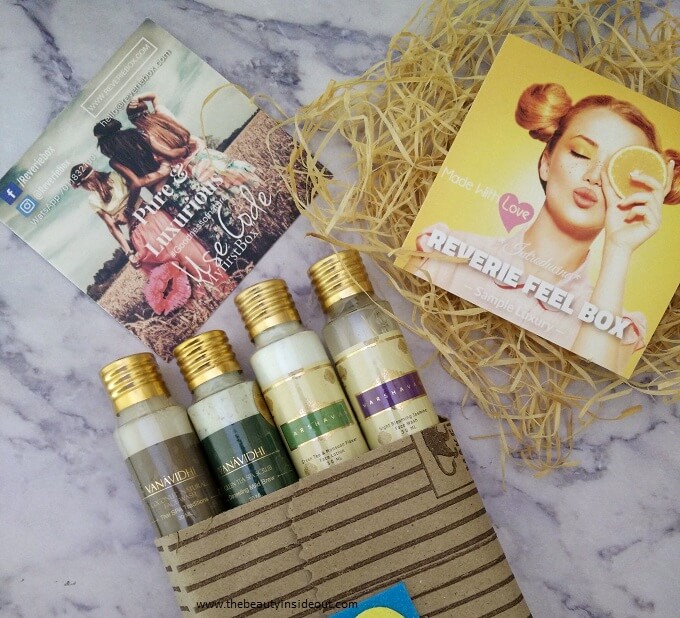 My final thoughts: The box contained products that would suit various skin types, but not all products were suitable for all skin types. Since I have oily facial skin and dry body skin, I somehow was able to use up the products. Others may have a difference of opinion!
Concluding, I am neither happy nor disappointed with the Reverie Feel Box. It's a good thing that I got to try out various luxury sample products, regardless of whether they worked or not. In that way, I can decide whether I can invest in getting these products or not. Unfortunately, I would not. As a whole I kind of liked the products but I'm not so over them to repurchase, considering the price tag as well. However it is very commendable that Reverie Team has come up with the concept of curating cruelty-free and natural skincare products for its subscribers. So a thumbs up for that!
I hope you find this post helpful. Did you get your Reverie Feel Box? Did you like the products? Share your thoughts in the comments section below.
Also check out:
Until next time,
Stay Beautiful♥