I have always considered bold orange lipsticks as 'alien things' because I am not daring enough to carry them with ease. My capability was limited to at most the wearable rusty orange shade until I noticed a shopping assistant of a beauty store wearing a nice warm red shade one day. When I asked her about the shade she acquainted me with Coloressence Premia Lipstick in 211 Bombshell as her lip shade. Well, I was dazzled a little and finally returned home with the Bombshell shade in my purse! I have worn the shade a number of times as a party wear or evening outing lip colour. Here is what I found about it.
Product Description:
Coloressence Premia lipstick is designed to provide unique moisture shine and durable colour. Its dazzling crystal effect cares for lips as it colours. The formula contains Vitamin E, Jojoba Oil and Licorice Extract to reduce fine lines, repair chaps and plumps up the pouts,
Price: Rs.250 for 4gm. Available both online and offline. Buy HERE.

Ingredients: Full ingredient list is not mentioned. Only the names of the main ingredients (Vitamin E, Jojoba Oil and Licorice Extract) are written in the outer carton.
My Take on Coloressence Premia Lipstick in 211 Bombshell :
Packaging: This lipstick comes in a silver colour plastic twist-in bullet. This lipstick bullet is packed in a small and shiny silver colour cardboard carton to secure it. This outer carton contains information regarding the product. You need to keep the outer pack because once you throw it out the majority of the information is gone.  Overall the packaging is quite sturdy, damage-proof and small enough to fit in your purse.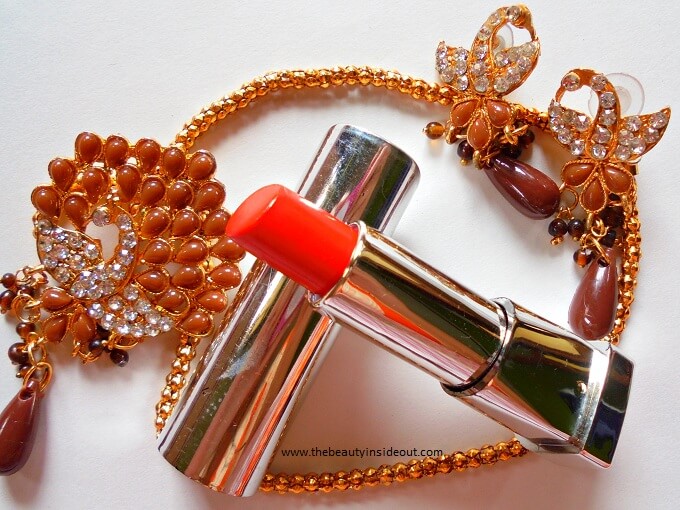 Shade-211 Bombshell: The shade Bombshell is a true scarlet red shade with easily identifiable yellow undertones to it. In other words, it is a bright orange-red kind of shade. It looks very bold for lighter complexions but for dusky Indian complexions it looks very nice because the boldness gets muted to some extent. This is clearly not an everyday lip colour, it is best suited for festivities or party purposes. This shade draws a lot of attention to your face so a profound application of base makeup will prove to be a wise option to even out the facial skin complexion.
Pigmentation: The shade, I must say, is intensely pigmented. It gives completely opaque coverage to my medium pigmented lips in the first swipe itself. In another swipe the colour intensifies more. People with much pigmented lips will get the desired colour in no more than two swipes.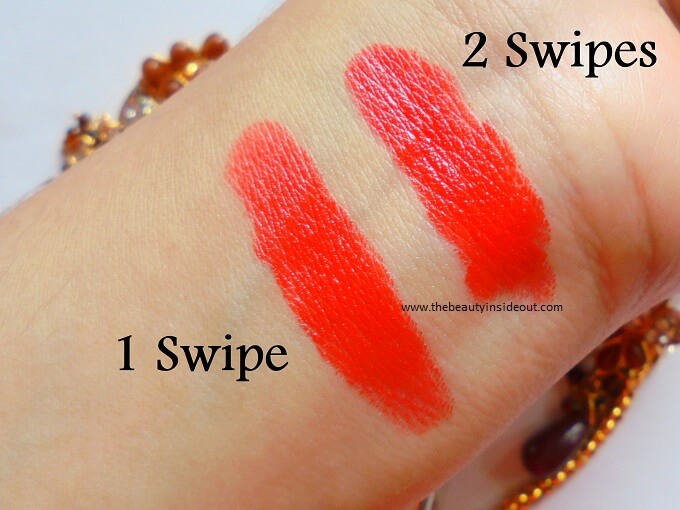 Texture: The texture of this lipstick is smooth and creamy. The finish it provides with is glossy like the texture of the lipstick. There is no shimmer particle present in it. I am not a fan of shimmer lipsticks so I quite enjoy the texture. Being a moisturizing lip colour, it does not need a layer of lip balm underneath. Plus, it gives a subtle plumping effect after an hour of application.
Fragrance: This lip colour has a light floral scent to it. The smell is not very loud and goes off after a 15-20 minutes.
Staying Power: This lipstick stays intact in my lips for about 3-4 hours. Then I have a drink or eat something and the colour fades. If you skip such eating escapades, the shade is going to stay more. Normally, creamy finish lipstick show similar wear time in my case, so performance wise this lip shade is good.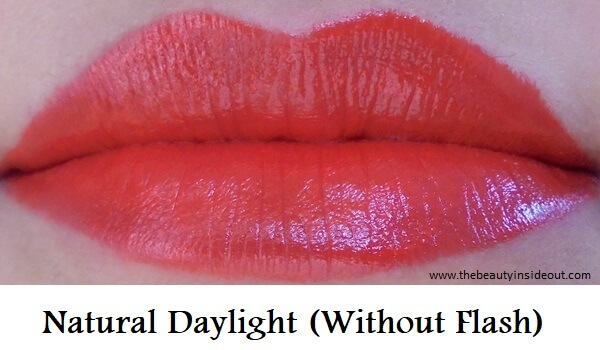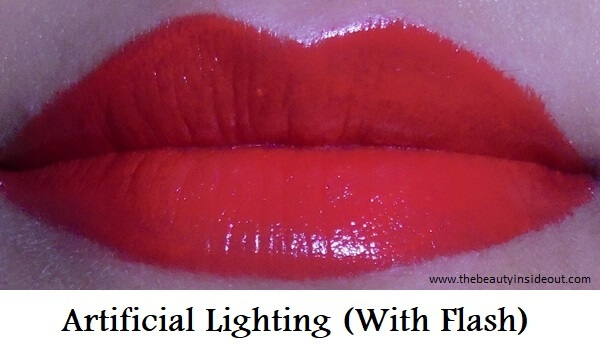 Pros:
Bold orange-red shade that suits every Indian skin tone.

Colour-payoff is remarkable.

Gives opaque coverage to lips with high natural pigmentation.

Moisturizing formula; provides glossy finish.

Sturdy and travel-safe packaging
Cons:
Full ingredient list is not presented.

Extremely transferable.

Colour bleeding in humidity
Rating: 3.75/5
Recommendation: I would recommend Coloressence Premia Lipstick in 211 Bombshell to someone who wants to flaunt a bright orange-red moisturizing lipstick with glossy finish and high colour-payoff. This shade will look fabulous on girls with deeper skin tones or pigmented lips.
I hope you find this review helpful. Have you tried this lipstick? Do you like such bold shades? Share your thoughts.
Also check out
Until Next Time,
Stay Beautiful♥
Guest Author: Sreeparna