Last Sunday my skin wasn't at its best; my super oily skin was unusually irritated, dry and itchy. All because of testing various foaming liquid cleansers! Lately I've been even thinking of switching over to powder cleansers. Let me see! Coming back, so the time to use the Klairs Rich Moist Soothing Sheet Mask arrived and here are my thoughts on it after using it.
About Klairs Rich Moist Soothing Sheet Mask: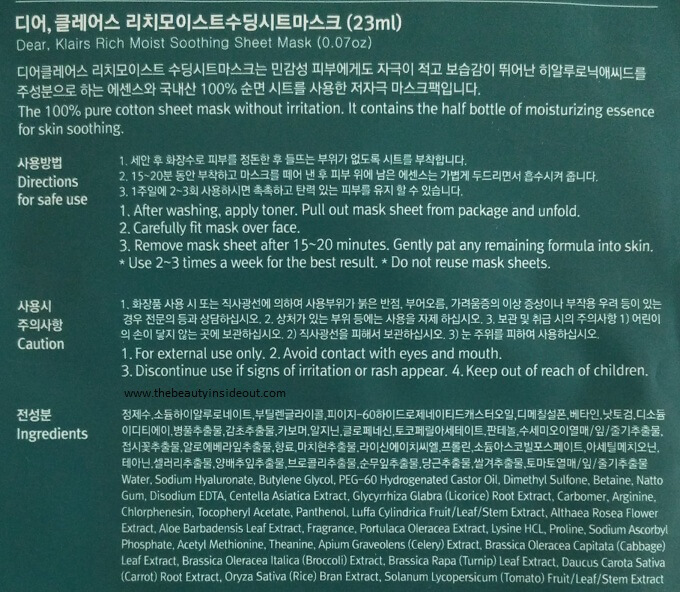 Price: 135 INR for 23 ml. Buy it online from Daisy SkinFix
My take on Klairs Rich Moist Soothing Sheet Mask:
Packaging: The sheet mask happily sits folded inside a plastic sachet that has to be cut open. As compared to The Face Shop and Innisfree sachets, the packaging is a bit wider but that's not really an important aspect right? It's just the look of it. Why am I even stating it here!! As usual, all relevant details of the sheet mask is mentioned on the back side of sachet. The ingredient list contained a majority of active natural ingredients with minimal chemical ingredients. So I felt that this mustn't do much harm to my skin.
Fragrance: I was surprised that it had a hardly noticeable fragrance. No strong fake scents or no irritating alcohol fragrance. I was impressed even before putting this mask on my face.
Essence: The sheet mask is probably soaked in a highly viscous serum as there was no serum dripping or extra serum left on the pouch for me to see the consistency of the essence. It had just the right amount of essence on the sheet mask.
Material: This is a 100% pure cotton sheet mask which is very thick but adheres so well onto the skin that I could easily walk around with it on my face.
Fit: The fit wasn't that great on my face. It was a bit wider and I wasn't able to place it evenly without streaks. This sheet mask has cuttings to cover your eyelids as well so if you wish you can cover your eyelids too. I preferred keeping that extra cut on my under eye area.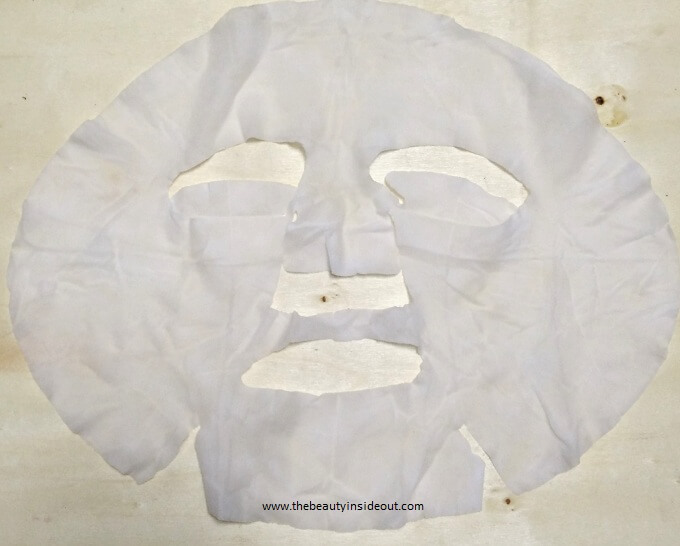 Experience: As usual, after cleansing and toning, I just pulled out the sheet mask from the pouch and placed it on my face. I did not refrigerate it as I was in a verge of getting cold but still it gave a cooling sensation right away. The cooling persisted and I relaxed as I had the sheet mask on my face. After 20 minutes or so, when I removed, it was still slightly damp. I could feel stickiness on my skin but then I decided to just go ahead and sleep. The stickiness wasn't too uncomfortable and I could feel it vanishing into my skin. I did not wash or moisturize thereafter as I was too lazy to get up by that time. Sleepy me! The next morning, I woke up with an immensely moisturized, soft and supple skin. It has soothed and calmed my irritated and deserted skin. I did not see any big changes in terms of brightening but then this isn't a brightening sheet mask. It is a calming and moisturizing sheet mask which stayed true to its claims of nourishing the skin with its soothing properties.
Pros:
Good packaging.
Affordable price.
No irritating fragrance.
Adheres well to the skin.
Calms and soothes irritated skin.
Highly moisturizing and nourishing to the skin.
Balances skin's pH.
Suitable for all skin types, specifically sensitive skin.
Cons:
Fitting was not that great.
Some might not like the sticky feel.
Rating: 4.5/5
Recommendation : Yes, if you are having troubled skin. It is effective as well as affordable.
I hope you find this review helpful. Have you tried this sheet mask? Share your thoughts.
Also check out
Until next time,
Stay Beautiful♥