Lately Korean Beauty Trends have caught up crazily with the launch of The Face Shop and Innisfree brands in India. First it was Sheet Masks and now it's the cushion foundations that has been going around. Even western brands like Maybelline and L'oreal came up with their own version of cushion compacts not until recently. Though I had the choice to pick up from Korean cushion compacts, I went in for the Maybelline Dream Cushion Foundation as it was fairly less priced than the others and this was made in Korea as well. Also considering the fact that this being my first cushion compact, I had the thought what if it doesn't work out, so to play safe I picked this up. Thankfully it proved me otherwise and my wish to try other compacts has increased. Without any further ado, let's hop onto the details.
Product Description:
Re imagine complete, Luminous coverage with Maybelline's New Dream Cushion Liquid Foundation. The innovative liquid foundation with increased color pigments delivers complete luminous coverage for a fresh-faced natural finish. On the go, Liquid Foundation meets the innovative one tap wonder cushion. It smooths and evens skin tone, Ensuring medium to high coverage. Available in varied shades, this innovative liquid foundation puts fresh-faced perfection in the palm of your hand.
Gives a natural, Dewy and flawless finish.
The formula is pigmented and quite buildable.
Available in fresh shades that suit all complexion.
Ingredients: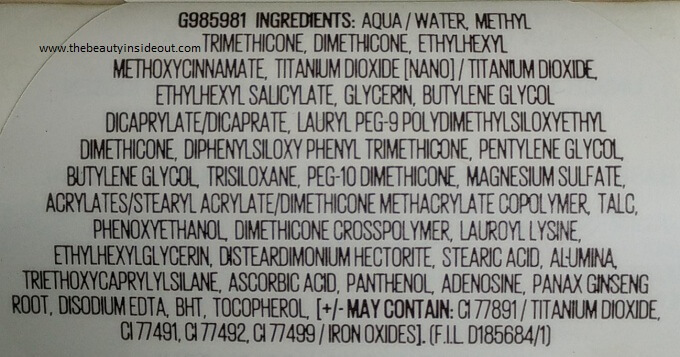 How to use Maybelline Dream Cushion Foundation?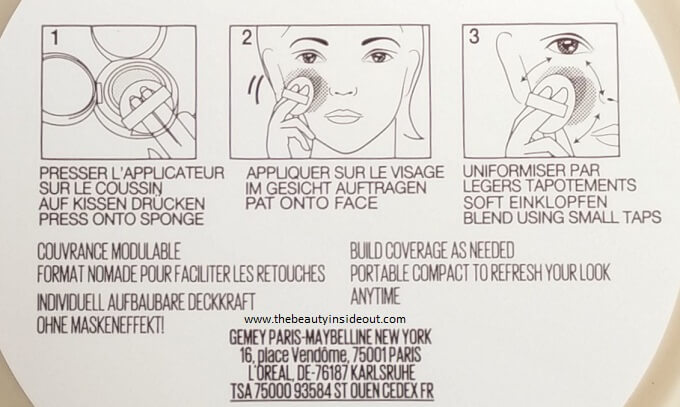 Price: $8 or 999 INR for 14.6 gms.
Where to Buy?Amazon.com or Amazon.in
My take on Maybelline Dream Cushion Foundation:
Packaging: If you are new to the concept of cushion foundations, here is what the Maybelline Dream Cushion Foundation is. The cushion compact is similar to any pressed powder compacts in terms of outer look. However it is totally different on the inside. Once you open the compact, there is a puff applicator that sits on the tray lid. Further opening the lid, you will find a highly porous sponge which is soaked in a liquid foundation. The sponge itself is protected with a plastic sheet that has to be opened each time you use the cushion foundation. The compact also comes attached with a mirror which makes it the most convenient product for touch ups.
Applicator: The soft puff applicator picks up an ideal amount of the foundation and disperses the product with such an ease. You just have to pat pat pat on the skin in that way the product is pushed onto the skin giving an airbrush finish. You aren't supposed to use a brush or beauty blender with this cushion foundation. Doing so defeats the whole purpose of this cushion foundation. Sadly I have seen many people doing so!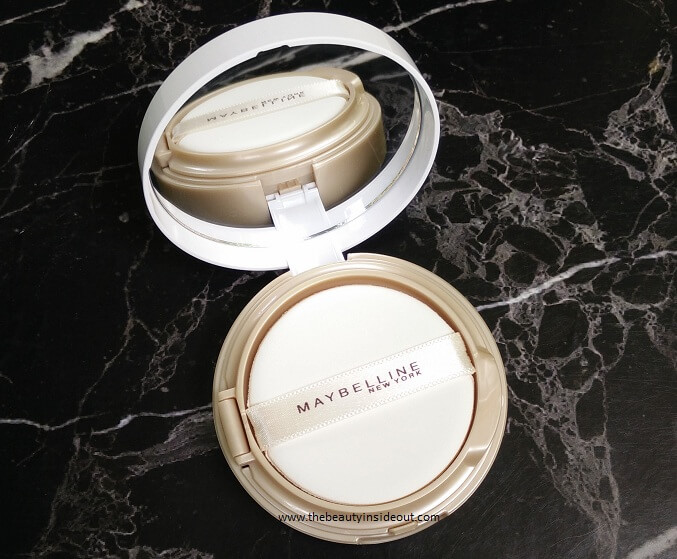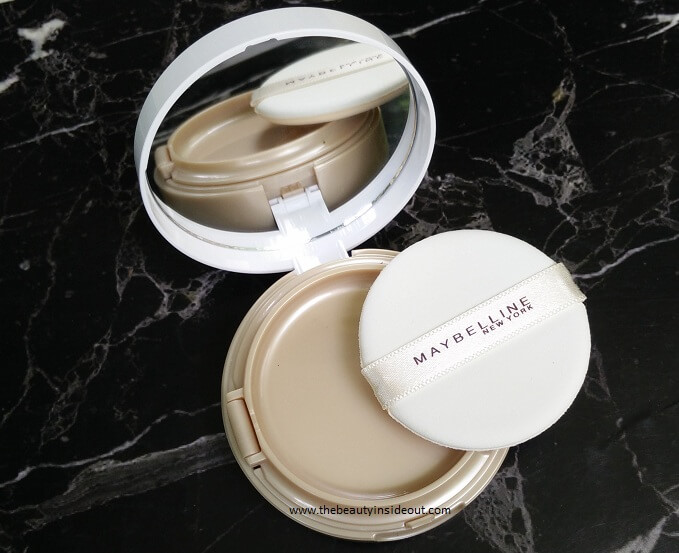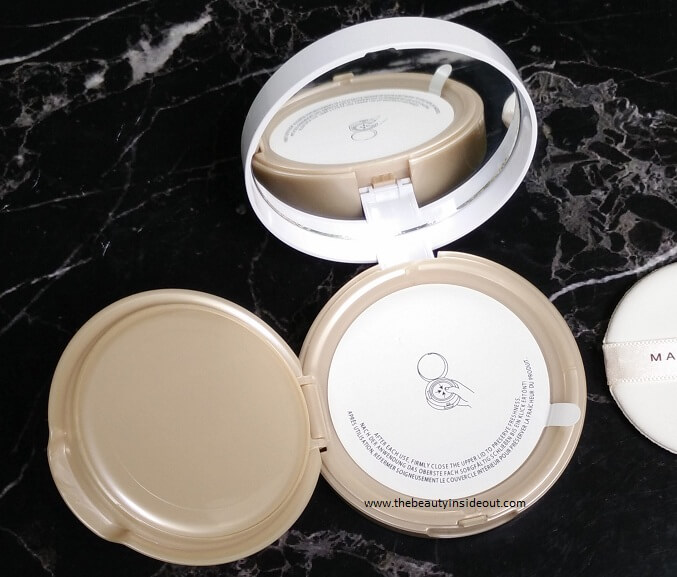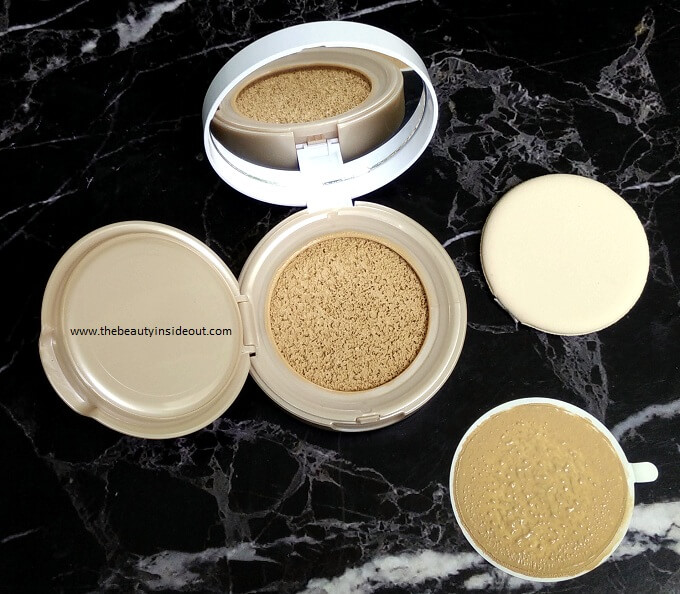 Shade: The shade range is quite good as compared to the Maybelline BB Cushion which had only two shades. These are available in 6 shades.
01 Natural Ivory (Neutral undertones. Suitable for fair skin tones – NC 25)
10 Ivory
21 Nude (Golden beige with yellow undertones)
30 Sand
40 Fawn
48 Sun Beige (Sun kissed beige with orange undertones, Suitable for NC 42)
I picked 21 Nude which is a beige with yellow undertones. It perfectly matches my medium skin tone. For your reference, I'm in shade 120 Golden Beige in L'oreal Infallible Foundation. These foundations do not oxidise so pick up the one that rightly matches your skin tone and I suggest not to go for lighter or darker shades.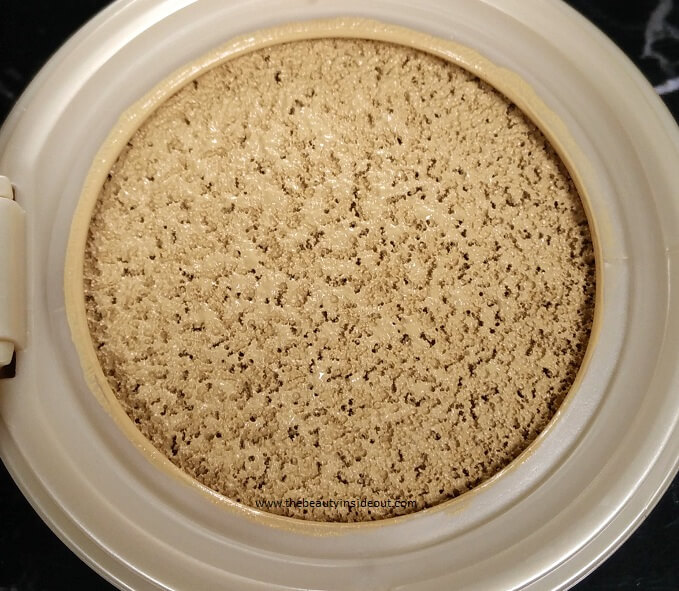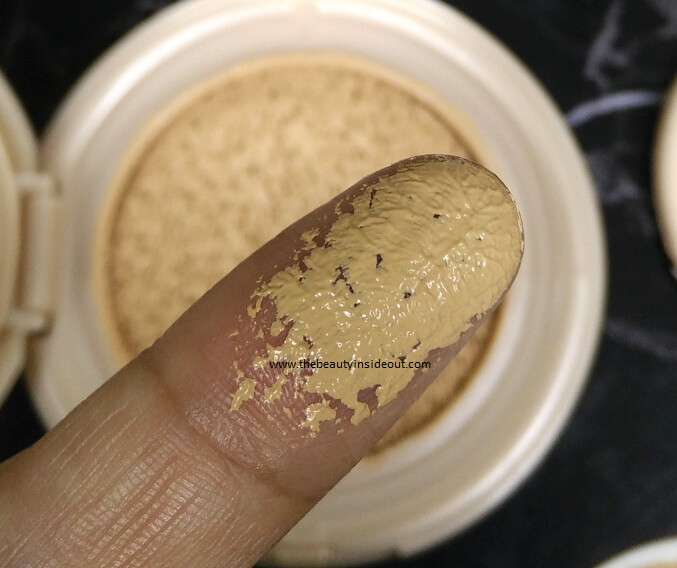 Formula: It's brilliant. The formula is fragrance free and creamier than expected. It blends into the skin seamlessly, both with primer or without primer. The foundation feels ultra lightweight and gives an almost second skin like feel. Though it contains SPF 20, it does not leave any white cast on my skin and photographs really well. The foundation would suit all skin types. If oily skin types prep with a good primer and dry skin types prep with a good moisturizer, they can easily wear this foundation with ease.
Pigmentation: The coverage is light to medium, which is buildable without any cakiness. It gives a natural looking luminous finish, that is neither matte nor dewy-wet but definitely makes my skin look radiant. The foundation does not cover my dark acne mark completely but evens out my skin tone beautifully giving a fresh, polished look. The finish is really great for an everyday look.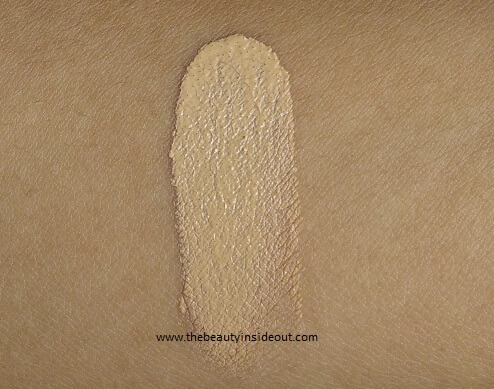 Performance: It stays put for almost 7+ hours on my oily combination skin with a little touch up on my T-zones at the 4th hour, that is when I don't set it with a powder post initial application. With proper setting, I could easily wear this for long hours. This foundation does not make my skin shiny like a disco ball as time goes on. It does not crease nor settle into fine lines. The best thing, it does not slide off or transfer easily to your phone or clothes. It stays very intact which is why I'm loving this foundation a lot.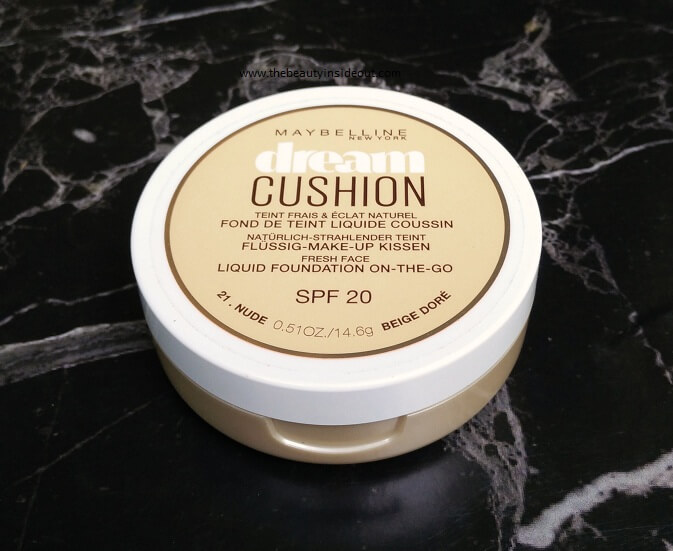 Overall, Maybelline Dream Cushion Foundation is one of the best everyday foundation that I've come across. The formula, shade range, staying power, everything is so good. It gives the perfect no-makeup look with a radiant finish. This is a great foundation that would suit all skin types and would be apt for this monsoon and upcoming winter season. The only cons that I can see is that the quantity is very less for the price and there are no refills available at the moment, like the Innisfree ones.
Pros:
Great packaging, comes with an applicator and mirror.
Ease of application, just Pat Pat Pat.
Brilliant formula, light & comfortable.
Blends into the skin effortlessly.
Buildable, light to medium coverage.
Flawless, luminous finish.
Evens out skin tone and covers light spots and blemishes.
Has SPF 20.
Transfer-proof.
Good staying power.
Suitable for all skin types.
Cons:
Expensive for the quantity provided.
No refills are available.
Should be used within 6 months of opening.
There are chances of bacterial growth with cushions.
Rating: 4.9/5
Recommendation: Absolutely. It is the cheapest cushion foundation available in India without degrading its quality. Go for it.
That was all about Maybelline Dream Cushion Foundation. Have you tried cushion compacts? Share your thoughts in the comments section below.