Not everyone has the perfect face shape. If you consider me you will find my face to be a heart shaped one with strong jaw line. This type of face shape often brings attention to all the wrong places where I have some flaws; plus the pictures do not come out that good. Ever since people stated raving about the importance of contouring as a medium of dimensioning face, I was quite excited to apply the theory on myself. But, most of the available contour products are pretty costly and they have intense pigmentation. These two facts have always restrained me from getting a sculpted face until I found Maybelline FaceStudio V-Face Blush Contour. This is basically an affordable all-purpose kit with a blush, a highlighter and a contour powder. In my today's post I will try to give an overview of this product in a beginner's perspective.
Product Description:

Maybelline FaceStudio V-Face Blush Contour makes it easy to define, shape and highlight the facial features like a pro. It is an all-in-one contouring and face sculpting powder blush, this gives dimension to your face with its color-coordinated blush, contouring shade and highlighter. It promises to give you a 10% slimmer face with an instantly sharper nose in just a few steps, Maybelline V-face Blush Contour can be used to get a rosy blush look, that adds a subtle contour with a rosy satin finish.
How to use Maybelline FaceStudio V-Face Blush Contour ?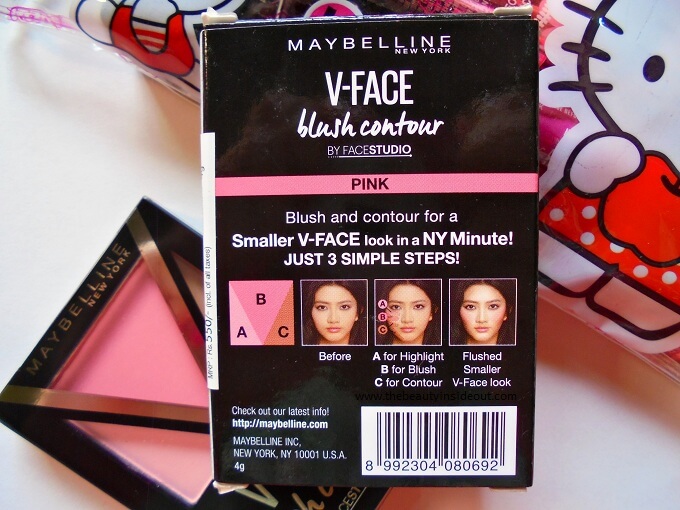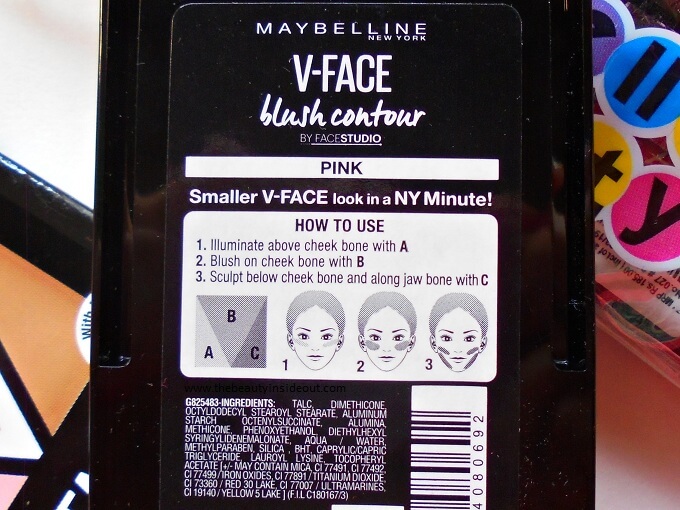 Price: Rs.550 for 4gm. Buy HERE.
My Take on Maybelline FaceStudio V-Face Blush Contour in Pink:
Packaging: This product comes in a black plastic pan type container with a plastic lid. The product side of the lid has been made transparent so that the colours of the products inside can be identified without opening the lid. The company has also provided a small slanted brush applicator inside which is very useful due to its soft bristle texture. The three products of this kit are contained in a single pan; there is no divider provided. One can mix all of them up to use it as a blush-bronzer but they can be used individually as well. There is a cardboard outer pack to secure the kit from damaging. The detailed usage instruction is provided in the back side of the palette and the outer packaging. Overall I find this kit to be sturdy, compact, all-in-one, travel-safe and most importantly beginner-friendly.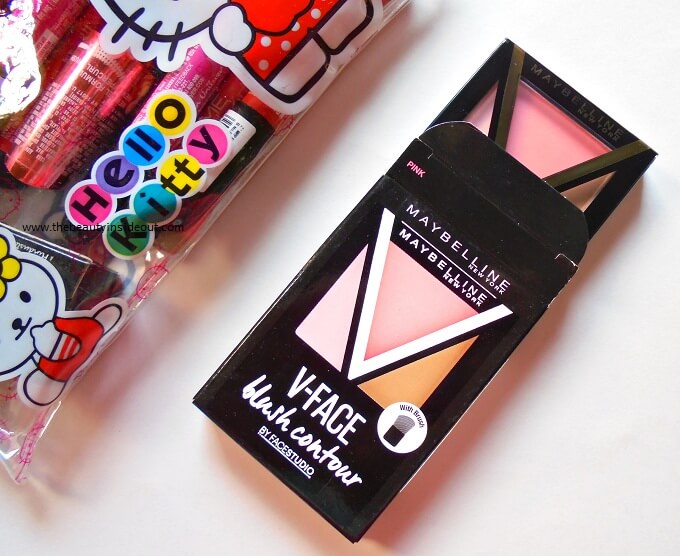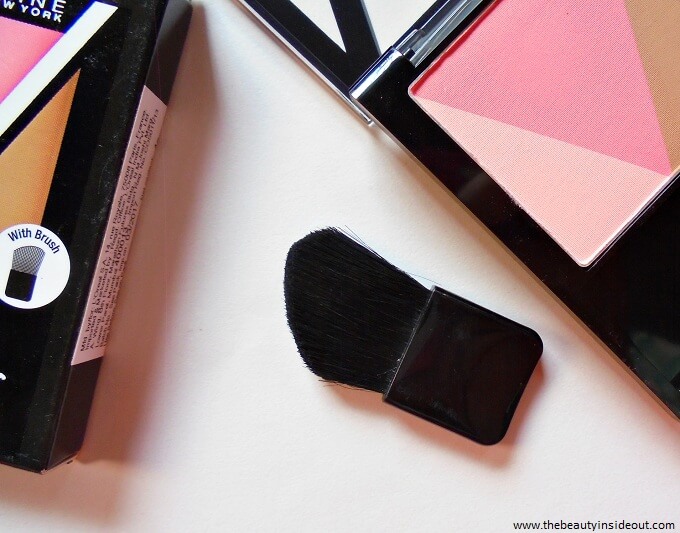 Shade- Pink: Maybelline FaceStudio V-Face Blush Contour comes in 3 different shades; Pink, Peach and Brown. Though I did not find any tips about choosing the shade, I think the pink shade would be good for lighter complexions, the peach will suit the medium skin tones and the brown kit would do great on deeper complexions.
My shade Pink has a light pink highlighter, a muted pink blush shade and a cool toned biscuit brown contour colour.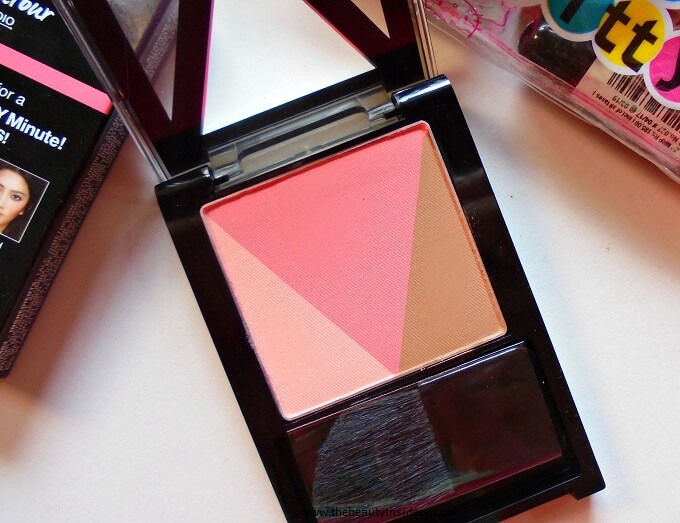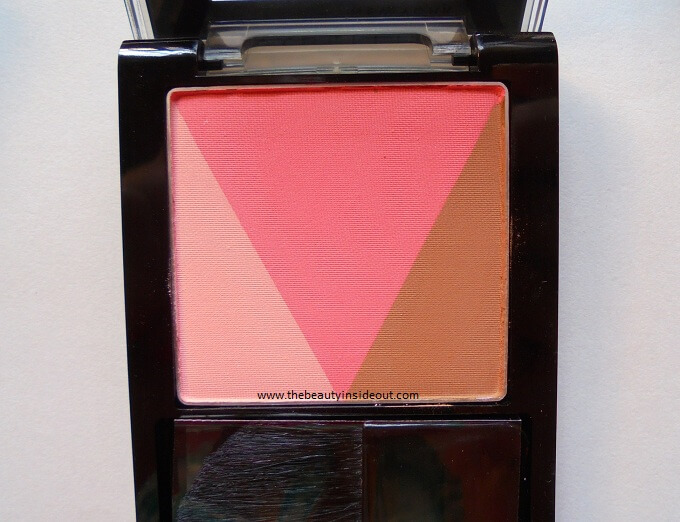 Pigmentation: The overall colour pay-off of this palette is medium for my skin. You can build up the pigmentation to some extent but do not expect awesome pigmentation from this kit. The blush and the contour shades are more pigmented than the highlighter. The highlighter has least intense pigmentation of all the three products. For a beginner like me the medium colour pay-off is actually a good thing because I can learn to control the colour intensity better with it. For a pro, it may be a disadvantage though to have such less intensity. Due to the pigmentation, you can even use it for everyday; no one will feel you have overdone your makeup.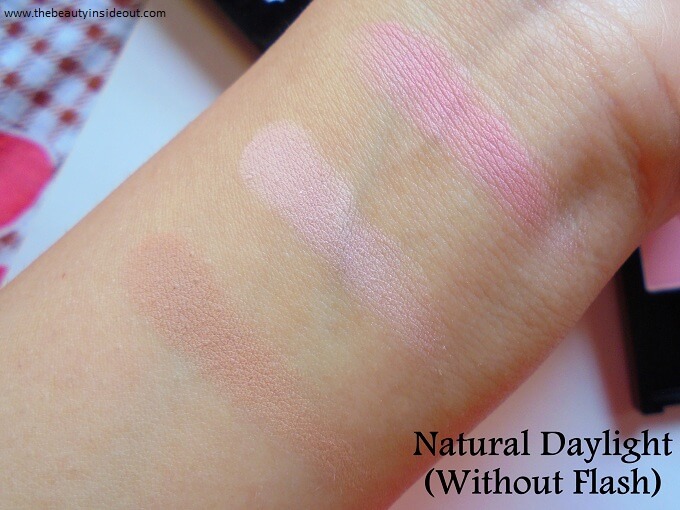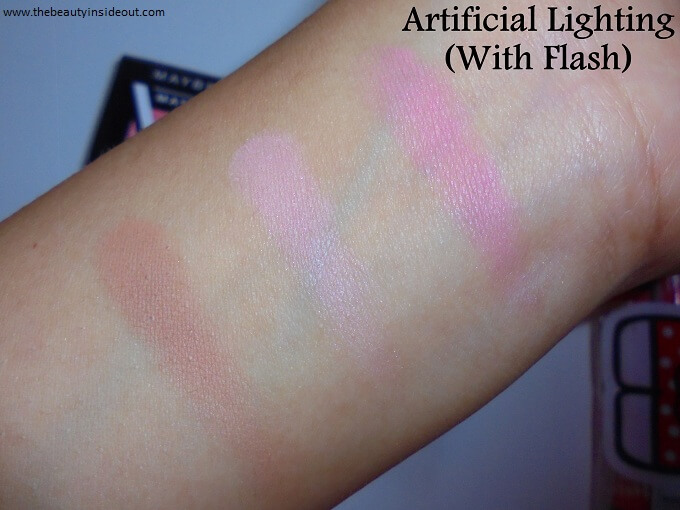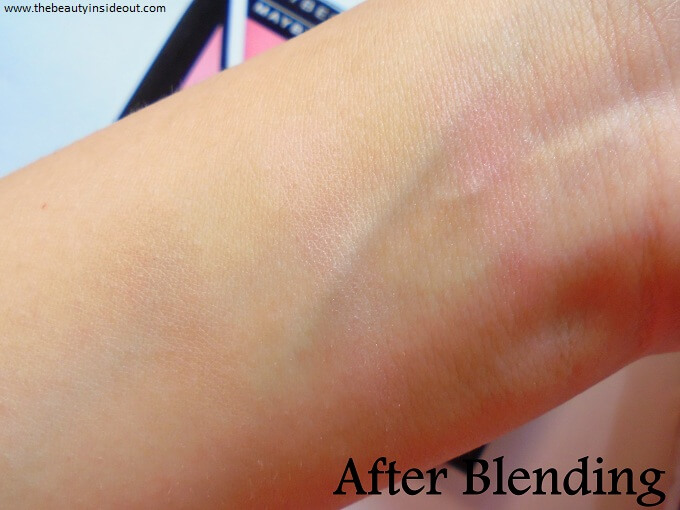 Texture: All the shades are smooth and satiny in texture. They are not too powdery so the wastage will be nonexistent. The blending capability of all the colours is good.
Fragrance: This product is fragrance free. Except for a faint hint of medicinal smell of the ingredients, there is nothing to sniff. This smell too goes off within few seconds, so no one is going to get bothered due to heavy fragrance.
Staying Power: The staying power of the products of this kit is 4-5 hours for my case. Then they start to fade the highlighter fades first followed by the blush and the contour powder. The fading happens evenly.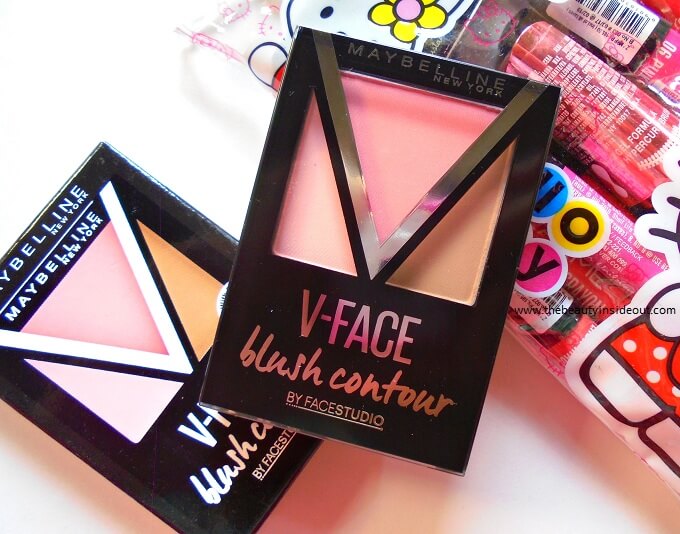 Effectiveness: I do the whole contour-highlight business on top of my base makeup which includes a bb cream or a thin layer of foundation and some loose powder. I first contour, then apply blush and give final touches with highlighter. The finish that I get from this kit looks very natural; it does not make me look out of the place. It is a very comfortable to wear product not something to scare off the beginners. The highlighter is not very 'glowy' or glittery, it gives sheen to the face while the contour shade is just 2-3 shades darker than my original skin tone. This product is helping me out to learn contouring without causing havoc on my pimple situation.
Pros:
Buildable medium pigmentation
Blendablility is remarkable
All-in-1 contour-blush-highlight kit
Brush applicator included
Pictorial instruction provided
Beginner-friendly
Compact packaging
Decently priced
Did not irritate my active pimples or caused new ones to appear
Cons:
Colour pay-off may not seem up to the mark for the experienced ones
Rating: 3/5 (For a Pro) & 4.5/5 (For a Newbee)
Recommendation: I would recommend Maybelline FaceStudio V-Face Blush Contour to a beginner who wishes to learn the correct techniques of contouring-highlighting with a decent quality medium pigmented and budget-friendly contour kit. I would suggest this particular shade Pink to lighter skin toned ones up to NC 30 from MAC.
That was all about the Maybelline FaceStudio V-Face Blush Contour. Have you tried this? Share your thoughts in the comments section below.
Guest Author: Sreeparna