Although I don't really get bad breakouts often, I keep stocking my skincare stash with acne products. What if I wake up with a pimple one day! This thought is always on my mind. When an acne starts showing up even the slightest sign of arrival, it is best to do something before it becomes huge, painful and pus filled. I hate to go, search and buy that one miracle acne product in the last minute. By that time I would have started pricking it and made a huge blunder out of it. So I try to have something as a backup in case I might need them sometime. I picked up two acne products two months ago. One is the Ponds Expert Clear Gel and the other is Cosrx Pimple Patch. Those have been lying around for a while and finally the time came to put them into test right after the festive season last month. Today I shall share my experience with the Ponds Leave On Expert Clearing Gel.
Product Description:
Formulated with the world's first Active Thymo-T Essence, Pond's Acne Clear uses unique Lock + Clear Technology that works in 3 days to eliminate acne at the root, for smooth clear skin.
Ingredients: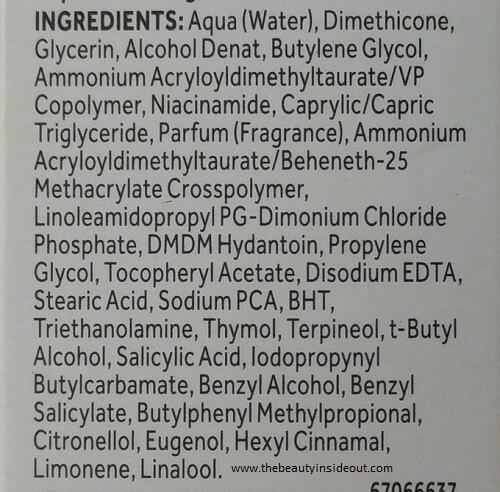 How to Use Ponds Leave On Expert Clearing Gel?
Apply the gel twice a day onto all areas of the face. Use after Pond's Pimple clear Face Wash. For Better Results, use it as a spot treatment during the nights.
Precaution: In case of contact with eyes, rinse with water immediately. Store away from direct sunlight and heat.
Price : 99 INR for 20 gms.
My take on Ponds Leave On Expert Clearing Gel:
Packaging: Ponds Leave On Expert Clearing Gel comes in a pure white, sleek and slender plastic tube with a screw cap. The nozzle is a pointed one, so it's easier to take the product out. The 20 gm product can be easily taken while travelling. There are zero chances of product spillage. Further, the tube is packed in a card box that holds all information about the clear gel.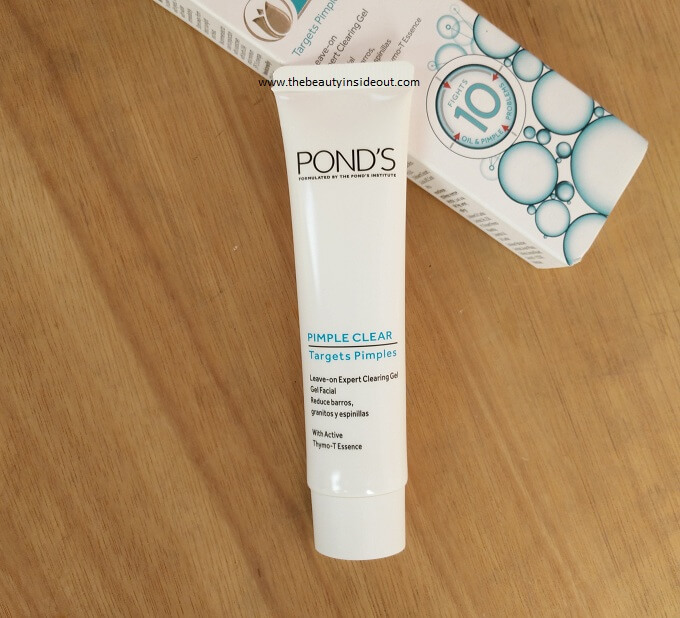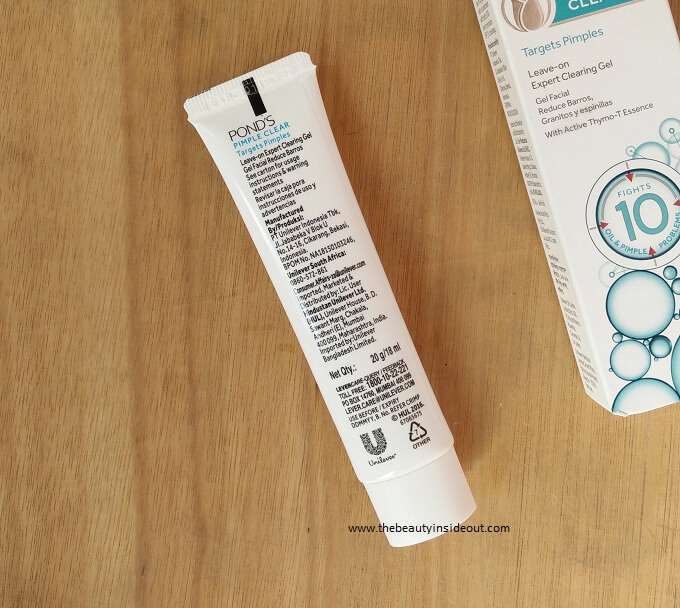 Fragrance: It has a nice aqua fragrance. It is pleasing to my senses. But it might be strong on nose for some people. It might also irritate your skin if you have a history of allergies using products with strong fragrance. The fragrance does not stay for long once applied.
Color: The gel looks translucent white and goes on colorless leaving no cast or whiteness on the skin.
Texture: Ponds Expert Face Gel has a smooth, light gel texture. The consistency is such that it doesn't move around. Hence easier to get a hold of it.
Efficacy: Ponds Leave On Expert Clearing Gel has some really good active acne ingredients. The focus ingredient being Thymo T Essence which is a combination of Thymol and Terpineol. Both of them have anti-inflammatory and antiseptic properties which locks pimple causing germs at the root and get them cleared away. Other noteworthy ingredients includes Salicylic Acid (helps to unclog pores), Niacinamide (reduces sebum production) and Glycerin(prevents moisture loss and soothes skin).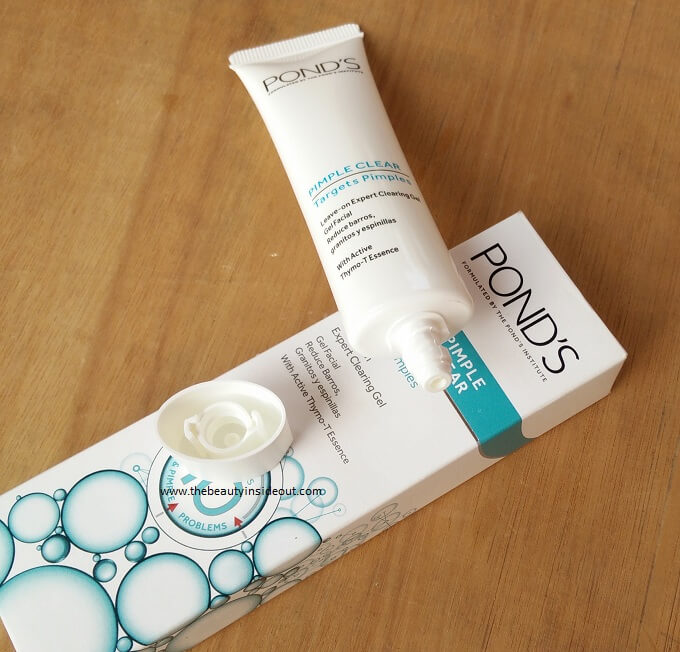 The Ponds Leave On Expert Clearing Gel is an all over face gel rather than a spot treatment only. Like the product packaging says, I apply it all over on my cleansed, toned face. A thin layer of it would suffice. Being a lightweight gel, it absorbs in no time as if nothing is applied on the skin. The gel is a bit drying on my now combination skin, so applying a moisturizer on top of it is necessary for me. If it is day time, a sunscreen is essential. Generally acne products aren't recommended for day time use as it might cause photo sensitivity. This product doesn't state anything though. Still, I restrict using this only when I know I will be away from the sun on that day. Call it precautions!!
Coming to its effects on acne, it zaps tiny zits in one night and leaves no sign of acne. Happy happy! But for big pimples, it works only when I apply it as a spot treatment for a couple of days. Still It doesn't vanish them completely in 3 days as claimed. It just fastens the healing process. What might take 10 days to disappear, heals in about 5-6 days. In the end, the mark the acne leaves is also noticeably smaller. Also, it calms redness to a great extent. Although it fails in its 3 day claim, this is a decent acne product that can be included in your acne skincare regime.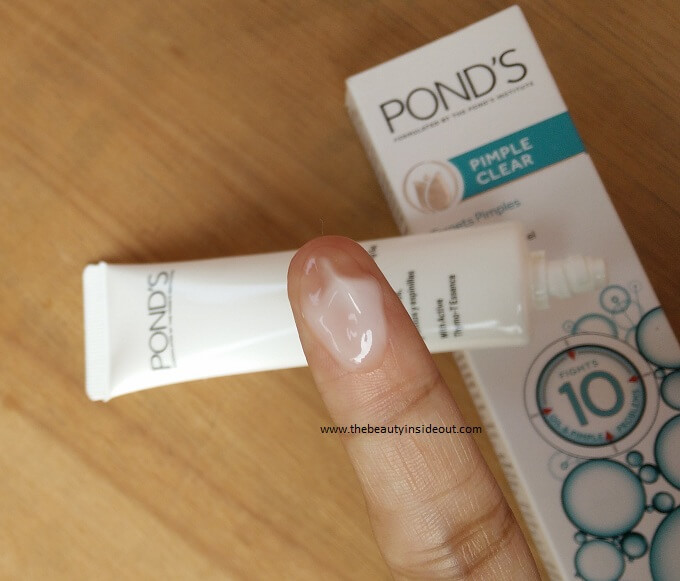 Pros:
Nice, travel friendly packaging.
Affordable price.
A little goes a long way.
Lightweight gel that absorbs quickly.
Great spot treatment.
Works for small pimples.
Speeds up healing process.
Cons:
Can be drying at times.
Does not really work in 3 days.
Does not prevent new breakouts.
Rating: 4/5
Do I recommend? Although I wouldn't be repurchasing this, I would recommend trying this once if your skin is acne prone. It makes tiny pimples disappear in no time and speeds up healing of big pimples. I suggest trying this as a spot treatment for better results.
Looking for other acne products?