Highlighter has been a trend which seems like it won't die anytime soon. It has been trending since quiet long now and I have been collecting highlighters from many brands covering more or less all budgets. So, I thought why not grab this highlighter from the most amazing and super affordable international brand "Colourpop". I just love this brand so much for the quality they are giving at unbelievable prices. I personally call it the "Miss Claire" of international brands for obvious reasons. They give superb quality products at extremely afforded prices. So, I placed an entire colourpop order worth 50$ to avail free shipping and the only objective of placing the order was to try the much hyped Colourpop Highlighter 'Flexitarian'. Though I got hell lotta stuff from colourpop, I have to say one thing; This is the one product that I use the most amongst the entire order and I feel proud of my decision of ordering it. Let's scroll below and find out what made it work and how to use this highlighter and most importantly how to buy it?
Product Description:
This long-wearing crème powder cheek formula is the BFF of our famous Super Shock Shadows; it shares the same unique texture that is extremely buildable and blends smoothly to leave the cheeks looking healthy. Swing both ways in this intense white champagne.
Shades variants: 20
Ingredients:

Price: It's is freaking 8$ only and it's pure bomb.com!!!!
Availability and how to buy Colourpop Highlighter? Available on their website www.colourpop.com or Amazon.com. Few Instagram sellers in India also sell authentic Colourpop cosmetics but then of course the price is too high. For example this highlighter may cost you somewhere around 900 bucks when buying from Indian Instagram sellers. But then, no harm in paying extra since you are avoiding the shipping charges anyway for buying a single product on your own from the website. Plus the customs are always dicey, you never know when you end up paying heavy taxes. Ping me on my Instagram @tryology_with_gunika if in case you need to know few reliable Instagram sellers.
My take on Colourpop Highlighter Flexitarain:
Packaging: On spot packaging. It comes in a white plastic pot with the product in the pan fitted inside the jar. The lid of the jar is also plastic with see through top part and it has a screwable opening lid. Very travel friendly with sturdy plastic body and surely the packaging cost hasn't been compromised at all for the pricing. It's a very heavy quality packaging all in all.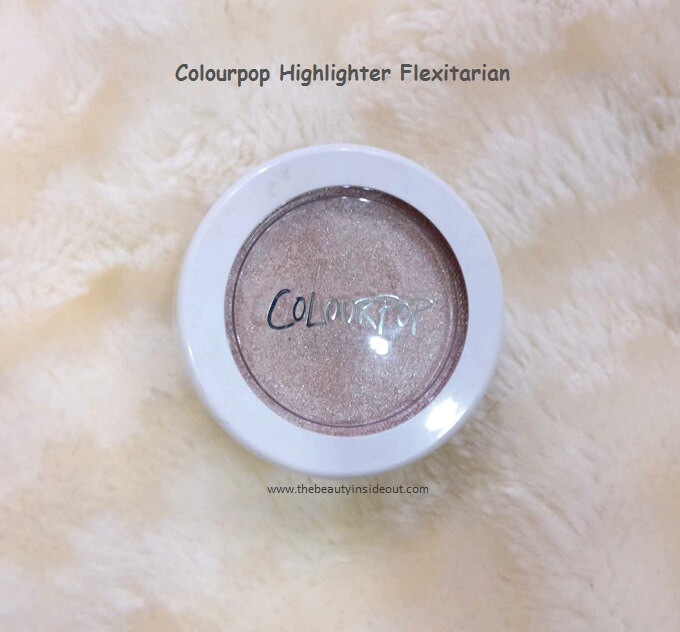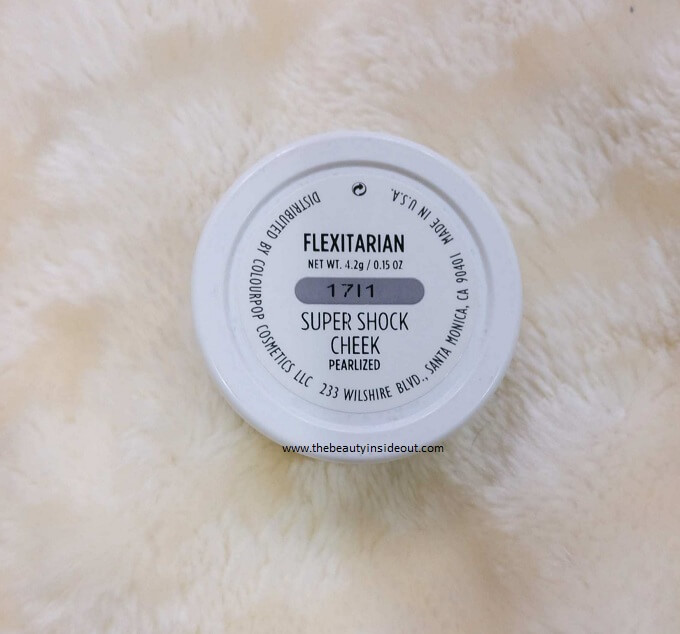 Texture: I so wish I could just swipe right in front of you and give a mini demo on how smooth it's application is. It's very very creamy and in fact it's buttery to touch and transfers the pigment onto the hands or face just in one swipe. Even if the highlighter wasn't blinding enough, I would have still loved it for the quality, price, packaging and the amazzzzzzzing texture. Also, one most important thing about its texture is that it doesn't give chunky glittery particles, infact not even tiny visible particles, its just sheen. A very graceful sheen without evident particles.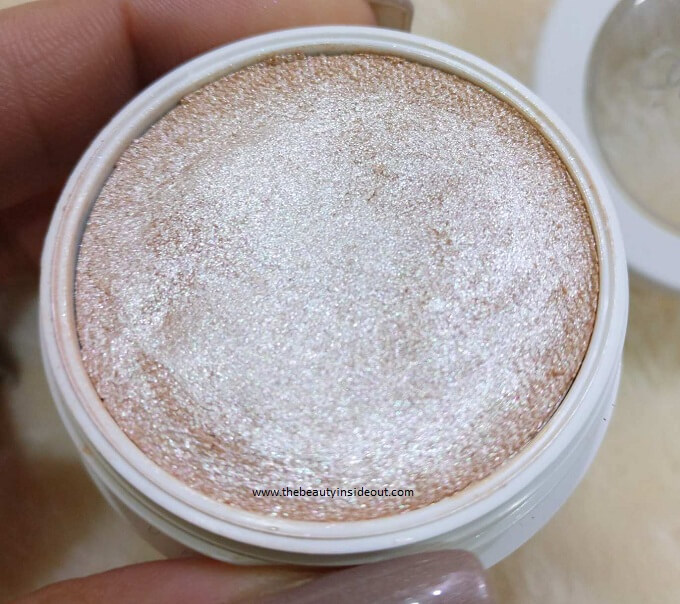 Performance: Texture perfect. Formula perfect. Pigmentation perfect. And the performance at par with everything else. It's gives an instant glow to the face. Especially if you apply it to the bridge of your nose. Trust me you are going to be flooded with compliments asking the secret behind that blinding glow. Yesss the glow is super blinding. But then, wearing it on an everyday basis won't make any sense coz it's a bit heavy dose blinding highlighter.
How to use? Best apply it using your fingers. Though it blends quiet easily but with the brush it gets a little tricky and it might mess up your base or make it move. And with the beauty blender, it might not get transferred completely from the sponge to the face. So, again best you should apply it using your fingers. Also, cover the high points of your face – bridge of nose, high points of cheek, under the eyebrows, forehead and your Cupid's bow.
Staying power: It will give you a constant glow without diminishing for straight 8 hours minimum.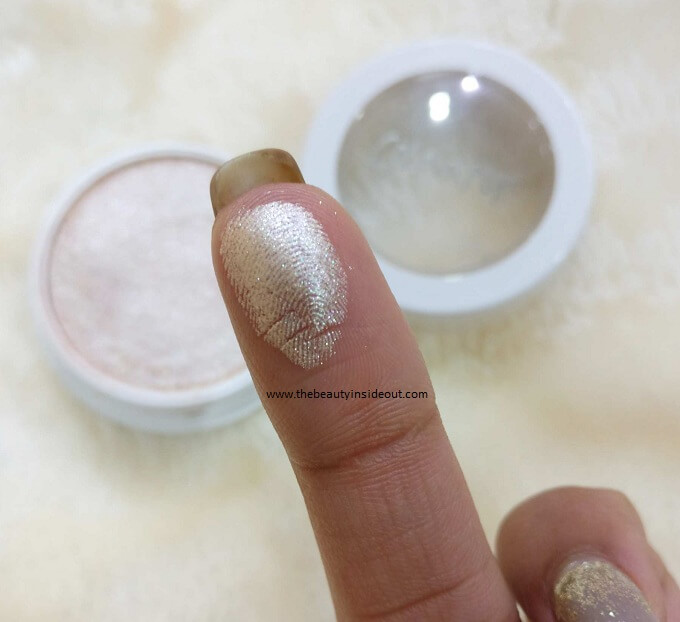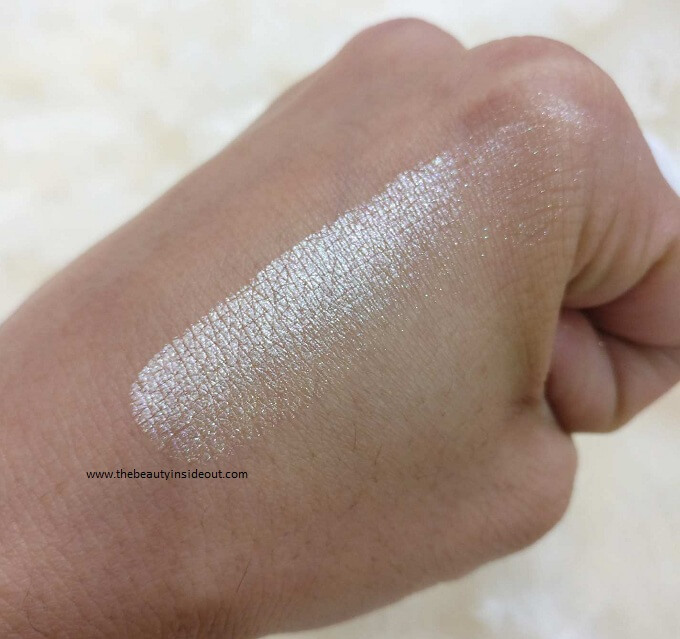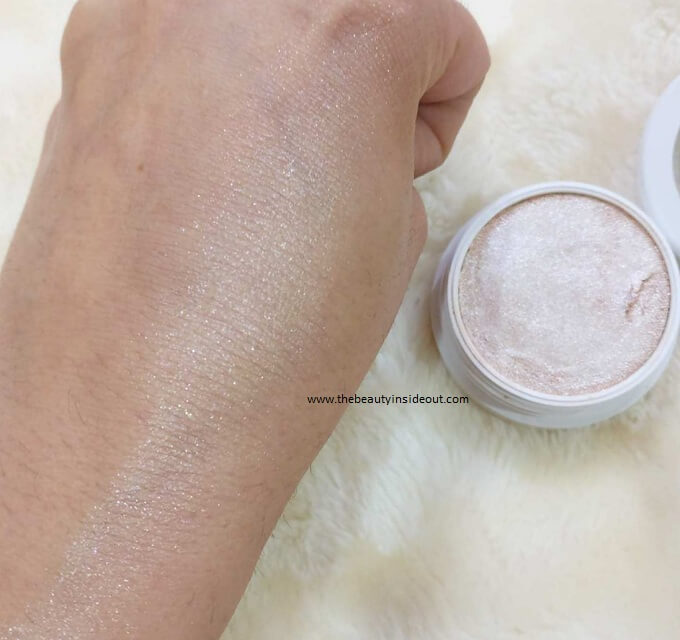 Pros:
Cute packaging.
Universally flattering shade.
Application is super easy.
Graceful sheen with no chunky particles.
Amazing texture and color pay off.
Good staying power.
Colourpop is a Vegan and Cruelty Free Brand.
Cons:
Rating: 5/5
Will I repurchase? I am a makeup junkie and I need reasons to buy makeup. .so of course this one is a bomb product and I will repurchase for sure. This product is a steal!!! Grab yours now.


Guest Author: Gunika