More and more companies have been launching subscription boxes these days and this shows that many of us are interested in these boxes. Who doesn't like getting surprises every month at their doorsteps. It's fun to get subscription boxes, we get to try different products from different brands at affordable prices. Recently I came across this new subscription box Oh Cute Box May 2016 on the blogosphere and I was tempted to try it out as it contained products from natural brands. Anything natural impresses me and I thought why not try this box as it was their launch month which came in a fairly low price.
About Oh Cute Box
Oh Cute Box is a newly launched monthly subscription box that contains 6-7 deluxe sized beauty products which is handpicked by their experts. The box is curated according to our beauty taste. As it is their launch month, it is priced at Rs.490 with free shipping which is amazing as they say the total cost of the products is around Rs.2100. I am not exactly sure whether the price is same for the upcoming months.
My take on Oh Cute Box May 2016 Subscription Box:
I placed my order for the Oh Cute Box on 10th May and after about 18 days I received it on 28th May which is pretty long time. The products came in a neon green cardboard box with a satin ribbon tied to it. The cardboard box was slightly damaged in transit. However, there was no damage to any of the products and all the products were neatly bubble wrapped. It was nice to see that they included a handwritten note. I got 7 beauty products plus an extra product as an early bird offer, so totally I received 8 products which is amazing as I expected to receive only 6 products. Let's get into the contents of my Oh Cute Box May 2016 Subscription Box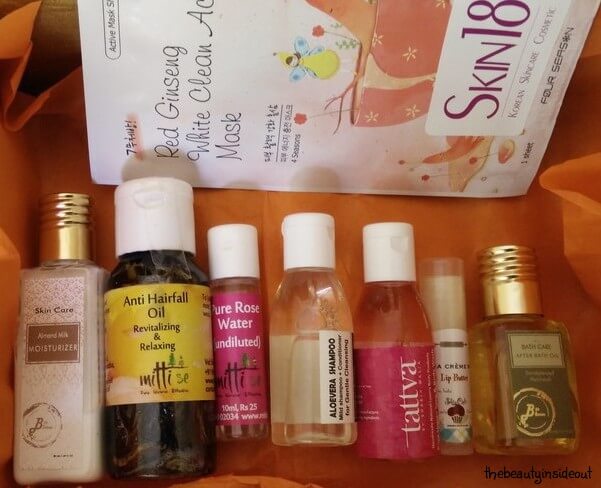 1.Tattva Rose Honey Face & Body Wash:
The first thing I noticed about this product is the smell of it. It smells of roses which is very nice and pleasant. Priced at Rs.50 for 25 ml, this is perfect for summer vacations to carry around in our bags. This will be my first time trying a product from this brand and I love that it is a handmade product.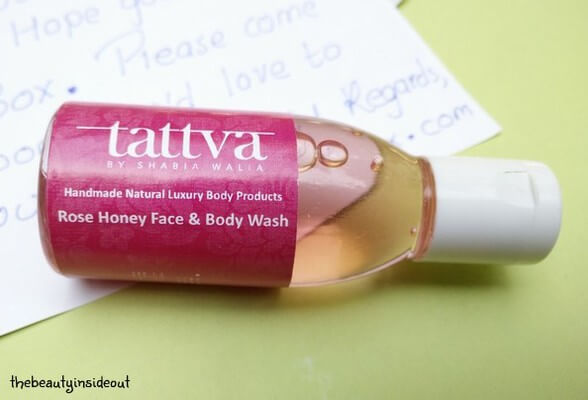 2.Bio Bloom Almond Milk Moisturizer:
Again this is my first time trying a product from this brand. This is a creamy moisturizer that smells like an almond soap. I have tried it only once so far , its glides smoothly and gets quickly absorbed into the skin moisturizing my dry skin well. It priced at Rs.199 for 50 ml.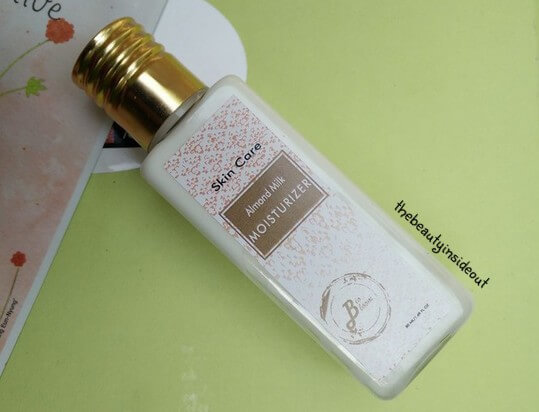 3.Mitti Se Pure Rose Water:

I love to keep rose waters handy while travelling for giving instant freshness to my face. This one claims to be in an undiluted form which is a plus. This is a sample of 10 ml priced at Rs.25 and can be used as a refreshner.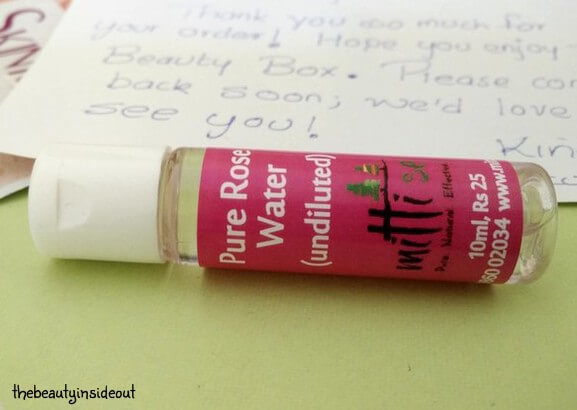 4.Bon organics Aloe Vera Shampoo:
Previously I've tried their handmade soap and this is my second product from this brand. This is a 100% handmade shampoo free from harsh chemicals. This claims to be mild shampoo cum conditioner which is best for gentle cleansing. I am excited to try this sulphate free shampoo.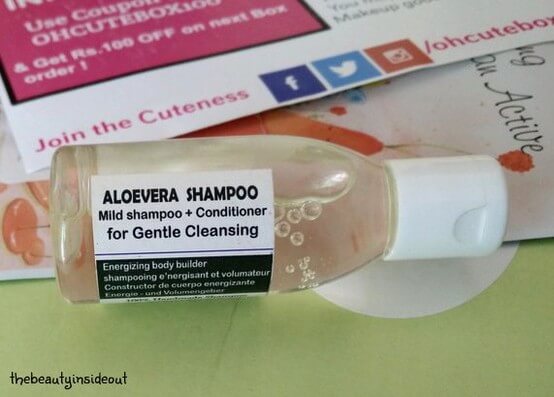 5.Mitti Se Anti Hairfall Oil :

This is an anti-hairfall oil that contains the goodness of amla and shikakai soaked in sesame oil as carrier oil. It has strong herbal smell and I'm skeptical about how this will fare. I will try this oil and review it up soon. It priced at Rs.50 for 50 ml.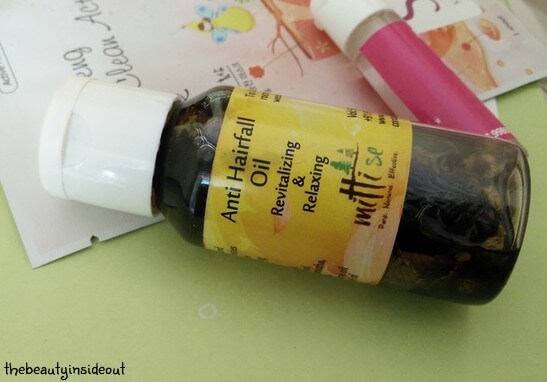 6.Bio Bloom Sandalwood Patchouli After Bath Oil:
As I have dry body skin, I'm happy to receive an after bath oil in my box. I like that it is free from parabens, formaldehydes, sulphates and petrochemcials. This is a sample of 30 ml which will last for a decent number of uses.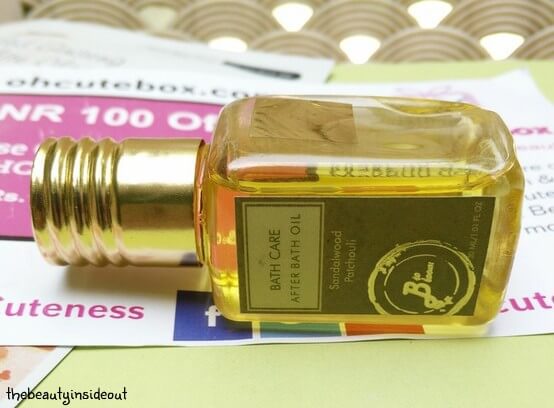 7.Skin18 Red Ginseng White Clean Active Mask:
I have heard a lot about skin18 face masks from other bloggers. I so wanted to try them and I'm very much happy to receive one. I will try out this mask soon and get back to you guys with a review of it.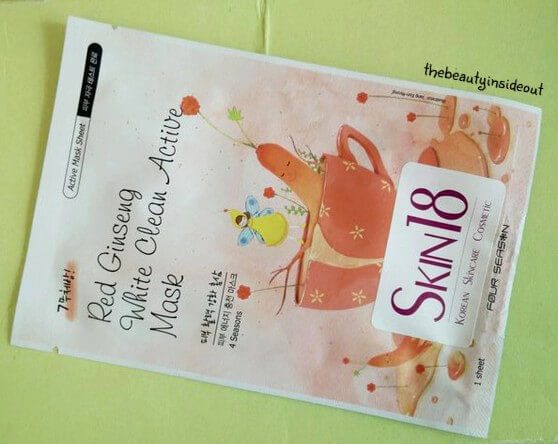 8.Skin Café Vanilla Crème Brulee Lip Butter:
This is a bonus product. I haven't heard of this brand before. This claims to be a natural handcrafted lip balm made of beeswax, shea butter and cocoa. It smells nice and keeps my lips hydrated for few hours.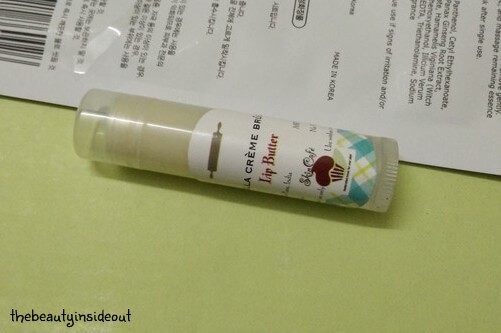 Final Word:
Overall I liked the Oh Cute Box May 2016 Subscription Box very much. I am happy that I received 8 beauty products most them being deluxe sized samples which is perfect for travelling. Most of the products are from natural brands which is a big plus. I would recommend to give it a try.
Rating: 4.7/ 5
Have you tried Oh Cute Box May 2016 Subscription Box? Which product did you like the most? Share your thoughts in the comments section below.
Disclaimer: This is not a sponsored post.
Update: 24/2/2017
There are reports that the site and service is no more reliable, so I would recommend to check before you make a purchase.