Recently an organic store that sells organic food and personal care products was launched in my locality. Then what else…I immediately had to go and see what was available there. So the day I went I just surveyed and did not buy any personal care products 😉 I just got some organically grown fruits and some veggies. Since I was one of the first customers to visit, when I was about to check out, I was given few sample products, one of them being BON organics oils soap and India Organic green tea samples. This is my first time trying a soap from this brand. So let's see how this soap worked.
Product Claim:
Bio Organic & Natural's organic soap Herbal is a pure medicinal soap blessed with a combination of herbal botanicals that will cleanse and heal the skin with its rich & luxurious lather.
Ingredients:
Organic Pungam oil, Organic Coconut oil, Organic castor oil, Organic neem oil, Corn oil Caustic Lye, Demineralized water, Oil extract of tree tea, Henna, Turmeric, Basil, Aloe, Lotus seeds, Arugan, Mala vembu, Jojoba oil, Wheatgerm oil , certified Shea butter , Also added natural fragrances of mixed herbs and lotus.
Price & Quantity: Rs.152 for 100 gm
Shelf Life: 2 years from the date of manufacture.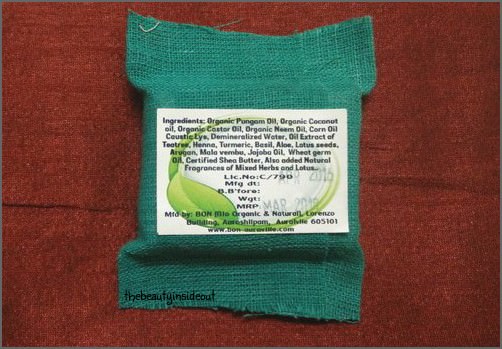 My experience with BON Organics Oils Soap:
The actual soap is wrapped in a butter paper, which in turn is covered with an outer green muslin cloth made of jute like material. The packaging looks nice and I like how they have used recyclable packaging. The soap is off-white in color and looks like a normal solid soap. When I opened the packaging, the soap had no distinct fragrance. Since being made of natural ingredients, I thought as soon as I open it, it would have an amazing fragrance. I was a bit disappointed as this had a normal soapy fragrance, nothing that of herbs or lotus as they claim. I like soaps with nice fragrance for pampering myself.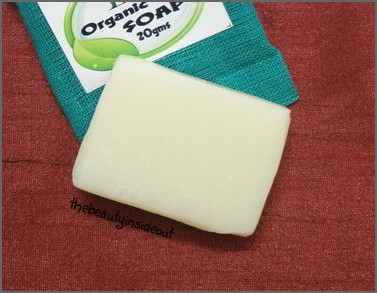 Coming to the efficacy, the soap lathers pretty well like any other soap and cleanses the skin very well. It washes off easily without leaving any slipper feeling. I have dry body skin and this soap dries out my skin further, I absolutely had the need to moisture after using this soap. Claiming to contain different types of oils in the ingredient list, I thought it might be super moisturizing. Especially, the first ingredient being Pungam oil which contains high content of triglycerides and acts as skin conditioning agent. It let me down in the moisturizing department. I store my soap in a dry place and it did not melt down and lasts for a decent number of washes.
Pros:
Attractive recyclable packaging.
Made of natural ingredients.
Gives squeaky clean effect.
Does not melt when stored properly.
Gives good lather.
Cons:
Can be drying on dry skin types.
Final Word:
Overall BON Organics Oils Soap is a decent natural handmade soap with the goodness of different oils that gives a squeaky clean and refreshing effect. If you are someone with oily skin, you can give a try, otherwise dry skin types can skip it as it dries out the skin even further.
Rating: 3.9 /5
Have you tried BON Organics Oils Soap? What is your current favorite soap? I have been wanting to try handmade soaps from other brands. Share your suggestions in the comments section below.