Exfoliating our skin at least twice a week is important to remove dead skin and impurities thereby rejuvenating our skin. I like my face scrubs to be mild with small granules and not scratchy. Today I'm going to review one such face scrub. This will be a quick review of Nyassa Oceana Foaming Face Scrub which I received in one of my Fabbag. Lets see what it has got.

Price & Quantity : Rs.900 for 200 ml.
Shelf life: 18 months from date of manufacture.
Availability: You can get it here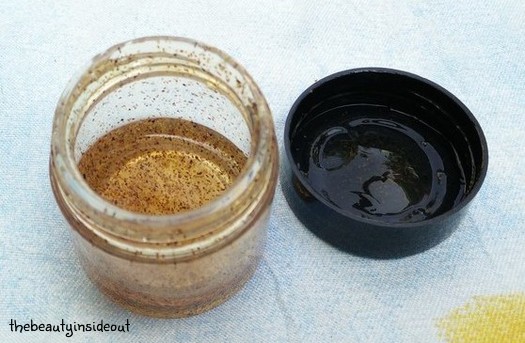 My experience with Nyassa Oceana Foaming Face Scrub :
Let's get straight into the packaging, the foaming scrub comes in a sturdy transparent plastic tub with a black screw cap. Since this is a sample size product, the tub is quite compact and travel friendly. It has a thick gel consistency with brown colored apricot granules. It has a strong soapy fragrance which smells artificial. Initially upon seeing the face scrub I thought that apricot granules might be harsh on my skin. It proved me wrong. It is so mild and gentle and cleansed my skin very well. It didn't break me out even though I have acne prone skin. The scrubbing particles are not too small or too big and effectively removes dead skin, dirt, impurities and blackheads. It did not leave any slippery feeling after washing like a few other face scrubs. Instead it resulted in a smooth soft and glowing skin. I like that it did not dry out my skin and is very well suitable for everyday use. I noticed that in the website it says face & body scrub whereas in the packaging it's written only face scrub, it's quite confusing. I tried it only on my face but nothing wrong to use it as a body scrub. I personally prefer body scrub to be a little more scrubby than face scrub. Since this one is very mild it won't serve as a good body scrub for me.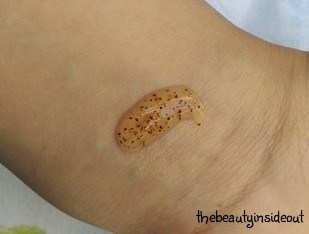 Pros:
Acts as both face wash and scrub
Has as mild scrubbing particles and not very harsh on the skin.
Suitable for all skin types.
Cleanses the skin effectively rejuvenating the skin
Removes impurities, blackheads and whiteheads efficiently.
Didn't break me out on my acne prone skin.
Cons:
Expensive.
Not easily available.
Tub Packaging is unhygenic.
Strong soapy fragrance.
Not completely chemical-free.
Final Word:
Nyassa Oceana Foaming Face Scrub is a good two in one product suitable for everyday use that effectively cleanses and removes dead skin & impurities leaving the skin smooth and soft. However the price and artificial fragrance can be a put off.  You can give it a try once!
Rating: 3.9/5
Have you tried Nyassa Oceana Foaming Face Scrub? What is your  favourite mild scrub? Share your thoughts in the comments section below.
Stay Happy !