Hello everyone. Foot creams are something that I normally don't use as I feel a body lotion would serve the same purpose of moisturizing my feet as well. However, my negligence to moisturize my feet caused me to have cracked heels during the past dry winters. So I decided to get a separate foot cream that will heel my rough and cracked heels. My first preference would always be something from natural brands so I got this Aroma Magic Camphor Ice Foot Cream. Let's see how this worked for me.
Product Description:

Price & Quantity: Rs.130 for 60 g
Shelf Life: 24 months
Availability: Aroma Magic Counters at health and glow.
My experience with Aroma Magic Camphor Ice Foot Cream:
The foot cream comes in an opaque white plastic tube which has a screw type cap. The tube is fat and handy and it is easy to control the amount of product that comes out of the tube. The foot cream is pure white in color and has a thick creamy consistency ideal to provide intense moisturization. The foot cream has the fragrance of mint and camphor which is nice and refreshing.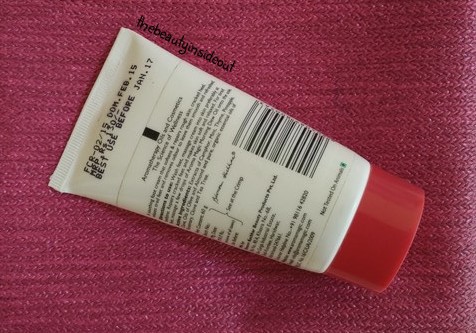 After bathing, I usually use a foot scrub to scrub my feet and then apply this foot cream when my feet are still moist. I take sufficient quantity and massage the foot cream until it gets completely absorbed into the skin. Once absorbed it does not feel heavy or sticky. It moisturizes well and gives a relaxing & cooling effect to my feet immediately. I have been using it for 15 days now and I can see that it reduced my slightly cracked heels to a great extent. It repairs rough skin keeping them moisturized for the whole day. I will continue using this foot cream to keep my feet moisturized and nourished. Over regular usage my feet has become smoother, brighter and healthier. It has got an attractive ingredient list and the mild fragrance of camphor and jojoba oil does remove bad odor from the feet.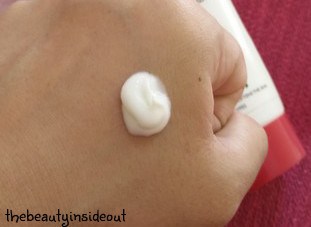 Pros:
Budget friendly.
Convenient tube packaging.
Buttery smooth texture which blends easily.
Moisturizes and nourishes well.
Heals cracked heels.
Removes odor and keeps the feet refreshed.
The mint and camphor gives a cooling effect.
Stays for longer duration.
Easily available.
Cons:
Incomplete Ingredient list.
Final word:
Overall Aroma Magic Camphor Ice Foot Cream is a very good budget friendly, soothing foot cream that softens and repairs rough, dry & cracked heels, and relaxes tired feet. I like it very much and I recommend trying this if you have slightly cracked heels like me.
Rating: 4.4/5
Have you tried Aroma Magic Camphor Ice Foot Cream? What foot cream are you currently using? Share your thoughts in the comments section below.