L'Oreal often comes up with new launches of irresistible products for makeup junkies like me. It's hard to save money when beauty brands are waiting to rip off my wallet. Anyways on my latest shopping spree to the mall, I entered the L'Oreal store and laid my eyes on this exquisite looking shiny metallic pink foundation tube. Since its packaging is so dearly attractive I couldn't resist but buy it. Well let's dive into my experience with L'Oreal Mat Magique Foundation.
Product Description:
Introducing the first 12Hour Matte skin perfecter brightens skin for matte that's never flat. 12H shine-free. Shower fresh liquid formula. Gives a new sleek bright matte finish. 12H lasting actions absorbing mineral micro sponges diffuse their matt powder  Instantly by stopping excess oil. Progressively by regulating sebum secretion during the day.
Ingredients: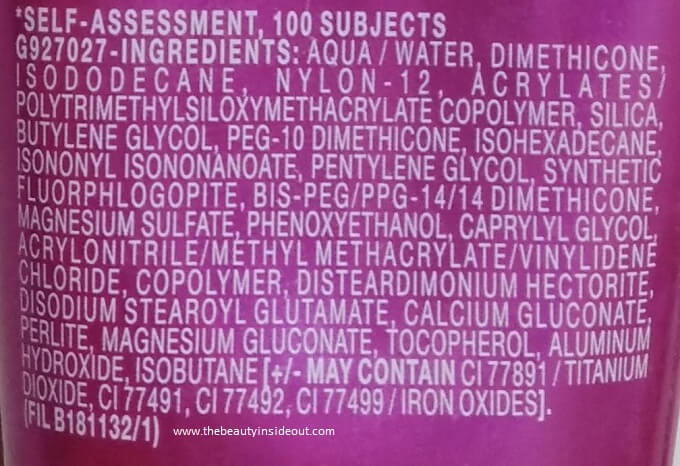 How to apply: You can use dry or a damp Beauty Blender. Stippling brushes can also be used for application.
Price: Rs.625/- for a 30ml tube.
Shelf Life: Best before 36 months from the date of manufacture. And 12 months after opening the pack.
My take on L'Oreal Mat Magique Foundation:
Packaging: L'Oreal Mat Magique Foundation comes in a pink paper carton box which I no longer have as I misplaced it somewhere. I barely keep the outer packaging of any beauty products I own. The outer box contains information regarding the shade name and specifications about the foundation. The glossy and shiny plastic tube of the foundation has an attractive pink metallic cap. It's the cherry on the cake. The tube has a small nozzle through which the product comes out once squeezed, leading to no extra wastage. The packaging is designed in such a way that it is user friendly as well as travel friendly.
Shades: L'Oreal Mat Magique Foundation is available in 5 Shades
G1 (Suits fair skin tone with warm yellow undertone)
G3 (Suits NC42 with yellow undertones)
G5 (Suits medium skin with golden undertone)
N1 (Suits fair skin tone with neutral undertone)
N3 (Suits fair skin with light yellow/neutral undertones)
I'm in shade N3 Nude Vanilla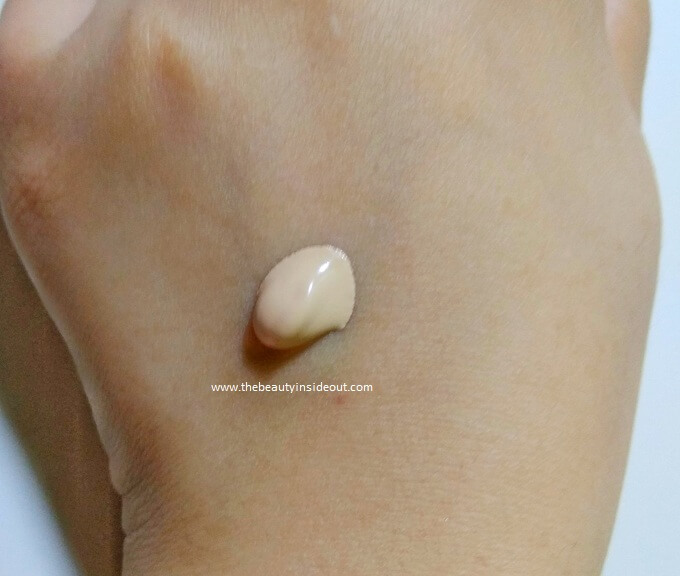 Texture : It's rich and creamy with a soft whipped cream-like texture. It has a fast drying formula, hence take small sections of the face to work with. Its application becomes easy when you use a damp beauty blender to blend the foundation as applying this foundation or blending with your hands can give you a patchy look and can accentuate the streaks on your face. Make sure to prep your face properly prior application. I always moisturize my face with an ideal moisturizer and prime it as well for a smooth finish. Dry skin types would surely need a heavy duty moisturizer with this foundation.
Coverage: The coverage is absolutely mind blowing. It gives medium to full coverage which is buildable depending upon the type of look you desire to wear. For a natural everyday look I apply a single layer which gives me a nice medium coverage covering minor imperfections. On special occassions, I go for a second layer and get full coverage while the foundation still being lightweight on the skin. The foundation hides blemishes, acne spots, marks, scars and also helps in hiding dark circles to a certain extent, as it did for me. You can totally skip your concealer if you are wearing this foundation.
Finish: L'Oreal Mat Magique Foundation sets to a perfect matte powdery finish which doesn't require an additional layer of compact powder. The finish is very flawless and natural. My skin feels smooth with no visible pores peeking out once applied. The foundation has SPF 11 PA++ in it, which is beneficial for minimal sun protection.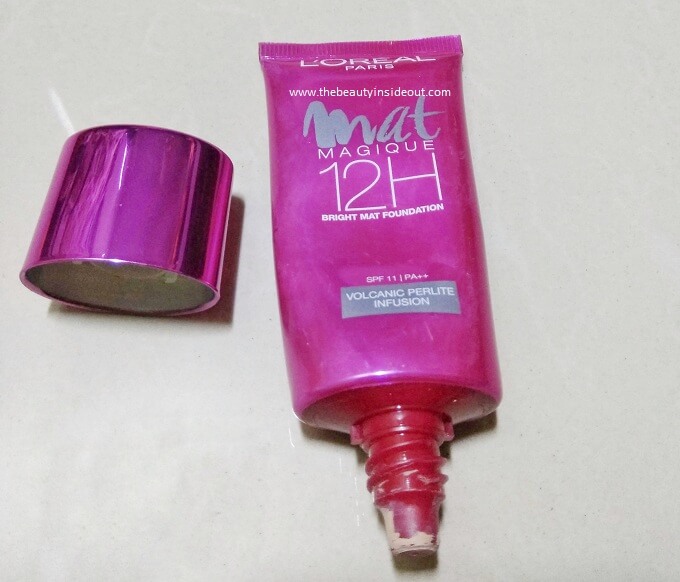 Staying Power: Its amazing. The foundation fares quite well on my face for about 8 hours with a minute touch up with a compact in-between. I have even used this foundation without a primer underneath just to check its performance and staying power and I was very much impressed. With just a moisturizer underneath this foundation, it really performed excellently. My foundation was intact. No melting, no creasing or smudging. The oil control power in it is amazing. I wasn't even sweating in this hot and humid Mumbai weather. What a sigh of relief. The L'Oreal Mat Magique Foundation is simply great for oily skin types as it's also non-comedogenic, hence does not clog pores and cause breakouts.
Pros:
Attractive, travel friendly and user friendly packaging.
Reasonably priced and always available on discounts.
Commendable texture, formula and finish.
Lightweight on the skin.
Good oil control ability keeps face fresh and matte for hours.
Works well with and without primer.
Hides imperfections and lasts long despite the hot and humid weather.
Has SPF 11 PA++.
Best suited for oily skin types.
Cons:
Limited shade range. Only five shades cannot cater to all Indian Skin tones.
Extremely dry skin beauties can't find comfort in this foundation.
It can accentuate dry patches on face.
Rating: 4.9/5
Would I recommend? Yes, L'Oreal Mat Magique Foundation is a boon for oily skin girls. It's the perfect foundation which suits and adapts to my skin. It's budget friendly and the performance it gives, by taking care of my skincare woes and not breaking me out is very classy and remarkable. It's my go to everyday foundation and I suggest all of you to give this a shot and flaunt your natural and flawless looking skin effortlessly.
Guest Author: Bushra