[Updated on Apr 3, 2019] Good morning peeps! Today we are here with yet another popular brand in the Brand Focus Series. No doubt, Aroma Magic is a giant name in the herbal beauty and cosmetics segment in India. Aroma Magic is widely well known and has been in the market for more than a decade surpassing all the new ventures of recent times. Aroma Magic Products are Aromatherapy Based, infused with essential oils and most of their fragrances have a nice aromatic touch to them. I first came across this brand years ago when I was on the look out for essential oils. My first product from the brand was their Tree Tea Oil which I used to use it extensively to combat my acne. Fast forward to the present, now I have more than a couple of Aroma Magic Products that I can vouch for. Aroma Magic is a Cruelty Free Brand, means, they don't test on animals and all their products are free from toxic ingredients like phthalates, parabens, alcohols,etc . Moreover, Aroma Magic Products are pretty affordable compared to other brands in the same line of chemical free skincare. Shall we get started with the Best and Worsts of Aroma Magic Products. Stay hooked.
(This is a long post. To get an overview review of the products, go to the bottom of this post)
Best Aroma Magic Products Review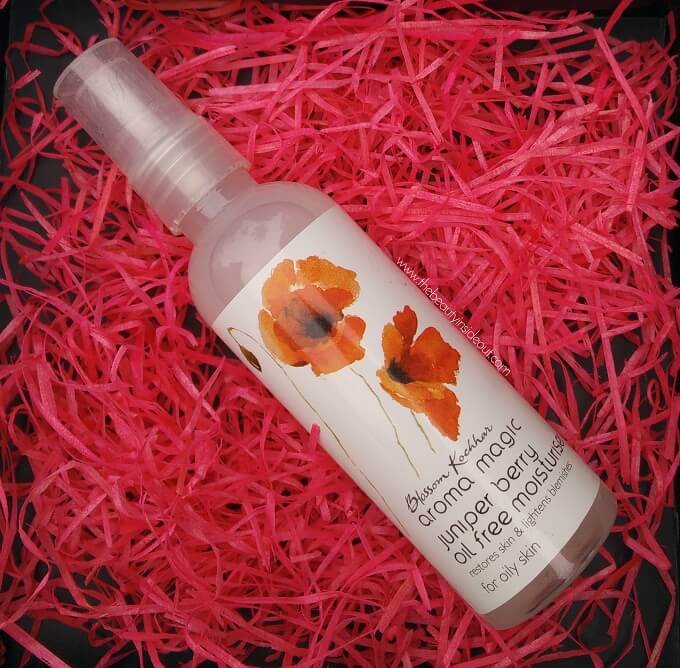 This is absolutely an amazing ultra lightweight product for those oily skin types who skip moisturizers and sweat crazy in summers. The Juniper Berry Moisturizer is water based and almost feels like water on the skin. It is basically a humectant type moisturizer with Aloe Vera and Glycerin. This locks in moisture and prevents water loss of your skin. It does not provide any additional moisture, so use this after your hydrating toner while your skin is still damp. In that way, your skin will be adequately hydrated and moisturized without being heavy. Or you can also add in a serum before it as stated in the usage directions. It is also super easy to apply, just requiring a few patting motions. It dries down fast and leaves the skin mattified, oil free and shine free. It also comes added with an SPF of 15, although low, it is something notable. The only con, it has a herbal fragrance that might not be liked by some. I can compromise on that aspect as the fragrance dissipates after sometime and I am much more in love with its texture, feel and effectiveness that I can easily ignore this miniscule con. In short, if you have major oily skin problems, just go for it.
Rating: 4.9/5 .
2. Aroma Magic Under Eye Gel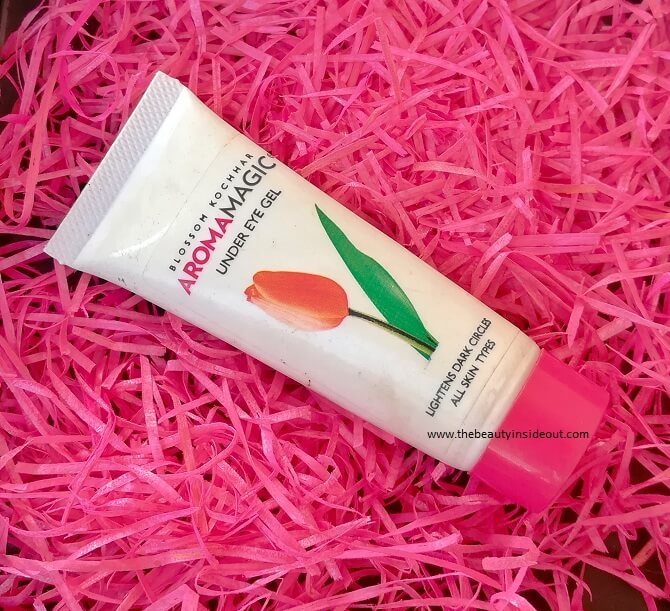 This was my first ever under eye product which I bought in my early twenties. As a beginner I didn't want to invest, so I got this as this was the only budget friendly option available at that time. Also, I didn't have any major under eye problems to tackle with, so this was the best bet. I mainly got it as a preventive aid and to nourish my under eyes. And this product did serve my purpose. It's a clear gel and has the consistency of Aloe Vera Gel. It has a negligible fragrance and has a quick absorbing formula. It leaves the under eye area nourished without being too heavy or oily. Only a tiny dot amount of the product is required each time, so it's very cost effective too. Under eye areas are delicate areas so always apply your under eye gels using your ring finger. Whilst using this gel, I didn't experience any sorts of irritation or tingling sensation at any point of time, even when I wore my contacts. This is very well suitable for those with sensitive eyes too. If your under eye area is very very dry and need a lot of more nourishment, they have a cream variant that you can try. I have oily skin and under eye area, so this worked for me.
As said earlier, since I didn't have any under eye concerns whilst using this gel, I cannot comment on its effectiveness on dark circles or reducing fine lines. This gel though takes care of eye puffiness and dryness quite efficiently. I did like using this product so I would recommend this product to someone who is her early twenties starting off with an under eye product.
Rating: 4/5 .
Looking for similar brand review?
3. Aroma Magic Coffee Bean Scrub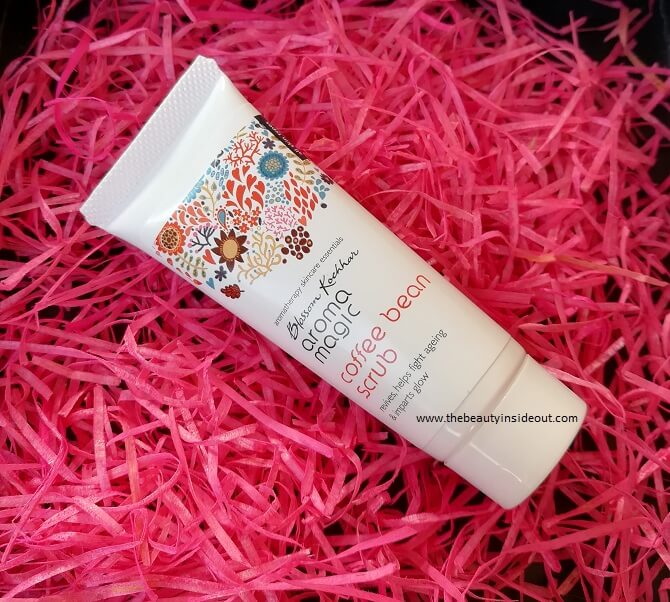 This product failed to impress me, mainly because it's not really meant for my skin type. The scrub is cream based and has a thinner consistency which spreads easily. It has a lots of tiny granules which are apt for facial skin but too mild for body skin. The fragrance is also really nice with a touch of instant coffee. The first time, I used the scrub on my face and it left my skin super oily and greasy, even after splashing loads of water to clean up. I hated the greasiness my skin had, so I had to follow up with a face wash. The presence of olive oil might be the reason. But I hated that. Later I started using it on my body, but still I didn't get the feel of cleansing or exfoliation with this product due to its mild exfoliating granules. And the oils still left my dry body skin greasy!! The coffee bean scrub might suit your dry skin, but it failed for me. If at all you buy this, I suggest using this scrub after cleansing your skin with a face wash/cleanser at least, as this doesn't give a cleaned up effect. I have used other cream based scrubs, but none others were as greasy as this one. Totally not recommended, there are better alternatives in the market. This might help with aging skin and cellulites as claimed, but that's not a guarantee.
Rating: 2/5.
4. Aroma Magic Cocoa Butter & Vanilla Body Cream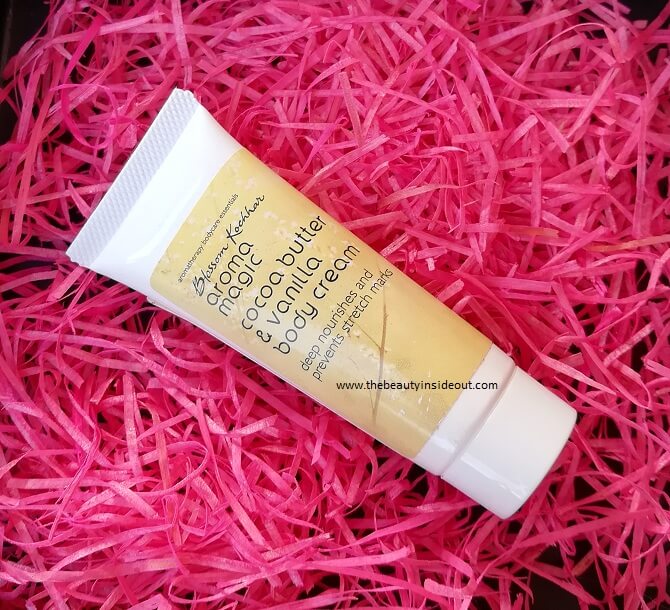 I got a deluxe sized sample of this body cream in one of the monthly beauty subscription boxes. I have always loved Cocoa Butter formulas in my Body care. This body cream from Aromic Magic has a beautiful Cocoa Butter Aroma with a mild warm note of Vanilla. It is pale yellow in color and a medium cream consistency, thinner than my HG Palmer's Cocoa Body Lotion. I like thicker formulas for my body care products. Anyways, this one spreads easily and gets absorbed after a good massage. Initially it does have a slight greasy feel which settle down leaving skin immensely moisturized and supple throughout the day. The body lotion is loaded with great skin nourishing ingredients such as Coconut Oil, Carrot Seed Oil, Wheat Germ Oil, Vitamin C and Vitamin E Extracts. It also contain SPF 15 making it ideal for day time use.
Overall, I liked using this cream but wouldn't really repurchase it. I am still inclined towards the Palmer's Cocoa Butter Lotion.
Rating: 3.5/5.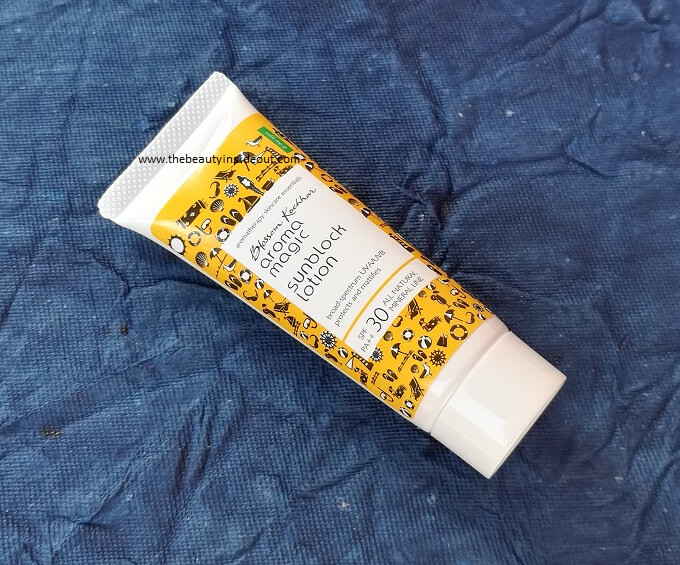 Aroma Magic Sunblock is truly a great product for oily skin. It's an oil free sunscreen which looks and feels like Lacto Calamine Lotion. The sunblock is baby pink in color with a creamy texture that spreads and blends easily giving a matte skin. This hasn't broken me out or made my skin dull like some sunscreen products. It has protected my skin against moderate sun exposure without giving any adverse reactions. This has SPF 30, so it has to be re-applied every 90 minutes for effective sun protection. The only con which is expected from any mineral sunscreen, this leaves an obvious white cast, like you have applied a base or foundation. I top up with a darker shade compact to balance out the whiteness. If you have been looking for sensitive skin friendly chemical free sunscreen with a mattifying formula, then this is apt for you. Dusky beauties should stay away from this.
Rating: 4/5.
Looking for similar brand reviews?
6. Aroma Magic Vitamin C Skin Lightening Gel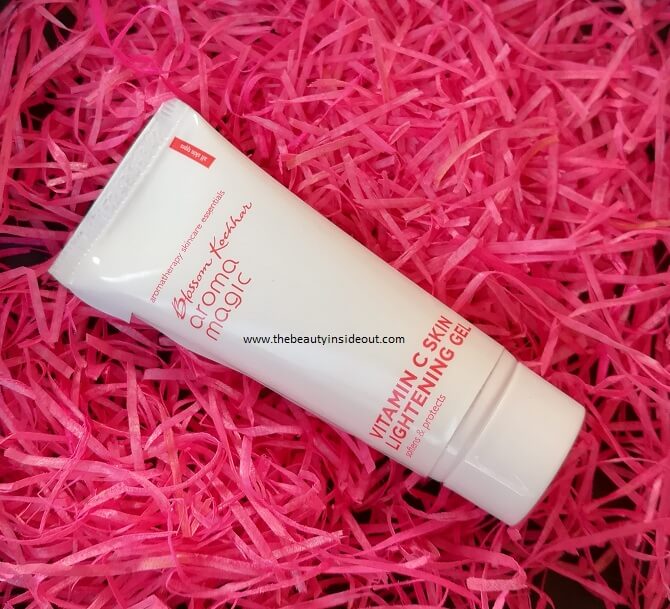 I choose to get this deluxe sized sample in the Smytten Trial Box. I was looking to start out with a Vitamin C product so I bought this along with the Tvakh Vitamin C Booster which I am currently testing. Vitamin C is really good for blemish prone skin as it helps to light skin pigmentation, marks and spots. Along with Vitamin C, this Skin Lightening Gel is also enriched with Aloe Vera, Grape Wine, Extract of Cherries and Licorice, Vitamin E and Blend of Essential Oils. It has a thicker than a serum, thinner than a gel consistency that quickly sinks into the skin within seconds of application. It leaves the skin matte so oily skin types will love this. Dry skin types will need an additional moisturizer. Although this can be used during day time as well, I restricted to night times as I was told Vitamin C can increase skin sensitivity when exposed to sunlight. So I have used this every night continuously for 2 weeks. Results?The only acne mark I had didn't fade away, but my overall skin looked a bit more clear and radiant. It doesn't show miraculous results, but slowly helps in improving skin texture. I would recommend this product.
Rating: 3.8/5.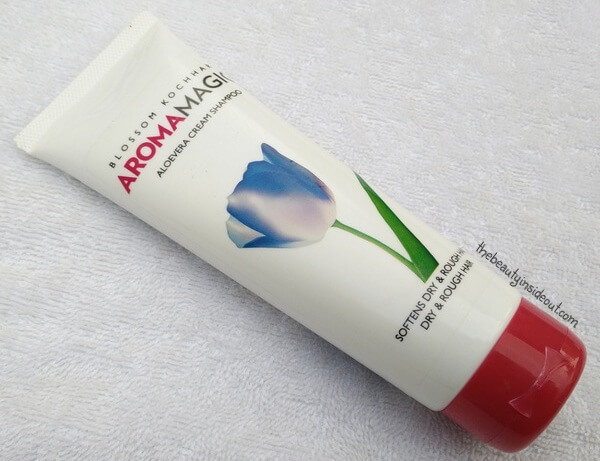 This is a chemical free shampoo loaded with highly nourishing ingredients such as Aloe Vera, Amla, Green Apple, Carrot, Jojoba and Pure Essential Oils. The shampoo has a unique texture, its neither a gel or cream, it's clumpy and uneven which becomes creamy upon rubbing. It does not lather much hence requires lots of product to shampoo each time. It cleans non-oiled hair easily and requires second wash if you have oiled your hair. In any case, one never needs a separate conditioner whilst using this shampoo. It is super moisturizing and people with extremely dry, frizz prone hair will love this. This shampoo doesn't eradicate hairfall, dandruff and other hair problems, but it does not induce them either. This shampoo is specially meant to treat roughness and dryness of hair which it does. I would recommend this shampoo for someone with uncontrollable dry, curly, rough and color treated hair. This would beautifully define one's curls and tame flyaways. Ladies with fine, flat hair can skip this as it might weigh down your hair due to its highly nourishing property.
Rating: 4/5 .
(This product has been discontinued and Aroma Magic has launched a new range of affordable shampoos. Check them out on Amazon and Nykaa).
8. Aroma Magic Reviving Oxy Pack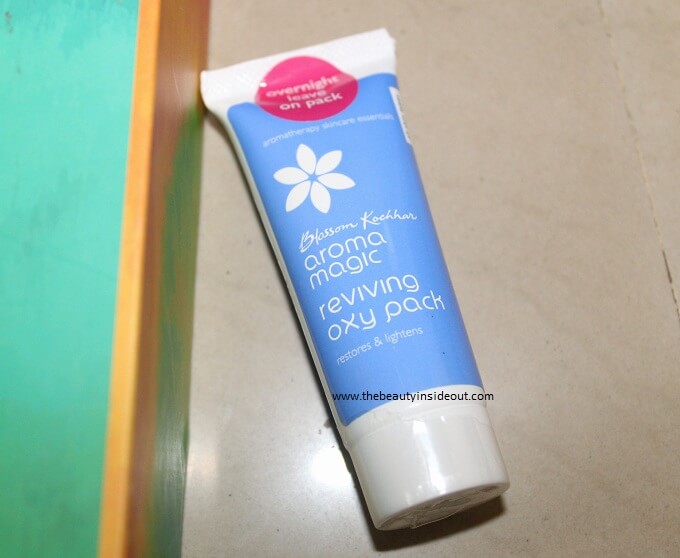 This is a clear gel pack that can be used as a wash off Mask as well as a sleeping mask. The gel is almost like aloe vera gel, colourless with a easily spreadable medium consistency. I used it in both ways. As a wash off mask, I applied a thick layer and let it on for 15 mins. The mask doesn't dry completely, rather feels like getting absorbed into the skin. Rinsing it off it pretty easy and there is a mild slipperiness while doing so. I liked how calming this felt on my skin. I could easily relate this mask to an aloe vera mask, the results being almost similar. Fresh, soothing with a subtle glow. Using it as a sleeping mask, applying a thin layer after my regular moisturizer yielded impressive results. I woke up with well hydrated skin sans greasiness. Overall if you like aloe gels, you will like this product. The fragrance is medicinal like, which might be a turn off for some. It's faint though!
Rating: 4/5
Overview of Aroma Magic Products Review
| | | |
| --- | --- | --- |
| Product Name | Quick Review | Where to buy? |
| Aroma Magic Juniper Berry Oil Free Moisturizer SPF | This is an amazing moisturizer for very oily skin types who skip moisturizers and sweat crazy in summers. I lovve this. Super lightweight and comfortable on the skin. | Amazon | Nykaa |
| Aroma Magic Under Eye Gel | This is a nice gel eye cream, perfect for beginners who don't have major dark circles. Reduces puffiness and prevents future under eye wrinkles. | Amazon | Nykaa |
| Aroma Magic Coffee Bean Scrub | Smells like coffee. This was very creamy and greasy for my oily skin. Doesn't get washed off easily and leaves skin oily. Didn't like it. | Amazon | Nykaa |
| Aroma Magic Cocoa Butter & Vanilla Body Cream | A decent body lotion with spf. Contains some nice nourishing ingredients and smells nice like vanilla & cocoa. | Amazon | Nykaa |
| Aroma Magic Sunblock Lotion SPF 30 | It is almost like Lacto Calamine Lotion in smell & consistency but provides additional sun protection. This is a very nice mattiying sunscreen for oily skin types. I have repurchased this. | Amazon | Nykaa |
| Aroma Magic Vitamin C Skin Lightening Gel | Slowly improves skin texture & complexion. It's not sticky like most Vitamin C and has an almost gel essence texture which has a matte finish. Results are slow though. | Amazon | Nykaa |
| Aroma Magic Aloe Vera Cream Shampoo | I loved this shampoo a lot. Very nourishing and great for dry & damaged skin. But it has been discontinued now. Aroma Magic has a new range of shampoos now. | Amazon | Nykaa |
| Aroma Magic Reviving Oxy Pack | An Indian version of Sleeping Mask. It gave me a radiant glow and supple skin whenever I used this. Texture is similar to aloe vera gels | Amazon | Nykaa |
My Final Thoughts on Aroma Magic Products
To be true, I have a soft corner for this brand. It's affordable, toxic chemical free, cruelty free and has everything that I look for in a Skincare Brand. My most recommended product would be the Aroma Magic Juniper Berry Moisturizer followed by the Under Eye Gel and Sunblock. Some of the other Aroma Magic Products that I haven't tried yet but are quite popular among skincare lovers are the Bamboo Charcoal Face Pack, Mineral Glow Scrub and Grapefruit Face Wash. You might want to try out them too.
I hope you found this review helpful. And don't forget to leave your valuable comments on Aroma Magic Products. Share your favourites and not so favourites with us.