Blue Nectar is a Luxurious Ayurveda Brand that formulates a good number of pure and ayurvedic products. Each of their products are curated by ayurvedic doctors and are prepared only in SL 316 Vessel as per Ayurved Texts with vital herbs and ingredients that are beneficial for both our body and mind. Sounds impressive right? Blue Nectar is also approved and certified by the Department of Ayush. So today I am up with a review of the Blue Nectar Shubhr Radiance Honey Face Cleanser which claims to make your skin radiant. Let's get started with the details.
Product Description:
Shubhr means radiant. Face is the most attractive feature of human body. First step in Ayurvedic face care is to cleanse, tone and nourish the skin. Proper cleansing and toning is done by removing dead cells, clearing clogged pores, removing toxins & pollutants without stripping the skin of natural oils and moisture content.
Ingredients: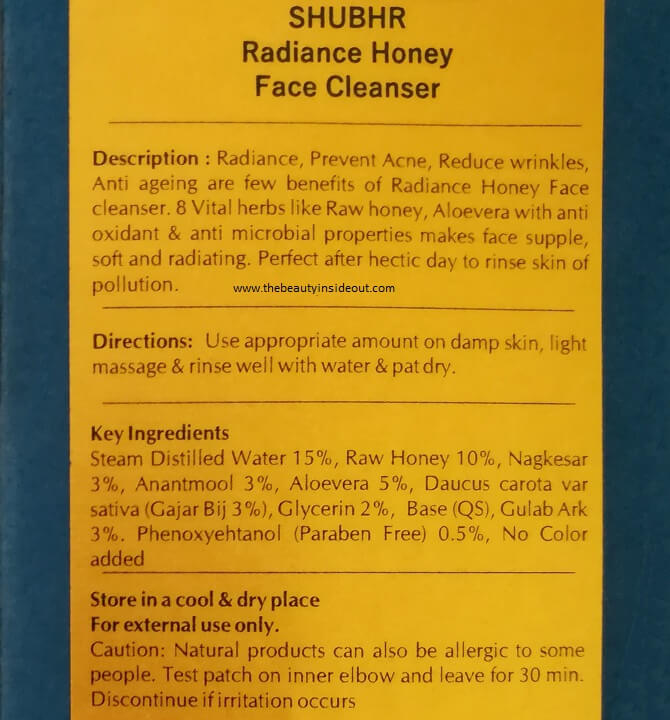 Price: 395 INR  for 100 ml, 745 INR for 200 ml
My take on Blue Nectar Shubhr Radiance Honey Face Cleanser:
Packaging: I was taken aback by its packaging when it first arrived at my place. It's simply classy and luxurious. The outer blue card box, in which the cleanser came in, with its golden label makes the entire packaging look much more elegant. The face cleanser is closed with golden screw cap further protected with a plastic seal . But there came a separate pump dispenser inside the box. You can just replace the screw cap with the pump dispenser once you receive the product. Personally, I like products with pump dispensers as they are much more convenient to use and leads to no product wastage. The packaging is also furnished with all necessary details about the cleanser.
Color & Texture: Although the blue bottle packaging does not let us have a peek at the color of the product, one could easily see the amount of product left inside the bottle. The cleanser is a colourless, clear gel with a smooth, runny, flowy consistency.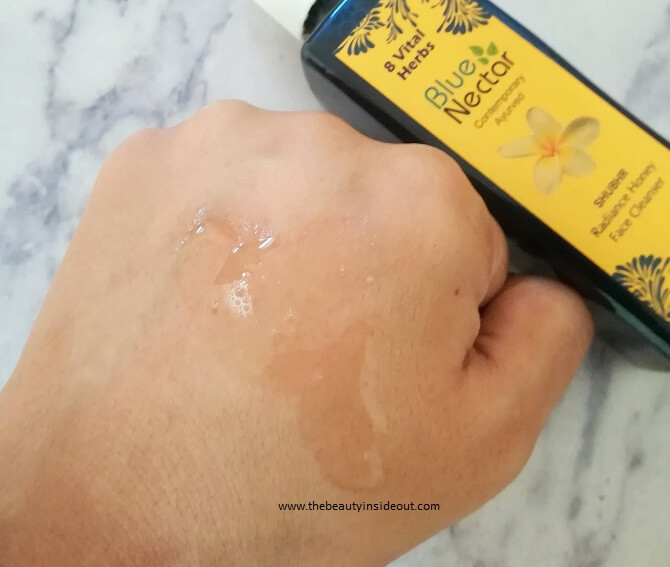 Fragrance: The fragrance is a bit stronger. It smells of ayurvedic herbs, something similar to saffron and jasmine scent. The scent also lingers for sometime post cleansing. If you have an aversion to strong herbal fragrances, you might not like it. Otherwise it's something you might not find too bothersome.
Effectiveness: Blue Nectar Shubhr Radiance Honey Face Cleanser scores in this aspect. It does what a cleanser is supposed to do. At first, I started off with 3 pumps, but later reduced to 2 pumps, as I found less is more for this cleanser and using more product leads to post cleansing dryness. Although its runny consistency makes me want to use more (2 pumps give you only a little of the product) but I don't. Sometimes I use it directly on my face but most of the times I prefer taking the cleanser on my palm and rub between my hands to bring it to a lather. This cleanser foams up really really well and rinses off easily without any residue left behind. This would make a great second cleanser to use in your oil cleansing method.
The cleanser effectively removes dirt, oils, impurities and even light makeup from the skin. It leaves skin soft, clean and clear with a subtle glow. I did not find it drying on my oily skin. But I suppose that it might be a tad bit drying for dry skin types. Be it any skin types, following up with a toner and moisturizer post cleansing can do the work. I've been using this along the Shubr Brightening & Radiance Sandalwood Cream and both of them make a great combo. I did not encounter any new pimples whilst using this cleanser, so this does help in controlling acne breakouts very well and has good oil control ability as well.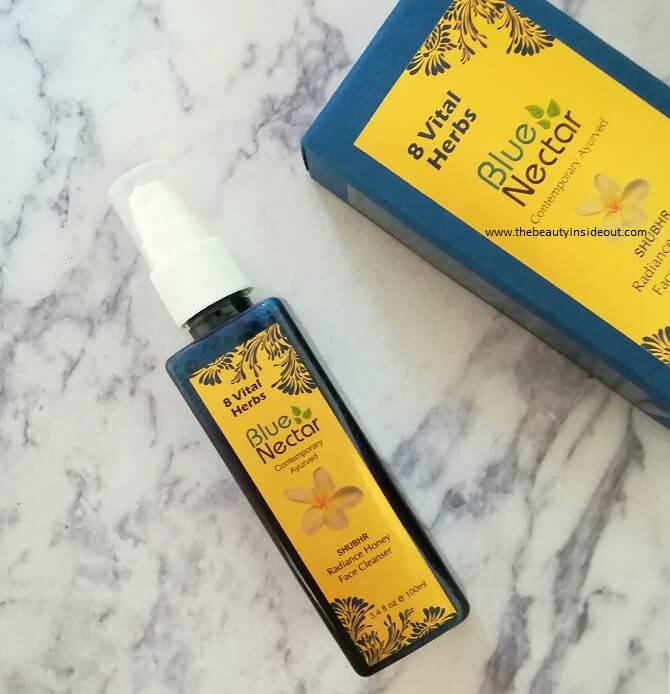 Pros:
Great packaging. Luxurious as well as User Friendly.
Enriched with 8 Vital Herbs.
Smooth consistency lathers well.
Clears out dirt and impurities efficiently.
Makes skin soft, smooth and radiant.
A little goes a long way.
Acne skin friendly.
Made in India.
Available in two sizes.
Cons:
No full ingredient list.
A little bit expensive for a face wash.
Ayurvedic fragrance might not be liked by some.
Can be drying for dry skin types.
Rating: 4.5/5
Would I recommend? Yes, I liked the softness, freshness and instant glow this cleanser gave to my face. It cleanses up very well without irritating the skin and it suited my acne prone skin keeping acne at bay. Above all, Blue Nectar Shubhr Radiance Honey Face Cleanser is proudly made in India and is infused with some great native Herbs like Nagkesar (often known as Indian Rose Chestnut), Gajar Bij (Carrot seeds), Aloe Vera, Raw Honey and Anantamool. Do give it a try and let us know your experience with it.
Where to buy? Amazon.in
Looking for other cleansers?
Disclaimer: Product sent by brand for consideration.  Nevertheless, my opinions and reviews remains honest and unbiased.