Halo beauties. Hope you guys are doing good. Today I'm going to review the L'oreal Infallible Silkissime Eyeliner in the shade Charcoal. It was a recent launch from the Cannes 2016 Collection by L'oreal Paris. It makes tall claims to stay upto 16 hours. So let's see whether it lived up to its claims.
What L'oreal says: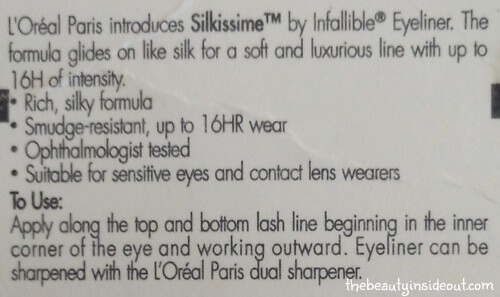 Ingredients: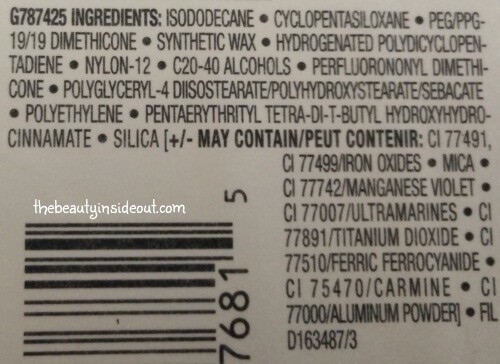 Priced at Rs.575
My take on L'oreal Infallible Silkissime Eyeliner:
Packaging: The L'oreal Infallible Silkissime Eyeliner is a pencil eyeliner that is sharpenable. It comes in a normal paper cardboard cover with all the details properly mentioned. I love how these are completely color coded; the full body of the pencil corresponds to the shade of the pencil. Even though the shade I have is a black and there is nothing so fancy about it, the other shade pencils would look so attractive in your pile of eyeliners. The golden rim makes it look so high end but sadly that is going to go away once you sharpen it. You need to buy a separate sharpener as they don't come with one and the L'oreal sharpener is damn pricey which I don't think I'll buying. I wish it came in a retractable pencil form as it causes a lot of wastage while sharpening.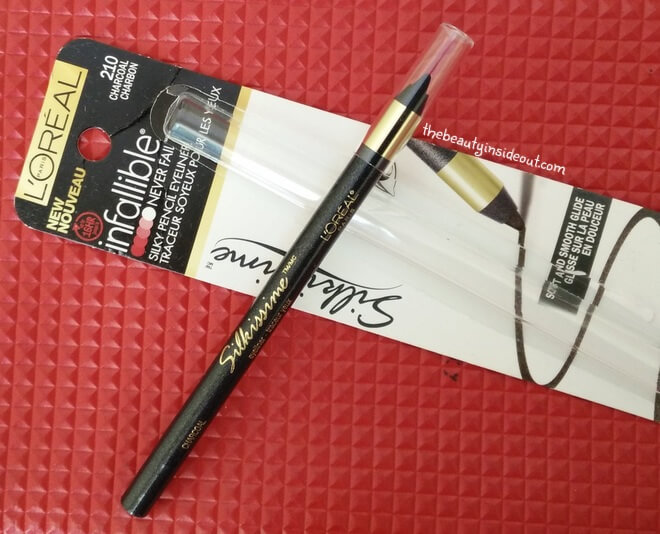 Texture: The formula of the eyeliner is simply superb. It is insanely buttery and creamy. It glides on to my lash line like a dream. Absolutely no tugging or pulling. But creamy eyeliners has it's own disadvantages too. 1. If you apply a lot of pressure, then the tip is going to break off easily, 2. I find that the pencil gets used up pretty fast. I could use only once to line my upper and lower lash lines and then had the need to sharpen it. 3. Drawing a sharp winged line was quite difficult with this pencil. Nevertheless I love how these are creamy and the smoothness makes application very easy.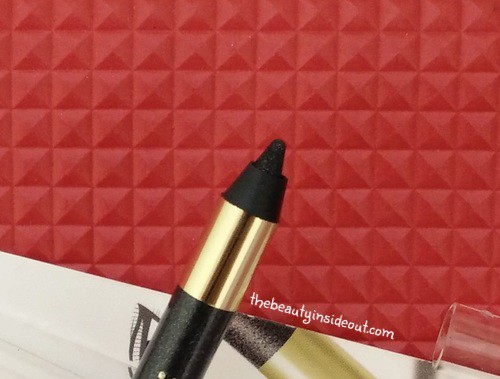 Shade: These pencils come in a variety of 8 shades. The shade I have Charcoal is a black with silvery shimmers. It's not jet black though, you can try the shade Black if you want a jet black one. The shimmers do not get dispersed everywhere once it's completely set.
Pigmentation: This eyeliner is very highly pigmented. One single swipe is going to give you intense color. It takes a few seconds to dry though. But once it's set, it doesn't budge at all. Splashing water on your face is not going to cause you racoon eyes too. This eyeliner is totally smudge-proof and waterproof ?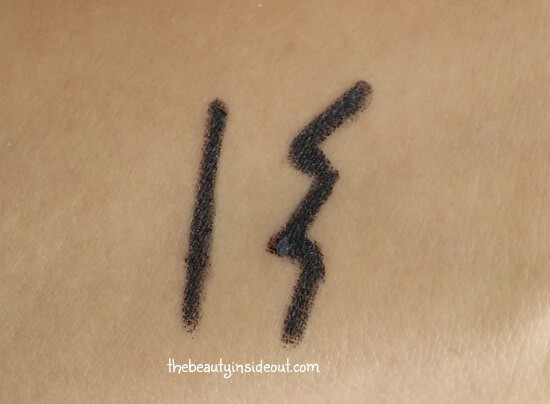 Longevity: I would say this is a long wear eyeliner but doesn't stay up to 16 hours. It stayed on my upper lash line pretty well for about 7-8 hours without much fading. After which it tends to lose its intensity gradually. I did not try it on my waterline as I don't prefer wearing shimmery eyeliners there. To remove this liner, you absolutely need an oil based remover otherwise you will be left with some pigments on your lash line.
Pros:
Comes in a variety of 8 shades.
Buttery smooth texture makes application hassle free.
No tugging or pulling.
Truely smudgeproof and waterproof.
Very high pigmentation and long staying power.
Cons:
Pencil form, a retractable pencil would have been better.
Need of a sharpener.
Requires an oil based remover.
Rating: 4.5 / 5
In short,  L'oreal Infallible Silkissime Eyeliner is a long staying, smudgeproof, waterproof and highly pigmented eyeliner. What else do you need. Go grab yours immediately! But I would recommend trying other shades as most of them are so pretty and adorable.
I hope you find this review helpful. Have you used L'oreal Infallible Silkissime Eyeliner? Share your thoughts in the comments below. See you in my next post.
Stay Beautiful ♥