Hi all. Today I'm going to review The Nature's Co Eucalyptus Eye Pillow. As I spend most of my leisure time in front of the computer my eyes go really tired and watery very soon. So I got this eye pillow to soothe my tired eyes. Let me tell you first, this is not my first time trying an eye pillow. I have used an eye pillow from an unknown brand long back. It was made of plastic with a jelly kind of gel inside which was quite uncomfortable on the eyes. This eye pillow was made of a cloth material which is what attracted me to get this. Also it comes from the trusted The Nature's Co. which is a natural, eco-friendly and PETA certified cruelty free and vegan brand. So let's dig into the details of the eye pillow.
Product Description:

Ingredients: 
Eucalyptus Oil 4% and Flax Seeds
Price: Rs.495 for 125 gm
Availability: You can buy it here.
Shelf Life: 18 months
My take on The Nature's Co Eucalyptus Eye Pillow:
The Nature's Co Eucalyptus Eye Pillow is made of a soft muslin cloth material which is in the shape of our eyes. It is safely enclosed in a transparent plastic pouch. The pouch has a zip locker which preserves the aroma of eucalyptus. Inside the pillow, there are lots of teeny tiny particles which are the flax seeds. They are infused with eucalyptus oil. The first time I opened the zip locker, I was so overwhelmed with the amazing fragrance of Eucalyptus. It is so divine. The smell itself was enough to calm and relax my senses. It is very much tranquilizing.
I mostly use the eye pillow at night after long hours of working. Before using I keep the pouch along with the pillow in the refrigerator to make it chill so that it will give a cooling effect when kept on my eyes. I keep it for about 20-30 minutes on my eyes. It definitely takes care of my puffy eyes. This eye pillow is a wonder relaxer. It truly relaxed my eyes and mind. But do not doze of with that, I know its hard. I felt sleepy most of the time whenever I used it. Since eyes are one of the most sensitive sense organs, I highly suggest you not to sleep off with the eye pillow.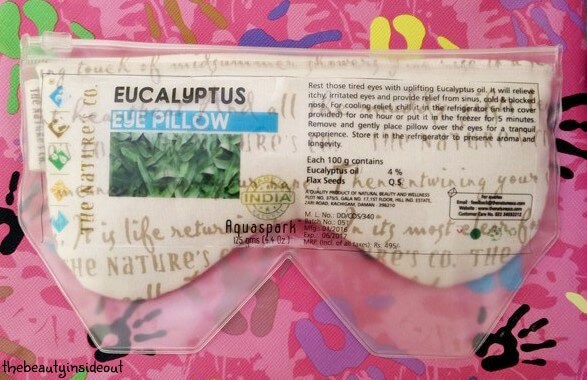 Eucalyptus oil has got amazing therapeutic properties. So when I used it on days when I had headache or cold, it did take care of my headache and cleared my nose blockage to a great extent. The variant that I have does not come with any elastic head band holder. So I needed to fully lie down flat while using it. If there was a band, it would have been nice so that I could have sat on a sofa or chair. When I searched on google I could see some variants having the band. But the one which I have didn't have one 🙁 . I have been using this eye pillow for more than 6 months now, yet the fragrance is still at its best. The price is on the higher side but the high quality of the pillow and long lasting capacity justifies it.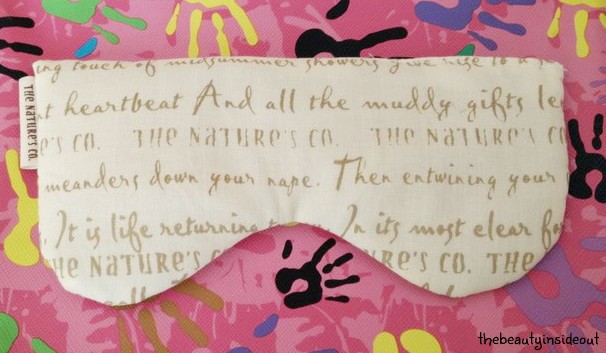 If you like the smell of eucalyptus absolutely get it. You can also try the other variants. They have Rosemary, Cedar wood, Bergamot, Lemongrass, Lavender and Orange Eye pillows.
Pros:
Amazing Eucalyptus Aroma.
Comes with a zip locker pouch to preserve the efficacy.
Relieves itchness and irritation from eyes.
Revitalizes and freshens tired and stressed eyes.
Clears nose blockage for once.
Relaxes mind and soul.
Longevity
Available in 7 variants.
Cons:
Price is slightly on the higher side.
Rating: 4.8 / 5
Overall I love it too much 🙂 Period.
As always thank you so much for reading. If you like my posts please share this post and follow me on all my social medias. See in you my next post. Until then,
Stay Beautiful♥