As you know, Lotus Herbals being well known for their sunscreens have an entire range of makeup products too. So when I wanted to try something from their makeup range, I got this Lotus Herbals Pure Color Lipstick Red Rose. This was my first so called almost red lipstick which I got it during my initial makeup days. Priced at Rs.275 for 4.2 gm. It is available in all Lotus Herbals counters. You can buy online here.

My take Lotus Herbals Pure Color Lipstick Red Rose:
Packaging: The lipstick is housed in a golden beige tube with the brand name Lotus Herbals written on it. The cap shuts correctly but I feel it is not so tight that there is a possibility to come off if not stored properly. The Pure Color lipstick is not color coded so it might be difficult to identify if you have other shades from the same range. Only the shade name and number is written and no other details of the lipstick is mentioned on the tube.
Fragrance: The lipstick has a sweet floral scent on the tube which might bother ladies with sensitive nose. The smell fades away once you apply it on your lips. So it was not a problem for me.
Texture: The formula of the lipstick is soft and creamy. It glides on to my lips smoothly without any tugging or pulling and gives a soft glossy finish. The lipstick is quite moisturizing on its own and does not dry out my lips. The lipstick feels quite comfortable on the lips. Being creamy it transfers to objects easily and bleeds slightly if not lined with a lip liner.  The lipstick does not settle into fine lines or looks patchy. The lipstick bullet did not melt even during hot weather conditions.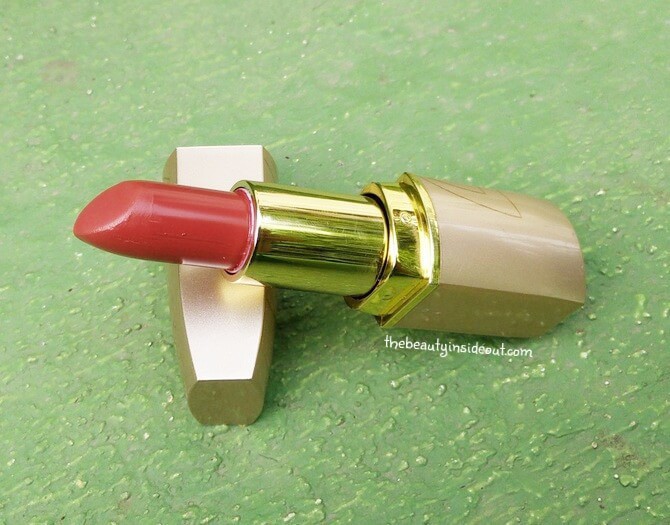 Shade: As the name suggests the shade is a mix of red and rose with earthy undertones. As you can see in the pictures, the shade might look dark and bold on the tube but it is not too loud when applied on the lips. It is a subtle wearable red lipstick that anyone can pull it off easily. This particular shade would universally flatter all skin tones. I love to wear this lipstick with ethnic wears especially sarees.
Pigmentation: The shade Red Rose has good pigmentation and covers my pigmented lips in 2-3 swipes. This lipstick does not look blotchy and it is easily buildable. I feel that it gives a see through coverage. Depending upon your lip pigmentation, this shade appears different. On me, it appeared more as a mauvish red. But on my cousin, it came out as a light pinkish red.
Longevity: The staying power is pretty good. It stayed on my lips for 4 hours with no snacking. With light meals it lasts about 3 hours. It fades evenly leaving a nice pinkish tint behind.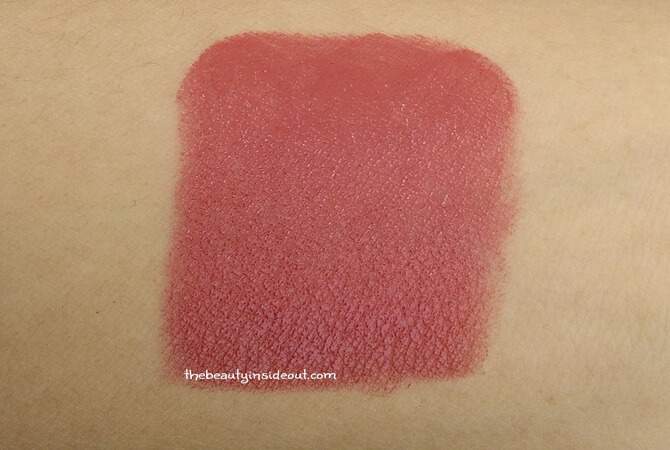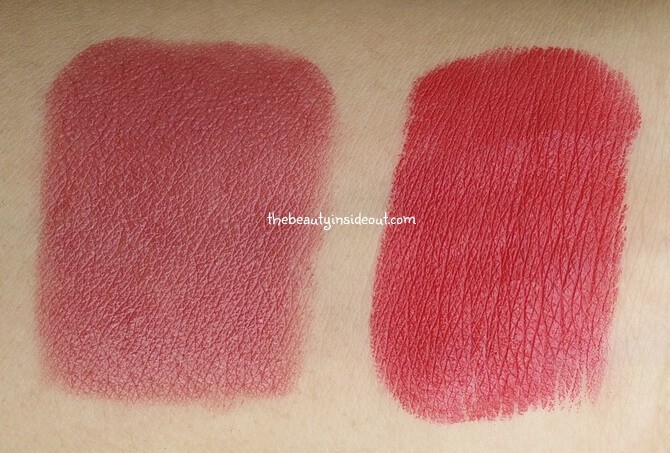 As you can see, the shade is not too bold or vibrant like the Sugar Vivid Lipstick That 70's Red.
Pros:
Cost effective.
Contains Jojoba and Aloe Vera.
Wide shade range.
Subtle red shade that would flatter all skintones
Smooth and creamy texture.
Applies smoothly with no tugging or pulling.
Does not dry out lips or settle into fine lines.
Good pigmentation and staying power.
Cons:
Packaging could have been better.
Rating: 4.5/5
Overall Lotus Herbals Pure Color Lipstick Red Rose is a very wearable red shade that would be flattering on all skin tones. It is pocket-friendly, nicely pigmented and has good staying power. If you are someone who wants to try a subte red lipstick for the first time, then absolutely go for it.
I hope you find this review helpful. Have you tried Lotus Herbals Pure Color Lipstick Red Rose? If so share your thoughts in the comments section below. Thanks for reading. See you in my next post. Until then,
Stay Beautiful ♥